How to Convert WMV to GIF?
Summary: GIFs are highly popular in creating memes, stickers, animated emoticons. So have you ever thought of converting WMV videos or other video formats to GIF? Here we recommend you several methods to convert WMV to GIF.
DVDFab Video Converter
• Convert videos from one format to another like MKV to MP4
• Support video to video and audio conversion
• Enable you play converted files on mobile devices or home theater
• Competent to enhance video quality with Enlarger AI
WMV is a video codec series owned and developed by Microsoft. It was designed for high compatibility with Microsoft Windows operating systems. WMV files have a small size as compared to other container formats. So they can be used as small media files for software and online videos. On the other hand GIF (Graphics Interchange Format) is an animated image format.
In GIF you see changing image frames which looks like if a movie or video is being played without sound. GIF is highly popular on social networks today. GIFs are highly popular in creating memes, stickers, animated emoticons. Popular Google's Android Gboard now hasa dedicated section for downloading and sharing GIF images. So you can see how popular is it which made it to reserve a permanent spot in Google's Gboard.
Mostly GIFs are created from movie or video files. Firstly a part of the movie is cut and then converted to GIF. WMV videos can also be converted to GIF directly using some WMV to GIF converter software and online services. So, read this article till the end if you are looking to convert WMV to GIF easily and quickly.
Case 1: How to Convert WMV to GIF as a Whole File (No Cut or Trim Needed)
As I said that WMV files are smaller in size so they can be completely converted to GIF files, this case applies to WMV files which are less than 10 seconds in length. However if you have a WMV video in minutes then it can also be converted to GIF. Simply saying if you want to convert any WMV to GIF irrespective of its length then use these online tools below.
1. Convertio.co
· Simply go to the direct WMV to GIF converter https://convertio.co/wmv-gif/
· Here you will see the online WMV to GIF converter.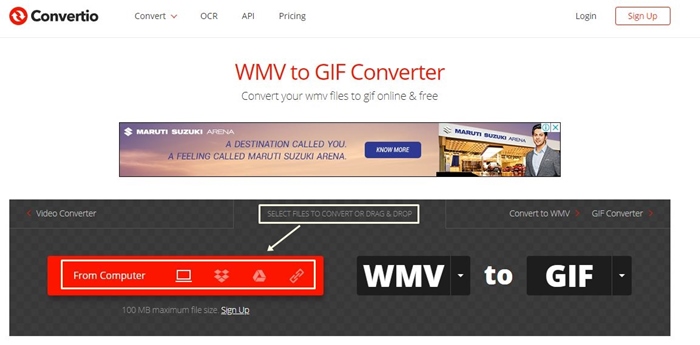 · Click 'From Computer' and upload your WMV movie (non-personal videos only). You can also upload WMV videos from Google Drive, Dropbox, and from a video link.
· Finally click the red 'Convert' button and wait for a download link. Once the conversion is complete you can download the GIF to your PC. This website also works with smartphone browsers.
2. EZGIF.COM
EZGIF is an easy to use online WMV to GIF converter that won't require many efforts. Simply go to the website, select 'Video to GIF' and upload your WMV video.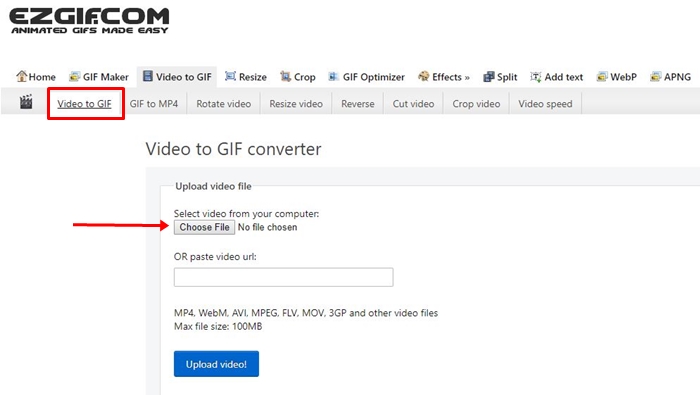 · Click the 'Upload video!' button. Wait until you get more tool options.
· When the 'Video to GIF' converter opens scroll down and select 'Frame rate'. Maximum length is 60 seconds only.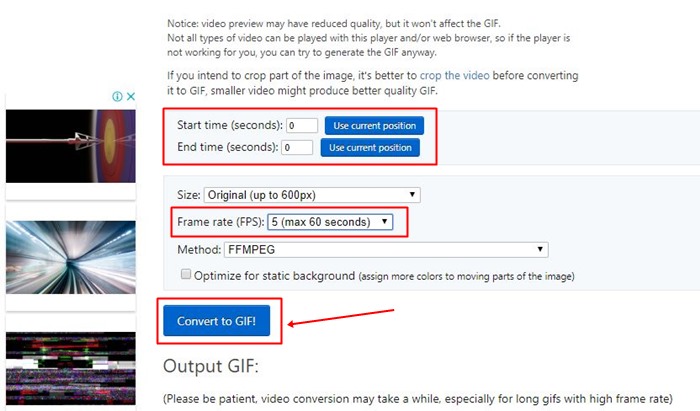 · You can also use tools like crop, cut, split etc.
· EZGIF WMV to GIF converter is only good for small WMV videos as it can convert maximum 60 seconds of a WMV to GIF. If you want more seconds then use convertio.co
3. ZAMZAR.COM
Zamzar is another free online WMV to GIF converter. It works like convertio.co and converts entire WMV movies to GIF irrespective of their video length. The only problem with Zamzar is that it requires an email and sends the converted file later and not instantly.
· Go to website and click 'Choose Files' in 'Step 1' and select the 'WMV' file.

· In 'Step 2' select 'GIF'. In 'Step 3' enter your email address, you can also use temporary email addresses like (Temp Mail) that are available online and are for one-time use only.
· Finally, click 'Convert' in 'Step 4' and your GIF file will be mailed to you shortly.
Case 2: Use DVDFab Video Converter to Convert WMV to Other Video Formats and Trim/Cut WMV Videos before Converting to GIF
If the WMV video is of several long minutes then it would be great an idea to cut the required part only and skip the rest of the video. This will heavily bring down GIF size and you won't have to convert entire WMV to GIF. You can use DVDFab Video Converter to cut/trim the WMV video and can also use it to convert to other popular formats like MP4, AVI, MKV, 4K formats. See a quick tutorial below.
· Download and install DVDFab 11. Open the program and click the 'Converter' tab.
· Click the 'Add' button and load your WMV video. Click the 'Profile Selector' button and choose 'WMV'.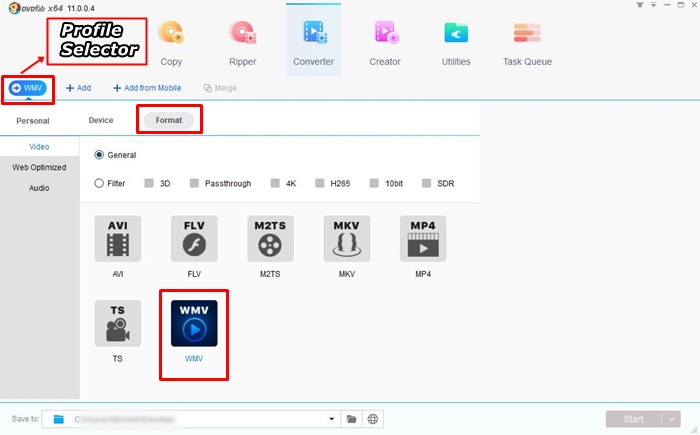 · Then click the 'Video Editor' button and only extract the required part. The video editor requires you to select the trim points and then invert the selection to extract only the required part.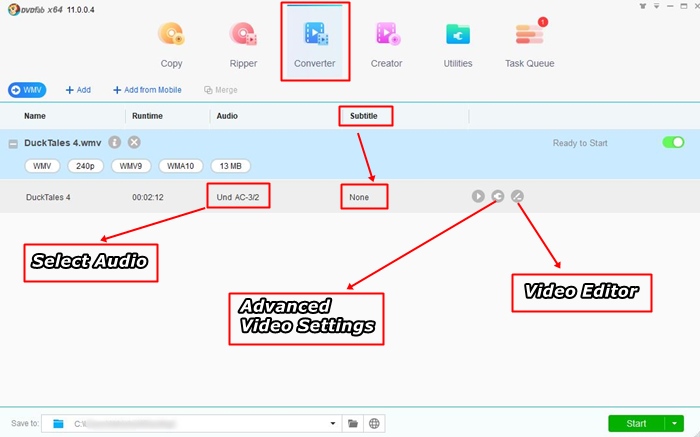 · Then you can convert the video to WMVby clicking the 'Start' button. To convert the converted video to GIF, you can use the above online WMV to GIF converter tools.
· Using the same method you can convert your WMV movies to other video formats also.
Conclusion
So, this is how you can convert WMV to GIF using the three online free tools. However these tools convert either entire WMV to GIF or just first 60 seconds. So, if you want to cut a WMV video then use DVDFab 11 Video Converter and save a trimmed part. This will save your time and you should try the video converter at least once because it is a highly productive software.