Χ
How to Clone Blu-ray on Mac?
Is there a universal solution to clone Blu-ray movies on Mac computer? There must be a lot of people wanting to know the answer, especially to those videophiles, who have Mac computer and Blu-ray equipments at home. The intention is quite clear, and the answer is actually very simple, too. You just need bring in a Mac Blu-ray cloner software, like DVDFab Blu-ray Copy for Mac, which has the power to clone Blu-ray discs.
Move on to check this tip out if you really want to know how to do that:
Clone Blu-ray on Mac > Step 1: Download and install the latest DVDFab 9 for Mac onto your computer;
Clone Blu-ray on Mac > Step 2: Launch DVDFab 9 for Mac, choose Copy option in Option Bar, and then put the Blu-ray disc you want to clone into the external Blu-ray drive;
Clone Blu-ray on Mac > Step 3: Select Clone/Burn mode on Mode Panel, and then press the "Start" button to let go the burning.
Clone Blu-ray on Mac > Step 4: when prompted by the system asking you insert a blank BD disc into the disc tray, you just take out the original disc and put in a blank BD disc to continue the cloning process.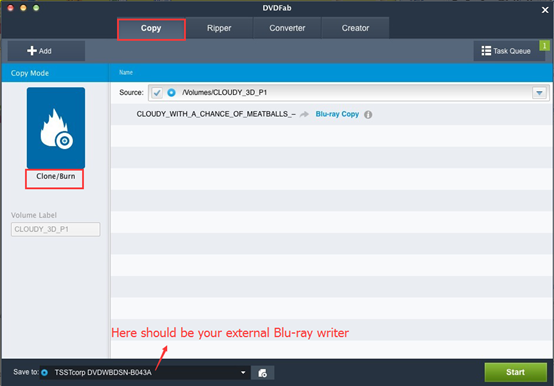 Note: if you want to clone the Blu-ray movie from disc onto Mac HDD, you need click the disc icon at the "Save to" section to select a directory on your Mac HDD to save the ISO file.
Software you need: The latest build of DVDFab 9 for Mac
Product you need order: Blu-ray Copy for Mac
For more information, please go to: www.dvdfab.cn/blu-ray-copy-for-mac.htm.