Χ
Rip Blu-ray to ISO on Mac OS X
Although Apple does not give its Mac computer the capacity to play Blu-ray movies, it does not fail people from enjoying high definition Blu-rays on Mac. You can hook up an external Blu-ray drive to your Mac and then watch any Blu-ray movies from a hard Blu-ray disc, or copy the Blu-rays onto your Mac local hard disk drive as ISO image file, so that you can watch it at any given time.
When this becomes necessary, then a Mac Blu-ray copy software also becomes necessary, as it can perform the task of ripping Blu-rays to ISO file on your Mac computer. You may want to check out how DVDFab Blu-ray Copy for Mac will do that, quickly and efficiently:
Just follow this tip to learn the process:
Rip Blu-ray to ISO on Mac OS X: Step 1 -> Download and install the latest DVDFab 9 for Mac onto your Mac computer;
Rip Blu-ray to ISO on Mac OS X: Step 2 -> Launch DVDFab 9 for Mac, choose Full Disc mode on Mode Panel, then load the Blu-ray you need to rip;
Rip Blu-ray to ISO on Mac OS X: Step 3 -> Click the disc icon at the "Save to" section (the one next to the yellow folder icon) to select a path to save the resulting ISO file, and then hit "Start" button to let go ripping.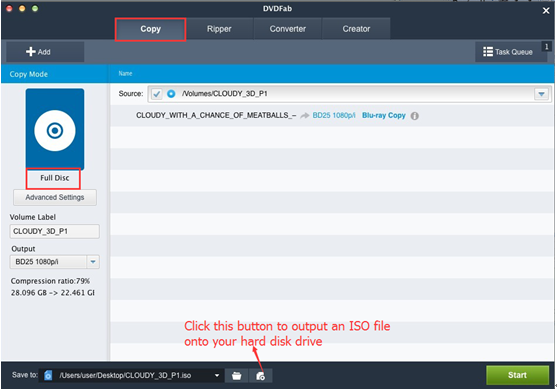 Note: You can also choose Main Movie mode if you only want to keep the movie itself, no commercials, bonuses, trailers, etc.
Software you need: The latest build of DVDFab 9
Product you need order: Blu-ray Copy for Mac
For more information, please refer to DVDFab Blu-ray Copy for Mac page.