The New iPad (iPad 3) DVD Ripper
Do you want to know how to convert your DVD collections, no matter they are DVD discs, DVD ISO image file and DVD movie folders on HDD, into Apple's iPad 3 compatible MP4 videos so that you do not always have to purchase online videos from iTunes Store? There must be some ways to do this. But how do we find that solution?
Have you ever heard about something like a DVD Ripper Software? There are many options when you search this topic on the internet. Today we will introduce a smart and easy way to do that, with DVDFab DVD Ripper, a popular tool in that category, to help you convert all of your DVDs into high quality MP4 videos.
Go ahead to learn how:
Converting DVD Movies for iPad 3: Step 1 -> Download and install the latest DVDFab 9 onto your computer;
Converting DVD Movies for iPad 3: Step 2 -> Launch DVDFab 9, choose Converter option at the Option Interface (or from the Option Bar at the Main Interface), then load the video you are about to convert;
Converting DVD Movies for iPad 3: Step 3 -> Click the Profile Box (or Profile Icon) to find iPad 3 from Profile Library and press "OK" button, then just hit "Start" button at the Main Interface to go converting.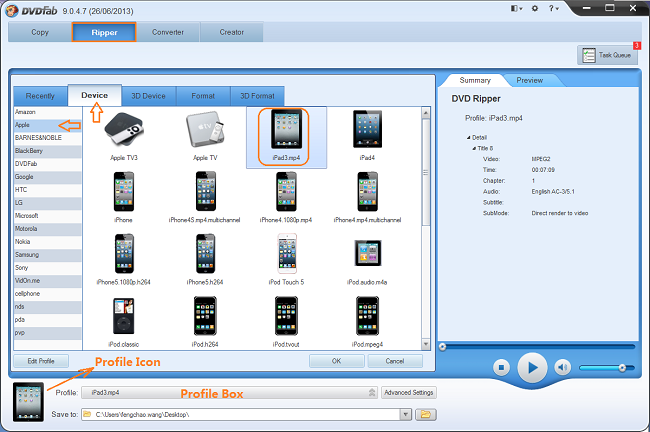 Note: selecting iPad 3 profile from the built-in Profile Library is the key point of the whole process.
Software you need: The latest build of DVDFab 9
Product you need order: DVD Ripper
For more information, you can go to DVDFab DVD Ripper page.