The best video converter for PS Vita
05/28/2020
Getting sick of playing games, or running short of interesting new games for your PS Vita? How about watching movies on this 5-inch display screen? It will fun enough to do that especially when game is not your first priority any more. You can play your personal videos on this mobile device by converting your videos into its compatible formats. How to do that? As easy as you may think, a piece of video converter software can do this task for you, such as DVFab Video Converter, the best kind in this field.
There is s step by step tip targeting on that:
Convert Videos for PS Vita: Step 1 -> Download and install the latest DVDFab 9 onto your computer;
Convert Videos for PS Vita: Step 2 -> Launch DVDFab 9, choose Converter option at the Option Interface (or from the Option Bar at the Main Interface), then load the video you are about to convert;
Convert Videos for PS Vita: Step 3 -> Click the Profile Box (or Profile Icon) to find PS Vita from Profile Library and press "OK" button, then just hit "Start" button at the Main Interface to go converting.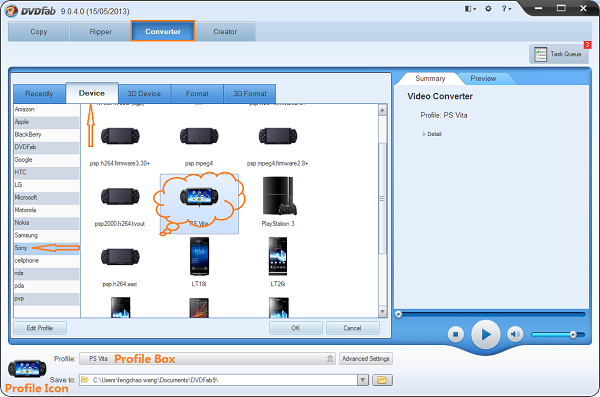 Note: selecting PS Vita profile from the built-in Profile Library is the key point of the whole process.
Software you need: The latest build of DVDFab 9
Product you need order: Video Converter
For more information, please go to DVDFab Video Converter page.
① Convert videos from one format to another for compatible devices
② Extract the audio tracks from videos and output as audio files
③ Support all the popular audio & video formats like MP3, MP4, MKV, etc.
④ Support to edit the videos like cropping, trimming, and more
⑤ Support GPU hardware acceleration to convert much faster