DVDFab Blu-ray Copy - Main Movie
DVDFab Blu-ray Copy - Main Movie just copy the main movie of the original Blu-ray disc to hard disk drive
and a blank BD-R/REs, omitting unwanted features like menus, special bonus and trailers, specify the audio
tracks and subtitle you prefer. Additionally and powerfully, this mode supports copying blu-ray movie to
DVD-9 and shrinking to DVD-5, then you don't have to worry about the expensive blu-ray movies got
damaged any more.
Main Movie Guide
Step 1) Start up DVDFab
Click on the desktop icon of DVDFab 8 Qt, there will be an animation of splash screen popping up, it is designed for you to track the program startup process visually.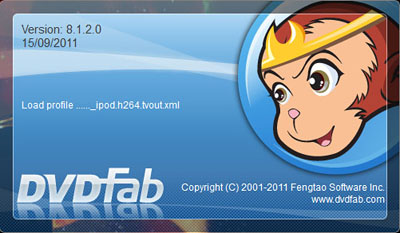 After few seconds, welcome screen will pop up. If you want to stop it from futher appearing, check
the box "Do not show again" at the left bottom corner, then select Blu-ray Copy option, Start DVDFab.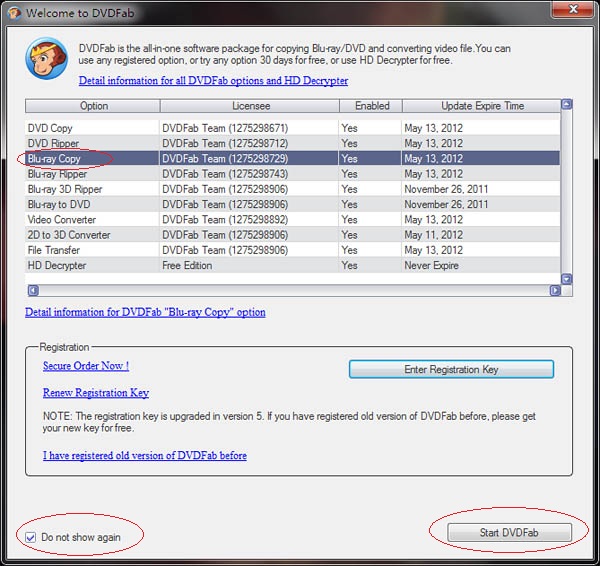 Step 2) Load blu-ray DVD
Please select Blu-ray Copy-->Main Movie mode in the left navigation bar, insert your blu-ray disk to
the BD-ROM tray. If you choose to burn a blu-ray movie from a file you already have on your hard
drive, you need to click folder icon

or ISO icon

to select the source blu-ray files, remember
your files have to be ripped by DVDFab.
Now specify the blu-ray disc's region code, then click OK. This pop-up window is used to remove the 'RCE -
Region Code Enhancement' on the original DVD, which can be disabled by checking "Do not show again",
you still can find the default RCE settings in Common settings/Protection/Blu-ray.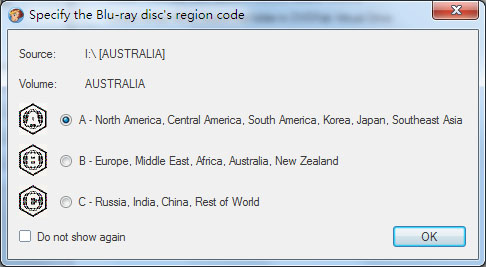 It will open the blu-ray disc and you just need to wait a while for analyzing finished.

Step 3) Start rip process
Then you have to configure target path. Click on the folder icon or ISO icon to select the location of
the ripped blu-ray copies. You can also select blu-ray burner as the target to do the copy job directly
from disk to disk.
Target ->Folder:
Main Movie mode of DVDFab Blu-ray Copy can be used to easily copy only the longest movie title of a Blu-ray. The operation is very simple as follows:
1. Choose Copy option of DVDFab, and load in the source
Start DVDFab then choose Copy option. Now insert the source BD or drag and drop the backup file from your PC into the program so that DVDFab will load in the source.


Target ->blu-ray burner:

Target ->ISO image file: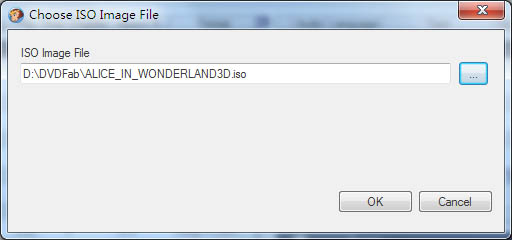 Please specify audio streams and subtitle tracks. This "Default Arrow"

can be moved to other
audio/subpictures by clicking the left of the checkbox for the item. Clicking on the arrow itself turns
the default off. Selecting a default subpicture will force to start the subtitle on most players.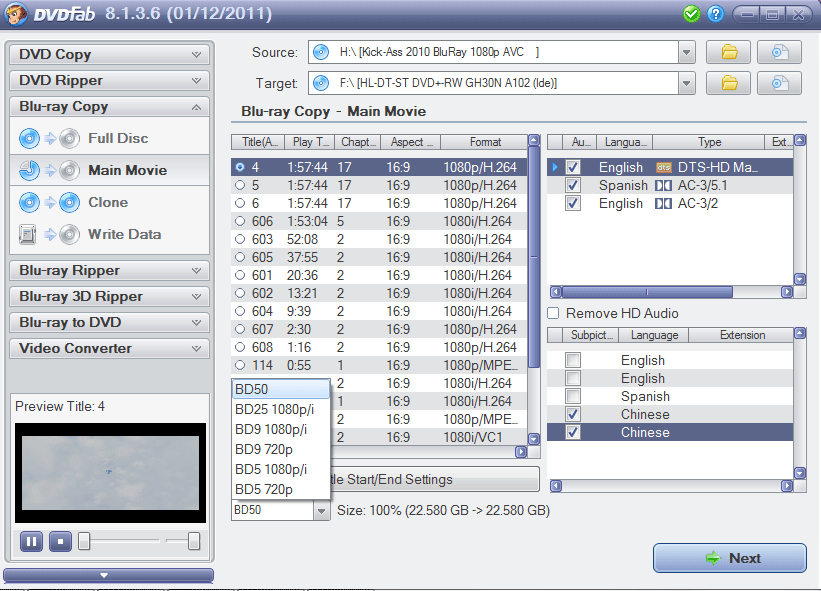 Remove HD Audio: Since HD audio is audio file with high definition quality, and there will be no audio
compression involved during copying, which means it will take part of spaces on the blu-ray blank disc,
you'd better enable it for saving much free spaces to put the compressed video contents.

Title Start/End Settings: Choose chapter range for the highlighted title. To copy just one chapter for a test,
set both begin and end chapter as one number like 5 from the drop down menu.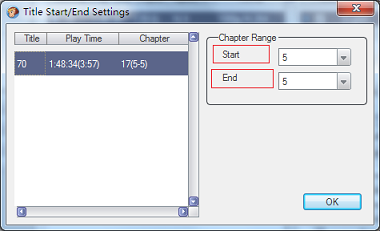 Writable media Size: Please choose "BD50" or "BD25" in the lower area, choose BD25, DVDFab will
compress the material to make it fit on one BD25 disc; choose BD50, DVDFab will make an integrated
blu-ray copy with no quality loss. You can also burn to any blank DVD Disc (DVD+R/RW, DVD-R/RW,
DVD+R DL, DVD-R DL) for BD-9/BD-5 output. Choose "BD5", DVDFab will compress the material to
make it fit on one BD5/DVD5 disc; choose "BD9", DVDFab will compress the material to make it
fit on one BD9/DVD-9 disc. You can track the compressing process via the scanning bar, if you don't
need it, click on "Cancel".

Now click the "Next" button to access a page with additional options, including the ability to specify
a Volume name. To convert DTS/LPCM audio to ac-3 will enable you to shrink the spaces on blank
disk that audio files will occupy. (Only checkable when you select bd9 or bd5 size at the bottom.)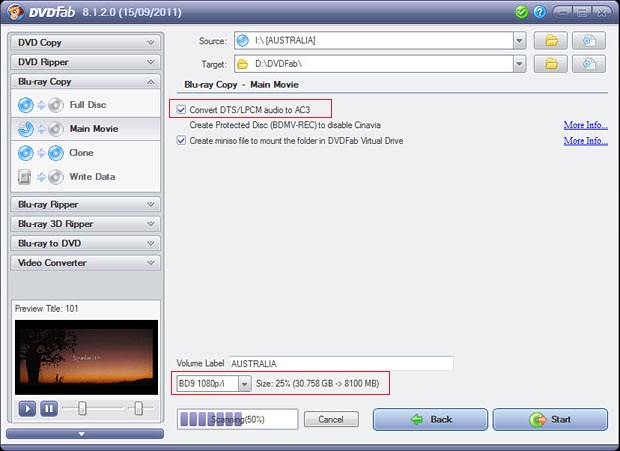 Step 4) Copy blu-ray 3D DVD
If you want to collect your expensive 3D blu-ray films yet still need to experience the amazing 3D viewing,
DVDFab Blu-ray Copy is your solution. Three copy modules are avaliable, Full Disc, Main Movie and Clone.
You can copy and burn 3D blurays just as easy as regular bluray. Let's start. Load blu-ray 3D movie into
Blu-ray Copy main screen.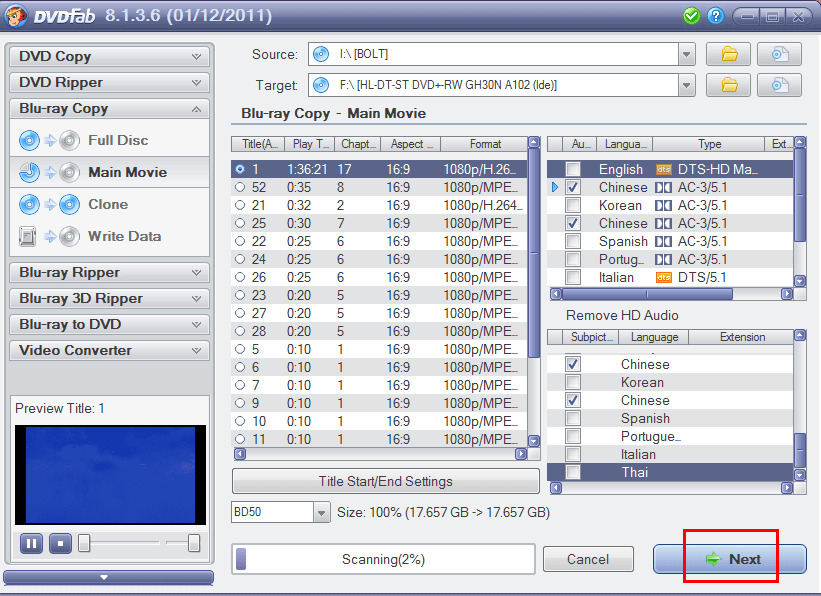 After all the selections done, click on Next button. To create backup copy for 3D blu-ray main movie, you are
allowed to convert to SBS 3D or convert to regular 2D format. (See the below picture)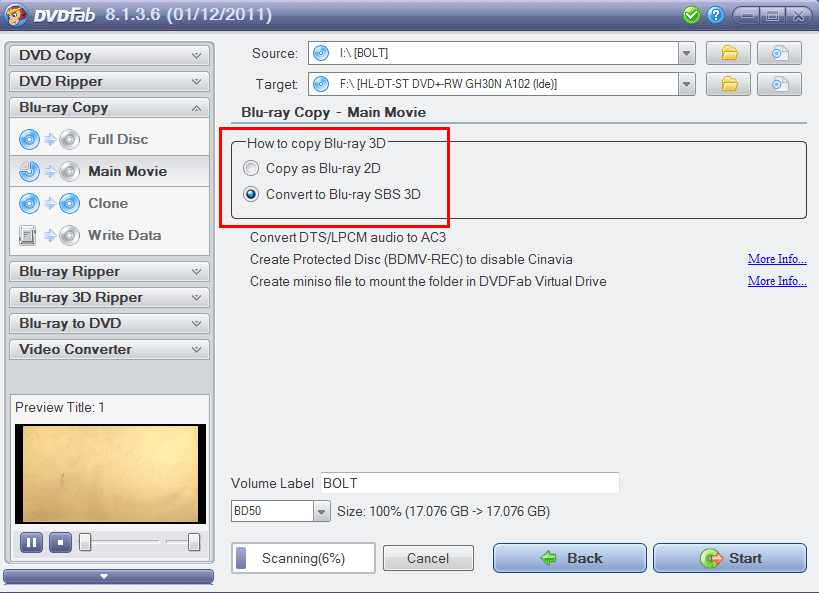 Miniso: Miniso is a new ISO format produced by DVDFab. The .miniso file can be created when copying
Blu-ray from disc to folder, or from folder to folder, it is much smaller than ISO file, only 1-2 MB, this will
definitely save your hard drive storage spaces and valuable time from creating an entire ISO image file
from source blu-ray disc. For more information, please click here.

Step 4) Start burning process
If you have chose blu-ray burner drive as the target, when this ripping process is completed just press the
Finish button, you will be asked to insert a blank BD-R/RE in the BD-ROM.

Choose your prefer burning engine, specify the output media size and write speed in Common
Settings/DVD/Blu-ray/Write. Click Ok. Then begin the burning process.
DVDFab's default write settings will work just fine for those wanting simple copies.
After some time you will get a message that the process has completed successfully, press the Finish button,
then you should be able to playback the disc using WinDVD 7 EX, PowerDVD 6.6 BD, or your standalone
Blu-ray player.
Note: If you have chose the option "Automatically shut down the PC when done", our program would shut down auto after burning.
For a detailed video tutorial, please visit http://www.youtube.com/watch?v=-k3Ye7VmCG0