DVDFab DVD Copy - Split

DVDFab DVD Copy - Split mode allows you to split an original DVD9 into 2 DVD5s letting the user avoid the expense of a DVD9 blank but still get a high quality backup copy with little or no compression. It does this by splitting the longest title by chapters onto both discs. Other content is distributed between the two output discs as space, structure and user options permit.

There are many options in terms of split position, menu availability on disc 2, and which titles to include on each half of the split. Since many of these options interact, it may take some practice and advance planning to get the split you want.


Split Guide
If you don't want to look at the text guide bellow, please scroll down this page to bottom for video tutorial.

Step 1) Load DVD movie

Start up DVDFab, open the main interface, click on "Split" mode, then insert your DVD9 disc to DVD drive.
If you choose to split a DVD from a file you already have on your hard drive, you need to click folder icon

or ISO icon

to select the source files, remember your files have to be ripped by DVDFab.
(This guide uses DVD disc as source, using default output path as the target.)
It allows you to make title assignment settings in

Common Settings/DVD to DVD/Split.
Please select which Disc would be put the major part of the output files according to your needs.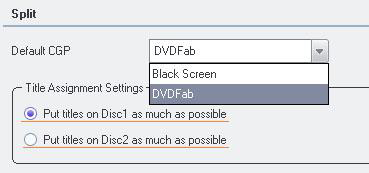 Step 2) Split settings

The amount of data on the two output discs can be varied by changing the "Split Chapter" using
controls at the top of the window. Clicking on the box containing the split chapter number will cause
a drop down selector to be displayed that you can use to vary the split to put more or less of the
movie on each output disc.
In the below example we splited the main title putting chapter 1-18 on Disc1 and chapter 19-36 on Disc2.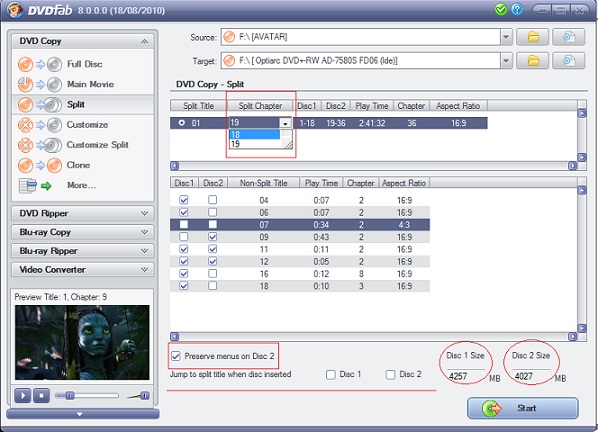 The two boxes "Disk # Size" in the lower right will update as this is changed. The range of split chapters
available will vary from many to few (or none in some cases) depending on the size of the movie files and
the user settings you have chosen.

There are checkboxes in the lower left (see illustration) that control menu placement and force Disc1 or 2
to jump to the title that was split as soon as it is inserted in the player.


Step 3) Start splitting process

When you are ready, click on "Start" button to begin the split process. If you have chose the option
"Automatically shut down the PC when done", our program would shut down auto after spliting.

You can track the split via the processing table or the lower processing bar.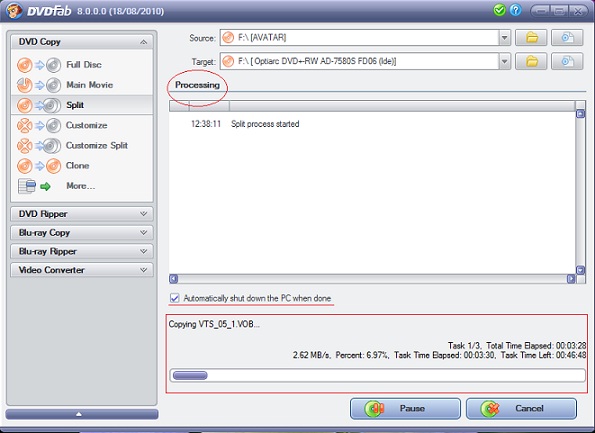 Step 4) Start burning process

After some time you will get a message that the process has completed successfully, press the Finish button, then you will get two backup folders on your output location, like:

C:\Documents and Settings\Administrator\My Documents\DVDFab\GOTHIKA\Disc_1
C:\Documents and Settings\Administrator\My Documents\DVDFab\GOTHIKA\Disc_2

If you want to burn these two folders to blank disc, just need to choose Disc1 folder as source, set DVD burner as target to burn directly. Then do the same burning sequence for Disc2.

Details on the burning reference can be found on the Full Disc option.
Tip: Use the Preview Window to look at the point where the split will fall and choose another split chapter if the one selected isn't suitable for the movie content at that point.
For a detailed video tutorial, you also can visit http://www.youtube.com/watch?v=M23lb30u5HA