1. Main Factors Influencing You to Choose this Browser Video Downloader
Before you make any decisions in terms of the choice of a wonderful web browser video Downloader, there are a couple of standards you should keep in mind. The following part lists two of the most common elements valued by many users, and you can take them for reference. * Friendly Interface: A friendly interface will capture your heart immediately, as they save a lot of problems for you and make your operation easier and more efficient. Normally, a friendly interface is composed of three parts, simple structure, well-organized buttons and a wide range of user groups. The first element means the software is not complicate and can provide quick access to common features in a few clicks. The second requires a software's buttons are organized in the way users are comfortable with, which means you can locate the very specific button instantly, instead of spending a lot of time searching, or even reading the manual every time. The last one can be interpreted into making sense to common users. Whether male or female, young or old, you can understand it in a few minutes. * Easy to install and update: As the first point of contact, install process determine to a large extent the first impression you will have on the program. Imagine you spend a couple of hours downloading a program or you are given very complex instructions to finish the install process, will you give positive comments to this program? Of course not. The most probable situation is you will never use it again and recommend your friends other alternatives. Easy to update is also important. People need to update programs from time to time for many reasons, including patching security holes or memory leaks. If the process is very complicate, users will likely skip it, leaving a lot of hidden risks unresolved. Is there a qualified web browser video Downloader that meets both of the requirements mentioned above? Here is our recommendation - DVDFab Video Downloader.
2. Optimal Software Recommended – DVDFab Video Downloader
DVDFab Video Downloader is a video download solution developed by DVDFab Software. This browser video Downloader app allows people to download and convert online videos freely, making video download very simple and smooth. It now supports to download videos from over 200+ websites with original formats and multiple resolutions to choose. There are a lot more powerful functions it can provide. For a more detailed introduction, please continue to read.
The most common reason to save a video is that we want to watch it freely. Given this, DVDFab Video Downloader, a
YouTube downloader free download
, should be considered.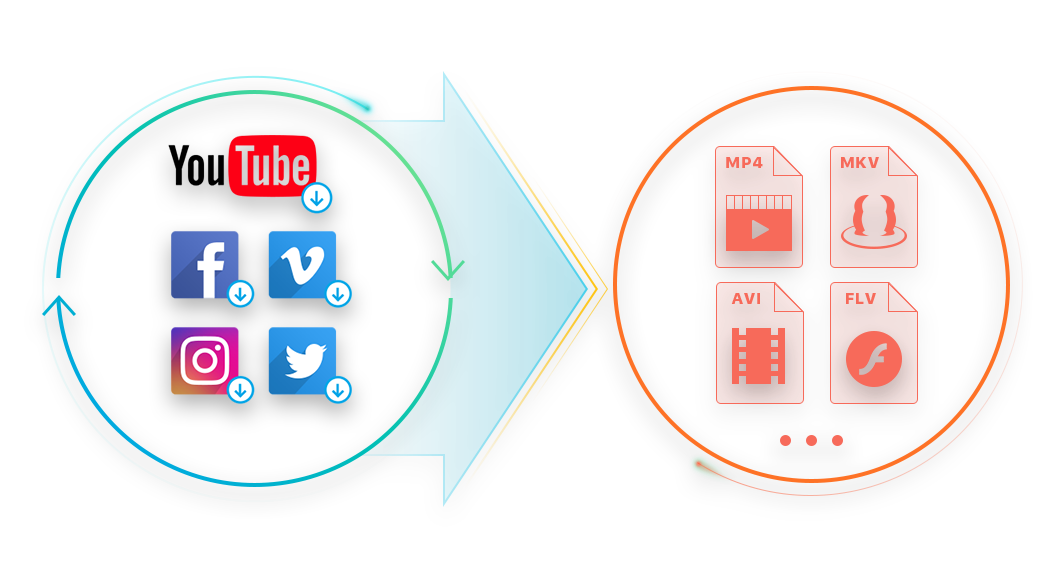 Download HD Videos

Resolution represents the clarity a video or image can achieve when it is on display. Lower resolution videos may appear blur on big screens, so users may want to have an expert browser video Downloader app that can download higher resolution videos. This browser video Downloader app we recommend can fully meet your needs, as it provides a variety of download solutions with a wide range of resolutions, from 144P to 8K. You can choose your favorite one based on your purpose or need.

Multi-task Download

This browser video Downloader app supports multi-task download, with 5 download processes as its maximum capacity. This can save you a lot of energy and time, giving you an excellent experience you ever have. All you need to do is pasting URLs of the target videos on the interface of this program, and all the other jobs will be done automatically and smoothly.

Download a playlist

A playlist is a pool of works with similar characteristics. Sometimes, the amount of its members are very big, which means an entire download can be troublesome if users do it one by one. This Google video Downloader browser allows users to download all the works in a playlist at a time. All you need to do is pasting the URL of the playlist on the specified spot, and all the works will be downloaded automatically.

Save a Playlist

If you feel it troublesome to store the unique URLs of your favorite playlists to some place, I highly recommend you to use DVDFab Video Downloader. This Google video Downloader browser is designed to keep in mind various kinds of playlists, making users to have a good watching experience.

Turbo-Speed Download

how to download videos on iPhone from browser at fast speed? Try DVDFab Video Downloader. This is a powerful software targeted to increase download speed. Click the "Rocket" icon on the right top corner, and then the download speed will increase to 10 times.DVDFab Video Downloader is fully prepared to help you solve all problems in video download from Instagram, a hot video sharing website. If you want to learn more things about video downloading, you can read this: https://www.dvdfab.cn/video-downloader/4k-youtube-downloader.htm

Download Metadata

Metadata is like an information library, including the name, author, duration and others of a video. If you want to learn about how to download videos on iPhone from browser with metadata, I advise you to use DVDFab Video Downloader, which is an expert in downloading metadata.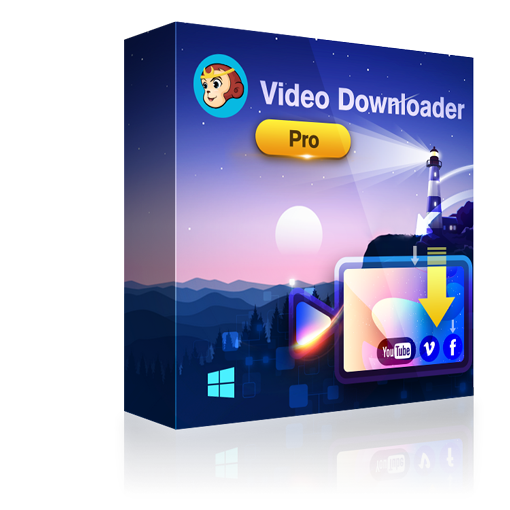 DVDFab Video Downloader
DVDFab Video Downloader Creative browser video Downloader, a helper when you intend to watch videos offline and individually without traces
Free Download
Free Download
3. How to Download Videos with DVDFab Video Downloader?
The above-mentioned features are highlights that make DVDFab Video Downloader differ from others. The following section will clearly illustrate how this browser video Downloader functions in three steps.
Step 1: Download and install DVDFab Video Downloader
This iPhone video Downloader browser is now available in the downloader page. Click the "Free Download" button to download and install it.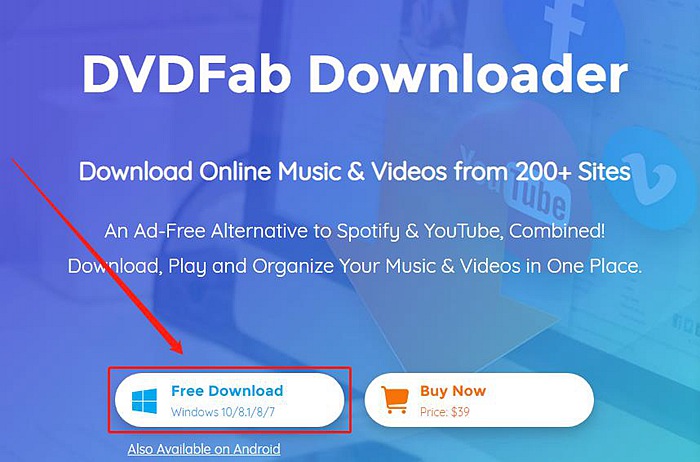 Note: On the top right corner is a small triangle-shaped button, click it, choose the "Settings" element to change settings manually. Choose a language that suits you well; Click the folder-shape button in the "Video Directory" to pick up the proper location where the downloaded files will be saved; for the last section, namely "Download Video", a better choice is to check in "Ask me each time", as you may have different requirements in terms of the quality of videos.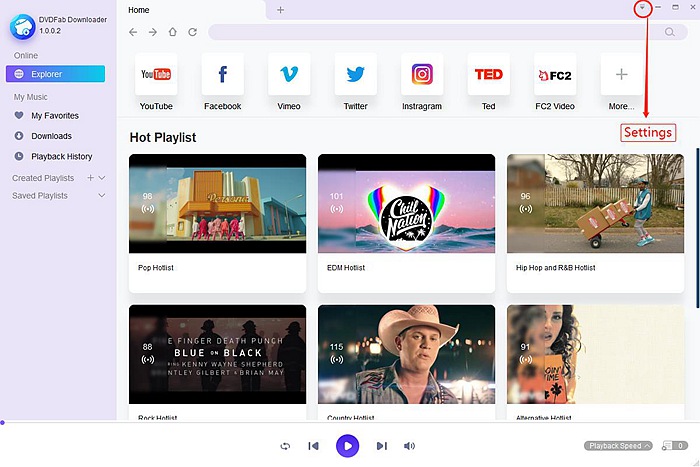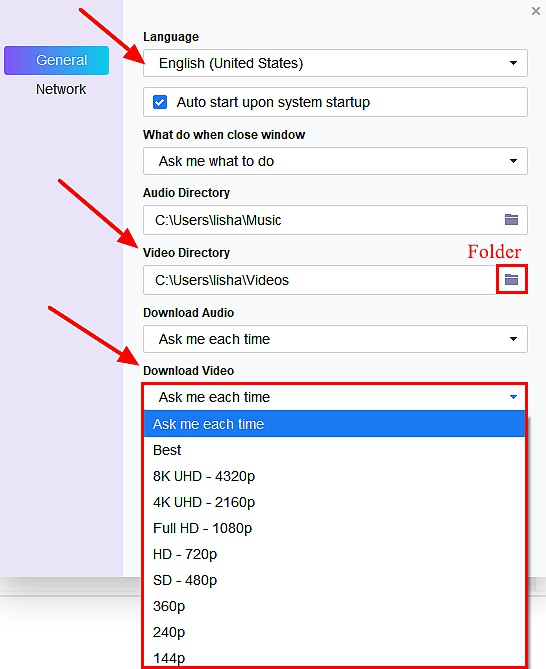 Step 2: Find the video you are to download
Before you step on the track of video download, the first thing you should finish is to find the video. if you have already got the URL of the video, paste it on the search bar of this online video Downloader for Chrome browser and your work is done. Or you can also navigate among the websites listed below the search bar in search of the right video. both of the methods will get you what you want. So, just pick one. When you get it done, a suspending bar will come out. Three elements of it, namely "Add to", "Play" and "Download" are key functions this program has to offer.
Next, let's take some time to digest some of the most common and important functions built in this program. The Download part will be introduced to you at the end of the article.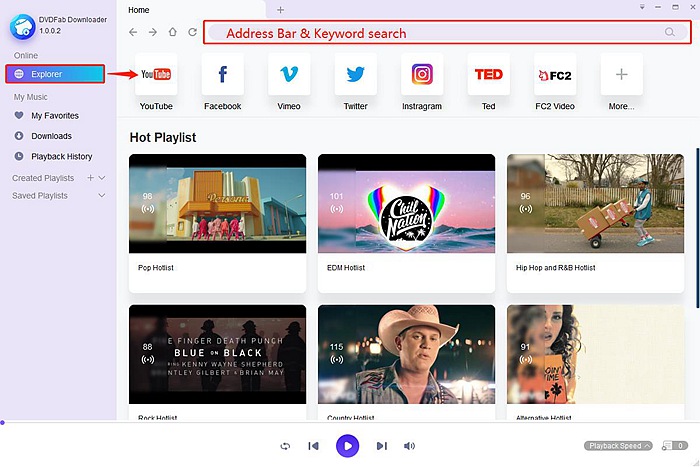 DVDFab Video Downloader is available on Windows, Mac and different brands of smart phones. You can install this software on your widely-used devices to find methods of safe way to download YouTube videos.
Add to favorite or Created Playlist
This browser video Downloader can provide more functions than just video downloading. As you can see, there are three parts of this suspending bar we mentioned before. The first is an add feature, which you can use to add videos to some channels such as playlists you created or "My Favorites" list in the left column. To create a playlist, click the plus button on the "Created Playlists" section in the left column, and give it a new name.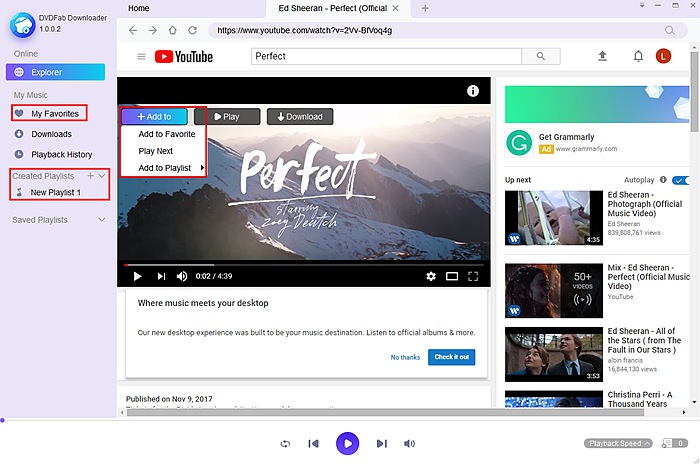 Download a playlist or save a playlist
With this video browser and Downloader, you can download playlists as well as videos. To download a playlist, you need to make sure the playlist is identified either by pasting its URL in the search bar or searching it in the websites below the search bar. When you open the playlist, the suspending bar will come up. Hover your mouse over the third option "Download" and click "Playlist" option below it. Then, the program will be analyzing the file and begin downloading immediately. You can check the download progress in the "Downloads" section where three parts will be included, the first of them being downloaded files and the third downloading files.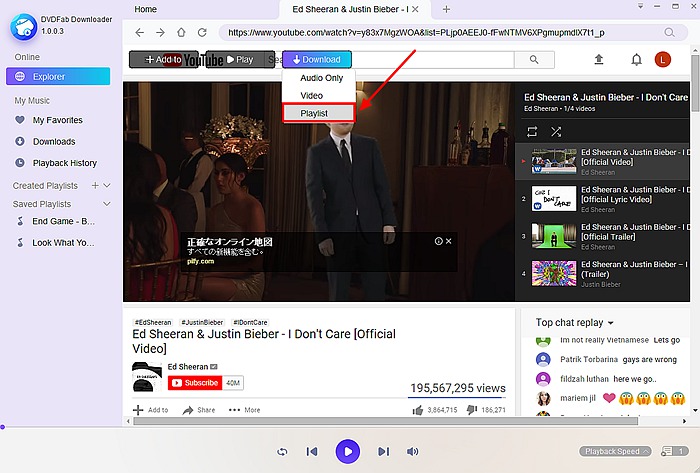 To save a playlist, hover your mouse over the "Add to" part on the suspending bar, and pick the "Playlist" option it gives you. then, the playlist is collected. You can check it on the "Created Playlists" section in the left column.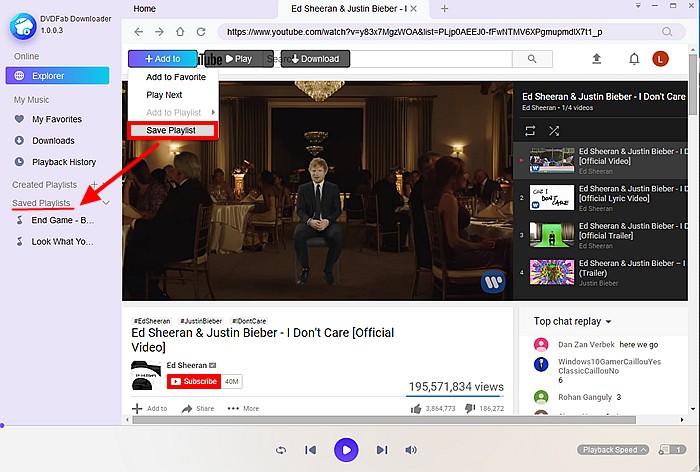 A Turbo-Speed button is designed in DVDFab Video Downloader. So that you can use this download embedded video to download videos in 10 times faster speed.
How the Play button works?
The second part of the suspending bar of this web browser video Downloader is for playing. Hover your mouse over it and click the "Video" option, then a play interface will appear.
It has a very simple interface with a variety of functions integrated within it. On the left of this interface are functions that stand for "Switch between the play interface and the main interface", "add to favorite", "download this video" and "delete this video" respectively. On the center of it is common functions, from left to right: "play mode", "play last video", "play or pause", "play next video", and "volume control". on the right of it are functions which, from left to right represent progress/duration, "play speed" and "current playlist".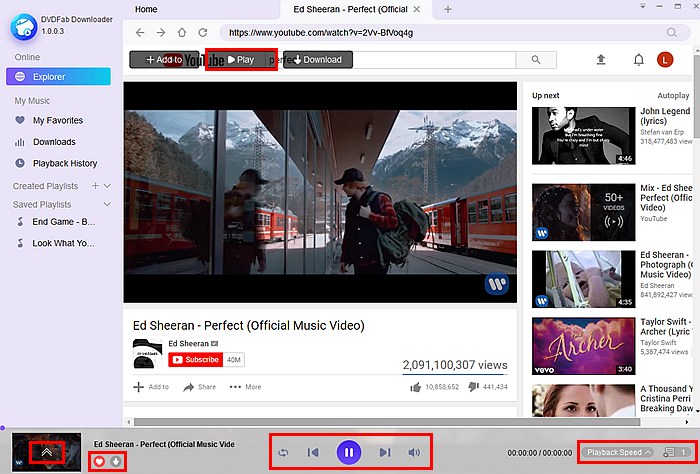 Step 3: Download Videos
This is the final step to answer the question how to download videos from Mozilla Firefox browser. After the video to be downloaded is ready, hover your mouse over the "Download" part, click the "video" button it gives you. Then the program will analyze it for a while before the download process starts automatically. The download progress can be checked from the "Downloads" section in the left column. There you can see three elements in this section, the first two of which are for downloaded files while the last downloading files.
One more thing, you can turn on the "Turbo-speed" to enjoy superfast download. Open "Downloads" section, click "Downloading" element, and you will find this button on the top right corner.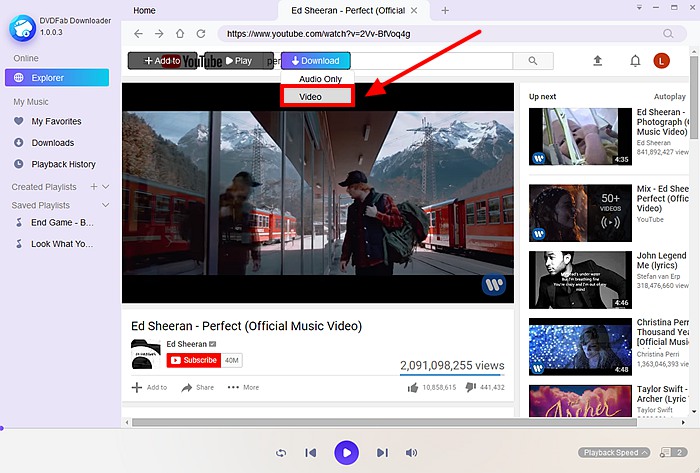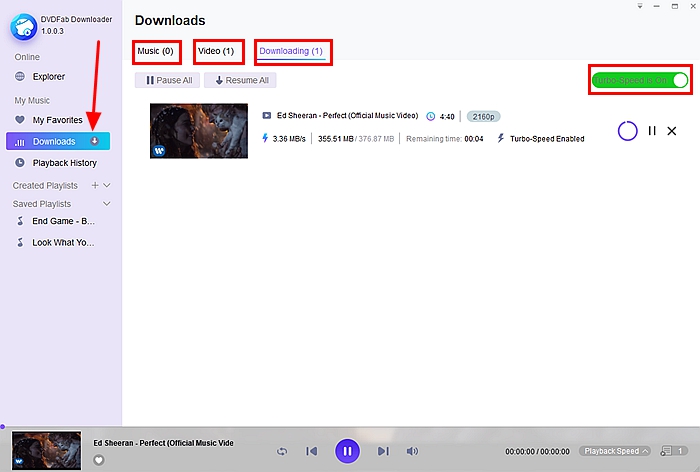 Now download this video browser and Downloader to explore more fun. Life is short. Size the chance to use DVD Fab Video Downloader.
4. What Kind of 200+ Video Websites It Supports?
After the specific introduction of the functions and usage of DVDFab Video Downloader to solve how to download videos from web browser, the following part will take some examples from 200+ supported websites of this program.
Social Networking Platform
Instagram
A popular social networking product owned by Facebook. Users can use it to upload, edit, organize and share photos, videos & messages with friends & families.
Twitter
Online news and social networking service. It allows user to express their views on a variety of topics, such as politics, environment and others.
Video-sharing Website
Vimeo
An open video sharing site. Users can host, share, and stream videos with the tools it provides, and it's ad-free.
TED
TED Talks collects a number of speeches made by experts in their fields. It has a very famous slogan "idea worth spreading".
News
CNN
A news website with a lot of news topics. A window for people to know the world.
BBC
A news outlet where a wide range of news will be released every day.
5. What Can DVDFab Do?
DVDFab Software, the owner of the world-famous multimedia solution shareware series, including DVDFab 11, Passkey 9, DVDFab Player 5 and DVDFab Downloader especially performing as web browser video Downloader, aims to provide audio and video lovers all over the planet with top-notch DVD, Blu-ray & 4K Ultra HD Blu-ray decryption, backup, conversion, authoring and playback solutions, video conversion and editing solutions, as well as online music & video download, playback and management solutions.
6. Conclusion
Can DVDFab Video Downloader satisfy your needs in video download? Have you known how to use the six functions of this software? I hope you can download more videos and playlists at a faster speed than before, and save your favorite videos and playlists to some place for easy access next time. In a word, this browser video Downloader aims at providing better service in video download, video watching and video management.
This FB Video Downloader distinguishes himself in video download by accelerating download process, auto-updating subscribed YouTube channels and providing batch download on more than 1000 websites.
More Products You May Like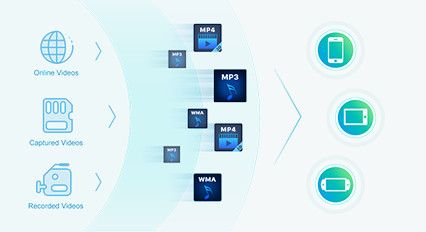 DVDFab Video Converter
A second-to-none video editing and converter tool for users to edit personal videos with different effects and then convert them for popular playback devices
Free Download
Free Download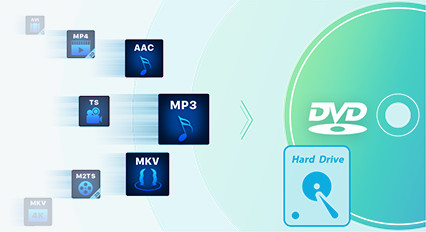 DVDFab DVD Creator
An advanced DVD authoring software that allows home users to produce professional DVDs compatible on all the standalone home DVD players
Free Download
Free Download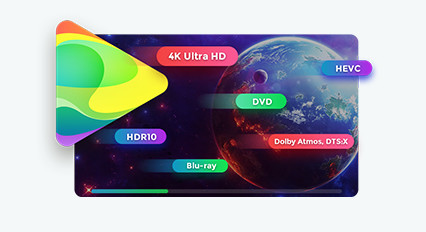 DVDFab Player 5
The universal media player software that not only plays DVD, Blu-ray and UHD discs, but also DVD/Blu-ray/UHD disc image files, with or without a virtual drive
Free Download
Free Download