1. Considerations for Software Selection When You Download YouTube Videos MP4
To answer the question how to download YouTube videos to MP4, users are highly recommended to choose a right tool, We believe it serves users best to obey some rules when they choose a video downloader. A handy tool can both improve the efficiency and the experience. According to our experience, the most vital rules include easy-to-navigate and abundant functions. * Easy-to-navigate: A product should be designed to be an easy-to-navigate tool no matter its target users are seasoned professionals or novice. That is to say, it takes as short time as possible for users to understand its functions, operation steps and basic layout of buttons. If you go by this rule, your choice will likely be a wise one. * Abundant functions: The reason why a product is deemed practical is largely because it has a lot of useful functions within it. So, if you want to make a decision you won't regret, choosing a downloader with practical functions will be highly recommended.
2. DVDFab Video Downloader - Your Personal Video Download Assistant
DVDFab Video Downloader is a video download solution with a series of targeted functions. This YouTube video Downloader online MP4 has absorbed many positive elements as well as removed negative ones from the old version and made some innovations. It can fully satisfy your common needs, such as HD video download, video/audio converter, play video online/offline, and serve as a good assistant both in your work and life. You can experience the best service from it, and it will never let you down.
With this easy-to-use
free video downloader app
, you are free to download any videos without any limitations.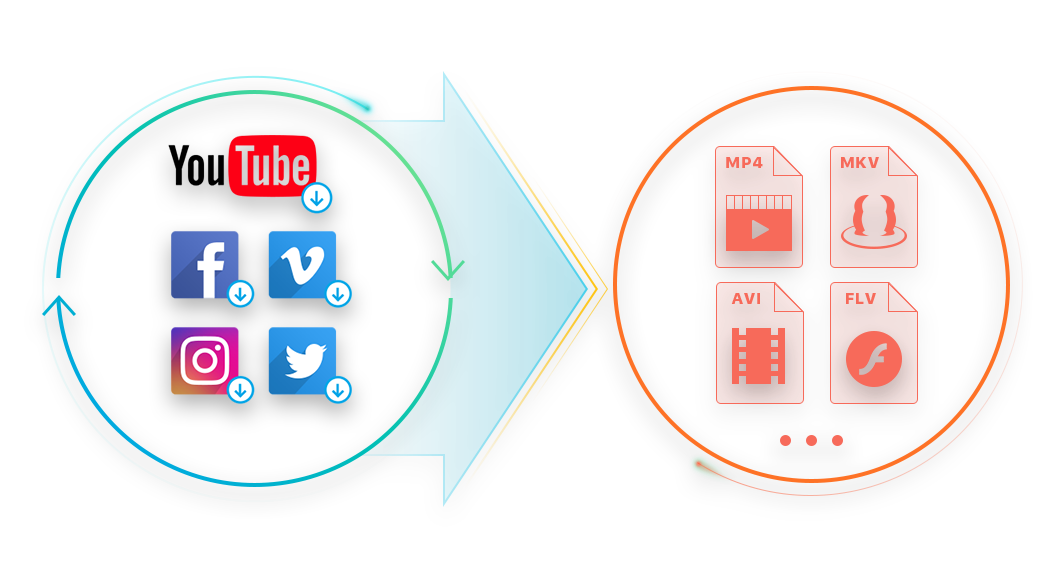 Download HD Videos

Most people are fond of HD videos as they can create clearer display effect and give us better experience than SD videos. This YouTube video Downloader online MP4 can provide a series of formats ranging from 144P to 8K. With all these options you can get, almost all your demands of video format will be covered.

Multi-task Download

Multi-task download function of this YouTube video Downloader online MP4 can help you do the batch download task, and save your trouble of doing them one by one. The download efficiency will improve significantly, and so will your usage experience.

Download a Playlist

If you are wondering how to download YouTube videos to MP4 for free, there is another topic you may be interested in: playlist download. This will save you a lot of data and the trouble of browsing websites again and again. This program totally supports it and makes it even better.

Save a Playlist

Besides the frequently asked question how to download YouTube videos to MP4 for free, you may want to explore more like how to save a playlist. This function enables you to save any playlist you find appealing when you surf the internet. You can check it, play it and delete it whenever you want.

Turbo-speed Download

Download speed may also be your concern as to download YouTube video online free MP4. Turbo-speed is an acceleration feature. When turned on, it will increase your download speed tenfold. In the context of incoming 5G era, this represents a great advancement in terms of efficiency and experience.

Also you can follow

https://www.dvdfab.cn/video-downloader/myspace-video-downloader.htm

, another useful article to tell you how to download videos.

Download Metadata

For those who ask download YouTube video online free MP4, metadata may also be needed by them. Metadata download can tell you the author's name, title, duration and many more. It can help you quickly locate the specific information you want and save you much trouble.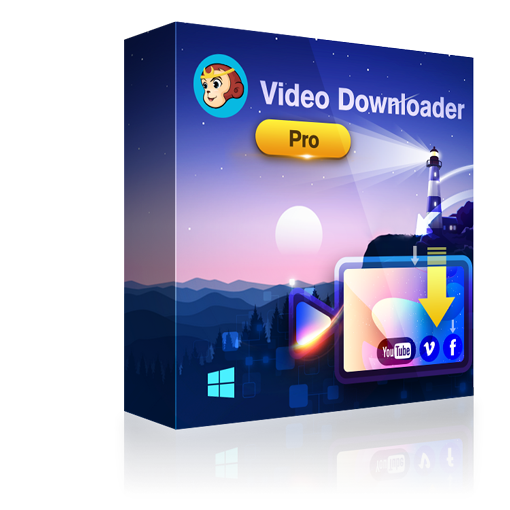 DVDFab Video Downloader
DVDFab Video Downloader Effective solution to download YouTube videos MP4, easy-to-use with three steps to download videos from 200+ video websites
Free Download
Free Download
3. Tips to Download YouTube Videos MP4
These features jointly compose wings that power DVDFab Video Downloader to meet your needs stably and reliably. The next part will guide you through detailed steps to download YouTube videos MP4.
Step 1: Install DVDFab Video Downloader
To finish the first step, you may need to locate the website of DVDFab Video Downloader. Click Free Download button, obtain its installer file to install this program as guided. This program is good at dealing with problems on how to download YouTube videos in MP4.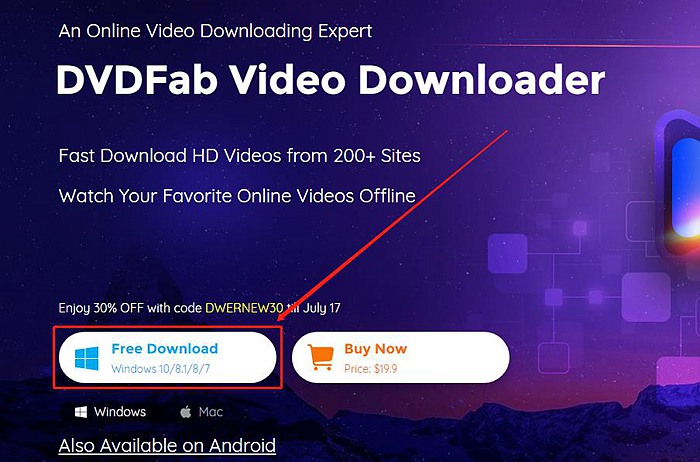 Note: Before moving to the next step, you can do some settings first. After launching this program, you will see the whole user interface. On the right top corner exists an inverted triangle. Click it. An unfolding list will appear on which the Settings option is listed first. Click this option, as a result, a new interface will reveal in front of you.
Two options, Video Directory and Download Video, on this interface need your extra attention. Click the Folder icon below Video Directory to change the output address as you need. Click the small upside-down triangle below Download Video, all choices about video quality are provided here: Ask me each time, Best, 8K UHD-4320p, 4K UHD-2160p, Full HD-1080p, HD-720p, SD-480p, 360p, 240p and 144p. We advise you to set Ask me each time, because with this setting, you can choose one from different resolutions every time you click Download button as your convenience.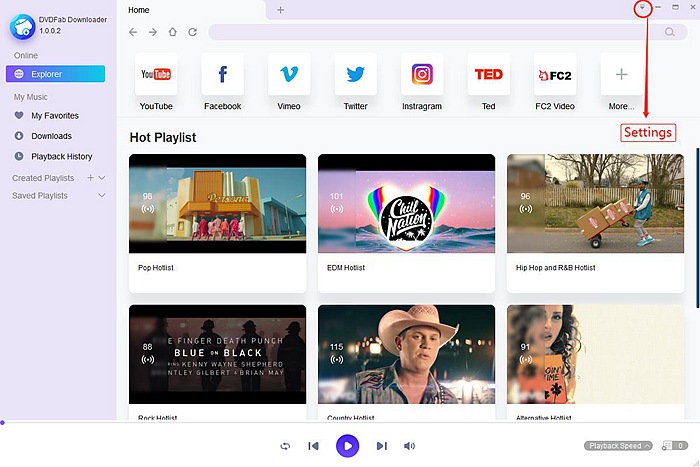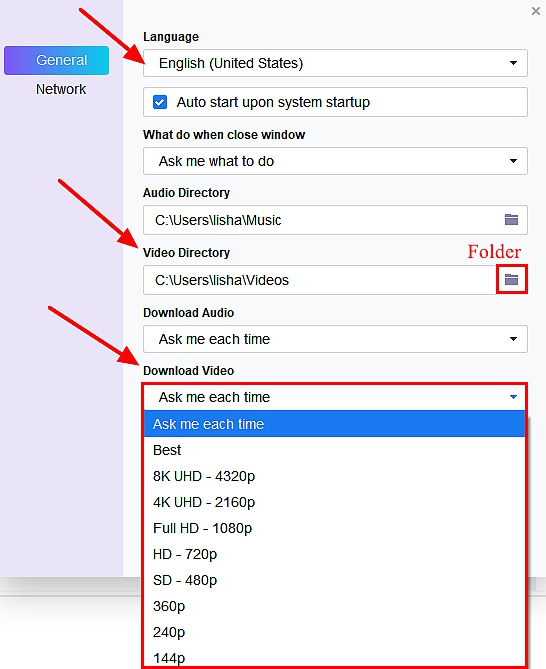 Step 2: Find the video to be downloaded
More information will be given for you to download YouTube videos MP4. Here comes to the step to find a video to be downloaded. Two methods are available. One is to paste a video URL on the search bar, the other one is to click a built-in explorer on the upper part of interface, like YouTube, or click More, to find a video.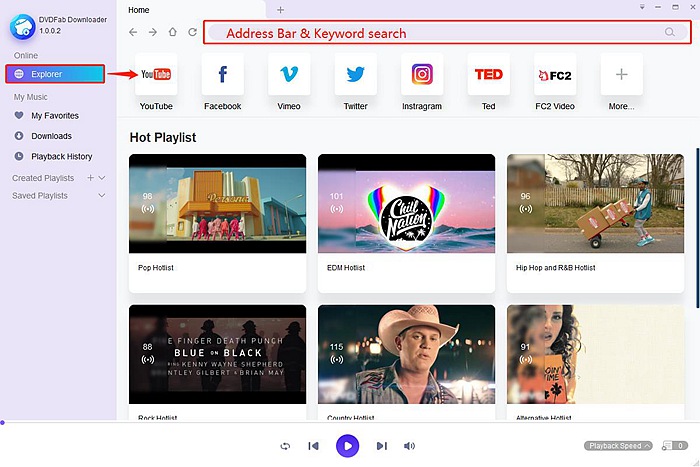 DVDFab Video Downloader, compatible to Windows or Mac, can also be used on mobile phones to download all kinds of videos on websites featuring YouTube. Follow this software to find download a video from Vimeo online.
Add to My Favorites or Created Playlists
Here is more relevant information you may wonder when it comes to download YouTube videos MP4. For playing YouTube video, you can use an Add to button on the left side of the suspending bar, along with other two buttons which are Play and Download, on a condition that the video information is analyzed by this program.
Click Add to button, then you will notice Add to Favorite and Add to Playlist. Add to Favorite means collecting your video under My Favorites situated on the left interface part. Add to Playlist will be available when you name a new list under Created Playlists. Refresh the video page. Then if you click Add to Playlist, the playing video will be saved under the new list of Created Playlists.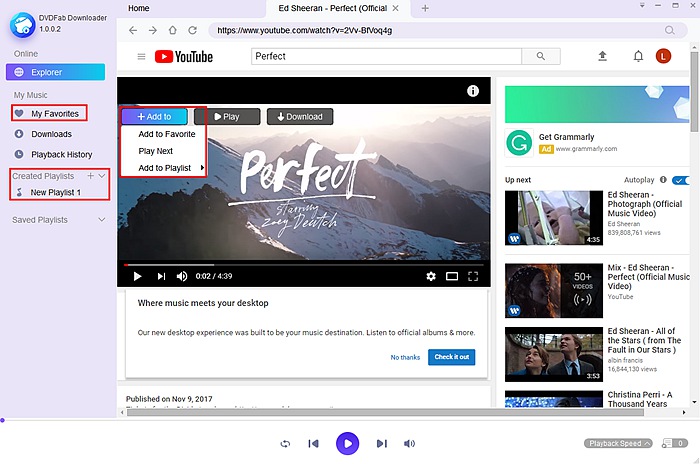 Download and Save a Playlist
As a YouTube MP4 video Downloader free, DVDFab Video Downloader is multifunctional. It can recognize a playing playlist. Like what has been mentioned before, three buttons appear when a playing video information is analyzed. But slightly differences happen here. When your mouse cursor point to the Download button, then a Playlist button can be spotted. Click Playlist, a new panel comes along with it. It is a panel where you can pick up videos you want to download. When your mouse cursor point to Add to button, then a Save Playlist button can be noticed, click it, then the playing playlist will be saved under Saved Playlists.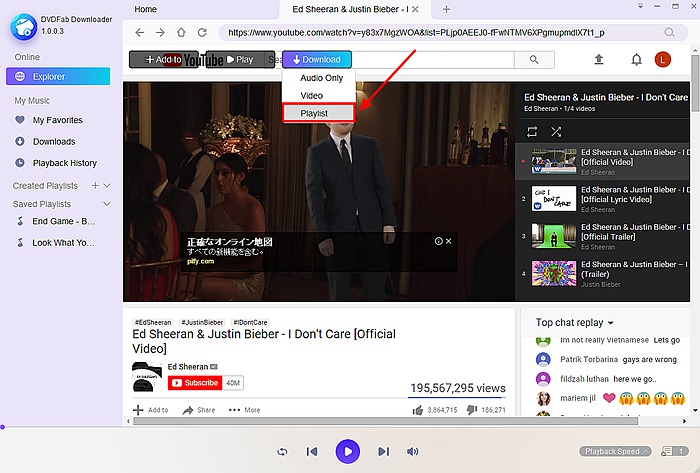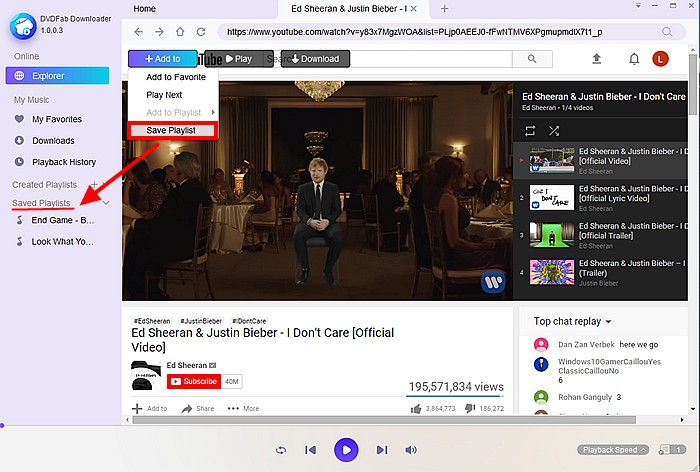 People tend to download multiple videos at one time. DVDFab Video Downloader allows you to download upmost 5 videos simultaneously. That's why we recommend this how to download flash videos to you.
Play button
When you want to know how to download YouTube videos to MP4, then Play button is indispensable which can be noticed on the middle of the suspending bar. Click it, then a new playing interface will show up. From left to right on the bottom, functions of some buttons will be explained here.
The album cover can be used to unfold the playing interface. The small heart button means to save the playing video under My Favorites list. The inverted arrow means to download the playing video. And the cycling button offers playing mode, namely Repeat All, Repeat Single, Sequential and Shuffle. Well, a Playingback Speed can be used to adjust the speed if needed.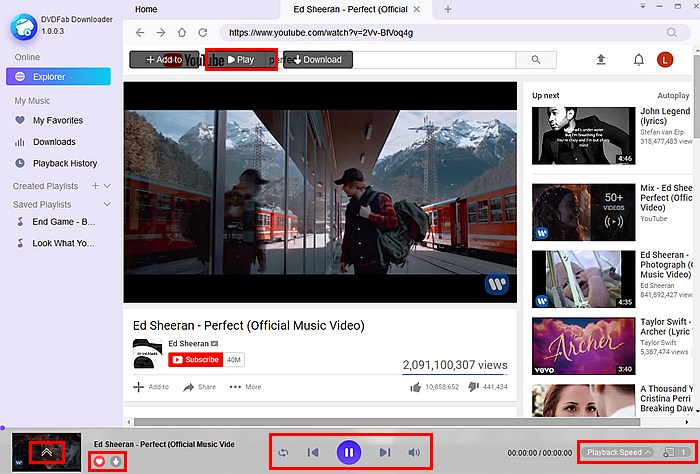 Step 3: Download Videos
Here comes the final step to use this YouTube MP4 video Downloader free. Appearing in the suspending bar, Download button can be clicked to download a video. Then a new panel comes out. Choose one quality level you want to download, after which the video start to be downloaded immediately. Focus your eyesight to the Downloads situated on the left column, click this button, then Music, Video, Downloading buttons can be seen. Apparently, you can check downloaded music and videos under Music and Video list respectively, and check downloading process under Downloading button.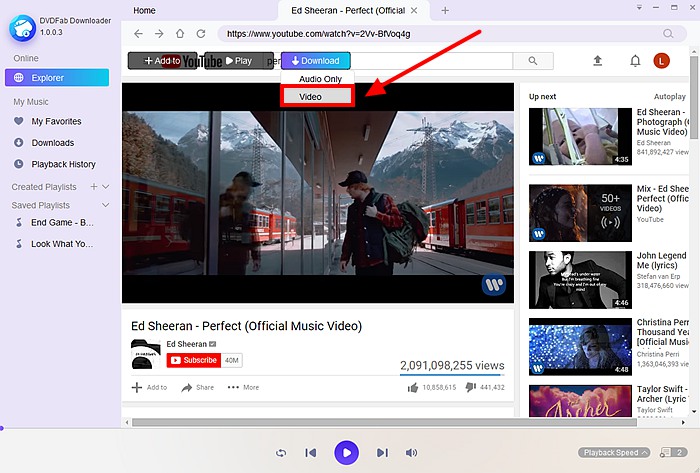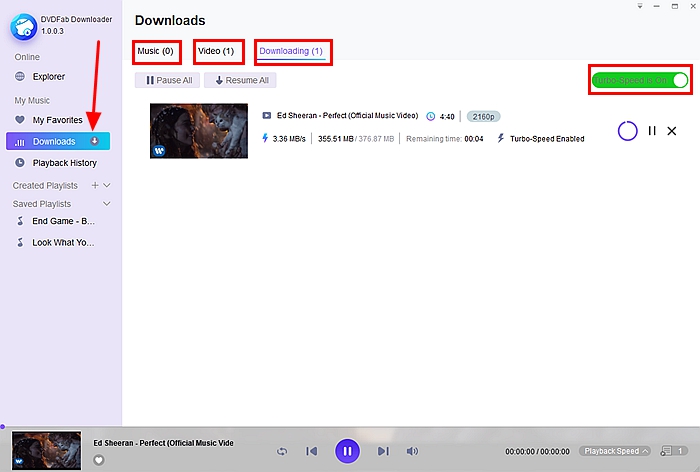 Note: Turbo-Speed function is available during the downloading process.
Are you clear about these steps to use this YouTube MP4 video Downloader free? Then it's time to try it. We can assure you that DVDFab Video Downloader will not disappoint you.
4. Download Videos from 200+ Websites in Your Pocket
DVDFab Video Downloader solves the problem of how to download YouTube videos to MP4 by allowing users to have a free wander around 200+ websites and download their favorite videos. There are some websites below for your reference.
Top-ranking Sharing Website
YouTube
is the biggest video-sharing website in the world.
Facebook
is the leading picture-sharing website in the world.
News Website
CTV News
is Canada's 24-hour all-news network, delivering breaking news the second it happens.
BBC
is Britain biggest news broadcasting organization, delivering real-time news.
Professional Technology-Media Platform
CBS interactive
is the biggest global technological interactive media, subjected to Columbia's CBS Corporation.
Brightcove
takes advantage of new media technology to spread colorful contents through Brightcove online.
5. More Information about DVDFab
DVDFab is an all-in-one video/DVD/Blu-ray/4K Ultra HD Blu-ray solution package that comes with a bundle of tools, mainly including DVD/Blu-ray/UHD Copy/Ripper/Creator, Video Converter/Downloader, DRM /Cinavia Removal, etc. Therefore, DVDFab is not only the best solution to "how to download YouTube videos to MP4" but also a complete solution to all your conversion needs. When the source is DVD/Blu-ray/UHD Blu-ray, you can copy them to discs/ISOs/folders and rip them to various digital formats. When talking about videos, it can download videos from a tons of video sites, convert videos to MKV, AVI, FLV, MP4, MP3, etc., and burn videos to DVDs/Blu-rays/UHD Blu-rays. DVDFab can also be used to remove DRM from iTunes files and bypass Cinavia on discs. As a famous brand in video/DVD/Blu-ray/UHD Blu-ray solution providers, DVDFab always provides outstanding outputs and fast conversion speed.
6. The End
Do you have a full understanding of how DVDFab Video Downloader functions? In a word, In contrast to online websites to download YouTube videos MP4, DVDFab Video Downloader does better in fast download speed, HD video download, even a playlist and a YouTube Channel download. That's why we have been highly recommending it. Any need to download videos you are strongly passionate about to your own device? DVDFab Video Downloader is always on hand.
DVDFab Video Downloader is your loyal friend in video download. No matter what question you have when downloading videos, ask for this 4k Video Downloader for help and you will get satisfactory answers.
More Products You May Like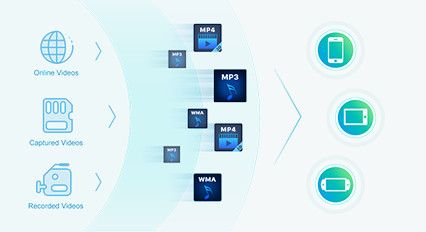 DVDFab Video Converter
The hard-to-find video conversion tool for videophiles of all levels to convert videos between different formats to enjoy on whatever playback devices
Free Download
Free Download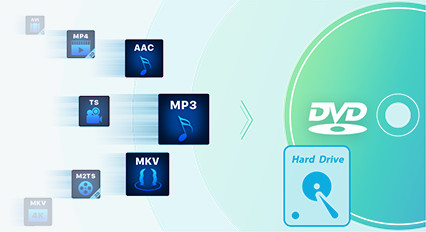 DVDFab DVD Creator
An all-inclusive home DVD maker software that can make studio-like DVD videos out of the videos took from family gatherings, travelling adventures, wedding ceremonies, and more
Free Download
Free Download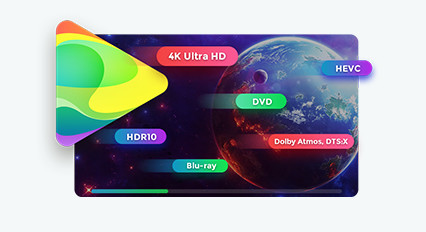 DVDFab Player 5
The professional 3D media player that plays back genuine 3D Blu-ray discs, ISO files and SBS (side-by-side) or top & bottom 3D videos, on home 3D TVs
Free Download
Free Download