1. Before You Make Decision to Experience Facebook Video Downloader
Are you confused by articles that describe Top 5 or Top 10 Video Downloaders? So many programs, which one on earth to choose to download video off Facebook? It's hard to make a decision. This part will express points that you may consider before picking a program. * Supported websites: as we all know, movies and other videos are scattered under different video websites. It's pleasant to have a video downloader that supports to download videos from as many video websites as possible. * Functions: Besides an attractive supported website list, it's much better that this program supports playlist download and multi-task download. It's the case that you desire to download a blue music playlist from YouTube to watch and listen offline. The following part will make a recommendation to download video off Facebook - DVDFab Video Downloader. Let's continue to learn more.
2. Professional Software Recommended - DVDFab Video Downloader
Keeping pace with the development of science and technology, DVDFab Video Downloader is always updating its functions to meet the needs of users in video download. As long as new electronic products, such as smart phones, come into being, technicians will learn how do you download a video from Facebook, as appropriate, the functions of this software. So far, DVDFab Video Downloader has distinguished itself by six outstanding features, as one of the most sought-after video download software. Let's get to know these features one by one.
Who can be your best assistant in video download? DVDFab Video Downloader. This
how to download songs from YouTube to iTunes
has helped countless users find the secret of how to download videos at Turbo-Speed, greatly increasing the efficiency of video download.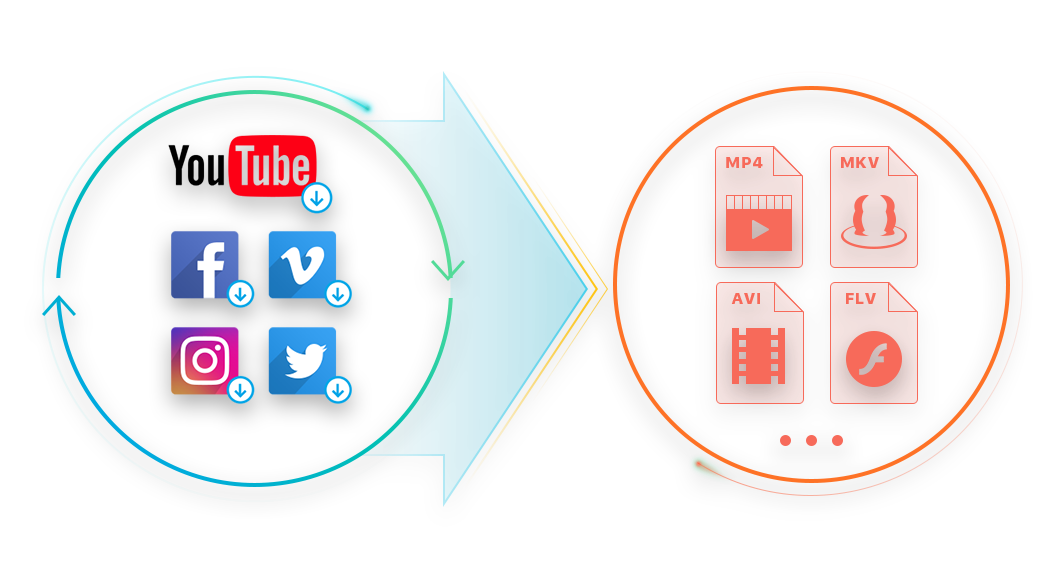 Download HD Videos

To present users with clear pictures and words, DVDFab Video Downloader sets its video resolution from 144p to 8K to settle how do you download a video from Facebook. With this software, videos in 1080 Full HD or 4K/8K UHD quality is not a problem, and you can enjoy your videos as clear as possible.

Multi-task Download

DVDFab Video Downloader supports multi-task download and allows 5 videos at most to be downloaded at the same time. If you are confused by how do you download a video from Facebook in the shortest time, DVDFab Video downloader will help you.

Download a Playlist

DVDFab Video Downloader supports playlist download. If a playlist is filled with all of your favorite videos, this software will show you how can you download videos from Facebook. Then, you can own numerous videos by downloading diverse playlists.

Save a Playlist

DVDFab Video Downloader not only shows how can you download videos from Facebook, but also shows how to save playlists. Similar to adding your preferred videos to the file of "Favorite", you can add your preferred playlists to the panel of "Saved Playlist". Then, it is easy for you to play back your favorite playlists.

Turbo-Speed Download

With the help of DVDFab Video Downloader, you will have a good experience of how do I download a video from Facebook in 10x faster speed. There is no need to worry about too much time video download will take. You can download as more videos as possible than before.

Download Metadata

You will know how do I download a video from Facebook, with the assistance of DVDFab Video Downloader. Then, anything about the video, such as the name, artist, runtime, will be clearly displayed, since this program supports metadata download.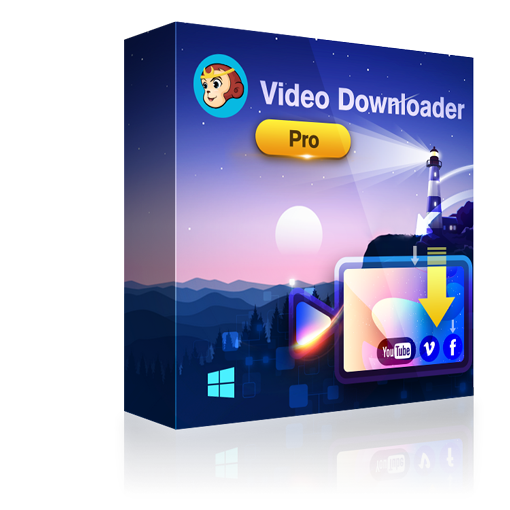 DVDFab Video Downloader
DVDFab Video Downloader Professional Facebook video Downloader, especially functioning to auto-download updated subscriptions
Free Download
Free Download
3. How Does This Facebook video Downloader Function?
The above-mentioned features are a proof that DVDFab Video Downloader is what you are looking for to download videos for offline viewing. The following section will show you how this Facebook video Downloader works.
Step 1: Install DVDFab Video Downloader
DVDFab Video Downloader can be an ideal choice as to how can I download a video from Facebook. This program along with YouTube to MP3 constitutes the whole ecosystem of DVDFab Downloader. You can download it on the Video Downloader product page.
Click the "Free Download" button, and the installer will start downloading. When it is done, install it in your device according to the destruction. After this, open the program and the main interface will appear in front of you.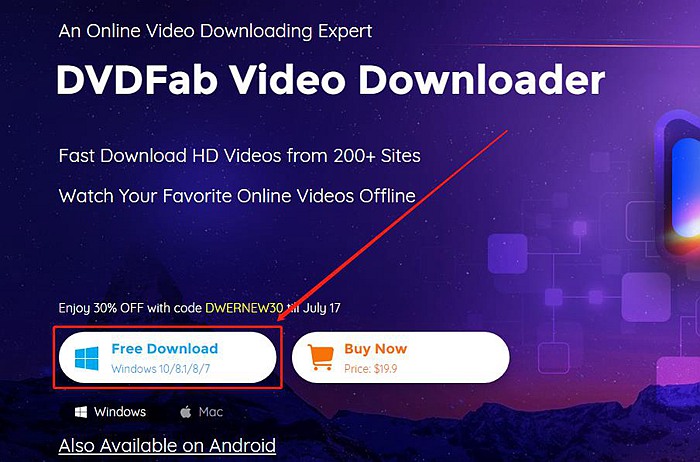 Note: There is a little triangle-shape icon on the edge of top right corner. Click it and a bar frame with a couple of buttons will appear below it. Click the "Settings" button on this bar frame, then you will enter the settings interface. All the specific settings including language and directory can be adjusted manually. In particular, the last item on this interface "Download Video" are recommended to choose the option "Ask me each time" as different resolutions may be required when you download videos.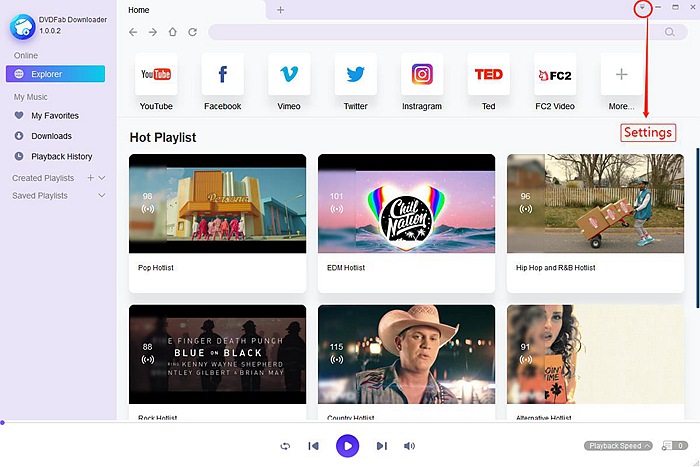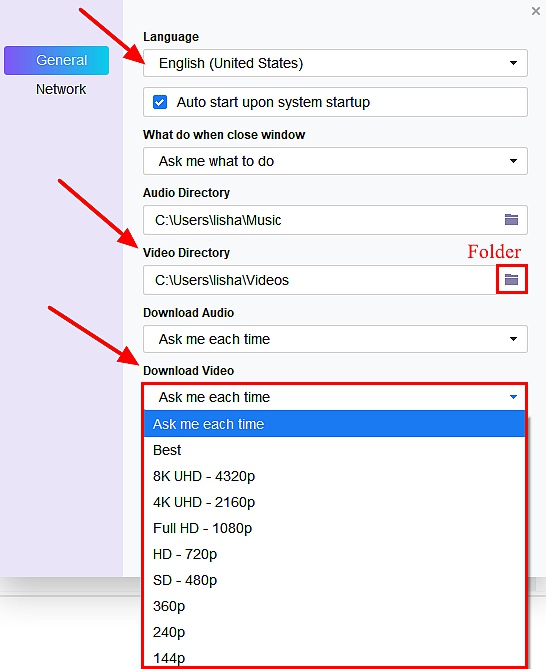 Also you can follow https://www.dvdfab.cn/video-downloader/youtube-movie-converter.htm, another useful article to tell you how to download videos.
Step 2: Find your video
There are two options for you in terms of finding videos. First, this my video Downloader for Facebook has listed a wide range of websites below the search bar where you can find your videos fast. Second, you can also visit the video websites directly to find the video you want. Get the URL of it and paste it on the search bar of this program. After that, a suspending bar including three elements, "Add to", "Play" and "Download" will appear, and that means the program is ready for download.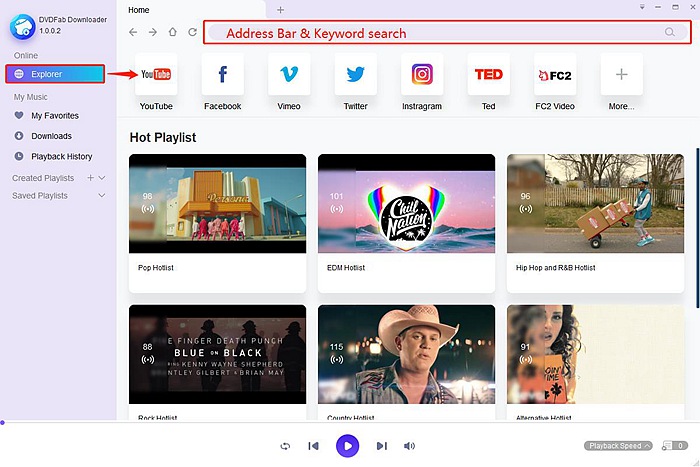 Add videos to My Favorites or Created Playlists
As we mentioned above, the suspending bar of this Facebook video Downloader includes three elements, the first of which is an add feature. Hover your mouse over it, and it will give you three options. The first option "Add to Favorite" and the third option "Add to Playlist" can help you add a single video to "My Favorites" and "Created Playlists" in the left column of the main interface separately.
To create a playlist, click the "plus" button on the "Created Playlists" section and give it a new name.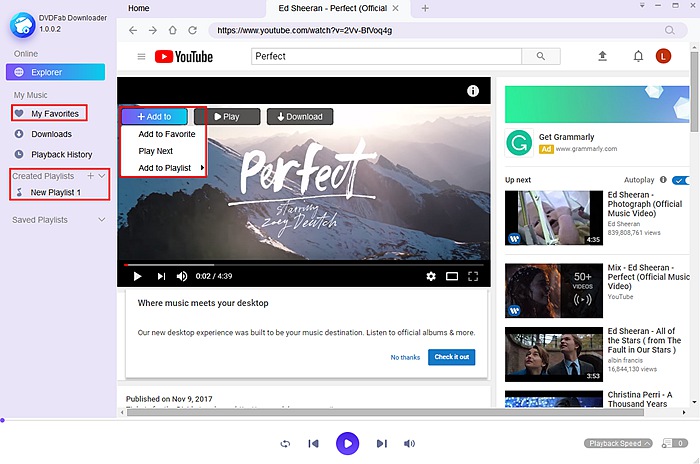 Download and Save a playlist
A step further from how to download videos off Facebook should be how to download a playlist with this program. If you open a playlist with this program, the system will recognize it automatically as is signaled by the suspending bar that will appear. Hover your mouse over the "Download" part on the suspending bar, and choose option "Playlist" it gives you, then a download interface will come up. You can choose the settings like video/audio, resolution, and click "Download" button on the right bottom corner.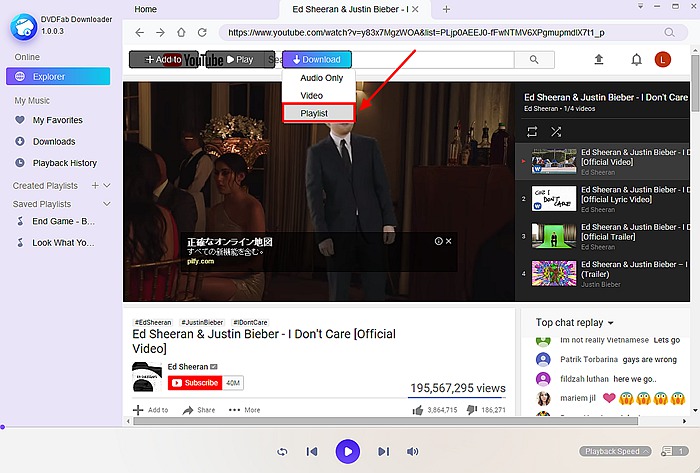 To save a playlist is also simple. As we mentioned above, the program can recognize a playlist with a suspending bar appearing automatically. Hover your mouse over the "Add to" part and choose "Save Playlist". Then, the playlist will be saved. You can check it out on the "Saved Playlists" section in the left column.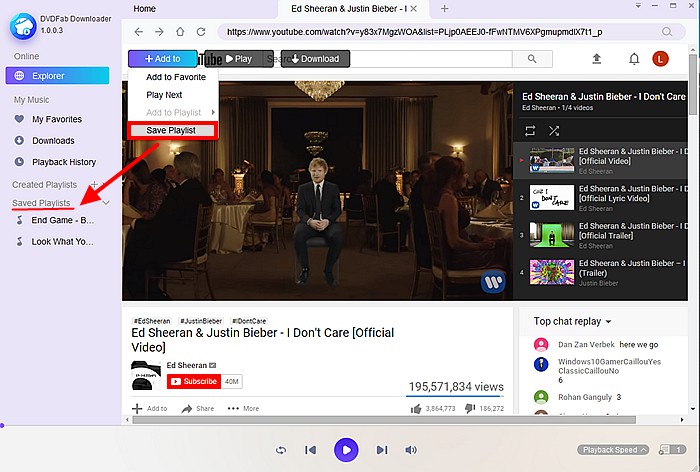 Many people turn to DVDFab Video Downloader for help when they need to how to download Crunchyroll videos.
Play Button
When you use this program to download video off Facebook, you may want to try its play function. It is a highlight of this program. You can find it on the middle of the suspending bar. Hover your mouse over it, and choose the "Video" option it gives you. Then, a play interface will come out. You can now navigate it to enjoy play experience.
The interface can be divided into three parts: the left part has four elements, the album cover on the far-left for switch between the play interface and the main interface, the heart-shape button for "add to favorite", the arrow-shape button for "download this video", and the cross-shape button for "delete this video".
The central part includes five elements, which represent "play mode", "play last", "play or pause", "play next" and "volume control". The right part consists of three elements, from left to right, progress/duration, "play speed" and "current playlist".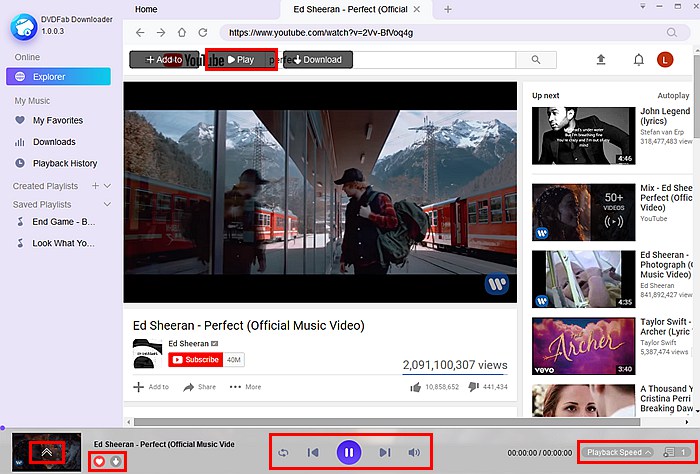 Step 3: Download Videos
The third part of the suspending bar can help you download my Facebook videos. When you open a playlist, it gives you three options, "Audio", "Video" and "Playlist". Choose any one as you like, then a settings interface will come out. Get settings done and click "Download" button, then the download process will begin immediately. You can check the download progress on the "Downloads" section as we mentioned before.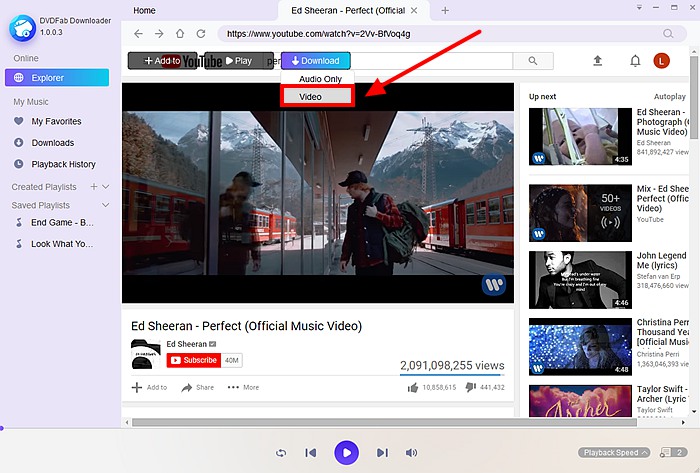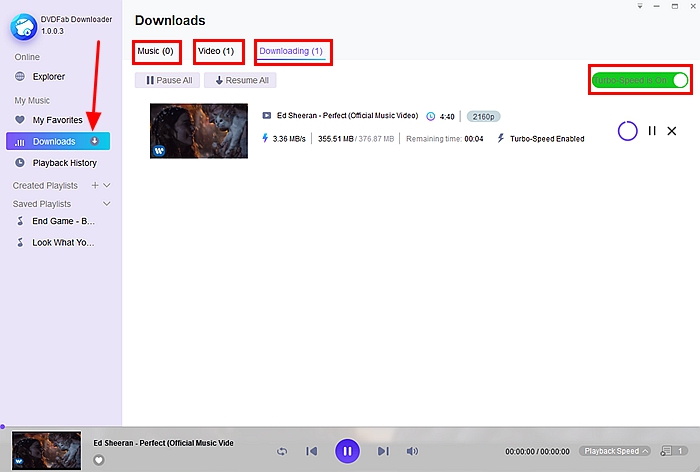 Here is the answer to the question how to download videos off Facebook: download and install this program and do as instructed above.
4. Some Other Websites DVDFab Video Downloader Covers
DVDFab Video Downloader allows users to have a free wander around 200+ websites and download their favorite videos. There are some websites below for your reference to download video Facebook.
Top-ranking Sharing Website
YouTube
is the biggest video-sharing website in the world.
Facebook
is the leading picture-sharing website in the world.
News Website
CTV News
is Canada's 24-hour all-news network, delivering breaking news the second it happens.
BBC
is Britain biggest news broadcasting organization, delivering real-time news.
Professional Technology-Media Platform
CBS interactive
is the biggest global technological interactive media, subjected to Columbia's CBS Corporation.
Brightcove
takes advantage of new media technology to spread colorful contents through Brightcove online.
5. What Can DVDFab Offer?
In this streaming world, our life are full of videos. DVDFab Video Downloader is a professional program to help you download video off Facebook. DVDFab 11 from DVDFab Software is an all-in-one multimedia solution package consists of 20 products in total. DVD/Blu-ray/UHD Copy makes backup copies to movie DVDs, Blu-rays, and 4K Ultra HD Blu-rays, respectively; DVD/Blu-ray/UHD Ripper converts these discs to digital video formats; DVD/Blu-ray/UHD Creator produces high-quality home DVDs, Blu-rays, and 4K Ultra HD Blu-rays, respectively; DVD/Blu-ray/UHD Cinavia Removal removes Cinavia watermarks from DVDs, Blu-rays and 4K Ultra HD Blu-rays, respectively; Video Converter converts videos among different formats; and others can help users handle corresponding tasks, respectively.
6. All in All
DVDFab Video Downloader is a simple yet powerful Facebook video Downloader. This program can solve your video download problems once for all. No matter what your target is, download a playlist or operate multi-task download, it can finish the job quickly and beautifully. All you need is a membership, and a lot of more fun will come to you.
DVDFab Video Downloader enables you to download HD videos, a whole playlist, and video metadata from a range of 1000+ streaming websites with a Turbo-speed. Under the help of this HD Video Downloader YouTube, one can turn the whole downloading process into a quite breezy thing.
More Products You May Like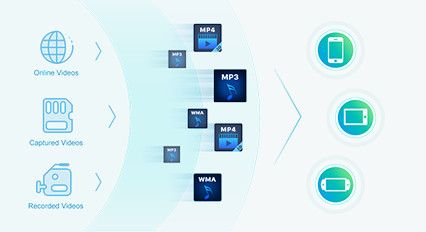 DVDFab Video Converter
The Universal video converter software converts videos of all sorts from one format to another, for playback on compatible playback devices
Free Download
Free Download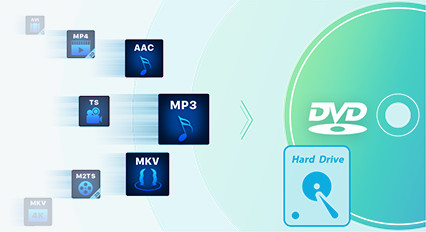 DVDFab DVD Creator
Professional DVD Maker to burn videos onto DVDs. A craft gift to your families, senior and young by putting videos recording happy moments and words into a DVD for safe storage
Free Download
Free Download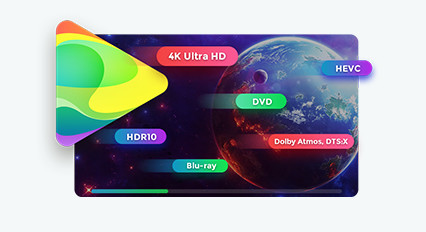 DVDFab Player 5
The all-in-one media player to watch all formats of videos, DVDs, Blu-rays and UHD Blu-rays, or listen to music files of all formats, simply in just one place
Free Download
Free Download