1. The First Things Relating to the free video Downloader for Android
Choosing a Chrome video Downloader Android has never been easy. A bad decision could cause you much trouble. To have a satisfying result, there are a few elements you may need to consider. * Easy-to-use: You must hope the tool can be understood immediately and put to use quickly. If it has a complicate design, you probably say no to it at once. So, the basic principle is that the tool is friendly to its users and can be used by people with different intellectual levels. If a teenager can master it, then you definitely can master it too. * Abundant functions: If a product is to win users, combining abundant functions within it is a must. Users like their product to have these functions because it is part of what makes a product cost-effective. Also, more functions means more tasks it can handle, a feature which professionals may likely find very attractive.
2. Creative Tool for Your Reference - DVDFab Video Downloader
DVDFab Video Downloader is a perfect solution in terms of DVD download. It provides a package of services to meet the diverse demands of users and many of its features, such as support for 200+ websites video download and Auto-download subscriptions, are very unique, making it an ideal free video Downloader for Android among users. The following part provides a more detailed description of this powerful tool, and many of your questions will get answered clearly.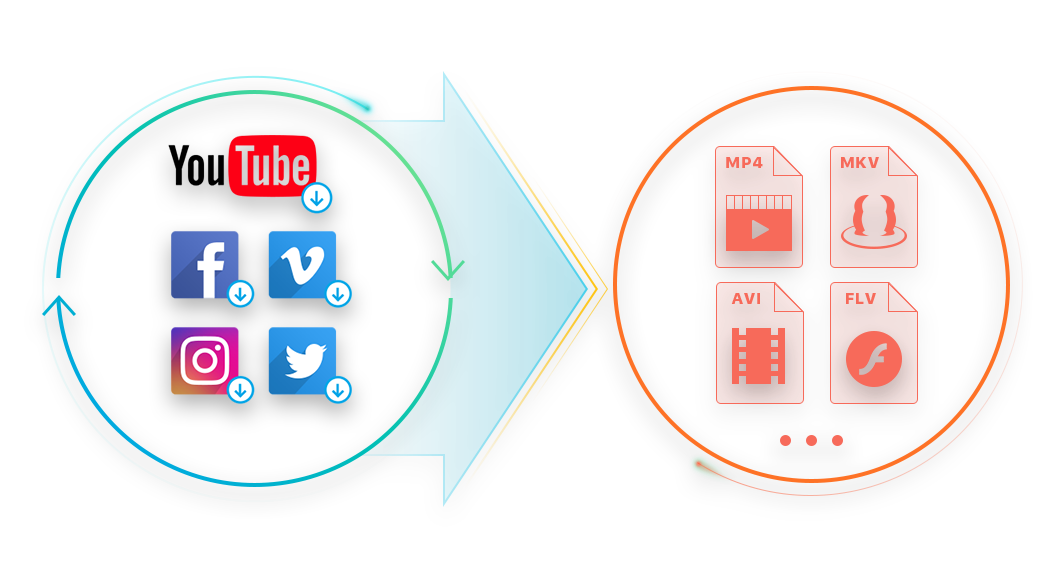 Download HD Videos

When using free video Downloader for Android to download videos, resolution is an inevitable problem. Many will choose the higher ones, especially in the age where high resolution technology is already available. We expect to see a clearer world through the screen. DVDFab Video Downloader is such a perfect tool that supports an array of resolutions, ranging from 144P to 8K. that is to say, almost all the demands users can have will be satisfied by the single software.

Multi-task Download

Feel frustrated when you need to use a powerful free video Downloader for Android to do multiple download tasks at the same time? Don't worry. This program can help you solve this problem perfectly. You can paste all the URLs of the target video on this tool and it just take a short span of time (If your bandwidth is good enough) before the task is finished. Enjoy the fun of multiple-tasking and save time for more significant things.

Download a playlist

Many users will tend to unite many songs or videos with the same similarities in one playlist. However, downloading a playlist at the same time has never been easy especially when such practice is prohibited by the website. DVDFab Video Downloader has successfully solved this problem. Users can download all the videos in a playlist simultaneously by pasting all the URLs of these videos. Users can fully depend on this music video download for Android and enjoy more comfortable experience.

Save a Playlist

Is there a constant place to store your favorite playlists? Yes. DVDFab Video Downloader allows you to do this. No matter whether you have downloaded your playlists, they can be stored in this music video download for Android as long as you use the function of "Saved Playlist".

Turbo-speed Download

When users choose their ideal Chrome video Downloader Android, speed is appreciated very much, as the video size can be very big. The less time the download process costs, the friendlier experience it will deliver to users. DVDFab Video Downloader supports Turbo-speed download, and the top speed can be 10 times faster than the normal speed. To enjoy super speed, you need to be a VIP member.

Download Metadata

For those who want to make a 1:1 copy of the original videos, this Chrome video Downloader Android is an ideal choice. All the information including titles, duration and others will be cloned by this program without any loss of quality.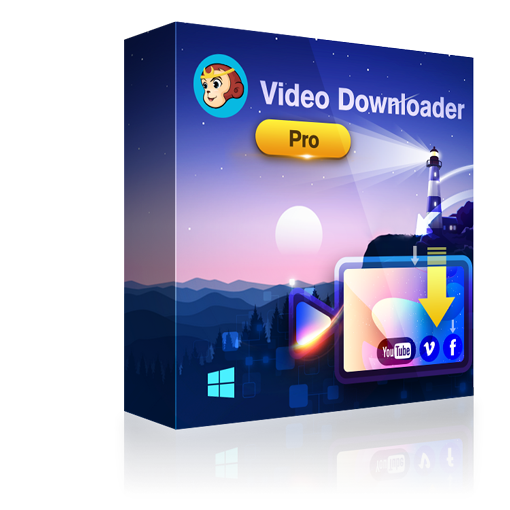 DVDFab Video Downloader
DVDFab Video Downloader You can download videos from 200+ websites with this free video Downloader for Android
Free Download
Free Download
3. The Full Process to Use the Free Video Downloader for Android
The next part is the illustrations of the key points in video download with this free video Downloader for Android - DVDFab Video Downloader.
Step 1: Install DVDFab Video Downloader
DVDFab Video Downloader is one of the product modules within DVDFab Downloader. This free video Downloader for Android is very powerful. You need to install DVDFab Video Downloader first. Locate the website of DVDFab Video Downloader and click the Free Download option on the left side to obtain the installer file. Install this program as instructed.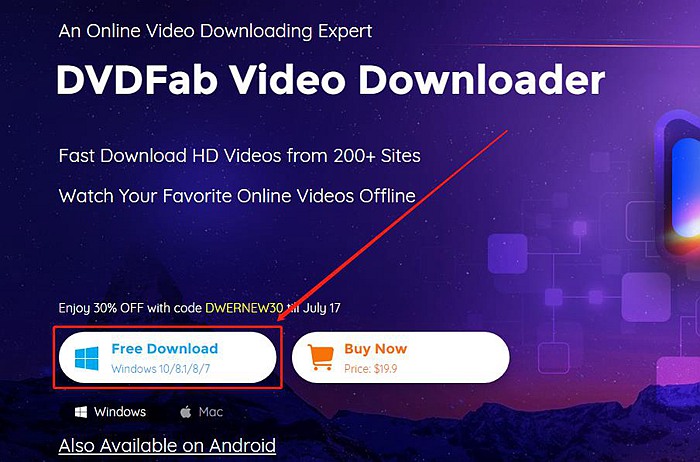 Optionally, open the website of DVDFab Downloader and click Free Download option. Repeat the above process to install this program. After the installation is complete, have a good experience of DVDFab Video Downloader.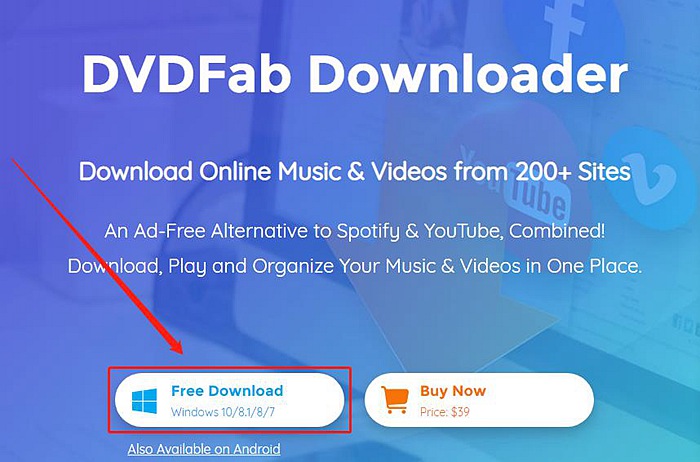 Notes: After you start the program, move your sight to the right top corner, find the inverted triangle and click it. Click Settings and pay attention to two options: Video Directory and Download Video. Click the Folder icon under Video Directory to select a new directory instead of the default one to save your output video. For the option of Download Video, I advise you to choose "Ask me each time". Still here, click the inverted triangle and you will see all the resolutions this free video Downloader for Android supports, including Best, 8K UHD-4320p, 4K UHD-2160p, Full HD-1080p, HD-720P, SD-480p, 360p, 240p and 144p.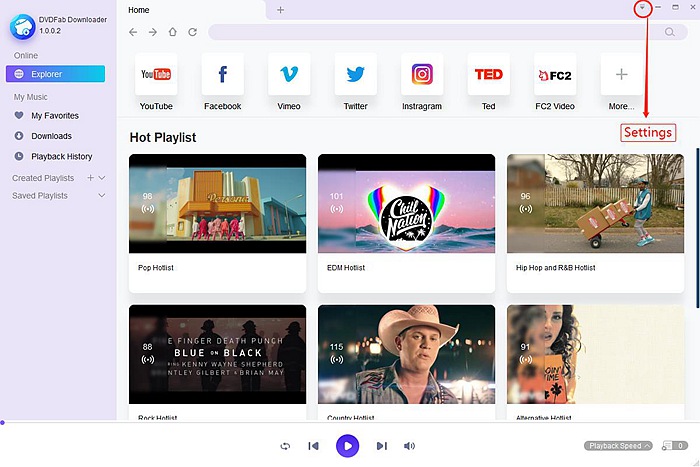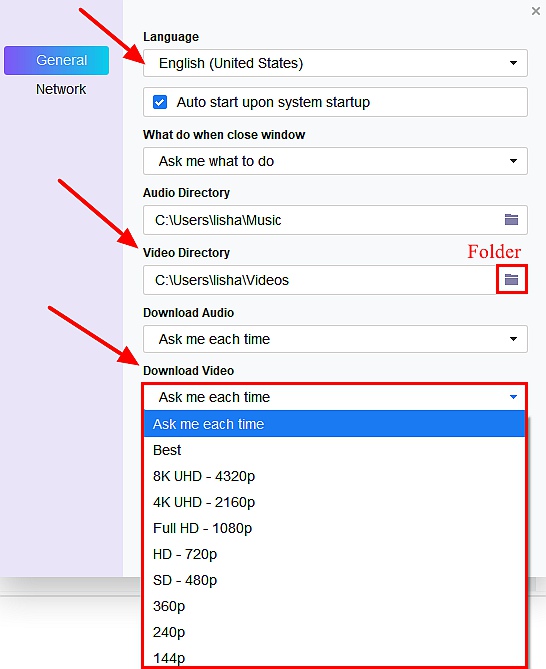 Step 2: Find your video
Use the service of this music video download for Android to find your video. There are two ways for you to follow. Firstly, paste the URL of your favorite video into the address bar and search it.
Secondly, use the built-in explorer, namely, YouTube, Facebook, and more. You are allowed to wander as usual by clicking any built-in explorer. The operational buttons, covering Add to, Play and Download, will appear when the program finishes analyzing the playing video.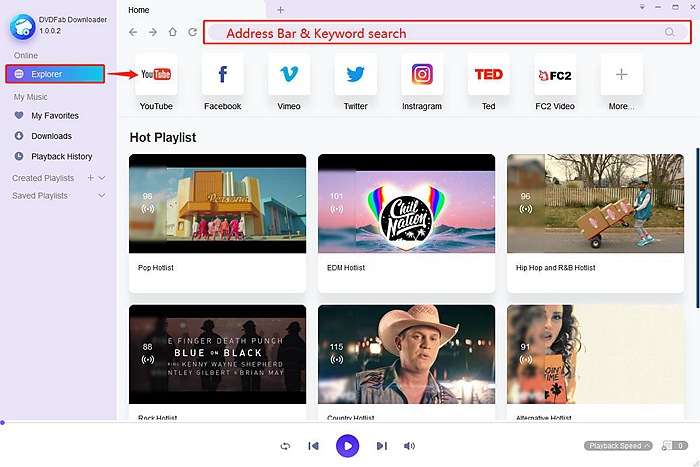 Add videos to My Favorites or Created Playlists
This free video Downloader for Android will help you download videos from any website. For the playing YouTube video, move your mouse cursor onto the Add to button. Add to Favorite and Add to Playlist options will come into sight.
Click Add to Favorite to save the playing online YouTube video to My Favorites on the left side. If you haven't created a playlist under Created Playlists on the left side, Add to Playlist doesn't work. You are required to click + to create a new playlist followed by refreshing the video page. Then, Add to Playlist will be activated.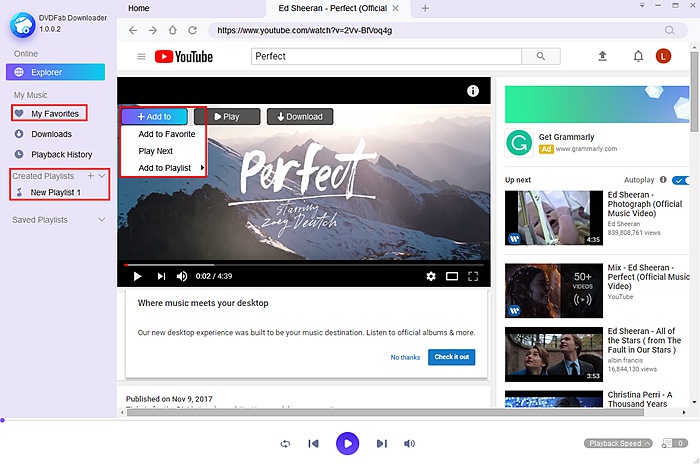 Download and Save a playlist
This music video download for Android is your best choice to download videos from any website. DVDFab Video Downloader is able to recognize a playlist automatically. When a playlist is playing, the Download button will appear after the analysis ends. Click Playlist under Download button and a new interface will appear, where you can select all videos or check the videos you want before they are downloaded.
If you prefer online playlist watching, you can save the playlist as well. When a playlist is playing, a new option, Save Playlist, will appear under Add to button. Click it and the YouTube online playlist will be saved to the Saved Playlists on the left side.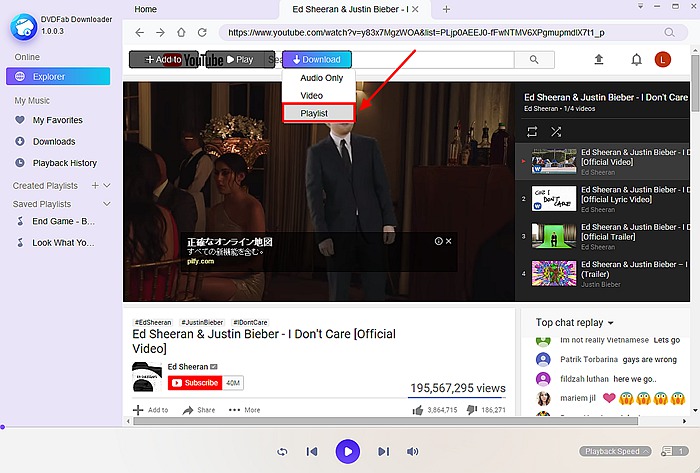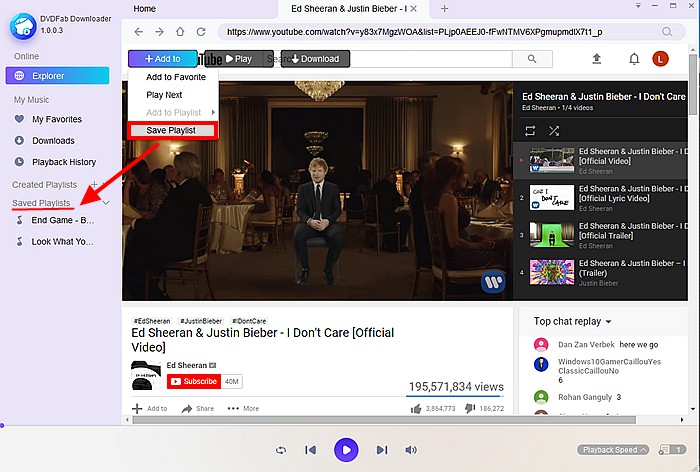 Play Button
This Chrome video Downloader Android allows users to download videos from any website. With a built-in player, the Play button will appear immediately after you click any icon in the left navigational column. For the playing YouTube video, click Play Video under Play button, and your video will be displayed on a new interface.
On the left bottom corner of this new interface, there are some functions available. On the video cover, the upward arrow helps you unfold the video play page, while the downward one allows you to return to the main interface of this program. Besides it, the heart icon enables you to add your video to My Favorites. The Download arrow beside the heart icon assists you to download your video. In addition, the cyclic icon and the Playback Speed icon can be used to dominate the playback order and speed.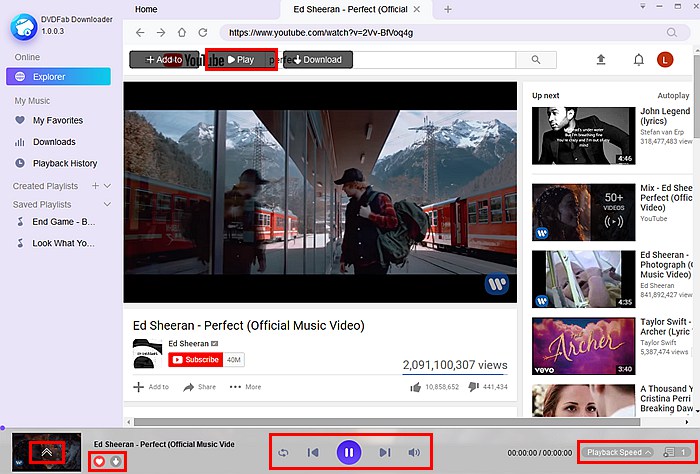 Step 3: Start to download a video
Click Video under the Download button, and your playing video will be downloaded by this Chrome video Downloader Android. Then, click Downloads on the left side, and the downloaded and downloading videos will be found there. Click Downloading, and the Turbo-Speed download function is available.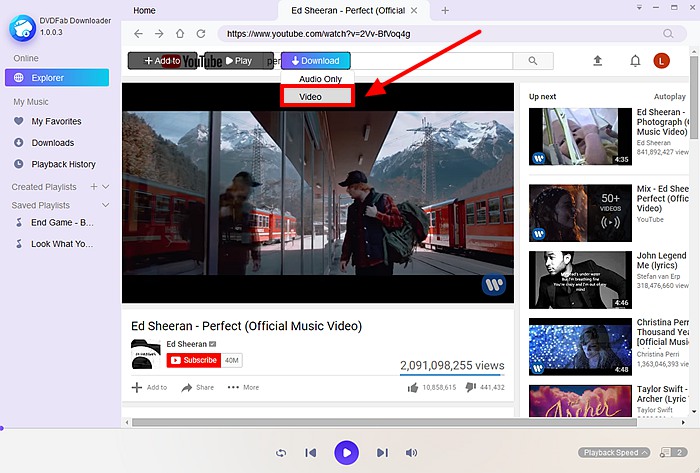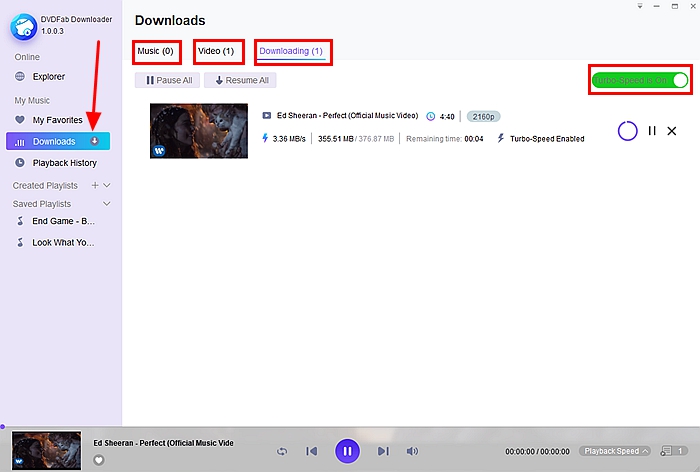 The above-mentioned are specific instructions on how to use the music video download for Android to download and manage your videos.
4. Examples from 200+ Supported Video Website List
This free video Downloader for Android supports a wide range of websites in terms of videos download. To better define what these websites are, we made a list that categorizes them into three groups as an example.
Short-contents Sharing Service
Twitter
allows users to post and interact with messages known as "tweets". Tweets were originally restricted to 140 characters, but on November 7, 2017, this limit was doubled to 280 for all languages except Chinese, Japanese, and Korean.
Dailymotion
allows users to share short films and it supports the format of ogg. This website is well-known for its high-quality videos.
American Political Commentary Platform
C-SPAN
delivers reports about American government and public affairs.
Democracynow
is an hour-long American TV, radio and internet news program, delivering American political commentary.
Conditional Data Storage Website
Vimeo
is home to HD videos in the pixel of 1280X700 and in the magnitude of 500 MB.
Dropbox
supports the storage of batch files, with 350M limit to each single file. The maximum capacity for free accounts is 18.8G.
5. One More Thing about DVDFab
With tons of cutting-edge homebrew technologies being constantly rolled out each year, DVDFab Software has always been the pioneer in the field of DVD, Blu-ray, 4K Ultra HD Blu-ray backup, conversion, authoring, and video conversion as well. The product pipelines of DVDFab covers 5 major series, including DVDFab 11, Passkey 9, Downloader also known as Chrome video Downloader Android, Player 5, Geekit, and a bunch of freeware products that can further assist those shareware products in one way or another.
6. Conclusion
DVDFab Video Downloader is a simple yet powerful free video Downloader for Android. This program can solve your video download problems once for all. No matter what your target is, download a playlist or operate multi-task download, it can finish the job quickly and beautifully. All you need is a membership, and a lot of more fun will come to you.
More Products You May Like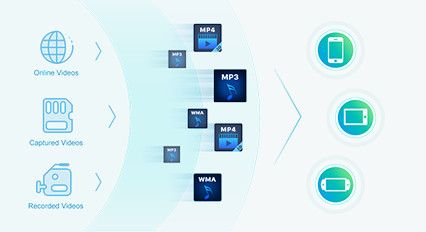 DVDFab Video Converter
An amateur-friendly video converter utility tool combined with powerful editing capabilities that help any beginners to make professional video conversions
Free Download
Free Download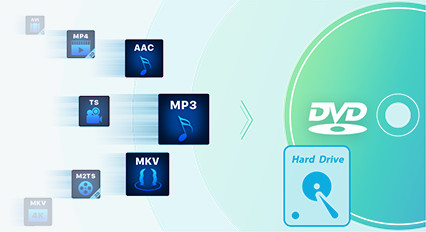 DVDFab DVD Creator
The one-stop DVD creator software to create universally compatible DVDs for playback on home DVD players, PCs, Laptops, and even PS3 game consoles as well
Free Download
Free Download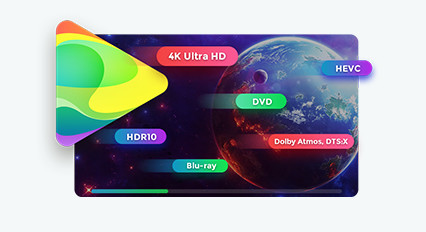 DVDFab Player 5
A premium H.265 video player that is capable of playing back H.265 encoded videos, with stunning video quality, regardless of what the file containers are
Free Download
Free Download