1. Something to Mention Before You Download Online Videos
how to download videos from Google Chrome? First of all, this section compares websites that let you download videos and the video downloader software in details. * Similarities: Both are designed to analyze the links/URLs of the source videos, extract them from more than one supported video website, and save the output video in your computer. * Differences: The online websites analyze only one URL each time, while some powerful software support multi-task download. The former often offer limited resolutions to choose, while the latter is capable of providing the best video quality keeping the same as the original source. The former may need you to share it on your social account to continue video downloading, while the latter will work without a stop only if you subscribe to a membership. Considering the above points, the following section will recommend a versatile software to answer the question of "how to download videos from Google Chrome".
2. The Right Program Recommended - DVDFab Video Downloader
DVDFab Video Downloader is a video download program with a series of targeted functions. It has absorbed many positive elements as well as removed negative ones from the old version and made some innovations. It is a highly recommended solution as to how to download a video on Google Chrome. You can experience the best service from it, and it will never let you down.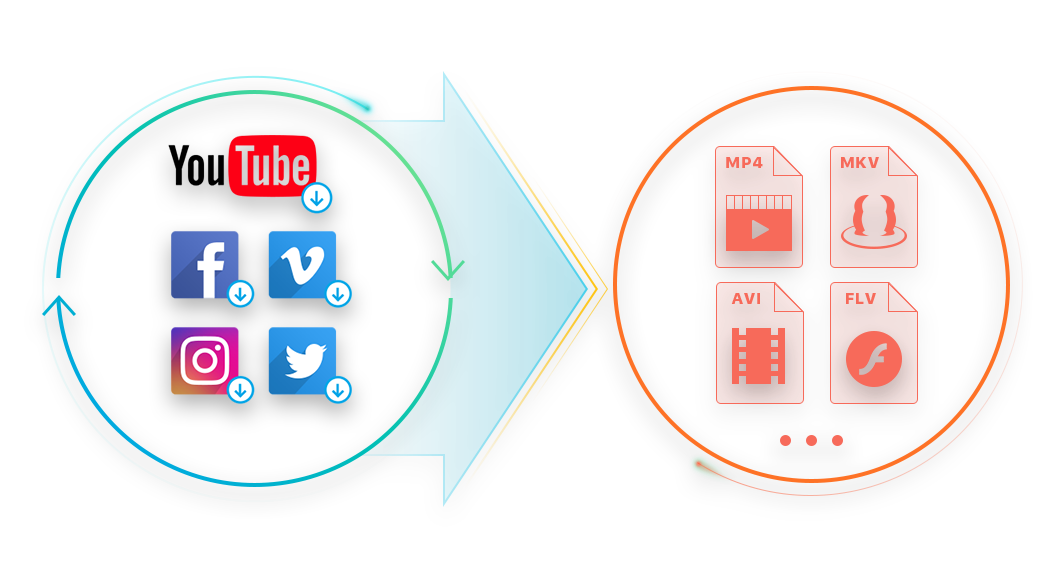 Download HD Videos

Many people prefer to HD videos when they how to download a video on Google Chrome. This program can provide a series of formats ranging from 144p to 8K. With all these options you can get, almost all your demands of video format will be covered.

Are you looking for an online video downloader and hoping this

how to download music from YouTube on Android

can solve your problem perfectly? DVDFab Video Downloader is a first-rate software to do this.

Multi-task Download

Multi-task download is highly relevant when it comes to how to download a video on Google Chrome. This feature can help you do the batch download task, and save your trouble of doing them one by one. The download efficiency will improve significantly, and so will your usage experience.

Download a Playlist

If you are wondering how to download videos from any site using Google Chrome, there is another topic you may be interested in: playlist download. This will save you a lot of data and the trouble of browsing websites again and again. This program totally supports it and makes it even better.

Save a Playlist

Besides the frequently asked question how to download videos from any site using Google Chrome, you may want to explore more like how to save a playlist. This function enables you to save any playlist you find appealing when you surf the internet. You can check it, play it and delete it whenever you want.

Turbo-speed Download

Download speed may also be your concern as to how to download online videos in Google Chrome. Turbo-speed is an acceleration feature. When turned on, it will increase your download speed tenfold. In the context of incoming 5G era, this represents a great advancement in terms of efficiency and experience.

Download Metadata

For those who ask how to download online videos in Google Chrome, metadata may also be need by them. Metadata download can tell you the author's name, title, duration and many more. It can help you quickly locate the specific information you want and save you much trouble.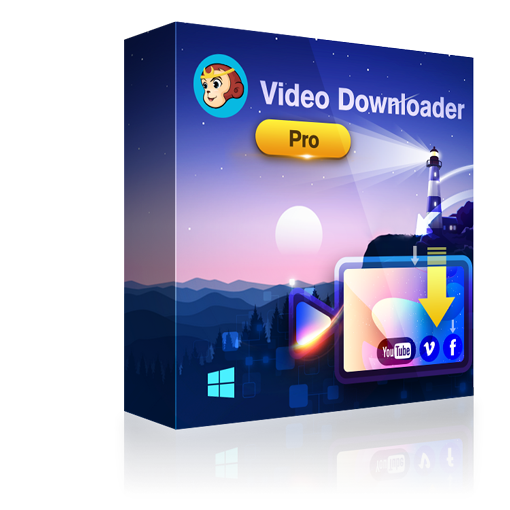 DVDFab Video Downloader
DVDFab Video Downloader Download any video from 200+ websites with this Google Chrome video Downloader
Free Download
Free Download
3. A Detailed Guide to Use Google Chrome Video Downloader
The above-mentioned features are proof that DVDFab Video Downloader is what you are looking for to download videos for offline viewing. The following section will show you how this Google Chrome video Downloader works.
Step 1: Install DVDFab Video Downloader
DVDFab Video Downloader can be an ideal choice as to how to download video from any site in Google Chrome. This program along with YouTube to MP3 constitutes the whole ecosystem of DVDFab Downloader. You can download it on the Video Downloader product page.
Click the "Free Download" button, and the installer will start downloading. When it is done, install it in your device according to the destruction. After this, open the program and the main interface will appear in front of you.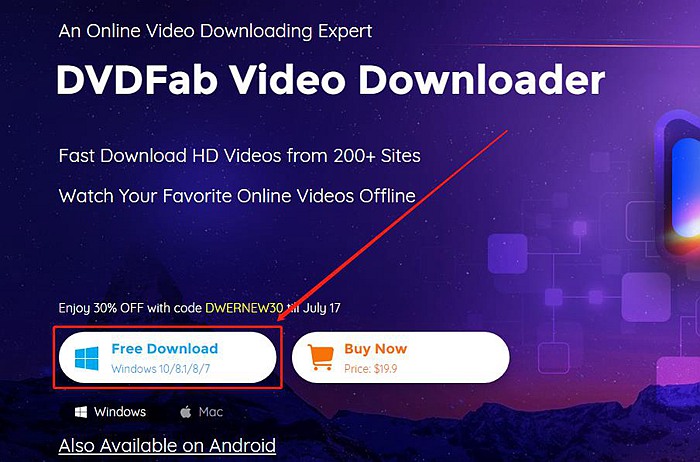 Note: There is a little triangle-shape icon on the edge of top right corner. Click it and a bar frame with a couple of buttons will appear below it. Click the "Settings" button on this bar frame, then you will enter the settings interface. All the specific settings including language and directory can be adjusted manually. In particular, the last item on this interface "Download Video" are recommended to choose the option "Ask me each time" as different resolutions may be required when you download videos.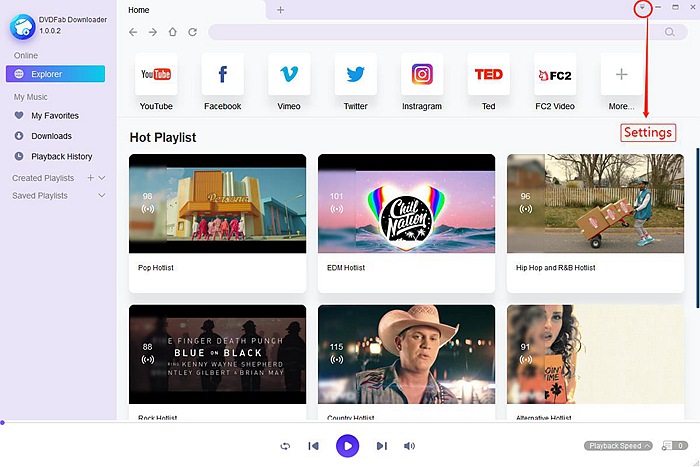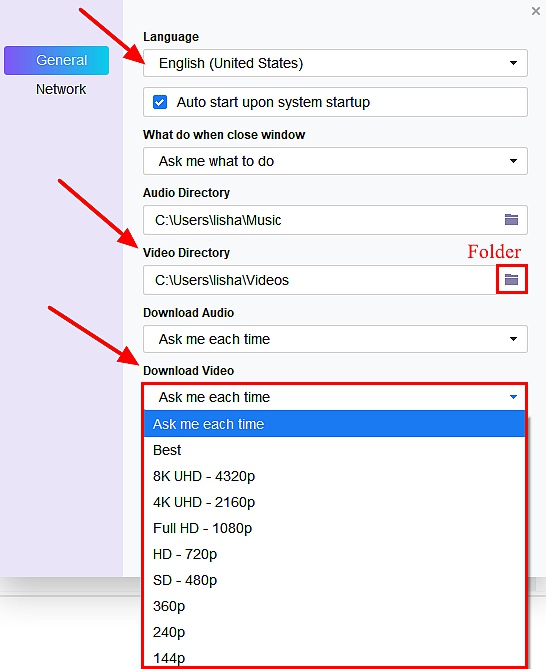 DVDFab Video Downloader is considered the most widely used video downloader for people to private video downloader.
Step 2: Find your video
There are two options for you in terms of finding videos. First, this a video Downloader for Google Chrome has listed a wide range of websites below the search bar where you can find your videos fast. Second, you can also visit the video websites directly to find the video you want. Get the URL of it and paste it in the search bar of this program. After that, a suspending bar including three elements, "Add to", "Play" and "Download" will appear, and that means the program is ready for download.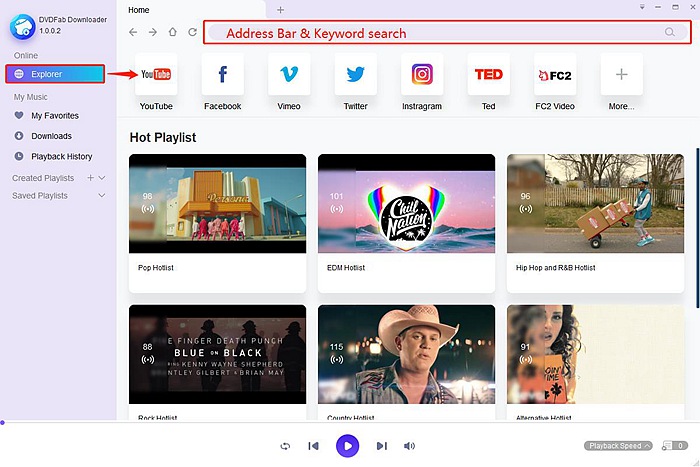 Add videos to My Favorites or Created Playlists
As we mentioned above, the suspending bar of this Google Chrome video Downloader includes three elements, the first of which is an add feature. Hover your mouse over it, and it will give you three options. The first option "Add to Favorite" and the third option "Add to Playlist" can help you add a single video to "My Favorites" and "Created Playlists" in the left column of the main interface separately.
To create a playlist, click the "plus" button on the "Created Playlists" section and give it a new name.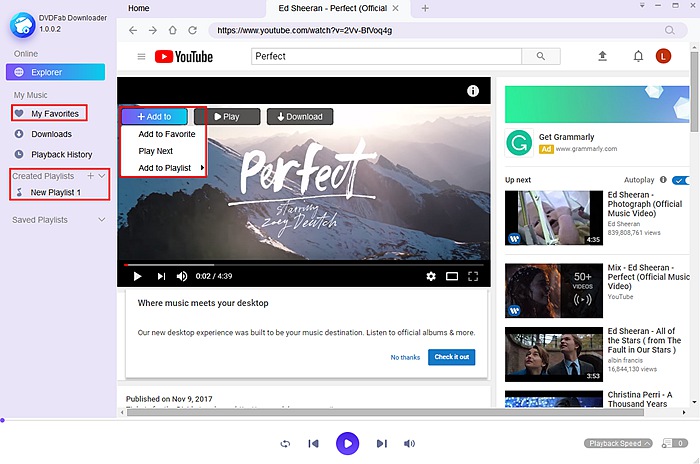 Download and Save a playlist
A step further from how to download videos from any website in Google Chrome should be how to download a playlist with this program. If you open a playlist with this program, the system will recognize it automatically as is signaled by the suspending bar that will appear. Hover your mouse over the "Download" part on the suspending bar, and choose option "Playlist" it gives you, then a download interface will come up. You can choose the settings like video/audio, resolution, and click "Download" button on the right bottom corner.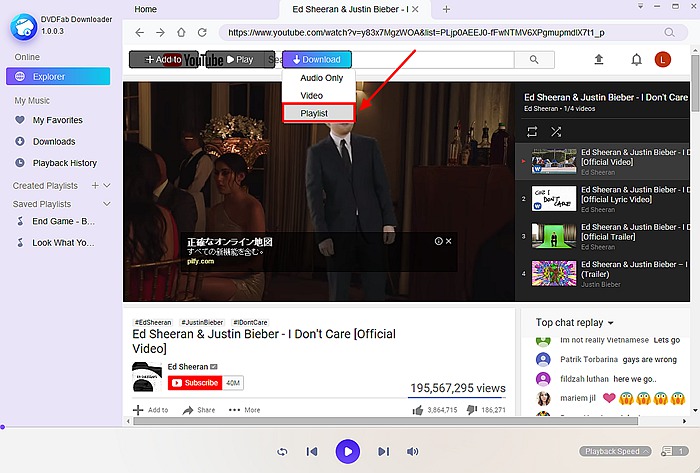 To save a playlist is also simple. As we mentioned above, the program can recognize a playlist with a suspending bar appearing automatically. Hover your mouse over the "Add to" part and choose "Save Playlist". Then, the playlist will be saved. You can check it out on the "Saved Playlists" section in the left column.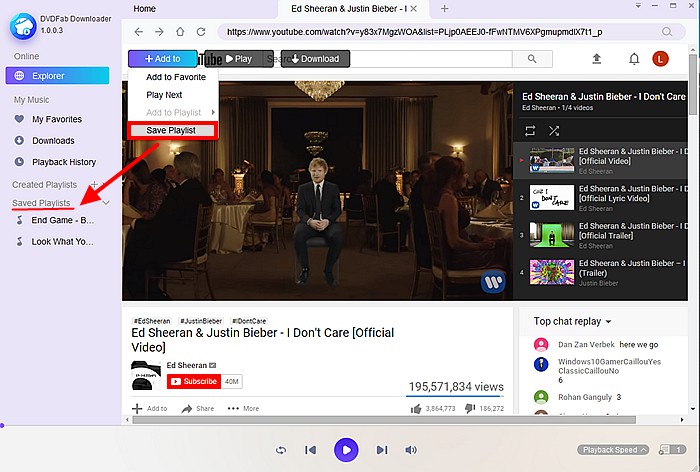 Play Button
When the question of how to download videos from Google Chrome gets solved, another one may crop up: how to play videos with this downloader? Play function is a highlight of this program. You can find it in the middle of the suspending bar. Hover your mouse over it, and choose the "Video" option it gives you. Then, a play interface will come out. You can now navigate it to enjoy play experience.
The interface can be divided into three parts: the left part has four elements, the album cover on the far-left for switch between the play interface and the main interface, the heart-shape button for "add to favorite", the arrow-shape button for "download this video", and the cross-shape button for "delete this video".
The central part includes five elements, which represent "play mode", "play last", "play or pause", "play next" and "volume control". The right part consists of three elements, from left to right, progress/duration, "play speed" and "current playlist".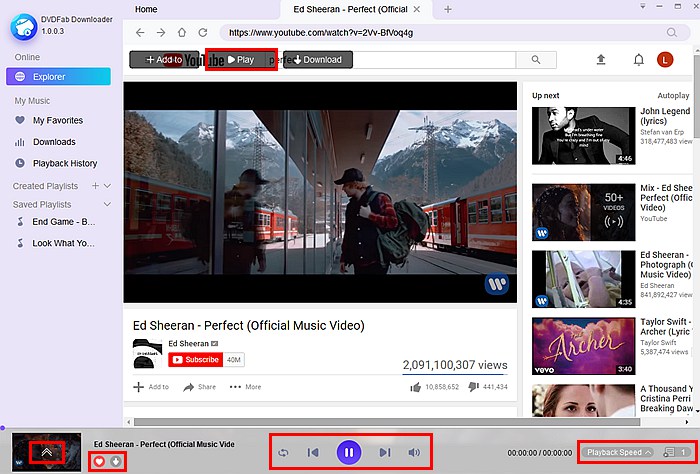 Step 3: Download Videos
The third part of the suspending bar can help you download any video from Google Chrome. When you open a playlist, it gives you three options, "Audio", "Video" and "Playlist". Choose any one as you like, then a settings interface will come out. Get settings done and click "Download" button, then the download process will begin immediately. You can check the download progress on the "Downloads" section as we mentioned before.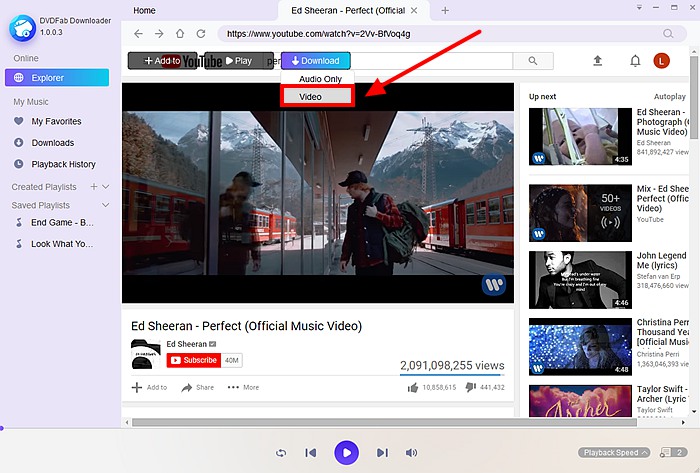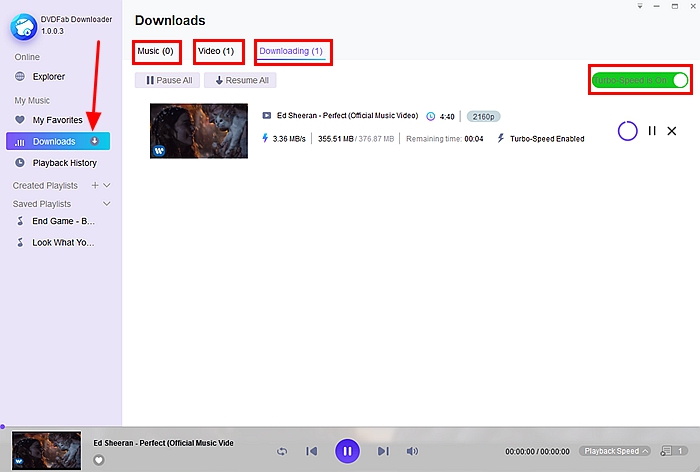 Here is the answer to the question of how to download videos from any website in Google Chrome: download and install this program and do as instructed above.
4. Several Cases of 200+ Supported Websites
how to download any video on Google Chrome is perfectly solved, but here comes another question: what kinds of websites this downloader can support? DVDFab Video Downloader now supports more than 200 websites. To define what these websites are in a clear way, we made a list that assign them into three groups, social networking platform, video-sharing website and News websites. Each one of them lists a couple of top competitors on the basis of their popularity.
DVDFab Video Downloader offers you an opportunity to download 8k videos at turbo-speed from more than 1000 websites. When you want to how to download YouTube videos on Android, no other tools can keep pace with this software.
Social Networking Website
Twitter
is an American online news and social networking service on which users post and interact with messages in limited characters.
Facebook
is an American social networking website where users can communicate with each other by sending texts, pictures, films and etc.
Funny Video Website
Cracked
is America's Only Humor Site, filled with funny videos, pics, articles, and a whole bunch of other funny stuff.
Comedy Central
is home to comedies, full of diverse amusing shows and programs.
Academic Communicative Platform
AcademicEarth
an online video resource for college academic lectures.
Camdemy
is a broad platform for people passionate about teaching to share their learning experience and skills.
5. About DVDFab Software
DVDFab Video Downloader is a tool to solve how to download videos from Google Chrome. DVDFab Software also offers the world most complete 4K UHD solutions that 4K videophiles can find on the market so far, from decrypting genuine 4K Ultra HD Blu-rays to copying the entire contents on a 4K Ultra HD Blu-ray off the original disc, then to converting those 4K discs to portable & mobile device compatible videos, further to authoring studio-level 4K UHD Blu-rays at home with all kinds of personal videos, and even to downgrading the firmware of a 4K UHD Drive so that the latter becomes capable of allowing 4K UHD backup tools to access the content from the 4K disc being inserted.
6. Conclusion
I hope that all of your questions can find the key answer in this article. No matter you are going to download a single video or a playlist or perform a multi-task downloading, DVDFab Video Downloader can guarantee you both fast speed and high resolution. And this Google Chrome video Downloader allows you to download the source videos from more than 200 websites, including the famous YouTube, Facebook and some regional and special-purpose websites.
YouTube doesn't provide a method for users to download videos. That's why we created this tool to help you. This YouTube Video Downloader is a free and easy software for downloading online video clips.
More Products You May Like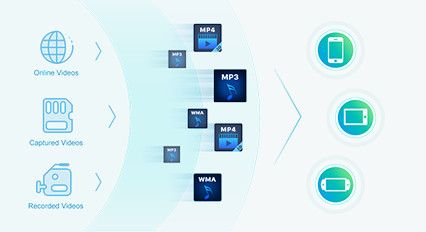 DVDFab Video Converter
The extremely easy-to-use video converter software to convert all formats of videos into compatible videos ready for playback on portable & mobile devices
Free Download
Free Download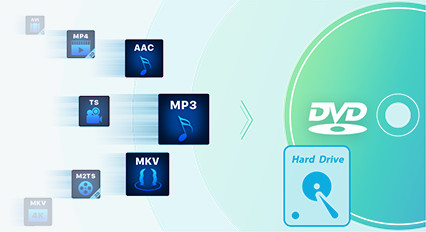 DVDFab DVD Creator
The universal DVD maker software that can turn your personal home videos into standard DVD videos with all the required data structure and file system
Free Download
Free Download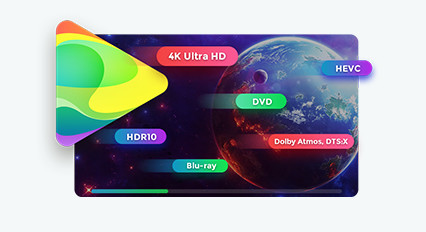 DVDFab Player 5
The ultimate media player software that plays DVD, Blu-rays and Ultra HD Blu-rays with native navigation menu and high resolution audio output support
Free Download
Free Download