1. Tips for Choosing A Right Video Downloader
Considering the questions of video watching, video downloading as well as video saving, we might as well start from these three aspects to see whether a video downloader is qualified. To begin with, a good video downloader should answer how to download Google drive video to iPhone and allows you to download videos for a repeated review. You no longer need to enter the website to load your favorite videos again and again. Second, what matters a lot in video downloading is speed and quality. Everyone is keen on fast download speed and high video resolution, so a good video downloader is supposed to offer such services. Next, a place one desires to store videos varies from one to another, such as a disc, a PC, or other devices. To satisfy the diverse needs of users, a good video downloader should be competent in storing downloaded videos to any device in any format. If you don't know which video downloader is better for use, please allow me to make some recommendations to you.
2. Recommended Program – DVDFab Video Downloader
DVDFab Video Downloader is such a tool that is designed to address how to download Google drive videos to iPhone. After a couple of generations of improvement, it has now grown into a one-stop solution. if you have any trouble as to how to download videos, it may be your best assistant you ever have.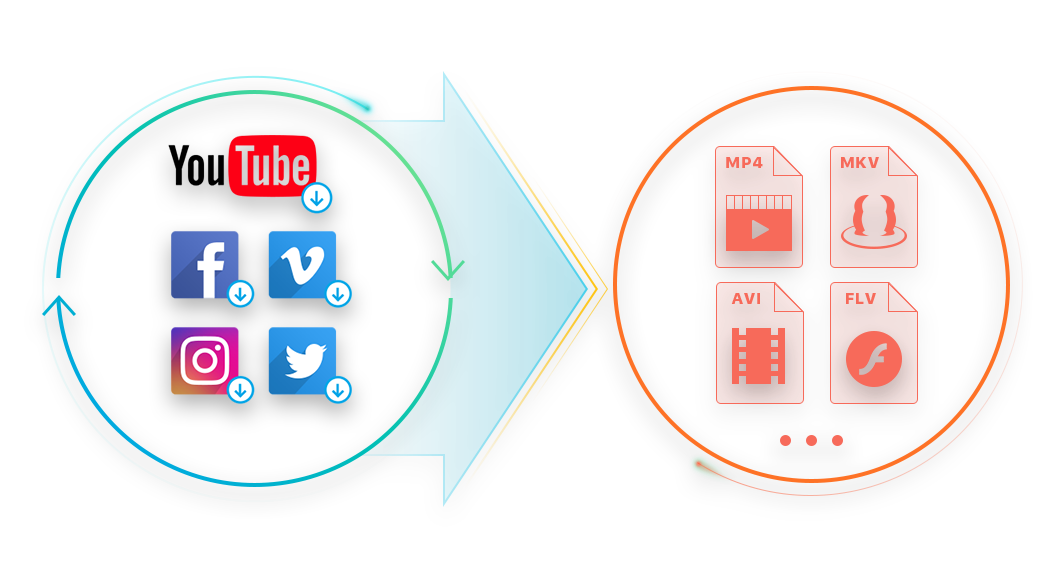 Download HD Videos

HD videos download constitutes a vital part as to how to download Google drive videos to iPhone. This function gives you a wide range of choice in term of video quality with 4K being the top level. No matter the screen on which you watch downloaded videos is big or small, you can adjust the resolution with this program to maintain a clear image and thus get excellent viewing experience.This download Facebook story video online can never be paralleled as a terrific video downloader? You cannot image how convenient life will be with the help of it. Hurry up! Let's this high-tech product improve your life quality as much as possible.

Multi-task Download

There are more questions that the most asked one how to download Google drive videos to iPhone. This feature is designed to help answer your questions like "I found a wonderful playlist, but can't figure out a way to download them in batch", "I got so many videos to download, how could I achieve that without doing it one by one?". Just a click or two, then your videos will be downloaded.

Download a Playlist

This program can do more than just download Google drive video to iPhone. Many users are used to grouping their preferred works into thematic playlists, so it makes sense to download playlists from various sources. It just takes a few steps for this program to download a playlist and it is very fast.

Save a Playlist

You may also want to save a playlist you like when you try to download Google drive video to iPhone. This feature can help you collect your favorite playlists in your own DVDFab Video Downloader account. You can check them easily and handle them freely.

Turbo-speed Download

With this program, when you download video from Google drive to iPhone camera roll, this button can help you improve your download speed greatly. As a result, much time will be saved and more convenience will be rendered.

Download Metadata

Metadata download can be seen as a complete copy of the original files. That is to say, even the slightest element in the original files such as title, author's name and duration will be transferred to the downloaded files. If you are a professional, you may find this feature comes in handy when you download video from Google drive to iPhone camera roll.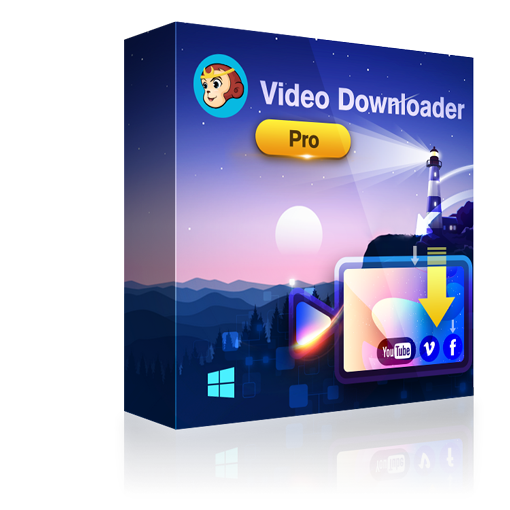 DVDFab Video Downloader
DVDFab Video Downloader Prepare to tell you how to download video from Google drive to iPhone
Free Download
Free Download
3. How to Download Video from Google Drive to iPhone?
The above-mentioned features are proof that DVDFab Video Download is what you are looking for to download videos for offline viewing. The following section will show you how to download video from Google drive to iPhone.
Step 1: Install DVDFab Video Downloader
DVDFab Video Downloader can be an ideal choice as to how to download a video from Google drive to iPhone. This program along with YouTube to MP3 constitutes the whole ecosystem of DVDFab Downloader. You can download it on the Video Downloader product page.
Click the "Free Download" button, and the installer will start downloading. When it is done, install it in your device according to the destruction. After this, open the program and the main interface will appear in front of you.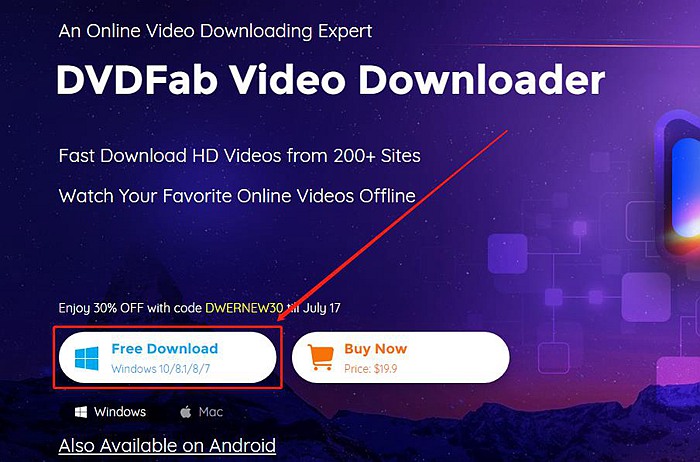 Note: There is a little triangle-shape icon on the edge of the top right corner. Click it and a bar frame with a couple of buttons will appear below it. Click the "Settings" button on this bar frame, then you will enter the settings interface. All the specific settings including language and directory can be adjusted manually. In particular, the last item on this interface "Download Video" is recommended to choose the option "Ask me each time" as different resolutions may be required when you download videos.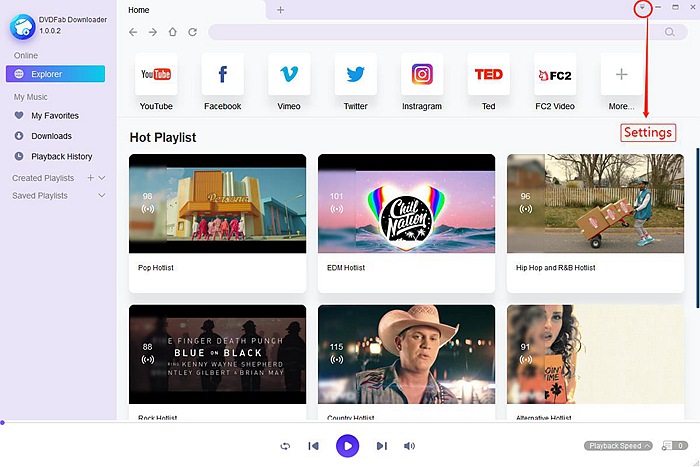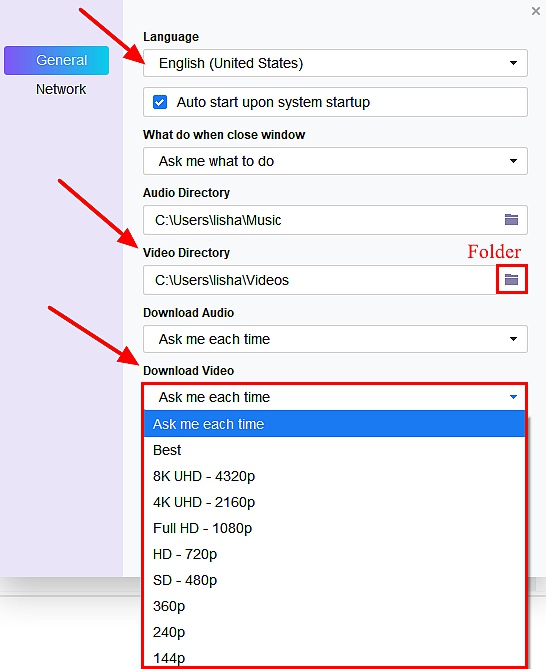 DVDFab Video Downloader is regarded to be the best video downloader Chrome due to its professional functions.
Step 2: Find your video
The first step to answer the question of how to download video from Google drive onto phone is finding the video you want to download first. There are two options for you in terms of finding videos. First, this program has listed a wide range of websites below the search bar where you can find your videos fast. Second, you can also visit the video websites directly to find the video you want. Get the URL of it and paste it on the search bar of this program. After that, a suspending bar including three elements, "Add to", "Play" and "Download" will appear, and that means the program is ready for download.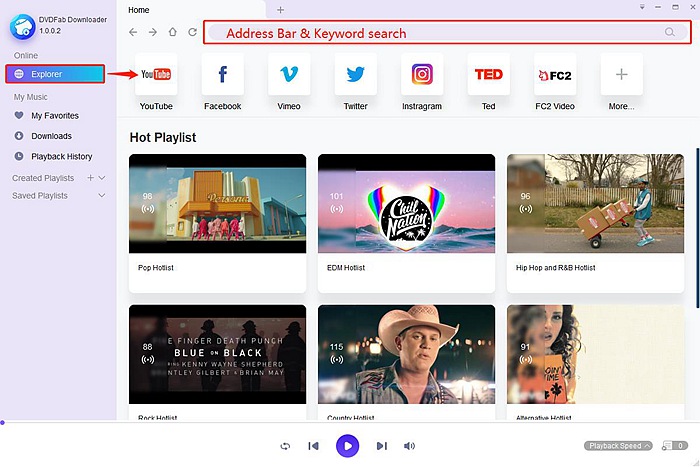 Add videos to My Favorites or Created Playlists
You may want to explore more details apart from the common topics such as how to download video from Google drive to iPhone. As we mentioned above, the suspending bar we mentioned before including three elements, the first of which is an add feature. Hover your mouse over it, and it will give you three options. The first option "Add to Favorite" and the third option "Add to Playlist" can help you add a single video to "My Favorites" and "Created Playlists" in the left column of the main interface separately.
To create a playlist, click the "plus" button on the "Created Playlists" section and give it a new name.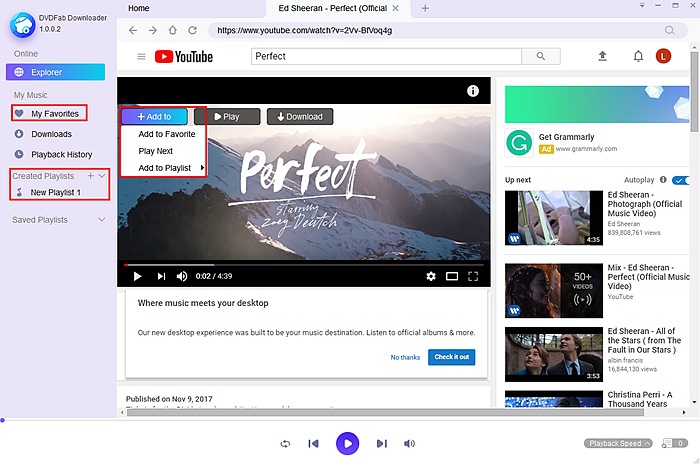 Download and Save a playlist
With this program, you can download video from Google drive to iPhone. Or you can also download a playlist. If you open a playlist with this program, the system will recognize it automatically as is signaled by the suspending bar that will appear. Hover your mouse over the "Download" part on the suspending bar, and choose option "Playlist" it gives you, then a download interface will come up. You can choose the settings like video/audio, resolution, and click "Download" button on the right bottom corner.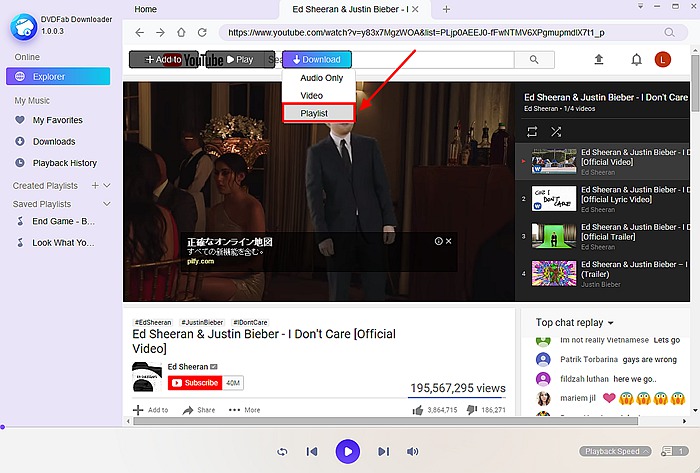 To save a playlist is also simple. As we mentioned above, the program can recognize a playlist with a suspending bar appearing automatically. Hover your mouse over the "Add to" part and choose "Save Playlist". Then, the playlist will be saved. You can check it out on the "Saved Playlists" section in the left column.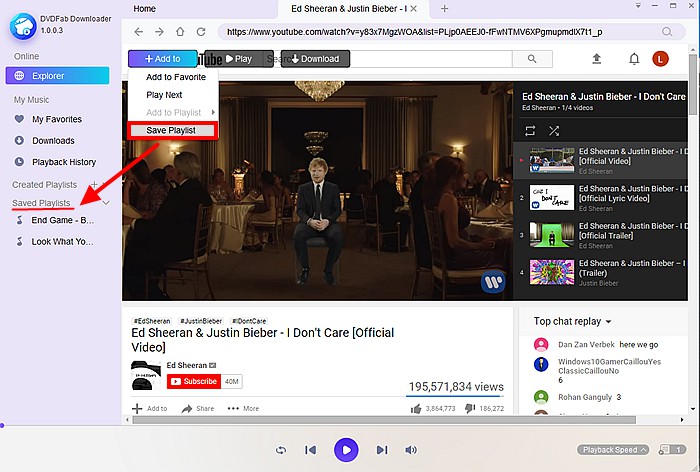 Play Button
When the question of how to download Google drive video to iPhone gets solved, another one may crop up: how to play videos with this downloader? Play function is a highlight of this program. You can find it in the middle of the suspending bar. Hover your mouse over it, and choose the "Video" option it gives you. Then, a play interface will come out. You can now navigate it to enjoy play experience.
The interface can be divided into three parts: the left part has four elements, the album cover on the far-left for switch between the play interface and the main interface, the heart-shape button for "add to favorite", the arrow-shaped button for "download this video", and the cross-shape button for "delete this video".
The central part includes five elements, which represent "play mode", "play last", "play or pause", "play next" and "volume control". The right part consists of three elements, from left to right, progress/duration, "play speed" and "current playlist".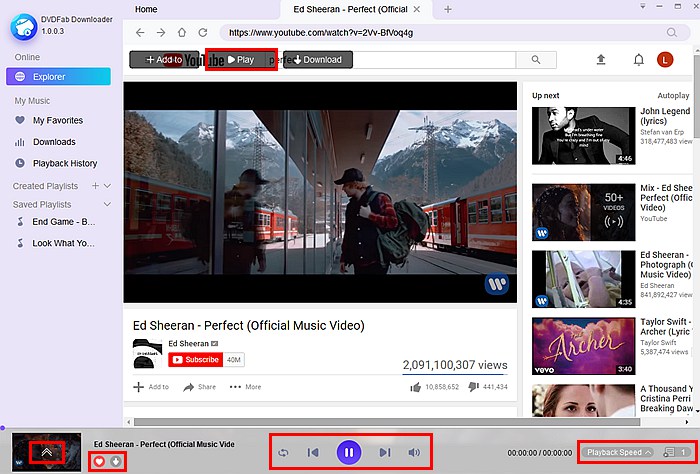 Step 3: Download videos
The question of how to download video on phone from Google drive will be solved in this step. The third part of the suspending bar is for downloading. When you open a playlist, it gives you three options, "Audio", "Video" and "Playlist". Choose any one as you like, then a settings interface will come out. Get settings done and click "Download" button, then the download process will begin immediately. You can check the download progress on the "Downloads" section as we mentioned before.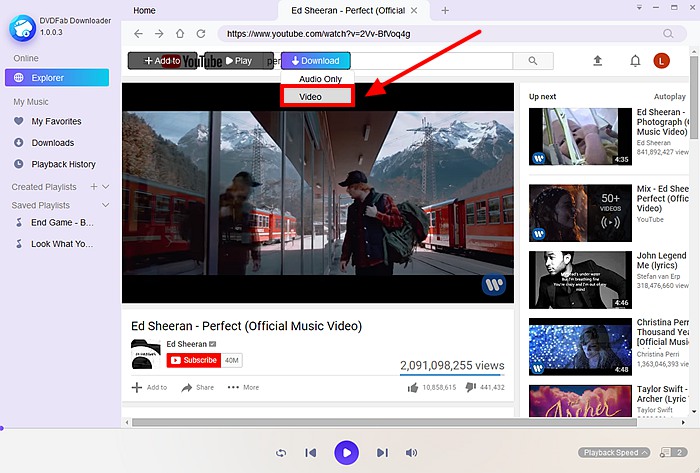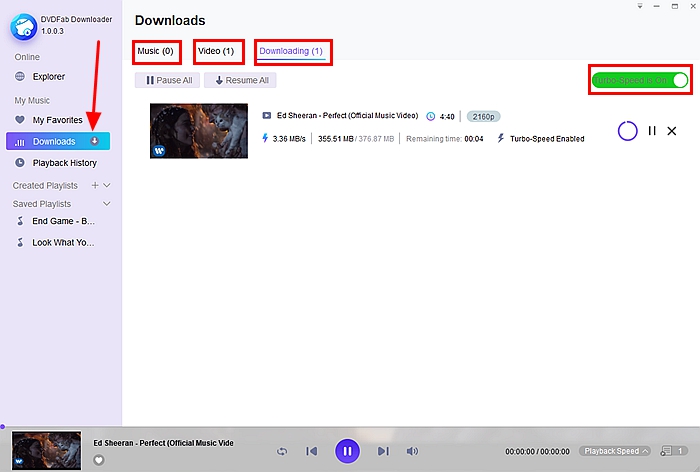 Get this program and start to download video from Google drive to iPhone from now.
4. Video Websites Supported by The Video Downloader
Have you imagined you could download videos from 200+ websites? Now, the opportunity is coming. DVDFab Video Downloader tells you how to download video from Google drive to iPhone 6 and gives you the opportunity to download videos from 200+ websites. Subsequently, I will introduce to you some websites.
DVDFab Video Downloader is a free and easy way for you to tweet video Downloader.
Social Networking Website
YouTube
is an American video-sharing website, enabling users to upload, watch, share and comment on videos.
Twitter
enables users to post and interact with messages in limited characters, as the American online news and social networking website.
Animation Website Platform
Giphy
is home to dynamic gif animation images and can be added to social media and chat application.
Crunchyroll
is an online community website to offer media streaming service related to animation image, cartoon, drama and media.
Question-oriented live-broadcasting platform
TED
focuses on ideas worth spreading. Leading figures in the fields of science, design, literature and music, share their thinking and exploration of technology, society and human beings in speech.
Closer to Truth
features extensive conversations of the leading scientists, philosophers, theologians, and scholars and covers a diverse range of topics or questions.
5. An Introduction to DVDFab
DVDFab Software, the owner of the world-famous multimedia solution shareware series, including DVDFab 11, Passkey 9, DVDFab Player 5 and DVDFab Downloader to solve how to download Google drive video to iPhone, aims to provide audio and video lovers all over the planet with top-notch DVD, Blu-ray & 4K Ultra HD Blu-ray decryption, backup, conversion, authoring and playback solutions, video conversion and editing solutions, as well as online music & video download, playback and management solutions.
6. Conclusion
Do you have a full picture of how to use DVDFab Video Downloader to download your favorite videos? This program supports to download videos from extensive video hosting sites, presently, up to 200+ websites. This Downloader downloads videos in their original formats, in order to keep their detailed information and original video quality. Let's count the key functions of DVDFab Video Downloader offers to solve the question of 'how to download video from Google drive to iPhone', playlist download, VIP download speed, multi-task download, auto-download subscriptions and more. It's time to download it and have a try.
When it comes to downloading HD videos, we can assure you that DVDFab Video Downloader is superior to other downloaders. This YouTube Video Downloader enables you to download HD videos, audios and whole playlists.
More Products You May Like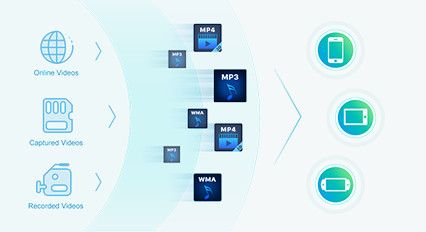 DVDFab Video Converter
The ultimate video converter software that not only converts your videos to tons of different formats, but also helps to eidt the converted videos in a professional way
Free Download
Free Download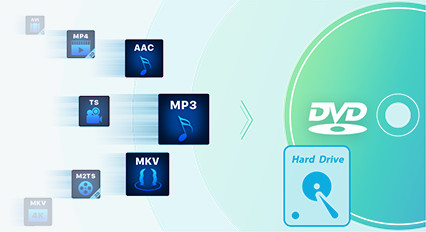 DVDFab DVD Creator
The latest DVD Creator to transfer videos onto DVDs. A chance to be together with your families or friends to watch videos through DVD players that have been burned onto DVDs spotlessly
Free Download
Free Download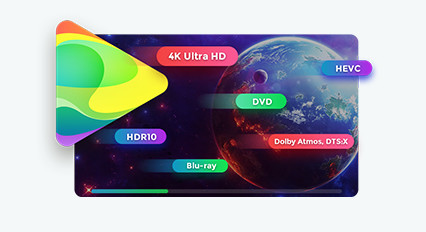 DVDFab Player 5
The professional 3D media player that plays back genuine 3D Blu-ray discs, ISO files and SBS (side-by-side) or top & bottom 3D videos, on home 3D TVs
Free Download
Free Download