1. Considerations to Select an Expert Video Downloader
The question on how to download Facebook video to iPhone can be easily solved as long as you have the right downloader. We believe it will benefit users a lot if they obey some rules when they choose a video downloader. Based on the previous experience, one of the most important is the batch download function should be included in this product. According to the feedback of a large quantity of users, two of the most required functions are batch download and multiple formats. So the chances are they are needed by you and should be supported by the product you choose. It's understandable why those two are more needed than others. Batch download can save your trouble of doing multiple tasks one by one and improve your efficiency as well as your experience. Compared to single video download, batch download can save 10-fold time or more. The other function "multiple formats" are frequently required because the diversity of formats give people more freedom for choice and make their work and life more delicate and customized.
2. Ultimate Program Recommended - DVDFab Video Downloader
Do you often download Facebook videos to phone? Why not try the professional DVDFab Video Downloader? It will bring you better video download experience in video quality, download speed and more common services you need. There is a belief that you will be fond of this program. Let's learn about its functions together.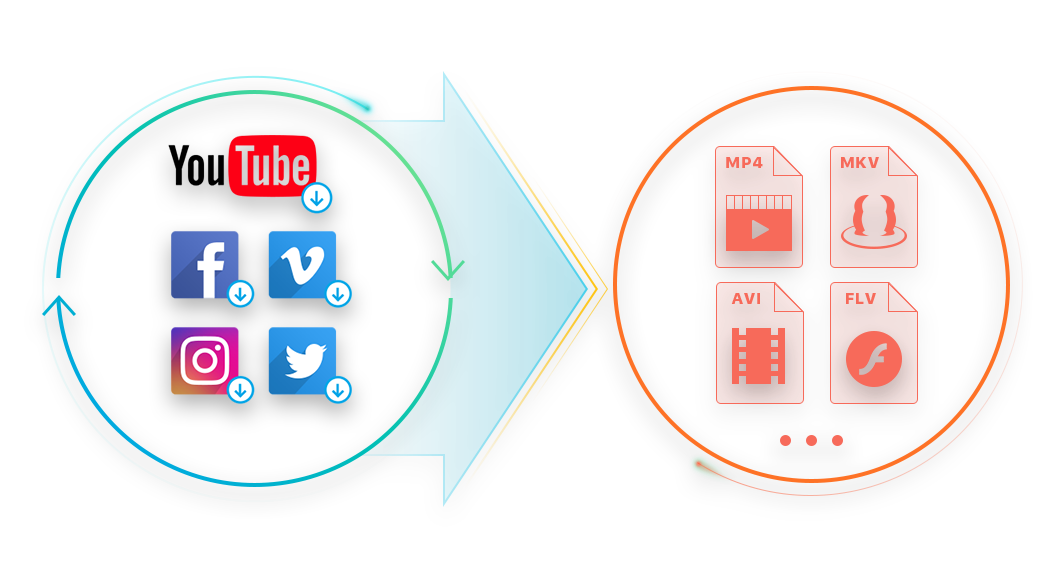 Download HD Videos

DVDFab Video Downloader is designed to download Facebook videos to phone. It provides various resolution to users. So far, the resolution types this software is able to provide include 144p, 240p, 360p, 480p, 720p, 1080p, 1440p, 2160p and 4320p, from which you can choose any one suitable for your device.

Multi-task Download

Time is precious. Everyone desires to get more done in the same amount of time, such as downloading more videos in one hour, but online video download makes it impossible. Now, DVDFab Video Downloader has solved the problem, letting you download Facebook videos to phone up to 5 at most at a time.

Download a Playlist

A playlist is like a treasure box, collecting all the videos you like together. So, downloading your favorite playlist makes all your favorite videos easily watched. With the help of DVDFab Video Downloader, you can download Facebook video on iPhone by pasting its URL and own the treasure box.

Save a Playlist

Now, DVDFab Video downloader distinguishes itself by offering a new service, allowing users to store their favorite playlists except to download Facebook video on iPhone. You are no longer worried about there is no place for your favorite playlists. This time, you will quickly find your playlist as long as you have saved it.

Turbo-Speed Download

Are you troubled by slow download speed? how to download video from Facebook to phone? Ask DVDFab Video Downloader for help. It allows you to download their favorite videos in a short time. With the assistance of DVDFab Video Downloader, you will find video download easy and fun.

Download Metadata

DVDFab Video Downloader makes it possible to download video metadata. Then if you know how to download video from Facebook to phone with metadata, the details of videos will be clearly presented to you. I hope you can find the benefits of this software the moment you have downloaded your favorite videos from any website.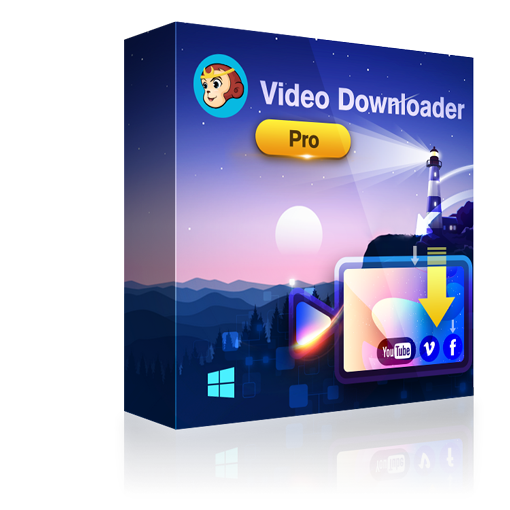 DVDFab Video Downloader
DVDFab Video Downloader Original software to solve how to download videos from Facebook to iPhone, equipped with multi-task download to shorten your waiting time
Free Download
Free Download
3. How to Download Videos from Facebook to iPhone?
The above-mentioned features are proofs that DVDFab Video Download is what you are looking for to download videos for offline viewing. The following section will show you how to download videos from Facebook to iPhone.
Step 1: Install DVDFab Video Downloader
DVDFab Video Downloader can be an ideal choice as to how to download videos from Facebook to your phone. This program along with YouTube to MP3 constitutes the whole ecosystem of DVDFab Downloader. You can download it on the Video Downloader product page.
Click the "Free Download" button, and the installer will start downloading. When it is done, install it in your device according to the destruction. After this, open the program and the main interface will appear in front of you.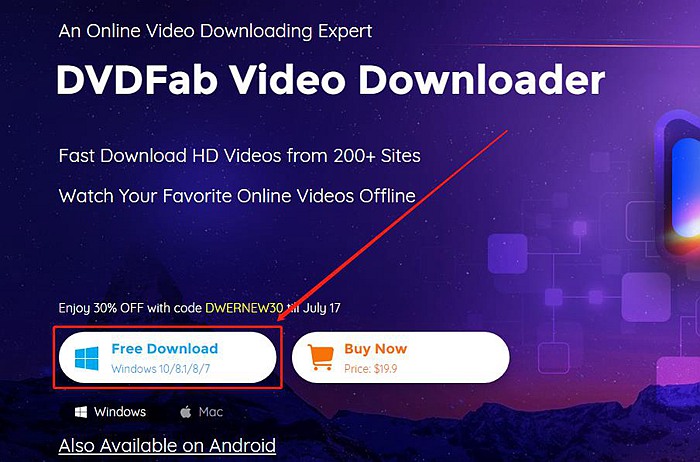 Note: There is a little triangle-shape icon on the edge of the top right corner. Click it and a bar frame with a couple of buttons will appear below it. Click the "Settings" button on this bar frame, then you will enter the settings interface. All the specific settings including language and directory can be adjusted manually. In particular, the last item on this interface "Download Video" are recommended to choose the option "Ask me each time" as different resolutions may be required when you download videos.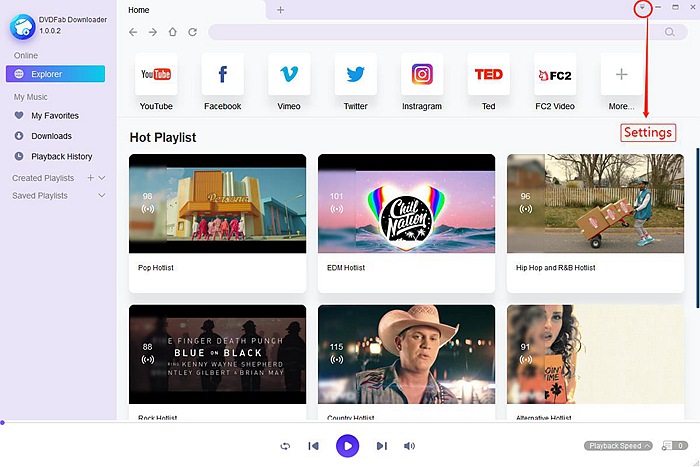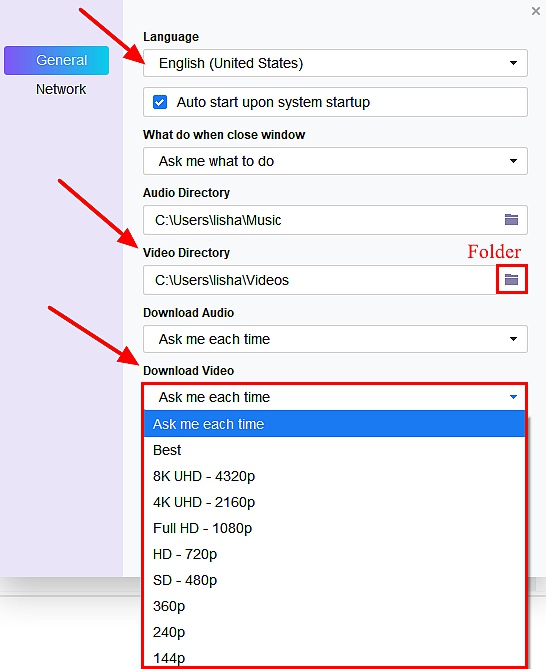 Step 2: Find your video
The first step to answer the question of how to download a video from Facebook to your phone is finding the video you want to download first. There are two options for you in terms of finding videos. First, this program has listed a wide range of websites below the search bar where you can find your videos fast. Second, you can also visit the video websites directly to find the video you want. Get the URL of it and paste it in the search bar of this program. After that, a suspending bar including three elements, "Add to", "Play" and "Download" will appear, and that means the program is ready for download.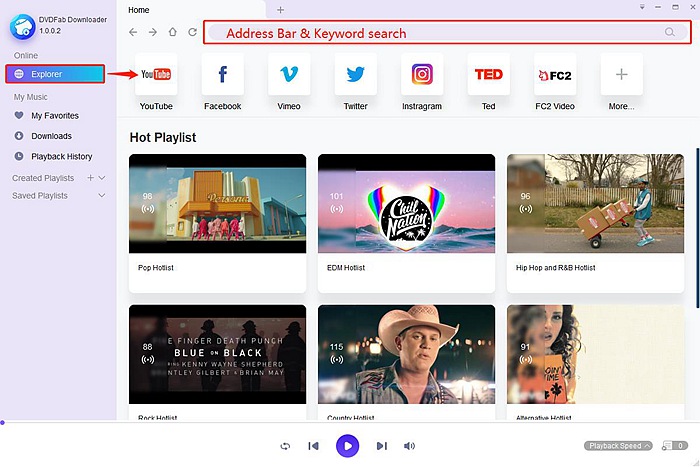 Add videos to My Favorites or Created Playlists
You may want to explore more details apart from the common topics such as how to download videos from Facebook to iPhone. As we mentioned above, the suspending bar we mentioned before including three elements, the first of which is an add feature. Hover your mouse over it, and it will give you three options. The first option "Add to Favorite" and the third option "Add to Playlist" can help you add a single video to "My Favorites" and "Created Playlists" in the left column of the main interface separately.
To create a playlist, click the "plus" button on the "Created Playlists" section and give it a new name.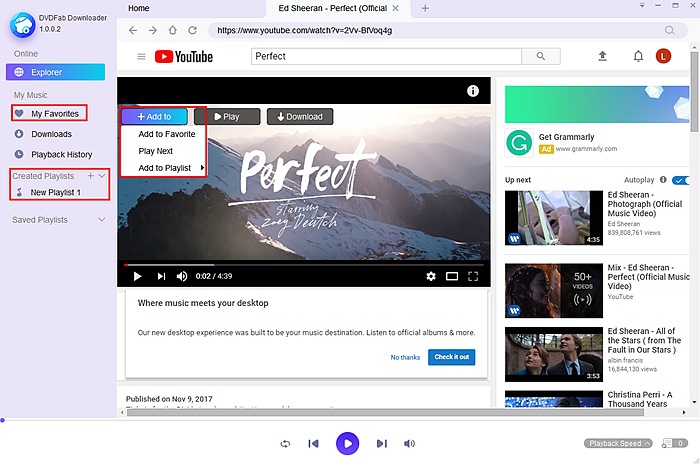 Download and Save a playlist
With this program, you can download Facebook videos iPhone. Or you can also download a playlist. If you open a playlist with this program, the system will recognize it automatically as is signaled by the suspending bar that will appear. Hover your mouse over the "Download" part on the suspending bar, and choose option "Playlist" it gives you, then a download interface will come up. You can choose the settings like video/audio, resolution, and click "Download" button on the right bottom corner.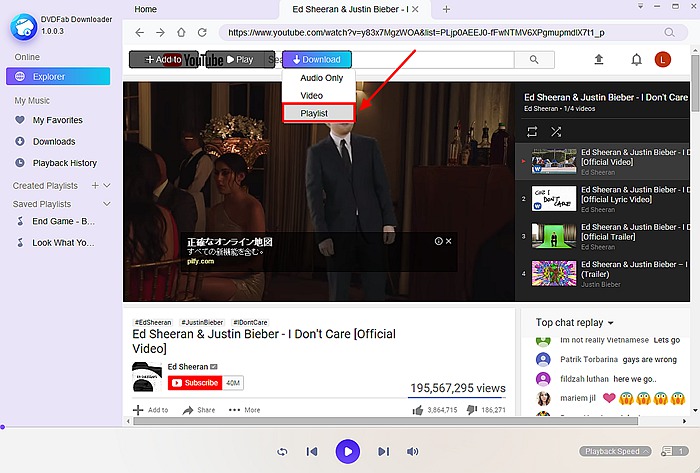 To save a playlist is also simple. As we mentioned above, the program can recognize a playlist with a suspending bar appearing automatically. Hover your mouse over the "Add to" part and choose "Save Playlist". Then, the playlist will be saved. You can check it out on the "Saved Playlists" section in the left column.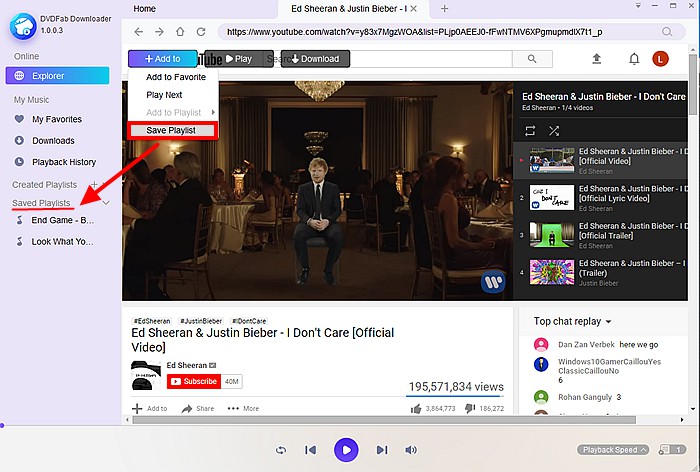 Play Button
When the question of how to download Facebook video to iPhone gets solved, another one may crop up: how to play videos with this downloader? Play function is a highlight of this program. You can find it in the middle of the suspending bar. Hover your mouse over it, and choose the "Video" option it gives you. Then, a play interface will come out. You can now navigate it to enjoy play experience.
The interface can be divided into three parts: the left part has four elements, the album cover on the far-left for switch between the play interface and the main interface, the heart-shape button for "add to favorite", the arrow-shaped button for "download this video", and the cross-shape button for "delete this video".
The central part includes five elements, which represent "play mode", "play last", "play or pause", "play next" and "volume control". The right part consists of three elements, from left to right, progress/duration, "play speed" and "current playlist".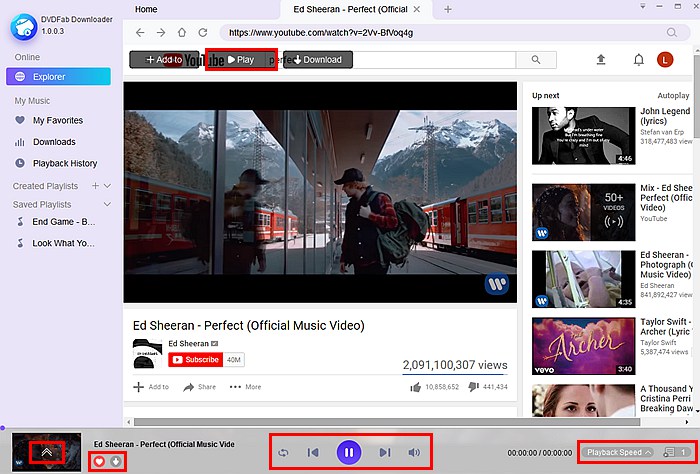 Step 3: Download videos
The question of how to download a video from Facebook to my phone will be solved in this step. The third part of the suspending bar is for downloading. When you open a playlist, it gives you three options, "Audio", "Video" and "Playlist". Choose any one as you like, then a settings interface will come out. Get settings done and click the "Download" button, then the download process will begin immediately. You can check the download progress on the "Downloads" section as we mentioned before.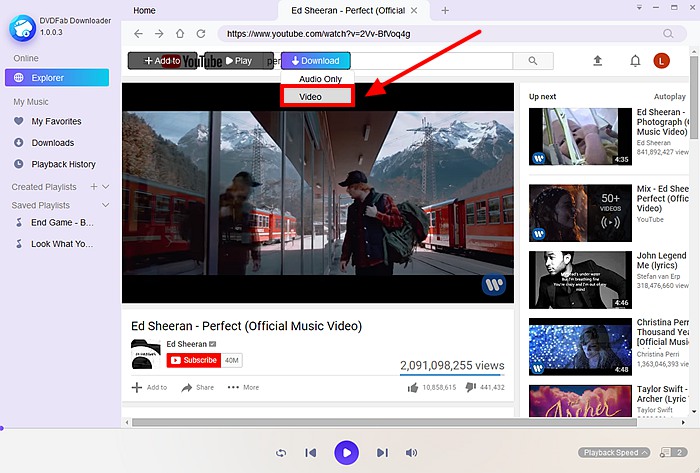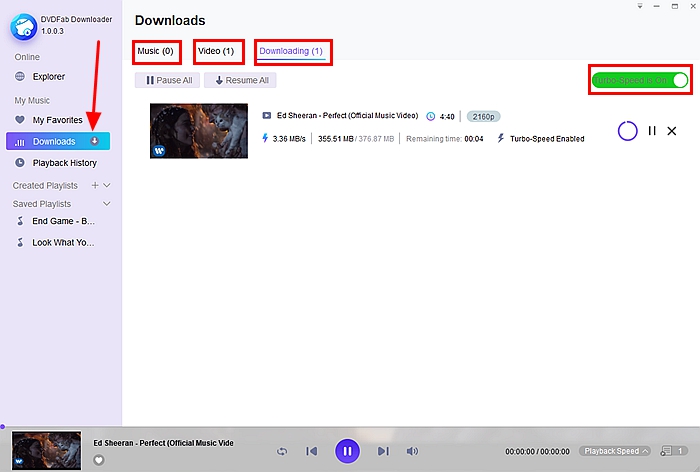 Get this program and start to download Facebook videos iPhone from now.
4. Brief Introduction of 200+ Supported Video Websites
DVDFab Video Downloader solves the problem of how to download Facebook video on iPhone by allowing users to have a free wander around 200+ websites and download their favorite videos. There are some websites below for your reference.
Top-ranking Sharing Website
YouTube
is the biggest video-sharing website in the world.
Facebook
is the leading picture-sharing website in the world.
News Website
CTV News
is Canada's 24-hour all-news network, delivering breaking news the second it happens.
BBC
is Britain's biggest news broadcasting organization, delivering real-time news.
Professional Technology-Media Platform
CBS interactive
is the biggest global technological interactive media, subjected to Columbia's CBS Corporation.
Brightcove
takes advantage of new media technology to spread colorful content through Brightcove online.
5. About DVDFab
Besides solving the question of how to download Facebook video to iPhone, as the world's leading multimedia solution vendor, DVDFab Software offers the world's most complete solution packages for users to back up their legally owned DVDs, Blu-rays and 4K Ultra HD Blu-rays, convert those disc collections to on-demand formats to watch on portable & mobile devices anytime anywhere, and produce studio-level home DVDs, Blu-rays and 4K Ultra HD Blu-rays with navigation menus, using their personal videos, regardless what the video formats are.
6. Conclusion
Our vision is to provide easy access to video download for global people, allowing them to fully enjoy the fun of life with minimal cost. Since the initiation of the first version of this program, we have been devoted to improving our technology and integrating more functions into one unity. Now it has developed into an independent product line and has more service to offer to solve how to download videos from Facebook to iPhone. We believe it will become a one-stop solution for our customers and bring more and more happiness to them in the future.
More Products You May Like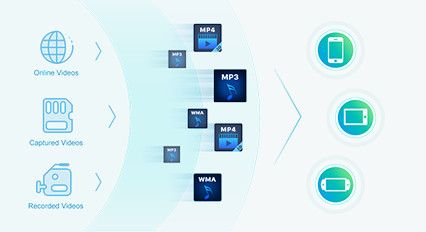 DVDFab Video Converter
A versatile video converter for video enthusiasts to convert captured videos in daily life to popular video formats, such as MP4, MKV, AVI, FLV, M2TS, etc.
Free Download
Free Download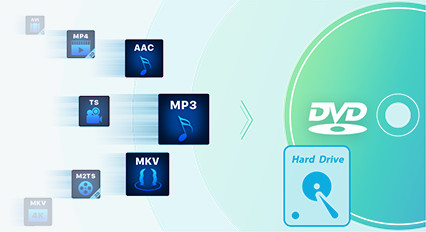 DVDFab DVD Creator
The extremely capable DVD burner software that not only burns home videos onto blank DVD discs, but also outputs the final DVDs as ISO files or movie folders on HDDs
Free Download
Free Download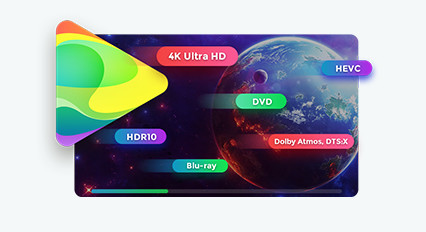 DVDFab Player 5
A top-notch video player application allowing music and video lovers to enjoy all types of media files at home, with cinema-level audiovisual effect
Free Download
Free Download