1. When You Are Searching a Handy Instagram Video Downloader
There are two kinds of video downloaders that you can choose. One is the online video downloader and the other is the desktop video downloader, namely, video downloader software. So before learning how to download videos off Instagram, you first need to have a look at the advantages and disadvantages of these two kinds of downloaders and make the right decision. An online video downloader allows you to download videos from a variety of video websites without installing a software program on your computer. Usually they are pretty easy to use: open up the downloader page, paste the video URL you want to download and click the "Start" button to start the download process. Although a video downloader software program requires you to download and install it on your computer to use, it performs better in many other ways. A video downloader software program usually supports more video websites, offers faster download speed, provides the option of high resolution, and supports the download of playlists. So if you are looking for a powerful downloader, we will recommend you to choose a desktop video downloader rather than an online tool. For the video downloader software program, we will recommend you DVDFab Video Downloader – the most powerful solution to your question "how to download videos off Instagram".
2. Original Tool Available - DVDFab Video Downloader
So far, DVDFab Video Downloader has won consistent praise among users for its fantastic functions in providing HD videos download, turbo-speed download, playlist download, multi-task download and metadata download. Would you like to learn how these functions work and let it help you download videos off Instagram?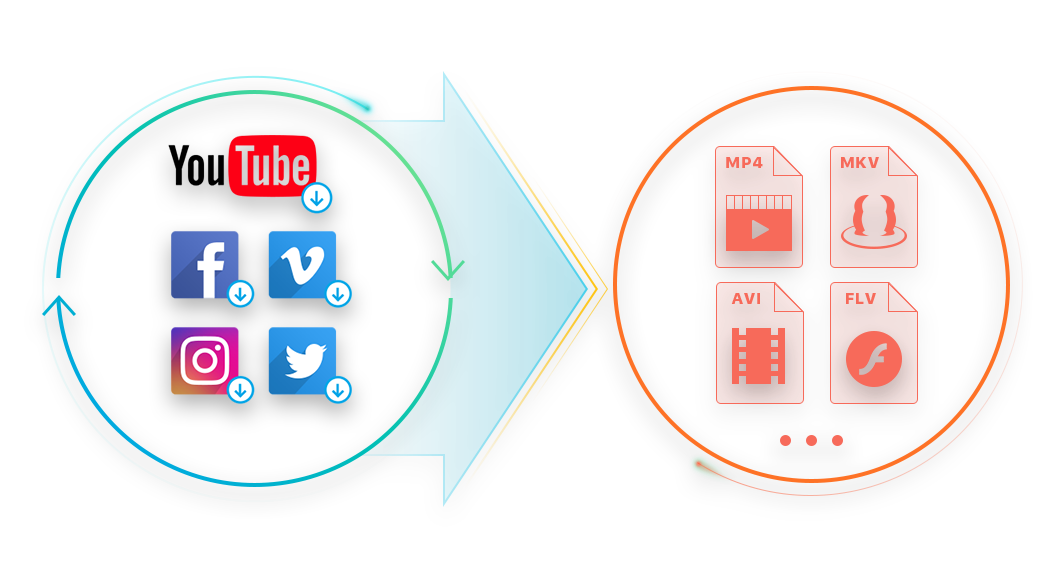 Download HD Videos

Downloading HD videos means that you can adjust the video resolution before you download videos off Instagram. Nowadays, 4K or 8K videos are easily seen on websites. If you want to match such high resolution for clear images, it is available.

Multi-task Download

Multi-task download means you can download multiple videos simultaneously. Paste one video URL to this software. Before this video has been downloaded, you can continue to paste the second, the third, even to the fifth. You can download videos off Instagram up to 5 each time.

Download a Playlist

DVDFab Video Downloader can download video off Instagram. The contents of a playlist is richer than a single video. A playlist can be seen as a collection of multiple videos about a certain topic. If you want to download a playlist, just paste the URL of it. Up to five playlists can be downloaded simultaneously.

Save a Playlist

When you download video off Instagram, have you considered saving a playlist? In order to satisfy the needs of most users, DVDFab Video Downloader allows users to save their playlist. Keep the playlist playing. Click Save Playlist under Add to button, and your playlist will be saved.

Turbo-Speed Download

Normally, how long will it take you to download a video or a playlist? Have you ever thought this process can be accelerated? Now, DVDFab Video Downloader shows how do you download videos from Instagram and offers 10X download speed. You can save more time as long as you use this function.

Download Metadata

Besides helping you learn how do you download videos from Instagram, this program supports metadata download. Metadata is a series of messages about a video or a playlist for users to consult. If you are interested in who makes the video or playlist, or how long the video or playlist will last, choose DVDFab Video Downloader for metadata download.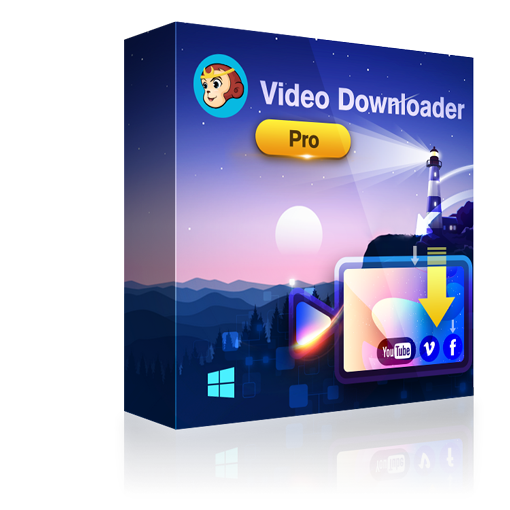 DVDFab Video Downloader
DVDFab Video Downloader Original Instagram video Downloader, equipped with multi-task download to shorten your waiting time
Free Download
Free Download
3. A Detailed Tip to Use the Instagram Video Downloader
Do you have a clear sense of what DVDFab Video Downloader can do? The next section will show you how this Instagram video Downloader works through only three steps.
Step 1: Download and install DVDFab Video Downloader
It just takes a few steps before your question how do I download videos from Instagram is answered. You can download it from the DVDFab Video Downloader page and install it according to the direction.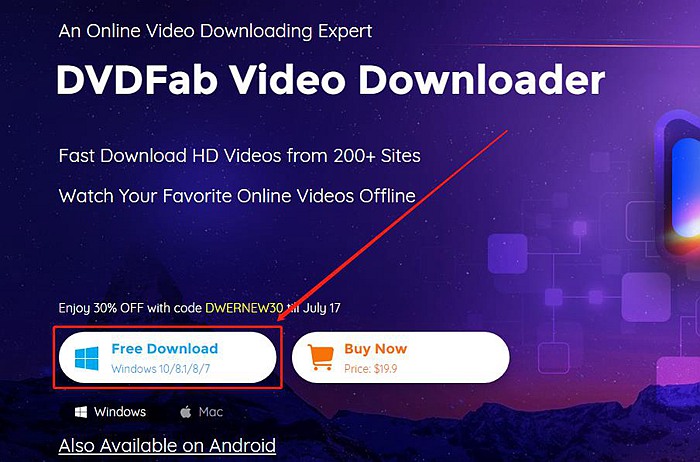 Note: Because of the existence of default settings, or preset controls, the system will operate in the way it is designed to. However, you can customize it by changing settings manually. Open the app, click the triangle-shape button on the top right corner. Click "Settings" button, and alter specific controls as you like. You can change the language in the Language option. For the option of Video Directory, click the Folder icon to select a new directory to save the output video. For the Download Video, we recommend to choose "Ask me each time". That's because an interface will pop up indicating the resolutions you can choose after you click Video under Download button.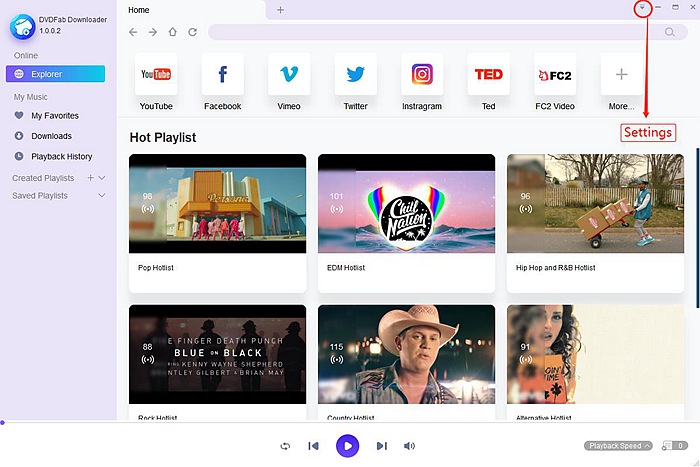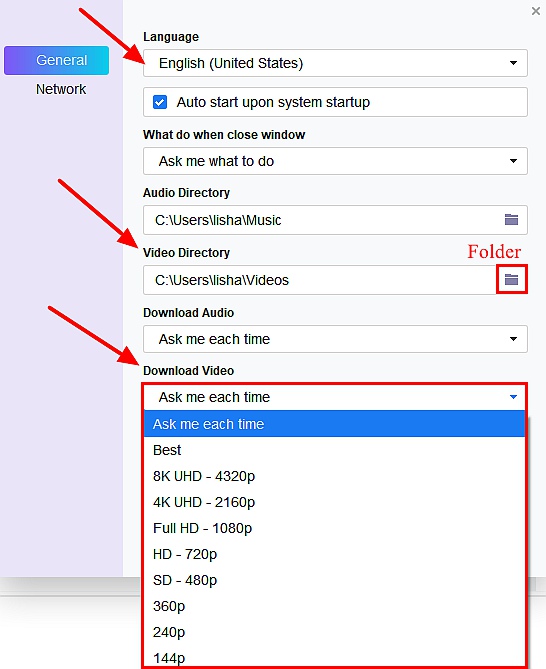 Step 2: Find the video you are to download
To answer the question how to download a video off Instagram, you should let the app know what videos you want to download first. There are two options for you. First, you can paste the URL of the video on search bar which is right on the top center of the interface. Second, search videos in the websites listed below the search bar.
Once it is done, a suspending bar where three elements, "Add to", "Play" and "Download", are included will show up. To help you better understand their functions, we will make a breakdown of them before the download part is introduced to you.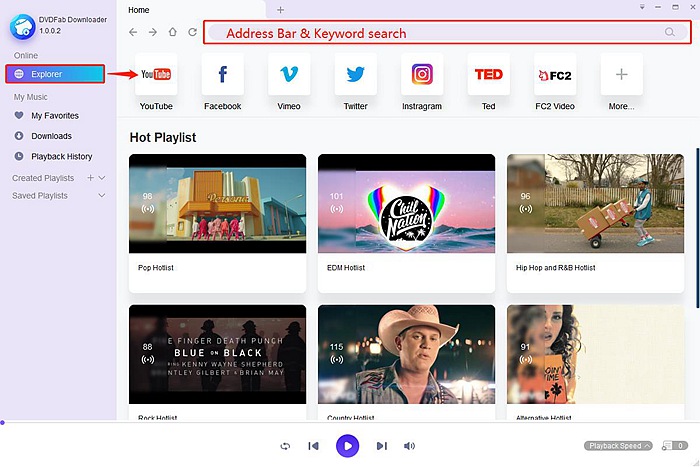 Add to favorite or Created Playlist
When it comes to this Instagram video Downloader, playlist management is a topic you may care about. We provide abundant options for users to manage their playlists, including adding works to playlist or creating playlists. The first button on the suspending bar is an add feature, which can help you add videos to "My Favorites" or "Created Playlists". In case you ask how to create playlists, it can be done by clicking the "plus" button on the "Created Playlist" section in the left column, and you can also rename it.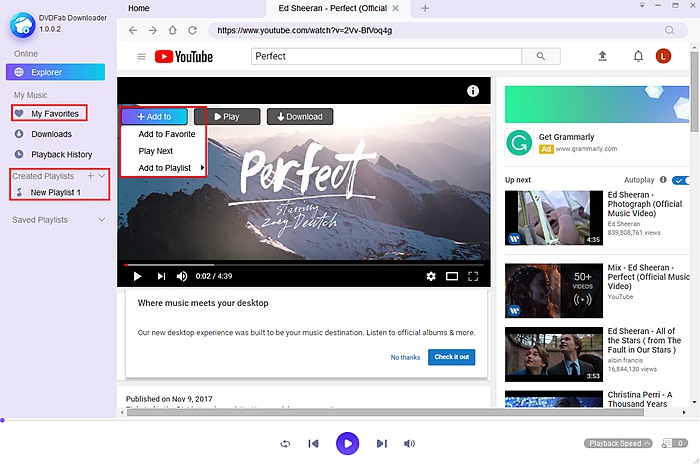 Download a playlist or save a playlist
Sometimes, the question how to download Instagram videos is less frequently asked than how to download playlists. We have solved this problem and it just takes a few steps. First, identify playlists to be downloaded in the same way as you identify a single video mentioned above. Once it is done, hover your mouse over the "Download" button, and click the "Playlist" button that appears next. A new interface will come up, choose the settings on each item, such as video quality before clicking the "Download" button.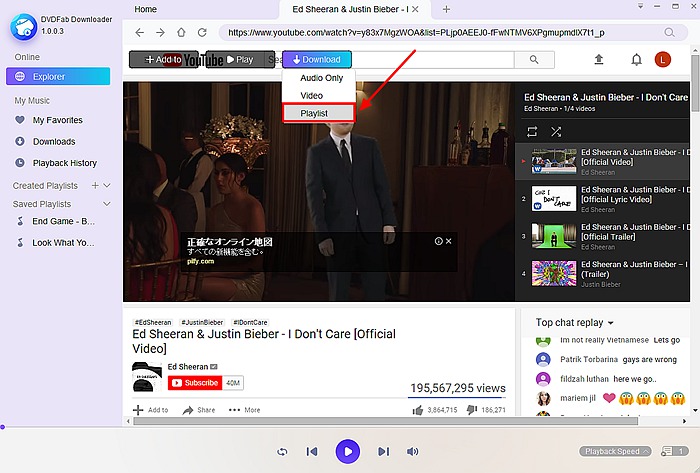 To save a playlist is even more simple. Just hover your mouse over the "Add to" button on the suspending bar, and click the "Save Playlist" button that pops up next, and the playlist will be saved in your account. You can check it out on the "Saved Playlist" section in the left column.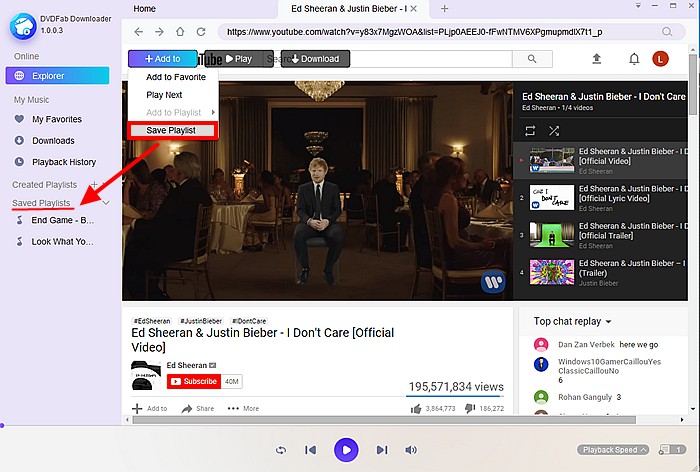 How the Play button works?
We found that many users who ask how to download videos off Instagram would also hope this downloader is a player at the same time.  One of the most important functions in this app is a built-in player, which you can use to play songs or videos online or offline. You can find the "Play" button on the middle of the suspending bar, click it and a whole new interface will appear.
The interface is very simple to understand. As you can see, it can be divided into three parts: the left part includes three elements, representing "add to favorite", "download this video" and "delete this video" respectively; the central part has no difference with other players, including five buttons, which, from left to right, stand for "play mode", "play last video", "play or pause", "play next video", and "volume control" separately; The right part has three elements, of which the first refers to progress/duration, the second "play speed" and the third "current playlist".
Particularly, you can switch the play interface to the main interface or vice versa by clicking the album cover on the far-left of the play interface.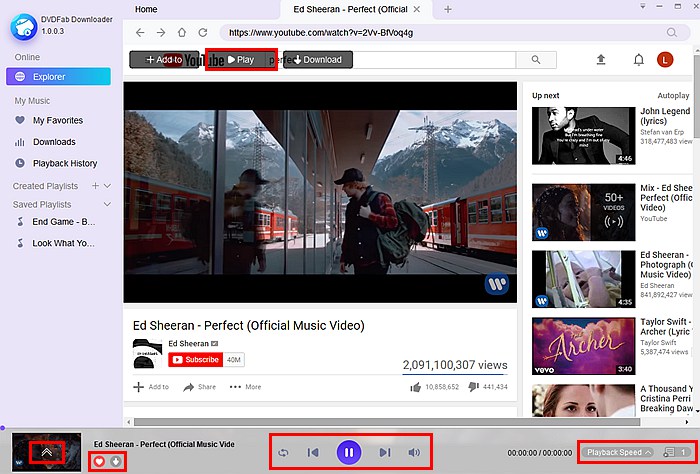 Step 3: Download Videos
The last step is to download video Instagram. It's very simple. Hover your mouse over the "Download" button on the suspending bar, and click the Video button. Then the download interface will come up. Get the settings right and click the "Download" button, and the download process will begin immediately. You can check the progress on the "Downloads" section in the left column where three subsections are included, namely "Music", "Video" and "Downloading". The first two of them represents downloaded works, and the third downloading works. Besides, you can check in the "Turbo-speed" button on the top right corner, which will hasten your download process significantly.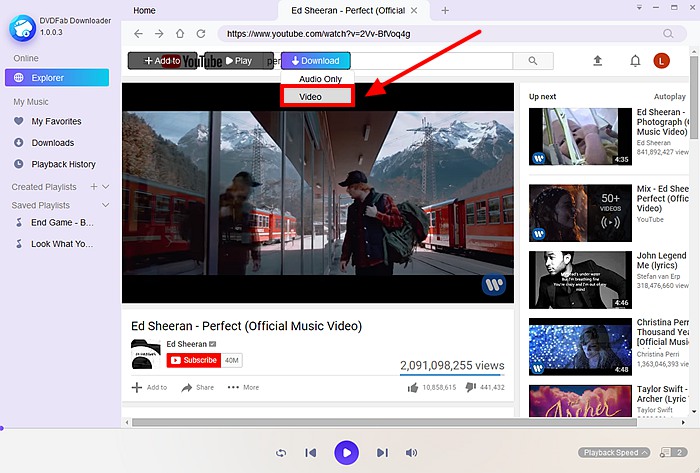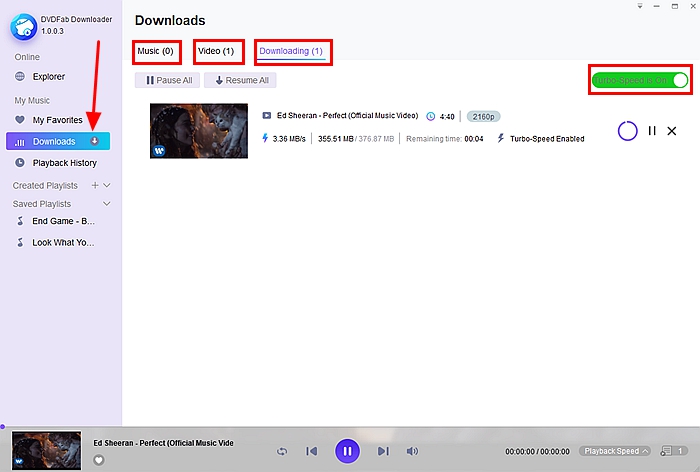 Now we have shown you all the steps and details, so we believe you must have learned how to download Instagram videos with this Video Downloader. Do not hesitate to download the program and have a free try!
4. What Kind of Videos Can DVDFab Video Downloader Download?
Have you imagined you could download videos from 200+ websites? Now, the opportunity is coming. This video Instagram Downloader gives you this opportunity. Subsequently, I will introduce to you some websites.
Social Networking Website
YouTube
is an American video-sharing website, enabling users to upload, watch, share and comment on videos.
Twitter
enables users to post and interact with messages in limited characters, as the American online news and social networking website.
Animation Website Platform
Giphy
is home to dynamic gif animation images and can be added to social media and chat application.
Crunchyroll
is an online community website to offer media streaming service related to animation image, cartoon, drama and media.
Question-oriented live-broadcasting platform
TED
focuses on ideas worth spreading. Leading figures in the fields of science, design, literature and music, share their thinking and exploration of technology, society and human beings in speech.
Closer to Truth
features extensive conversations of the leading scientists, philosophers, theologians, and scholars and covers a diverse range of topics or questions.
5. How Does DVDFab Service Users?
If you are a video collector, DVDFab Video Downloader is your helper to solve how to download videos off Instagram. What's more, the DVDFab 11 software offered by DVDFab Software is an all-powerful solution package for music, video and movie collectors to copy their seas of disc collections at home for non-commerical purposes; convert those discs for enjoying on iPhones, iPads, and any other Android smart phones or tablets; totally and permanently remove the Cinavia watermarks planted in the audio tracks of these discs; and create premium DVDs, Blu-rays and 4K Ultra HD Blu-rays using their daily captured videos of all formats.
6. Conclusion
Do you have a full understanding of how this Instagram video Downloader works? No matter whether you are going to download a single video or playlist, or perform a multi-task downloading, DVDFab Video Downloader is fully standing by to provide tech supports to download videos from more than 200 websites, including the famous YouTube, Facebook and some regional and special purpose websites. It delivers fast download speed and offers different resolutions for you to choose.
More Products You May Like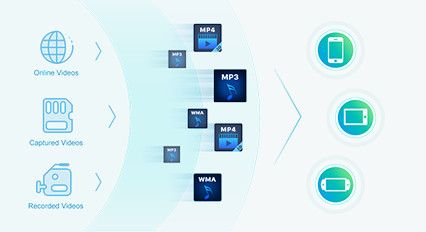 DVDFab Video Converter
The hard-to-find video conversion tool for videophiles of all levels to convert videos between different formats to enjoy on whatever playback devices
Free Download
Free Download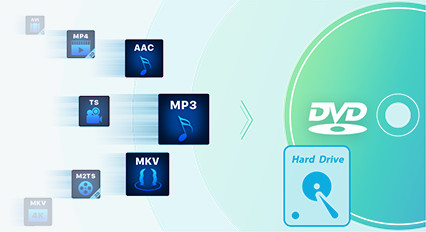 DVDFab DVD Creator
Original DVD Burner to burn videos onot DVDs. One of the best ways to keep your shot videos of your life by burning them onto DVDs for safe storage and recording the good old days
Free Download
Free Download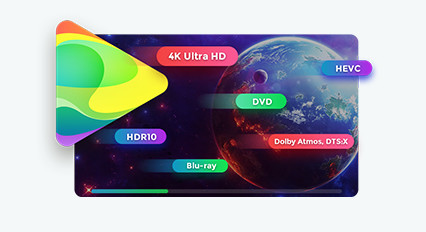 DVDFab Player 5
The all-inclusive video player software to play back videos or popular and peculiar formats, such as MP4, MKV, AVI, MOV, FLV, M2TS, TS, WMV, RMVB, and tons more
Free Download
Free Download