1. When You Intend to Find a Powerful Video Downloader for iPad
how to download videos to iPad directly? A powerful Video Downloader is the key to this question. you may do some preparations before making a decision. There are three points listed below for your reference. * Source video: As investigated, almost all Video Downloaders are designed to download videos from Internet through analyzing their URLs. Why analyze the URL? Because URL, also known as a Uniform Resource Locator or web address, is the address of a resource on the Internet. A URL indicates the location of a resource as well as the protocol used to access it. How to get a video URL? Move your mouse pointer to the video, right-click it and click "Copy link address" to get a video URL. * Source website: Which website does your favorite video come from, YouTube, Facebook, Vimeo, Instagram or others? It's important to figure out this question as you need to confirm whether the Video Downloader you intend to buy supports this source website. * Powerful program: A powerful program often supports to download videos from a large number of video websites and keep the video quality as good as the original source. A recommendation will be made to answer the question of "how to download videos to iPad directly" in the next section based on the above-mentioned three points. Hope it helps.
2. Latest Software You Need - DVDFab Video Downloader
DVDFab Video Downloader is an excellent video download tool which focuses on solving all kinds of troubles users may have when downloading online videos. This iPad video Downloader app is highly recommended for such a variety of reasons as support for video download from 200+websites, multiple functions that meet almost all the needs users have, Playlist download and etc. for further detailed information, please continue to read.
Offline videos watching is never getting old to enjoy your spare time. To do this, you may need to
YouTube music videos download
with DVDFab Video Downloader.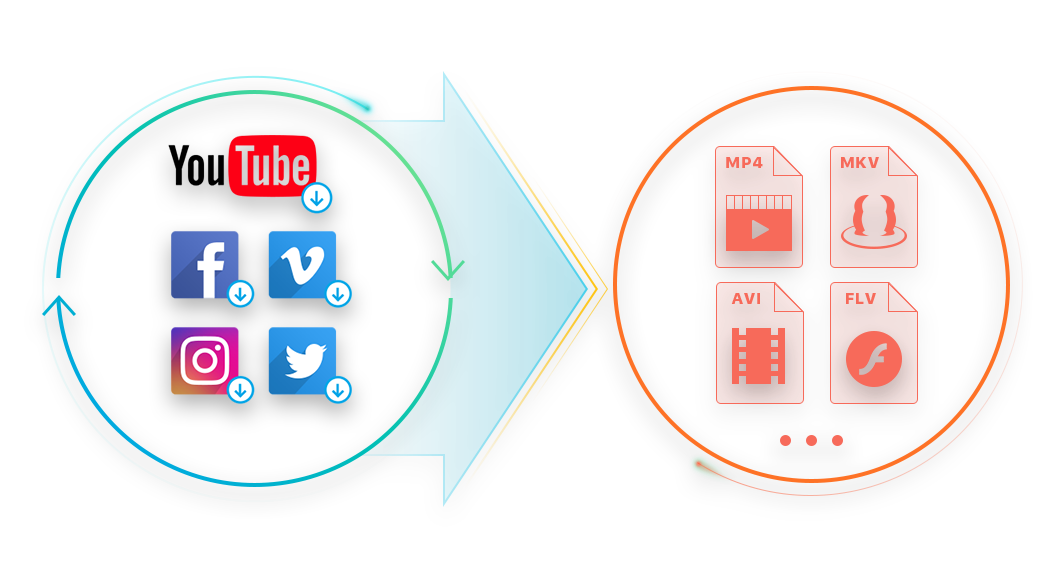 Download HD Videos

Multiple resolution formats, including 1080P or 4K are supported by this iPad video Downloader app. You can choose the suitable one according to your purposes or needs.

Multi-task Download

Doing multiple tasks one by one can be very annoying, especially when the number of videos to be downloaded is very large. DVDFab Video Downloader solves this problem perfectly by supporting multi-task Download. it just takes a click or two before a multi-task job is finished. Very convenient iPad video Downloader app, isn't it?

Download a Playlist

A playlist is a collection of works of similarities, such as style, hobby, language, artist and etc. This best video Downloader for iPad support playlist download, which means a lot of your demands, such as watching on travel or saving space for PC can be met with this program. This tool can provide easy access to playlist download. The free version supports five playlist download. If you are aiming for higher goals, amembership is what you need.

Save a Playlist

Saved Playlist constitutes an important part of the greater user management initiative this best video Downloader for iPad is implementing, whose goal is to give users more freedom in terms of collecting and editing contents on this platform in an organized and customized way. Users can save any playlist they like and do a lot of operations according to their needs, such as play, download and delete. It's just a beginning of a greater ecosystem, and will grow better and better in the future.

Turbo-speed Download

An improved download speed means a more fascinating entertainment experience along with higher productivity and more efficient work when you download music videos to iPad. So, it is fair to say download speed plays an important role and is appreciated by most users. You can choose to be a member to enjoy Turbo-speed download speed, and the top speed can be 10X faster than common users.DVDFab Video Downloader is a professional software that can turn online video downloading into a breezy thing. If you want to learn more things about video downloading, you can read this: https://www.dvdfab.cn/video-downloader/how-to-download-music-from-youtube-on-android.htm

Download Metadata

Metadata is data about data. For those who are interested in metadata when they download music videos to iPad, DVDFab Video Downloader can be their best choice. It supports metadata download, a thoughtful service that can be a great help for you who are in search of relevant solutions.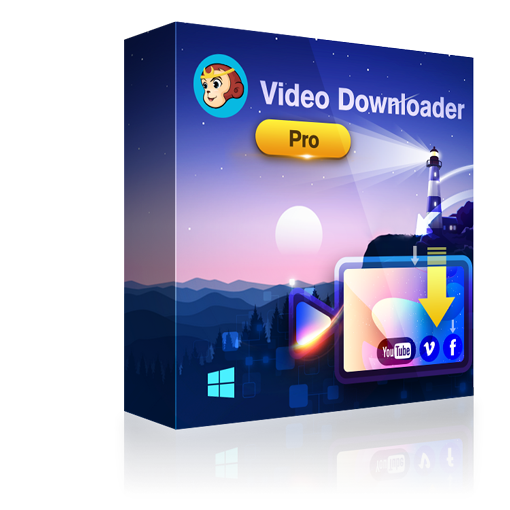 DVDFab Video Downloader
DVDFab Video Downloader Effective video Downloader for iPad, easy-to-use with three steps to download videos from 200+ video websites
Free Download
Free Download
3. How the Video Downloader for iPad Works?
The above-mentioned features are proof that DVDFab Video Downloader is what you are looking for to download videos for offline viewing. The following section will show you how this video Downloader for iPad works.
Step 1: Install DVDFab Video Downloader
DVDFab Video Downloader along with YouTube to MP3 constitutes the whole ecosystem of DVDFab Downloader. You can download this free video Downloader for iPad 2 on the Video Downloader product.
Click the "Free Download" button, and the installer will start downloading. When it is done, install it in your device according to the destruction. After this, open the program and the main interface will appear in front of you.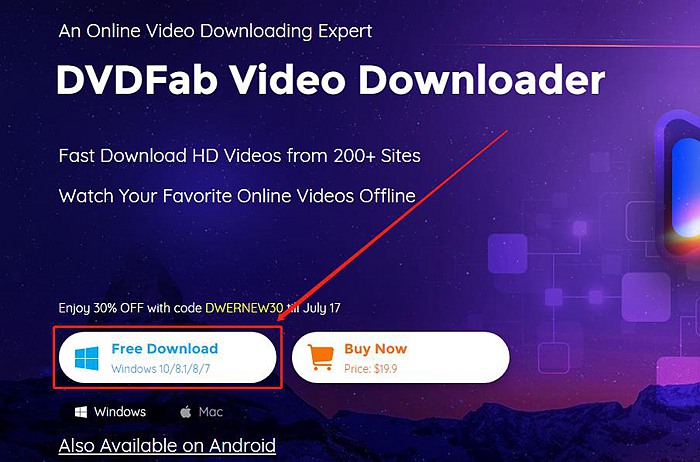 Note: There is a little triangle-shape icon on the edge of the top right corner. Click it and a bar frame with a couple of buttons will appear below it. Click the "Settings" button on this bar frame, then you will enter the settings interface. All the specific settings including language and directory can be adjusted manually. In particular, the last item on this interface "Download Video" is recommended to choose the option "Ask me each time" as different resolutions may be required when you download videos.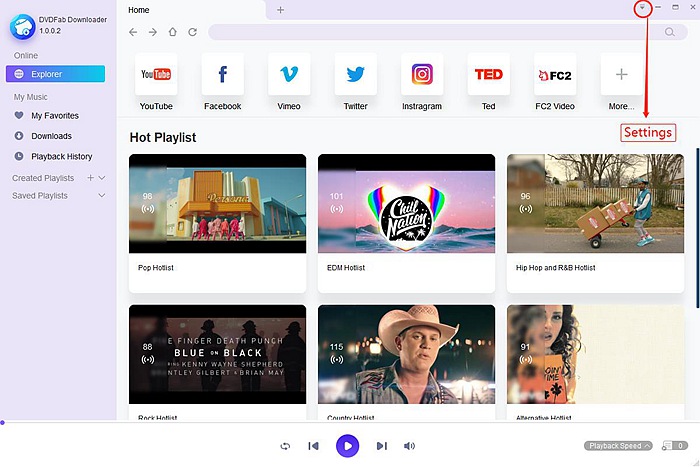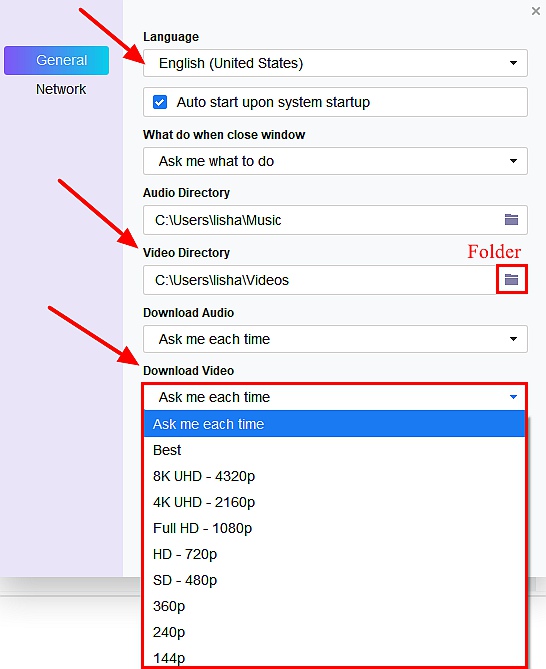 Step 2: Find your video
There are two options for you in terms of finding videos. First, this free video Downloader for iPad mini has listed a wide range of websites below the search bar where you can find your videos fast. Second, you can also visit the video websites directly to find the video you want. Get the URL of it and paste it in the search bar of this program. After that, a suspending bar including three elements, "Add to", "Play" and "Download" will appear, and that means the program is ready for download.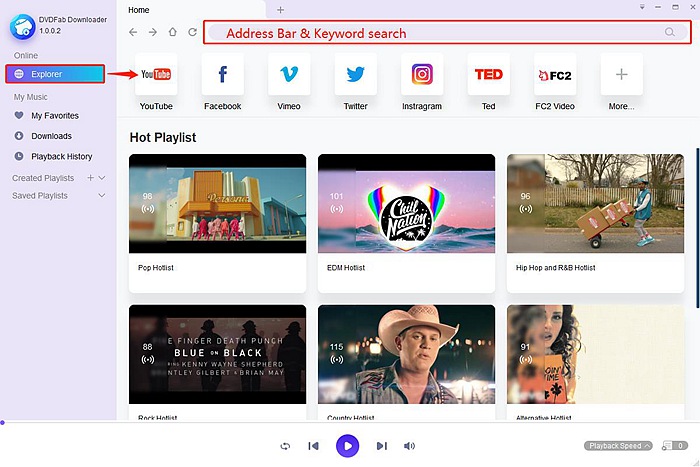 DVDFab Video Downloader has robust functions to let you download HD online videos so that you are clear about YouTube video download for mobile.
Add videos to My Favorites or Created Playlists
As we mentioned above, the suspending bar of this video Downloader for iPad includes three elements, the first of which is an add feature. Hover your mouse over it, and it will give you three options. The first option "Add to Favorite" and the third option "Add to Playlist" can help you add a single video to "My Favorites" and "Created Playlists" in the left column of the main interface separately.
To create a playlist, click the "plus" button on the "Created Playlists" section and give it a new name.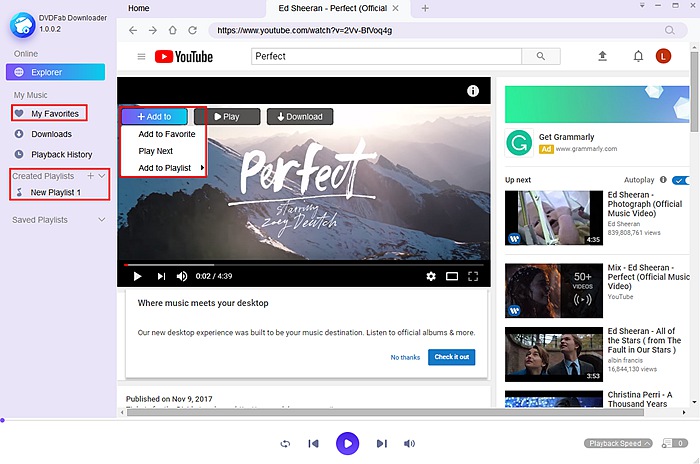 Download and Save a playlist
A step further from how to download videos on iPad should be how to download a playlist with this program. If you open a playlist with this program, the system will recognize it automatically as is signaled by the suspending bar that will appear. Hover your mouse over the "Download" part on the suspending bar, and choose option "Playlist" it gives you, then a download interface will come up. You can choose the settings like video/audio, resolution, and click "Download" button on the right bottom corner.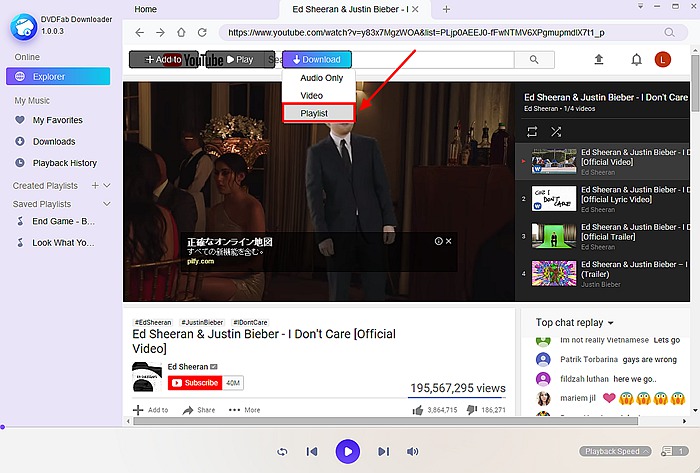 To save a playlist is also simple. As we mentioned above, the program can recognize a playlist with a suspending bar appearing automatically. Hover your mouse over the "Add to" part and choose "Save Playlist". Then, the playlist will be saved. You can check it out on the "Saved Playlists" section in the left column.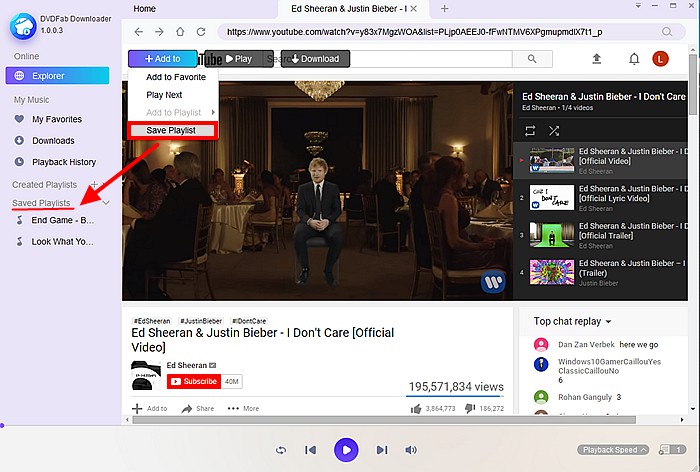 Users can get access to videos at a top speed under the help of DVDFab Video Downloader – this Veoh video Downloader surpasses other downloaders in most aspects.
Play Button
When the question of how to download videos to iPad directly gets solved, another one may crop up: how to play videos with this downloader? Play function is a highlight of this program. You can find it on the middle of the suspending bar. Hover your mouse over it, and choose the "Video" option it gives you. Then, a play interface will come out. You can now navigate it to enjoy play experience.
The interface can be divided into three parts: the left part has four elements, the album cover on the far-left for switch between the play interface and the main interface, the heart-shape button for "add to favorite", the arrow-shape button for "download this video", and the cross-shape button for "delete this video".
The central part includes five elements, which represent "play mode", "play last", "play or pause", "play next" and "volume control". The right part consists of three elements, from left to right, progress/duration, "play speed" and "current playlist".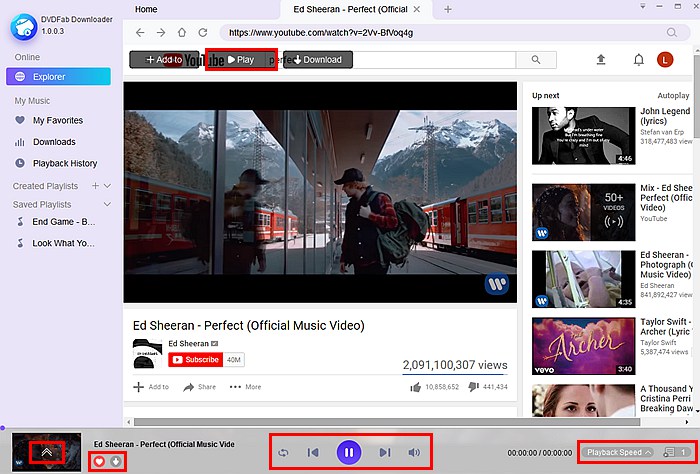 Step 3: Download videos
The question of how to download free music videos on iPad will be solved in this step. The third part of the suspending bar is for downloading. When you open a playlist, it gives you three options, "Audio", "Video" and "Playlist". Choose any one as you like, then a settings interface will come out. Get settings done and click "Download" button, then the download process will begin immediately. You can check the download progress on the "Downloads" section as we mentioned before.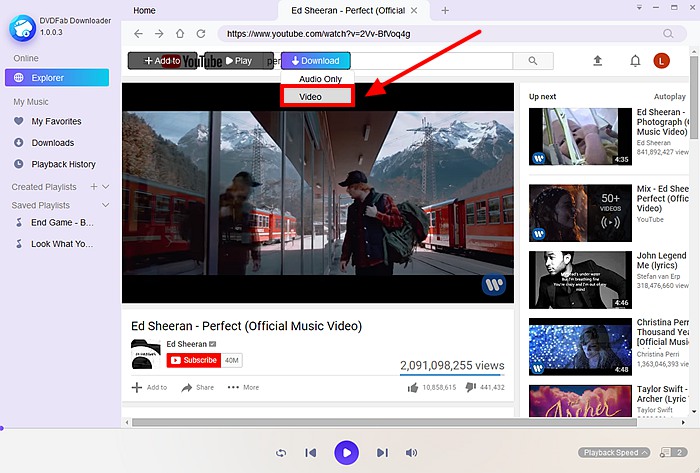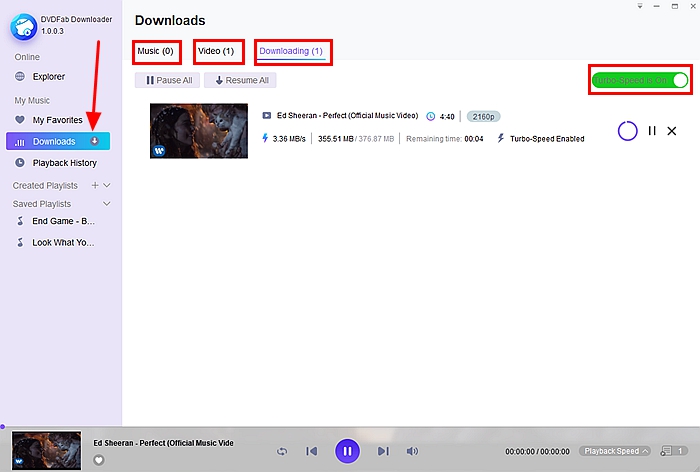 Here is the answer to the question of how to download videos on iPad: download and install this program and do as instructed above.
4. Some Samples of 200+ Supported Video Websites
Before encountering DVDFab Video Downloader, downloading videos off the Internet seems quite an obstacle for you, but now it is totally different. With the help of this terrific video Downloader for iPad 2, you will find it easy to keep all the videos you like as your own treasure. The following part will show you some examples of 200+ websites that this program supports.
Healthy Video-sharing Platform
YouTube
forbids the spreading of commercial, sexy or violent videos. Any video violating this rule will be deleted.
Vimeo
forbids the spreading of commercial, sexy, pirated or game videos. Any user can share healthy videos after registering an account on this website.
News Website
CNN
is American 24-hour all-news network, delivering all news happening on the day.
Foxnews
is the only news broadcasting website providing the latest news every hour.
Funny Video Website
Cracked
is America's Only Humor Site, filled with funny videos, pics, articles, and a whole bunch of other funny stuff.
Funny or Die
is a comedy video website and film/television production company, containing exclusive material from a regular staff of in-house writers, producers, and directors, and occasionally from a number of famous contributors.
5. What's the Meaning of DVDFab?
DVDFab Video Downloader is a well-designed software to solve how to download videos to iPad directly. DVDFab Software is the prominent software developer who offers the world best and most complete Cinavia removal solutions for users to defeat the so-called unbeatable audio watermarking technology applied onto commercial DVD, Blu-ray and 4K Ultra HD Blu-ray discs, and the devices to play back those discs, such as a home DVD/Blu-ray/4K UHD Player, or a PS3 from Sony. The removal solutions are implemented in its DVD Cinavia Removal, Blu-ray Cinavia Removal and UHD Cinavia Removal modules included in the all-in-one DVDFab 11 shareware package.
6. Conclusion
Remember that DVDFab Video Downloader is always waiting for you, when you feel it impossible to download videos from a website, or find it troubled to try online downloading, or expect to realize multi-task downloading in high speed. Each feature of the DVDFab Video Downloader is exclusively user-tailored. No matter what kind of problem you may encounter, this video Downloader for iPad will be your loyal assistant.
DVDFab Video Downloader satisfies users' needs to download 4k and 8k videos, presenting the most crystal images on the the screen of computers compatible to Windows or Mac and mobile phones. Try this Vimeo Video Downloader.
More Products You May Like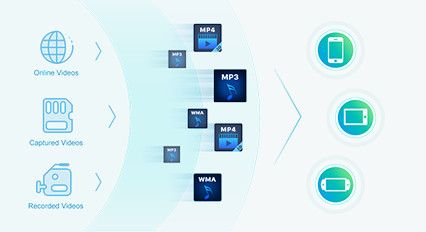 DVDFab Video Converter
A versatile video converter for video enthusiasts to convert captured videos in daily life to popular video formats, such as MP4, MKV, AVI, FLV, M2TS, etc.
Free Download
Free Download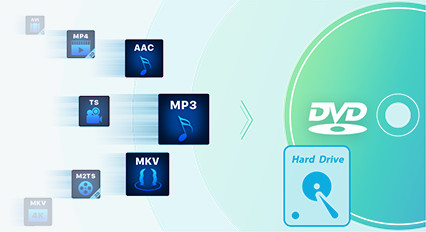 DVDFab DVD Creator
The studio-level DVD producing tool to help video lovers make studio-level DVD movies at home, with elegantly crafted DVD menu templates to choose from
Free Download
Free Download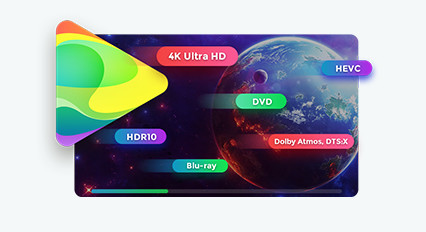 DVDFab Player 5
Play 4K videos and 4K Ultra HD Blu-rays
Free Download
Free Download