1. Something to Mention Before You Download Online Videos
A popular video downloader can always be favorable among the public, not just because of its advanced technology, but also because of its easy operational process. As for those who are going to select a powerful iOS best video Downloader to download their preferred videos, my advice is to highlight such aspects as the setup and output option, since they depend on individual interest and habit to a large extent. If downloaded videos can be customized and outputted according to personal needs, there is a belief that your video download experience will be more colorful.
2. The Right Program Recommended - DVDFab Video Downloader
So far, DVDFab Video Downloader has won consistent praise among users for its fantastic functions in providing HD videos download, turbo-speed download, playlist download, multi-task download and metadata download. Would you like to learn how these functions of this the best video Downloader for iOS work?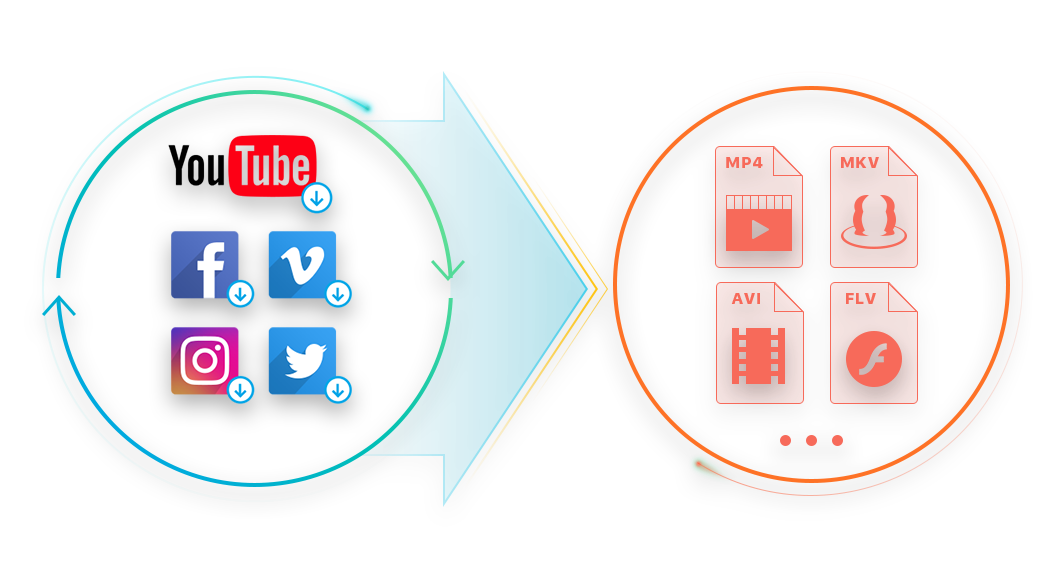 Download HD Videos

Downloading HD videos means that you can adjust the video resolution before you download your video. Nowadays, 4K or 8K videos are easily seen on websites. If you want to match such high resolution for clear images, it is available with the help of this the best video Downloader for iOS.DVDFab Video Downloader brings free to online videos. Users can use this Firefox video Downloader to search and download HD videos from 1000+ websites.

Multi-task Download

This the best video Downloader for iOS supports multi-task download. Paste one video URL to this software. Before this video has been downloaded, you can continue to paste the second, the third, even to the fifth. Up to 5 videos can be downloaded simultaneously.

Download a Playlist

This video Downloader app iOS can download a playlist. The contents of a playlist are richer than a single video. A playlist can be seen as a collection of multiple videos about a certain topic. If you want to download a playlist, just paste the URL of it. Up to five playlists can be downloaded simultaneously.

Save a Playlist

When you download videos from websites, have you considered saving a playlist? In order to satisfy the needs of most users, this video Downloader app iOS allows users to save their playlist. Keep the playlist playing. Click Save Playlist under Add to button, and your playlist will be saved.

Turbo-Speed Download

Normally, how long will it take you to download a video or a playlist? Have you ever thought this process can be accelerated? Now, 10X speed accompanies your video or playlist download. You can save more time as long as you use this function of this iOS free video Downloader.

Download Metadata

Metadata is a series of messages about a video or a playlist for users to consult. If you are interested in who makes the video or playlist, or how long the video or playlist will last, choose this iOS free video Downloader for metadata download.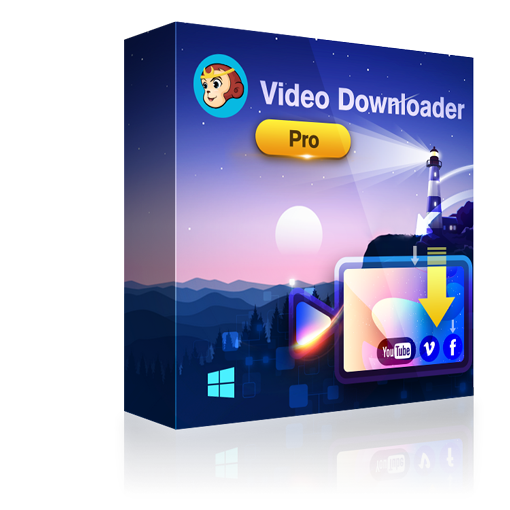 DVDFab Video Downloader
DVDFab Video Downloader Effective video Downloader iOS, easy-to-use with three steps to download videos from 200+ video websites
Free Download
Free Download
3. A Detailed Guide to Use Video Downloader iOS
The above-mentioned features explain why we recommend DVDFab Video Downloader. The following part will explain how this video Downloader iOS works through three steps.
Step 1: Download and install DVDFab Video Downloader
As DVDFab Video Downloader is one of the product modules of DVDFab Downloader, it's the first thing to install DVDFab Downloader before launching this Video Downloader.
Download this iOS video Downloader free from the Video Downloader product page. Click Free Download button to obtain the INSTALL file. Find the file and double click it as instructed to complete installing process.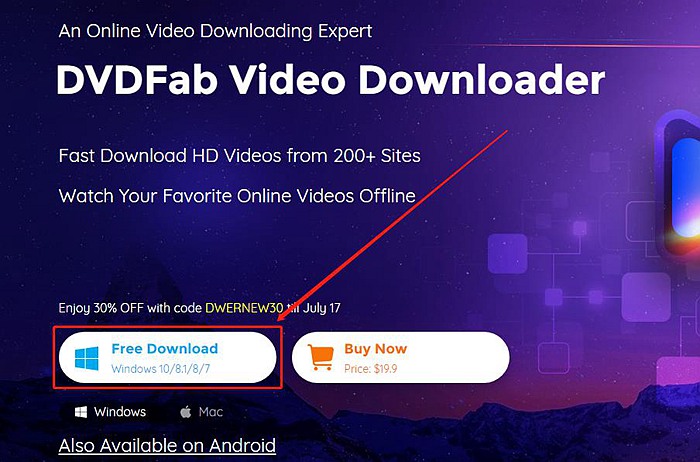 Note: Before taking any action, you are recommended to make some settings. Click the little triangle-shaped button on the top right corner, click "Settings" that comes out. In the popping-up page, focus on two settings, Video Directory and Download Video. For Video Directory, click the Folder icon to choose a directory instead of the default setting to save your output video. For Download Video, a few items including video resolutions/ quality are listed here for you to choose. We recommend that you choose "ask me each time".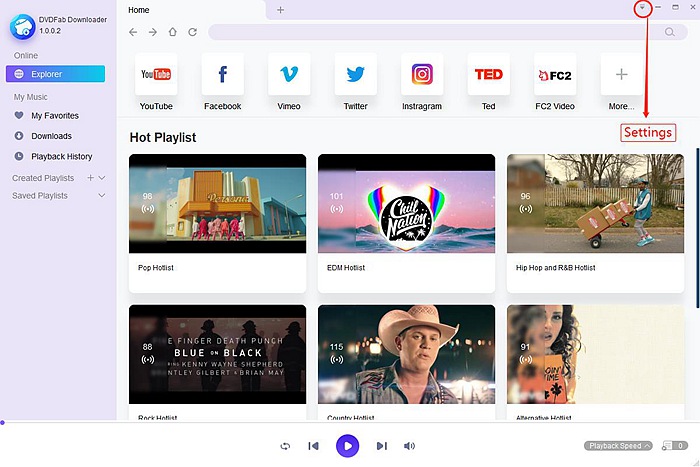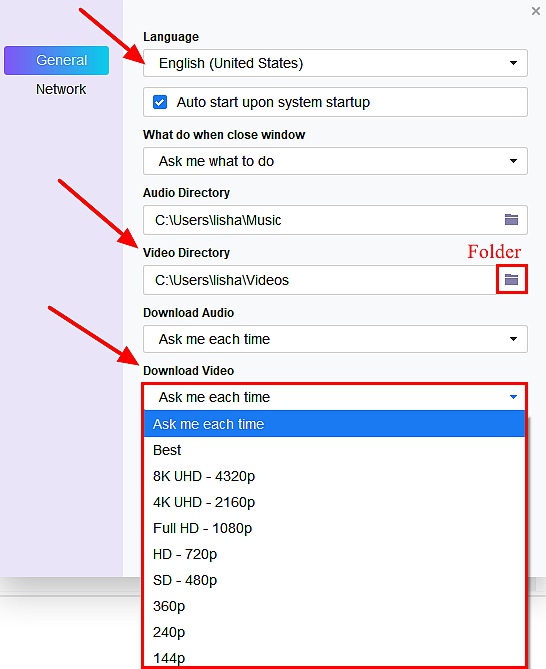 Do you want to save your favorite videos on your devices? If so, you may need this IG video downloader.
Step 2: Find the video you are to download
Input the URL of the video you want to download in the search bar which is on the central top of the interface when you open this best video Downloader iOS. You can also search the relevant videos from the wide range of websites below the search bar and find the videos you like to download.
Once you have decided which one to download, keep it in a playing state, then there will be a suspending bar on the right part of the interface in which three elements including download are contained. 
Before you embark on your download process, we'd like to walk you through the basic functions first for you to better understand this program.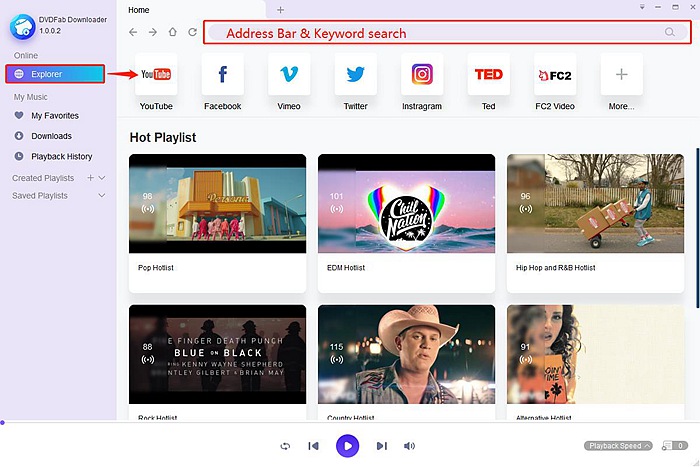 Add to favorite or Created Playlist
When you use this video Downloader iOS, playlist management is always an inevitable topic. We provide abundant functions for you to manage your playlists. First is the add feature on the suspending bar. You can hover your mouse on the "add to" button to collect your favorite works or add them to playlists you created. To create playlists, you can click the plus-shape button on the "Created Playlists" section on the left bar frame and rename it.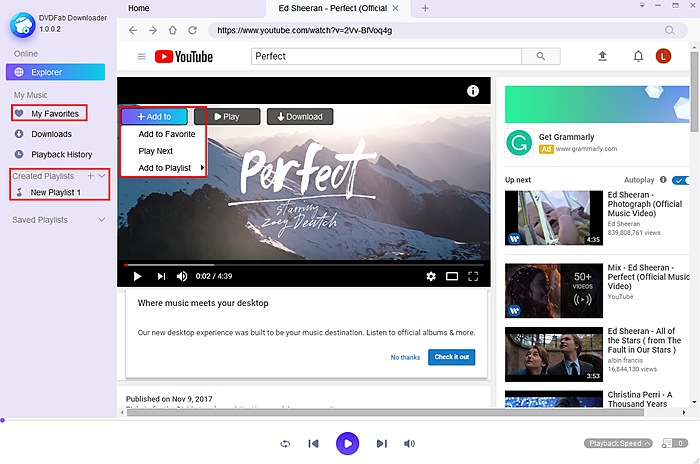 Download a playlist or save a playlist
This free video Downloader app iOS is more than just a downloader, as it supports a lot of functions including playlist download. You can input the playlist's URL into the search bar or search it from the websites below the search bar, then the program will analyze it. After it is done, the suspending bar will show up, and you can hover your mouse on the "add to" button, and click the "save playlist" button that comes out. Then this playlist will be saved. You can check it out in the "Saved playlist" category on the left bar frame. To download the playlist, you should hover your mouse on the "Download" button and click "playlist" button that right below the "Download" button. Then a new interface will come up and you can click the "Download" button before getting the relevant settings done.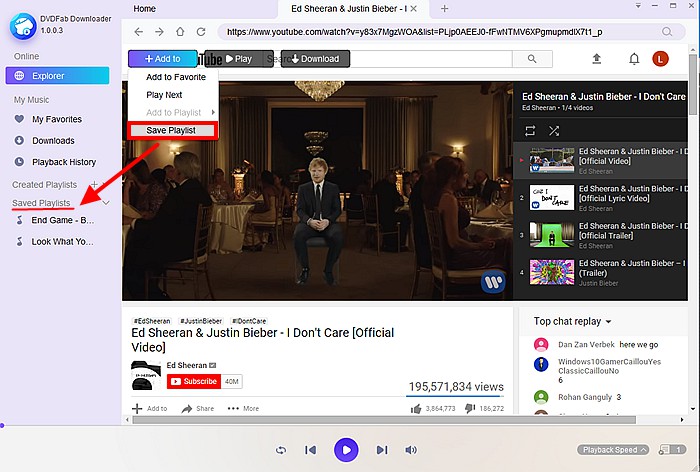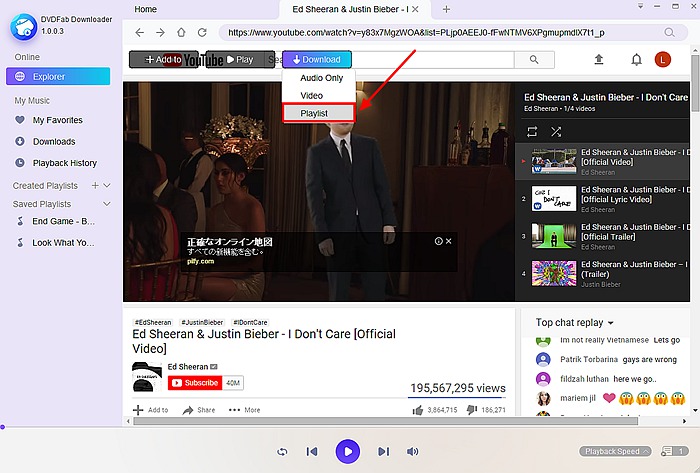 How the Play button works?
Many people hope for a solution that can be both a video player as well as iOS best video Downloader. The play button is included in the suspending bar we mentioned above. You can hover your mouse on it, choose from the two options that will come up, then the in-build player will play it.
When you play music or videos using this program, a whole new interface with a couple of new buttons will show up. Let's find out what they are used for. the first batch of them on the left corner stand for "switch between play interface and main interface" (album cover), "add to favorite", "Download" and "delete" respectively. The functions of buttons on the central spot are self-evident, as they are much like their peers on other players, representing "play mode", "play last one", "play next one" and "volume control" separately. On the right corner are two less-frequently used buttons, each representing "playback speed" and "current playlist".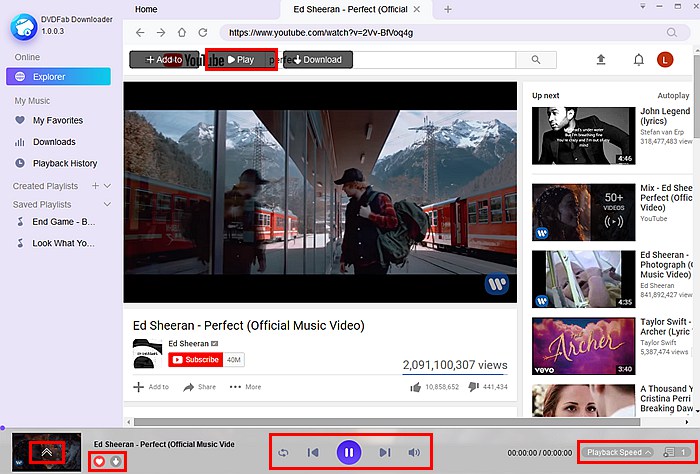 Step 3: Download Videos
Now we have the last job to do before you can download video Chrome iOS. Hover your mouse on the "download" button on the suspending bar, and click one of those two options, namely "Audio only" and "Video". Then, the downloading process will begin. You can check the progress by clicking the "Downloads" section on the left bar frame or guiding bar, if you like to call it that way. There you will see three elements, the first two of them stand for contents that have been downloaded and the last one refers to contents that are being downloaded. Also, the last element of the "Downloads" section contains a "turbo-speed" button, which you can use to accelerate download process.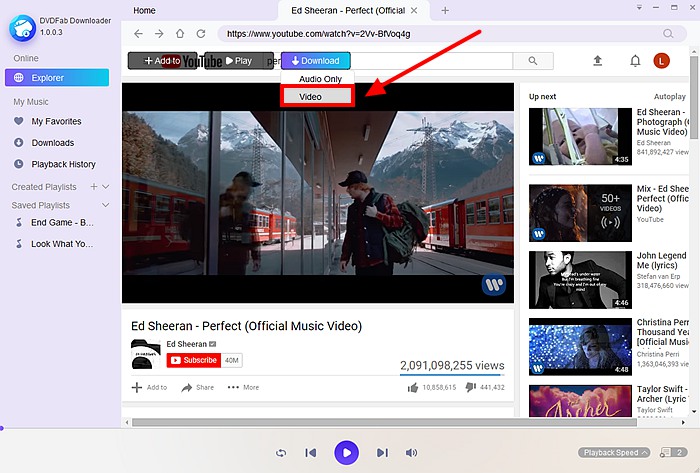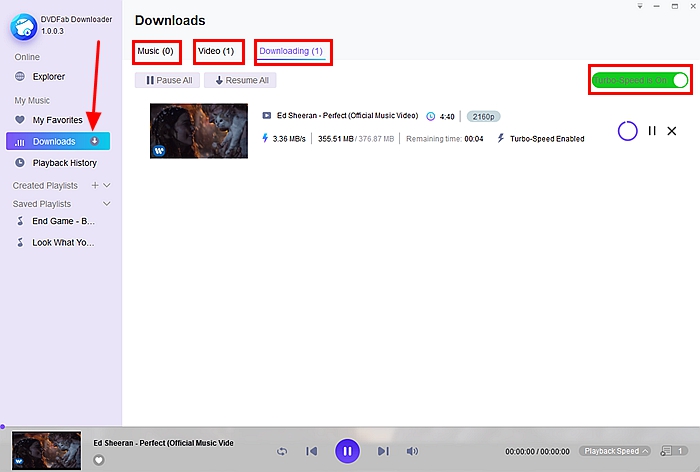 Do you fully understand how to download videos with DVDFab Video Downloader? Download now and have a try. This free video Downloader app iOS will never disappoint you.
4. Several Cases of 200+ Supported Websites
This video Downloader iOS is powerful as it not only has versatile functions but also for its wide applicability. There are more than 200 other websites whose videos can be downloaded by it. To give you a better understanding of what these websites are, we made a list of them. You can check the details from it.
Making your favorite YouTube channels update automatically, DVDFab Video Downloader makes it easier for you to YouTube 4k Downloader online.
Social Networking Platform
Instagram
A photo and video-sharing social networking service owned by Facebook. Users can upload their photos and videos on the app and share them with their friends, family and other followers.
Twitter
Online news and social networking service, allowing users to post, forward contents on it and can be placed with various tags for topic segmentation.
Video-sharing Website
Vimeo
A video viewing service provider based in the US, providing a variety of tools and technologies for content creators to let them create, distribute, and monetize videos. Besides, it's ad-free.
TED
TED Talks is a pool of speeches from famous people in their fields. Its topics are very extensive, including technology, environment, space...etc. "Ideas worth spreading" is its most famous slogan.
News
CNN
A news website where users can read news from different industries, including politics, economics, health and so on.
BBC
One of the most famous news website that provides readers with different news, including BBC news, culture, sport and so on.
5. About DVDFab Software
DVDFab Downloader has two product modules, Video Downloader acting as a powerful iOS best video Downloader and YouTube to MP3 to download videos off YouTube and other 200+ websites to MP3 file. What's more, with a user base covering more than 126 million of the world population, DVDFab Software has the world's most trusted and well-received DVD, Blu-ray and 4K Ultra HD Blu-ray conversion solution packages - the Ripper modules inside its multimedia package DVDFab 11, which are designed to rip and convert users' legally purchased DVDs, Blu-rays and 4K Ultra HD Blu-ray discs to portable & mobile device ready videos for playback on the move, such as MP4, MKV, AVI, FLV, and more.
6. Conclusion
There always exist some requirements that you must do something before downloading a video from the source website. Now you have DVDFab Video Downloader. The thing turns different that you are allowed to download videos off websites directly. Within the least time and at the fastest speed, you can bring any video, video playlist or the whole YouTube channel you have been long desiring to your own device or folder for offline viewing. What are you waiting for? Act now. Install this video Downloader iOS and have a try.
DVDFab Video Downloader is a competent yet easy-to-use tool. With this YouTube Video Downloader free download you are free to get your desired videos downloaded, not only with a high quality but also in a fast speed.
More Products You May Like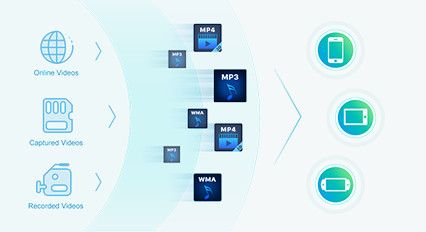 DVDFab Video Converter
The professional video converter application to assist videophiles in making complex video conversions and eiditing videos for further purposes
Free Download
Free Download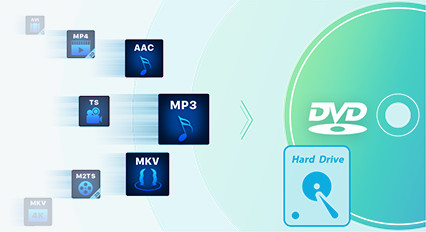 DVDFab DVD Creator
A customer-oriented DVD authoring tool that allows users of all levels to maximally customize the menus, among with other settings, when producing home DVDs
Free Download
Free Download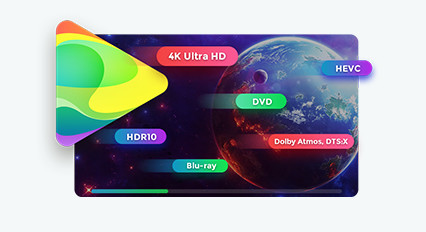 DVDFab Player 5
A highly capable companion to DVDFab Movie Server that allows users to directly play back the media files stored on the HDD inside the movie server under Wi-Fi environment
Free Download
Free Download