1. Considerations to Select a Versatile YouTube Converter Android to Download Videos
As a lover for video streaming, you must want to watch the newest videos immediately after they are updated and playback those unforgettable videos again and again. Maybe you have paid for a video subscription to learn about the latest information, or maybe you have bought a disk for repeated review. But what if you want to download the videos from your subscribed channels, and what if your disk breaks for too many times of use? So, you need a video downloader that is able to play and download the videos on your favorite channels, and copy the videos from your original disk losslessly. Then, let me introduce you this YouTube to MP4 Converter Android which can provide such services, as well as impress you with other special functions.
2. DVDFab Video Downloader - Your Personal Video Download Assistant
DVDFab Video Downloader is such a wonderful free YouTube Converter for Android that has made a lot of improvements compared to old versions and integrated more practical functions that users require frequently. You can find almost everything you need as long as it is about video download.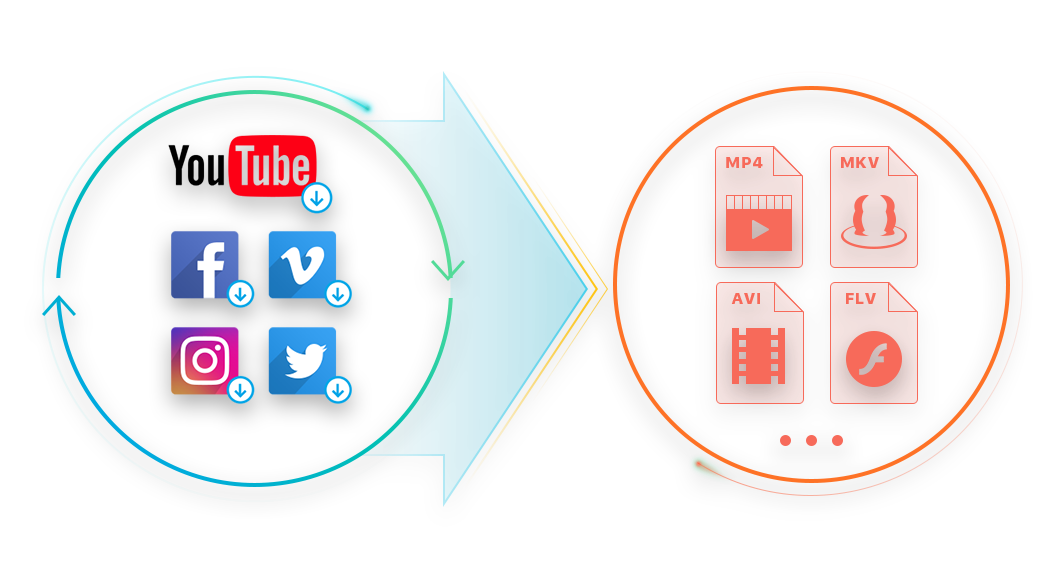 Download HD Videos

Top-quality videos are gone after by many people as it can provide clearer images and offer users a better experience. However, it can't be attained easily, as downloading them involves complex technology, which few can provide. This free YouTube Converter for Android has broken this barrier and can provide a wide range of choices, including 144p and 8K.

Multi-task Download

This free YouTube Converter for Android supports Multi-Task Download, with a top capacity of 5 tasks simultaneously. This function can shorten the download and wait time when multiple tasks are involved, facilitating efficiency significantly.

Download a Playlist

When your question of how to convert music from YouTube to Android phone gets answered, another one may crop up: how to download playlists? Imagine you come across a playlist you have been dreaming to get hands to, your first reaction may be downloading it in case it disappears someday. This program lets you have total control of the playlists you'd like to download and support multi-task download.

Save a Playlist

how to convert music from YouTube to Android phone may not be a concern of yours. It's time to explore more functions. In the case of playlist, this requires more rights should be given to users to do things they like, and saving playlists is definitely one of them. This downloader allows users to manage their playlists by creating and deleting them. They can also create their own playlists and add songs or videos to them.

Turbo-speed Download

A high-speed download is an integrated part of a premium service package, a common sense shared by most users. This program offers super-fast download speed, and the top speed can be 10 times faster than normal speed when you convert music from YouTube to Android. To enjoy this entitlement, you need to sign up for membership.

Download Metadata

User may not only want to convert music from YouTube to Android, but also download metadata. Metadata can tell us a lot of information on original works. Professionals may find it come in handy and thus we introduce this metadata download service. All the metadata, including artists' name, duration, and many detailed specs will be copied completely.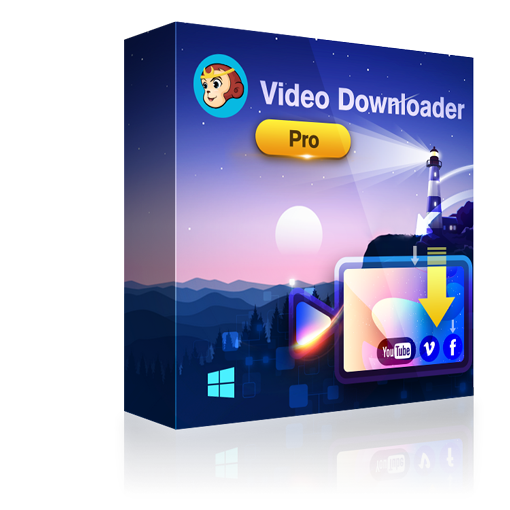 DVDFab Video Downloader
DVDFab Video Downloader This YouTube Converter Android can provide you with a complete set of tools for video download
Free Download
Free Download
3. Tips to Use This YouTube Converter Android
The above-mentioned features are proofs that DVDFab Video Downloader is what you are looking for to download videos for offline viewing. The following section will show you how this YouTube Converter Android works.
Step 1: Install DVDFab Video Downloader
DVDFab Video Downloader along with YouTube to MP3 constitutes the whole ecosystem of DVDFab Downloader. You can download this YouTube Converter Android APK on the Video Downloader product.
Click the "Free Download" button, and the installer will start downloading. When it is done, install it in your device according to the destruction. After this, open the program and the main interface will appear in front of you.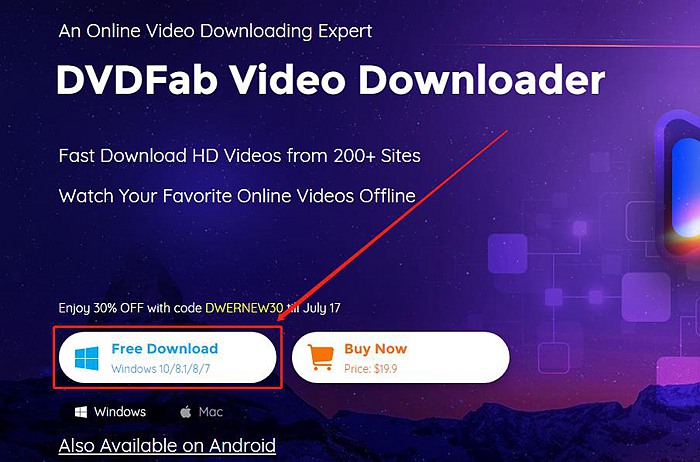 Note: There is a little triangle-shape icon on the edge of the top right corner. Click it and a bar frame with a couple of buttons will appear below it. Click the "Settings" button on this bar frame, then you will enter the settings interface. All the specific settings including language and directory can be adjusted manually. In particular, the last item on this interface "Download Video" are recommended to choose the option "Ask me each time" as different resolutions may be required when you download videos.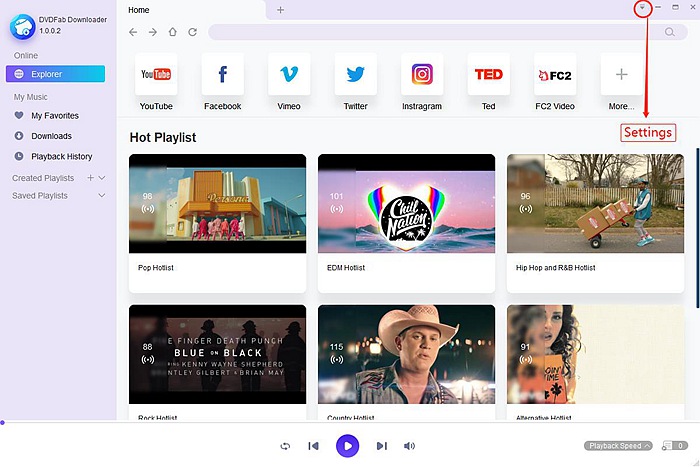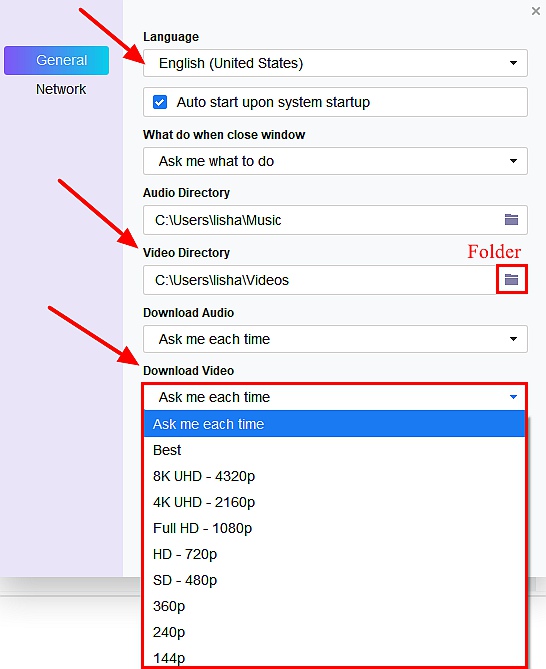 Step 2: Find your video
There are two options for you in terms of finding videos. First, this Android YouTube Converter has listed a wide range of websites below the search bar where you can find your videos fast. Second, you can also visit the video websites directly to find the video you want. Get the URL of it and paste it in the search bar of this program. After that, a suspending bar including three elements, "Add to", "Play" and "Download" will appear, and that means the program is ready for download.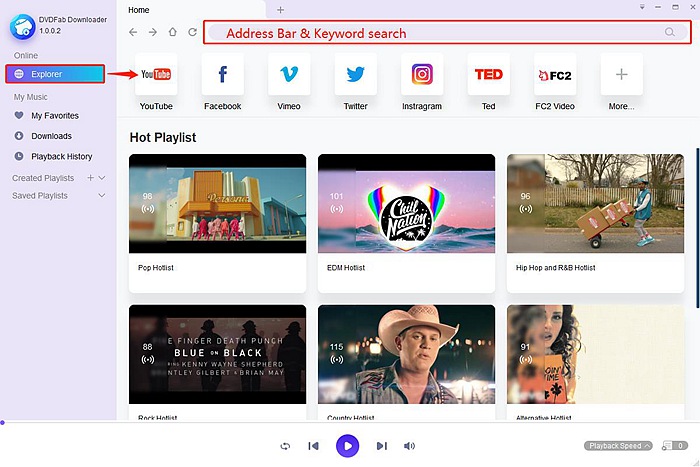 Add videos to My Favorites or Created Playlists
As we mentioned above, the suspending bar of this YouTube Converter Android includes three elements, the first of which is an add feature. Hover your mouse over it, and it will give you three options. The first option "Add to Favorite" and the third option "Add to Playlist" can help you add a single video to "My Favorites" and "Created Playlists" in the left column of the main interface separately.
To create a playlist, click the "plus" button on the "Created Playlists" section and give it a new name.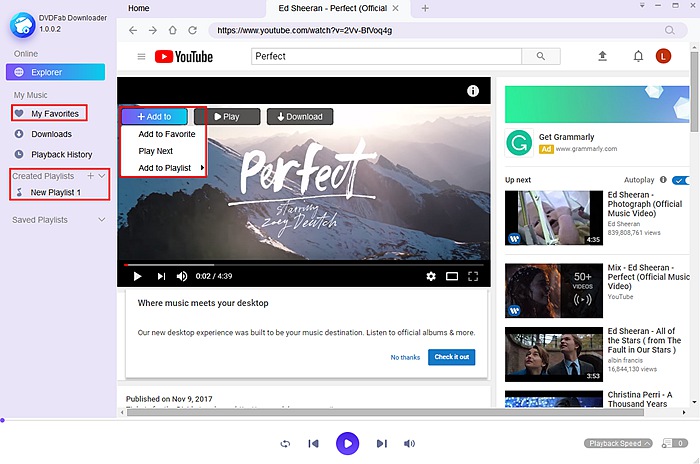 Download and Save a playlist
This YouTube Converter mobile can also download playlists. If you open a playlist with this program, the system will recognize it automatically as is signaled by the suspending bar that will appear. Hover your mouse over the "Download" part on the suspending bar, and choose option "Playlist" it gives you, then a download interface will come up. You can choose the settings like video/audio, resolution, and click "Download" button on the right bottom corner.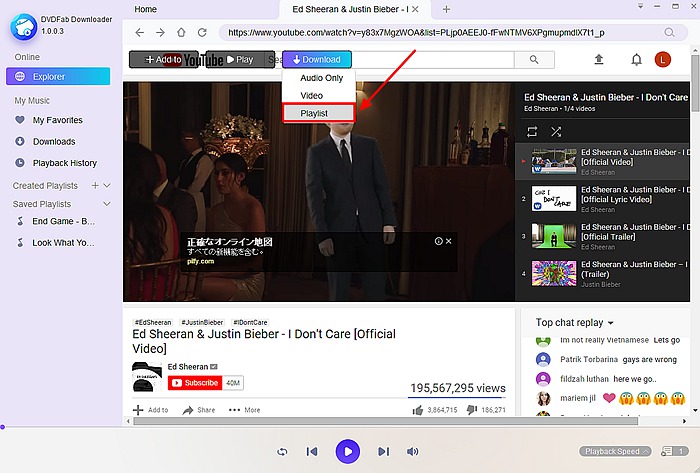 To save a playlist is also simple. As we mentioned above, the program can recognize a playlist with a suspending bar appearing automatically. Hover your mouse over the "Add to" part and choose "Save Playlist". Then, the playlist will be saved. You can check it out on the "Saved Playlists" section in the left column.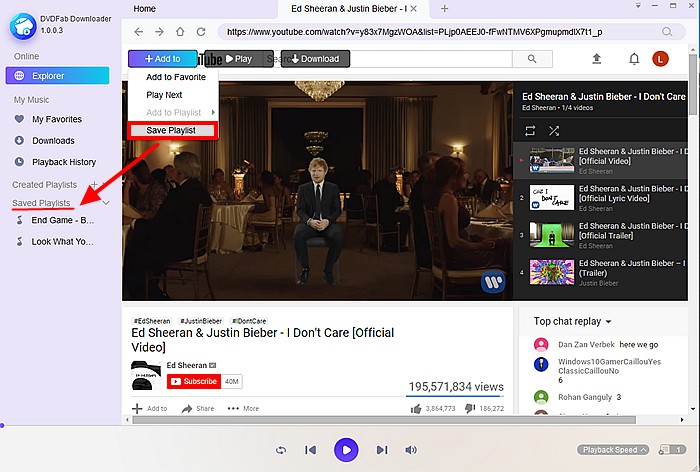 Play Button
Play function is a highlight of this YouTube to MP4 Converter Android. You can find it in the middle of the suspending bar. Hover your mouse over it, and choose the "Video" option it gives you. Then, a play interface will come out. You can now navigate it to enjoy play experience.
The interface can be divided into three parts: the left part has four elements, the album cover on the far-left for switch between the play interface and the main interface, the heart-shape button for "add to favorite", the arrow-shaped button for "download this video", and the cross-shape button for "delete this video".
The central part includes five elements, which represent "play mode", "play last", "play or pause", "play next" and "volume control". The right part consists of three elements, from left to right, progress/duration, "play speed" and "current playlist".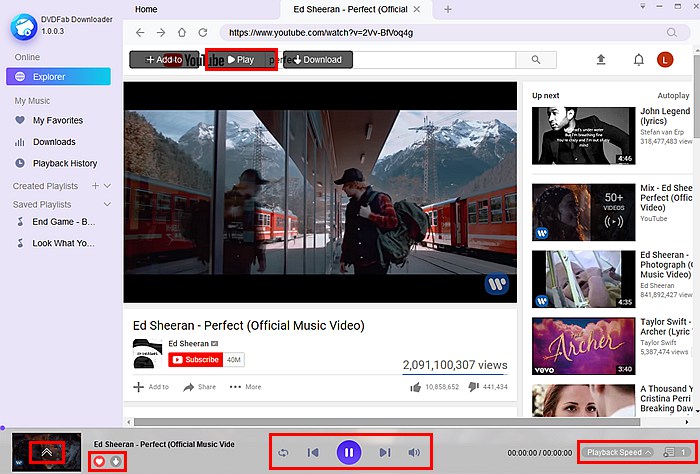 Step 3: Download videos
The third part of the suspending bar in this best Android YouTube Converter is for downloading. When you open a playlist, it gives you three options, "Audio", "Video" and "Playlist". Choose any one as you like, then a settings interface will come out. Get settings done and click "Download" button, then the download process will begin immediately. You can check the download progress on the "Downloads" section as we mentioned before.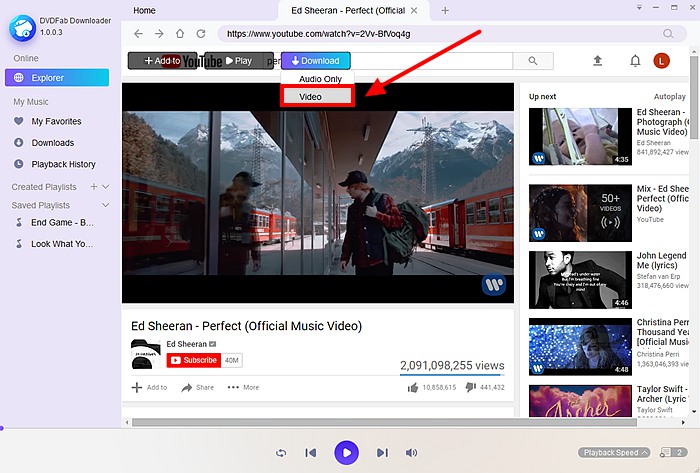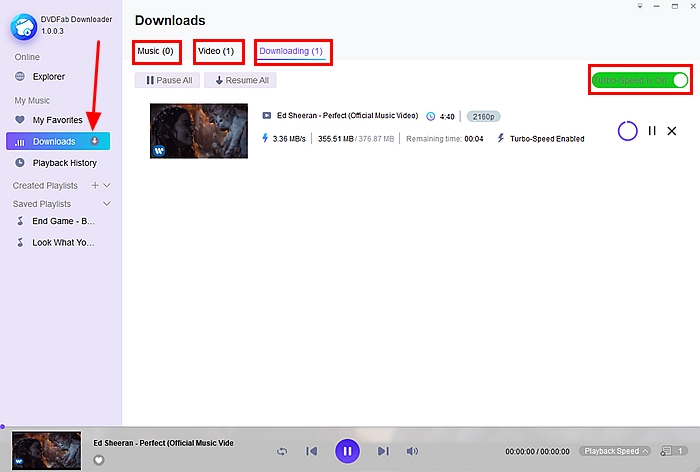 This YouTube Converter mobile is available for installment. Click here to install it in your device.
4. Download Videos from 200+ Websites in Your Pocket
What makes this best YouTube Converter app for Android so great is not only its features but also its high applicability to more than 200 websites. To define what these websites are in a clear way, we made a list that assigns them into three groups, social networking platform, video-sharing website and News websites. Each one of them lists a couple of top competitors on the basis of their popularity.
Social Networking Website
Twitter
is an American online news and social networking service on which users post and interact with messages in limited characters.
Facebook
is an American social networking website where users can communicate with each other by sending texts, pictures, films and, etc.
Funny Video Website
Cracked
is America's Only Humor Site, filled with funny videos, pics, articles, and a whole bunch of other funny stuff.
Comedy Central
is home to comedies, full of diverse amusing shows and programs.
Academic Communicative Platform
AcademicEarth
an online video resource for college academic lectures.
Camdemy
is a broad platform for people passionate about teaching to share their learning experience and skills.
5. More Information about DVDFab
DVDFab Video Downloader is a top-ranked YouTube to MP4 Converter Android. With the versatile products that DVDFab Software offers, users can do almost everything they want, as far as backing up DVDs, Blu-rays and 4K Ultra HD Blu-rays, converting them into portable & mobile device compatible videos and playing back those media are concerned. The copy relevant products in DVDFab 11 do the job of making backup copies to those discs, while its ripper relevant products convert those discs into MP4, MKV, AVI…that are literally playable on any modern device, and the Player 5 software solves the problem of watching those discs with menus on PCs.
6. The End
There always exist some requirements that you must do something before downloading a video from the source website. Now you have DVDFab Video Downloader. The thing turns different that you are allowed to download videos off websites directly. Within the least time and at the fastest speed, you can bring any video, video playlist or the whole YouTube channel you have been long desiring to your own device or folder for offline viewing. What are you waiting for? Act now. Install this YouTube Converter Android and have a try.
More Products You May Like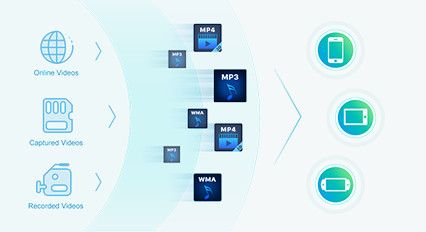 DVDFab Video Converter
Convert personal videos shot by digital cameras to website-optimized videos ready for uploading to popular video sharing or hosting websites
Free Download
Free Download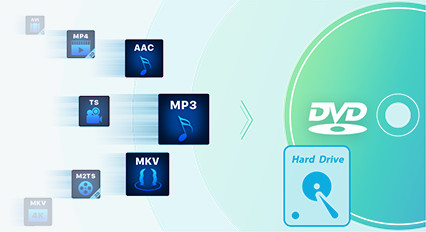 DVDFab DVD Creator
A DVD authoring tool for videophiles to produce standard DVD videos at home, so as to enjoy their captured happy moments from daily life on a home DVD player
Free Download
Free Download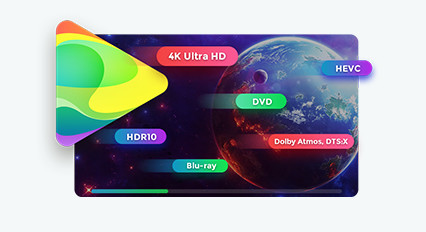 DVDFab Player 5
A well-received computer media player software that not only offers a dedicated PC Playback Mode, but also provides an exclusive TV Playback Mode that's optimized for better playback control experience on large screen TV displays
Free Download
Free Download