1. Preliminary Things You May Need to Know about YouTube Converter App
No matter whether you are a novice or veteran, upon selecting an expert YouTube Converter app, the following points may be on your consideration list before any coin is taken from your pocket. * Interface: Preference differs individually. Take color as an example. Nowadays, it's not a true thing that girls like pink while boys favor blue, let alone an interface of a program. However, it is a sure thing that almost all users prefer an easy to use tool rather than a complicated one. Besides, a well-designed and friendly UI is a plus. As for the specific design details, individual's preference works again. In a word, a popular YouTube Converter app often is an easy to use program and displayed to users through a well-designed and friendly UI. * Key functions: Now that the desire to download videos has driven you to get a professional YouTube Converter app at a certain expense, you may be partial to a versatile software. For video resolution, the rule goes that the higher the better. Of course, a smaller file may be what you need when the storage space is limited (The higher the resolution is, the larger the file is, and vise versa. In short, users may give priority to a program that is capable of assisting them to download HD videos. Besides, the other functions also play an important role in choosing aright cake, including but not limited, whether it can download several tasks simultaneously, download a playlist, or auto-download subscriptions. In terms of above-mentioned key points, the following part recommends an expert YouTube Converter app for your reference.
2. Excellent Program Recommended - DVDFab Video Downloader
DVDFab Video Downloader is one-click YouTube video Converter app. This program is designed to download videos off 200+ websites for offline enjoyment. With it, you are free to download videos with high quality, download a playlist within a song time, and save a playlist to listen online. The followings will show you the detailed functions this YouTube video Converter app supports.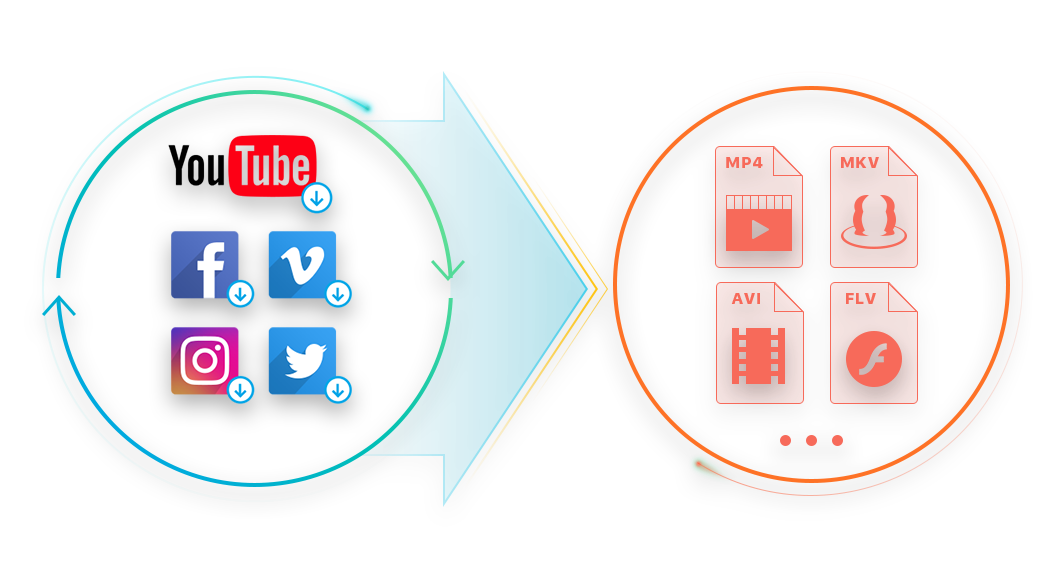 Download HD Videos

8K videos are downloadable. DVDFab Video Downloader provides varied resolutions, ranging from 144p to 4K-2160p and even 8K-4320p. High resolution is your cake if you prefer cinema-like watching experience. You will get specialized support from this YouTube video Converter app.

Multi-task Download

Enjoy streaming videos inside this YouTube video Converter app. Click Download button appearing on the playing video. Keep surfing in the video website and just click Download when you intend to. Five downloading videos will be processed simultaneously if you open the feature of Multi-task Download.

Download a Playlist

This feature is designed to avoid any moment when the Wi-Fi is poor, or the internet connection is slow. With this program, you are free to download your favored playlist to your target directory for offline enjoyment anytime and anywhere. This YouTube Converter app offers specialized support for each of you.

Save a Playlist

This feature allows you to save your preferred playlist to the section of Saved Playlists within this YouTube Converter app. Next time go directly to this section to find playlists you have picked. Here you can choose to download them or delete them.

Turbo-Speed Download

Your time will be saved. It only takes a song's time to download several YouTube videos with different resolutions you may choose to output. DVDFab Video Downloader, the expert YouTube video Converter app, delivers a rocket speed for your downloading.

Metadata Download

Metadata is downloadable for any video with DVDFab Video Downloader. With metadata, you will know better about your downloaded file. It's easy for you to locate the video you just want to watch from your saved directory. This program is one of the best YouTube video Converter app.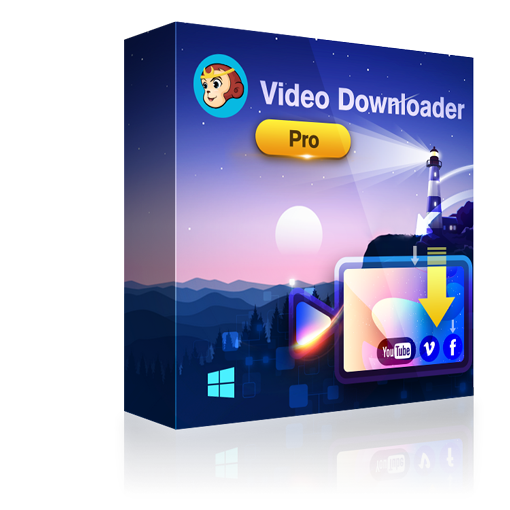 DVDFab Video Downloader
DVDFab Video Downloader This YouTube Converter app provides fluid and rapid video download
Free Download
Free Download
3. The General Workflow to Use the YouTube Converter App
The above-mentioned features are highlights that make DVDFab Video Downloader differ from others. The following section will clearly illustrate how this YouTube Converter app functions in three steps.
Step 1: Download and install DVDFab Video Downloader
This YouTube Converter app is now available on the downloader page. Click the "Free Download" button to download and install it.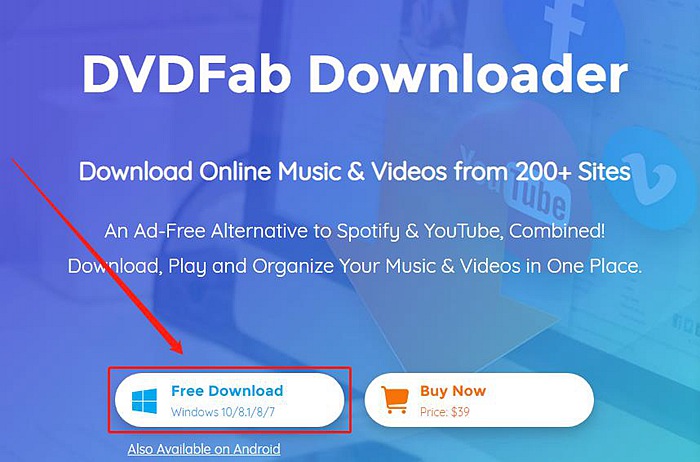 Note: On the top right corner is a small triangle-shaped button, click it, choose the "Settings" element to change settings manually. Choose a language that suits you well; Click the folder-shape button in the "Video Directory" to pick up the proper location where the downloaded files will be saved; for the last section, namely "Download Video", a better choice is to check in "Ask me each time", as you may have different requirements in terms of the quality of videos.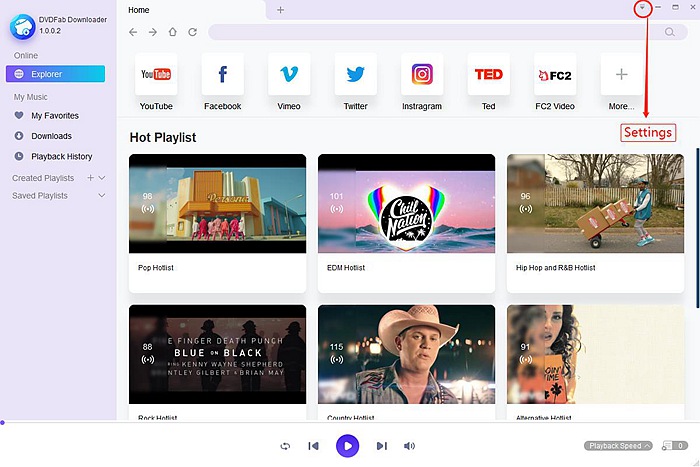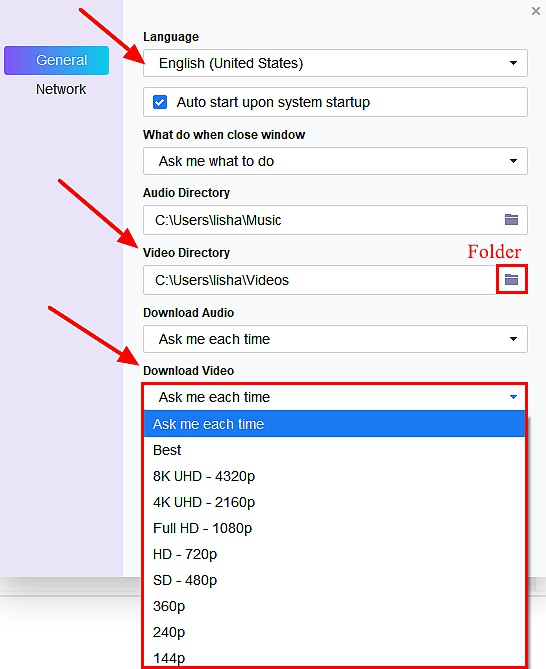 Step 2: Find the video you are to download
Before you step on the track of video download, the first thing you should finish is to find the video. if you have already got the URL of the video, paste it on the search bar of this YouTube video Converter app and your work is done. Or you can also navigate among the websites listed below the search bar in search of the right video. both of the methods will get you what you want. So, just pick one. When you get it done, a suspending bar will come out. Three elements of it, namely "Add to", "Play" and "Download" are key functions this program has to offer.
Next, let's take some time to digest some of the most common and important functions built in this program. The Download part will be introduced to you at the end of the article.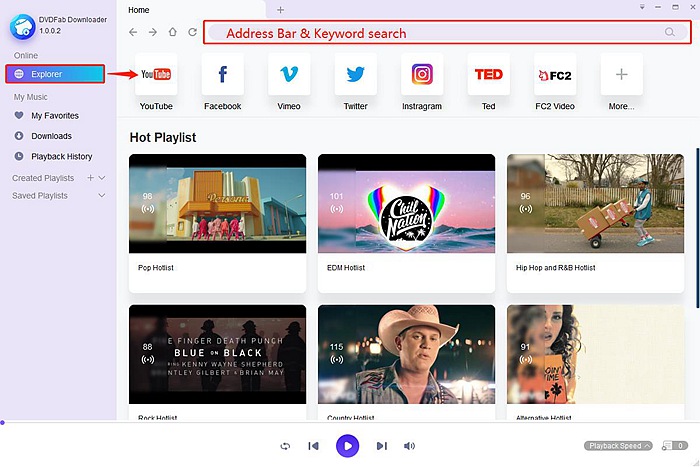 Add to favorite or Created Playlist
This YouTube Converter app can provide more functions than just video downloading. As you can see, there are three parts of this suspending bar we mentioned before. The first is an add feature, which you can use to add videos to some channels such as playlists you created or "My Favorites" list in the left column. To create a playlist, click the plus button on the "Created Playlists" section in the left column, and give it a new name.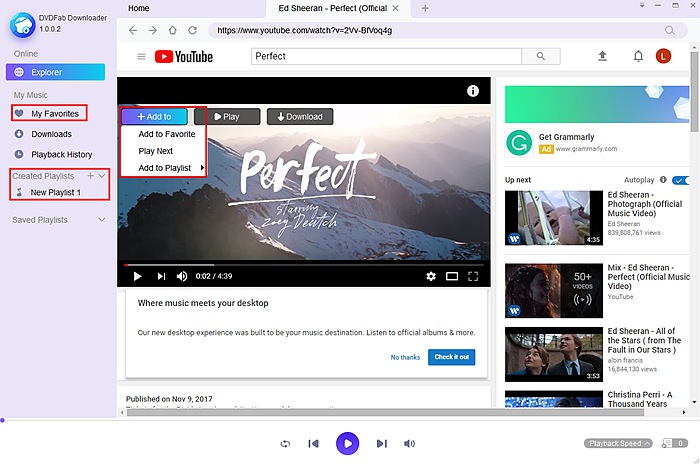 Download a playlist or save a playlist
With this YouTube video Converter app, you can download playlists as well as videos. To download a playlist, you need to make sure the playlist is identified either by pasting its URL in the search bar or searching it on the websites below the search bar. When you open the playlist, the suspending bar will come up. Hover your mouse over the third option "Download" and click the "Playlist" option below it. Then, the program will be analyzing the file and begin downloading immediately. You can check the download progress in the "Downloads" section where three parts will be included, the first of them being downloaded files and the third downloading files.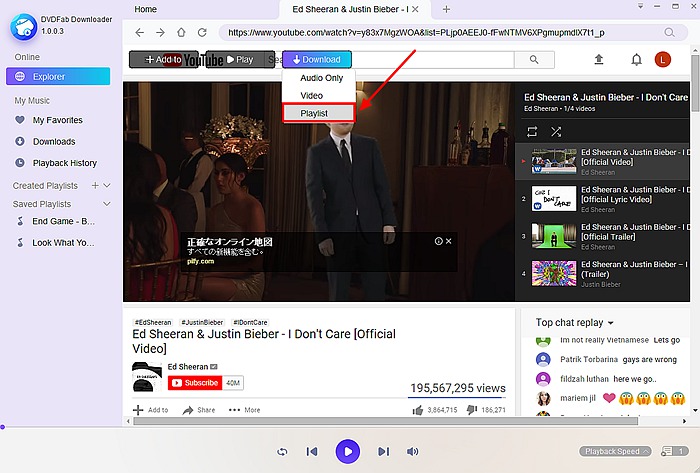 To save a playlist, hover your mouse over the "Add to" part on the suspending bar, and pick the "Playlist" option it gives you. then, the playlist is collected. You can check it on the "Created Playlists" section in the left column.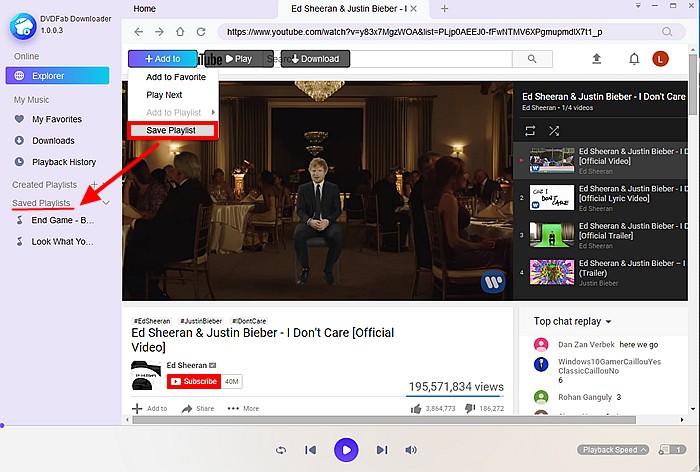 How the Play button works?
The second part of the suspending bar of this YouTube Converter app is for playing. Hover your mouse over it and click the "Video" option, then a play interface will appear.
It has a very simple interface with a variety of functions integrated within it. On the left of this interface are functions that stand for "Switch between the play interface and the main interface", "add to favorite", "download this video" and "delete this video" respectively. On the center of it is common functions, from left to right: "play mode", "play last video", "play or pause", "play next video", and "volume control". on the right of it are functions which, from left to right represent progress/duration, "play speed" and "current playlist".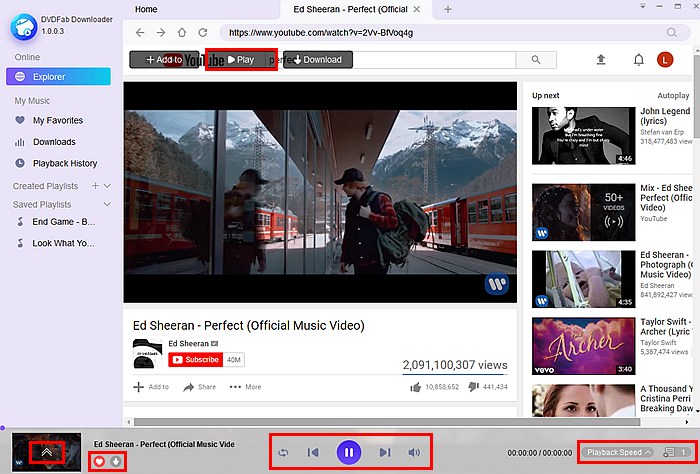 Step 3: Download Videos
After the video to be downloaded is ready, hover your mouse over the "Download" part, click the "video" button it gives you. Then the program will analyze it for a while before the download process starts automatically. The download progress can be checked from the "Downloads" section in the left column. There you can see three elements in this section, the first two of which are for downloaded files while the last downloading files.
This YouTube Converter app also have a speed-up function. Open "Downloads" section, click "Downloading" element, and you will find this button on the top right corner.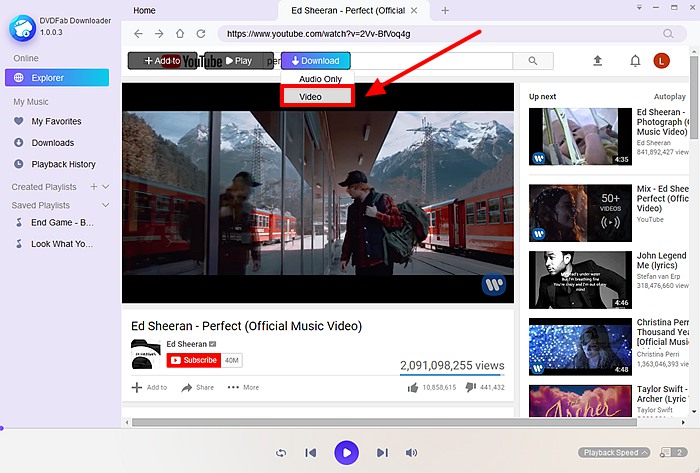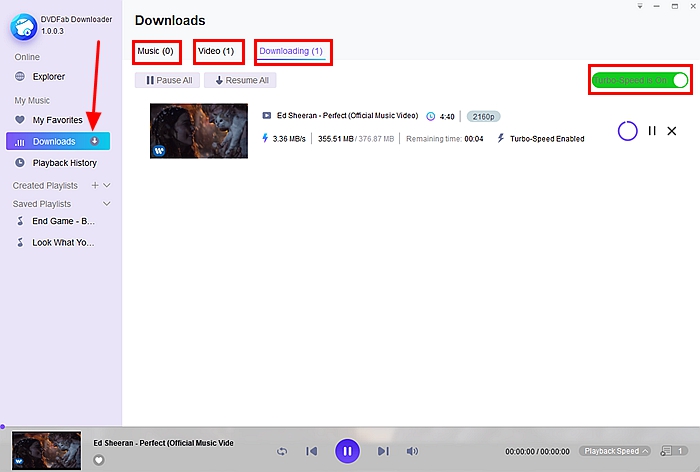 Now download this YouTube video Converter app to explore more fun. Life is short. Size the chance to use DVD Fab Video Downloader.
4. 200+ Video Websites Supported by DVDFab Video Downloader
What makes this YouTube video Converter app so great is not only its features but also its high applicability to more than 200 websites. To define what these websites are in a clear way, we made a list that assigns them into three groups, social networking platform, video-sharing website and News websites. Each one of them lists a couple of top competitors on the basis of their popularity.
Social Networking Website
Twitter
is an American online news and social networking service on which users post and interact with messages in limited characters.
Facebook
is an American social networking website where users can communicate with each other by sending texts, pictures, films and etc.
Funny Video Website
Cracked
is America's Only Humor Site, filled with funny videos, pics, articles, and a whole bunch of other funny stuff.
Comedy Central
is home to comedies, full of diverse amusing shows and programs.
Academic Communicative Platform
AcademicEarth
an online video resource for college academic lectures.
Camdemy
is a broad platform for people passionate about teaching to share their learning experience and skills.
5. What Connects DVDFab with Users?
DVDFab Downloader is composed of Video Downloader, the expert YouTube Converter app, and YouTube to MP3 to download videos to MP3 file. DVDFab Software also owns the world's most complete DVD backup solution. Included in its DVDFab 11 multimedia solution package, the DVD Copy module is the product that features the aforementioned complete DVD backup solution. With it, DVD disc owners are empowered with the capacity to copy their DVD movies off the original discs onto computer hard disk drives saved as ISO files or movie folders or further burn the copied ISO files or movie folders to blank DVD-5/9 discs.
6. Conclusion
I seem to have seen your sweet smile after you read through this whole article. This YouTube Converter app is really helpful to clear your confusion about video download. No matter you aim at downloading a video faster than before, or downloading multiple videos simultaneously, DVDFab Video Downloader is at your service.
More Products You May Like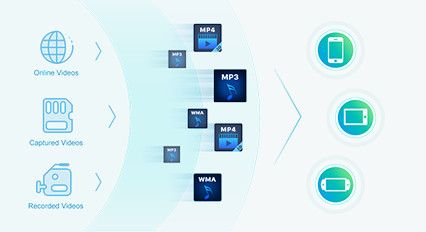 DVDFab Video Converter
The extremely easy-to-use video converter software to convert all formats of videos into compatible videos ready for playback on portable & mobile devices
Free Download
Free Download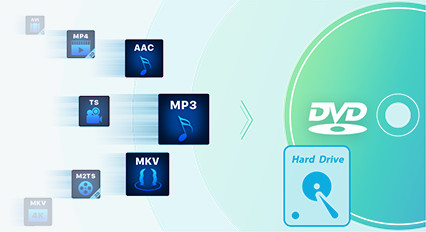 DVDFab DVD Creator
The studio-level DVD producing tool to help video lovers make studio-level DVD movies at home, with elegantly crafted DVD menu templates to choose from
Free Download
Free Download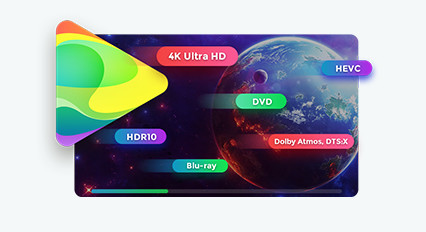 DVDFab Player 5
The only capable HDR player software that delivers astounding image quality HDR videos come up with, on all the modern 4K UHD TVs available on the marketplace
Free Download
Free Download