1. Tips for Choosing a Right Video Downloader
Before you make any decisions in terms of the choice of a wonderful free music Converter from YouTube, there are a couple of standards you should keep in mind. The following part lists two of the most common elements valued by many users, and you can take them for reference. * Friendly Interface: A friendly interface will capture your heart immediately, as they save a lot of problems for you and make your operation easier and more efficient. Normally, a friendly interface is composed of three parts, simple structure, well-organized buttons and a wide range of user groups. The first element means the software is not complicate and can provide quick access to common features in a few clicks. The second requires a software's buttons are organized in the way users are comfortable with, which means you can locate the very specific button instantly, instead of spending a lot of time searching, or even reading the manual every time. The last one can be interpreted into making sense to common users. Whether male or female, young or old, you can understand it in a few minutes. * Easy to install and update: As the first point of contact, install process determine to a large extent the first impression you will have on the program. Imagine you spend a couple of hours downloading a program or you are given very complex instructions to finish the install process, will you give positive comments to this program? Of course not. The most probable situation is you will never use it again and recommend your friends other alternatives. Easy to update is also important. People need to update programs from time to time for many reasons, including patching security holes or memory leaks. If the process is very complicate, users will likely skip it, leaving a lot of hidden risks unresolved. Is there a qualified free music Converter from YouTube that meets both of the requirements mentioned above? Here is our recommendation - DVDFab Video Downloader.
2. Recommended YouTube Music Converter - DVDFab Video Downloader
Nowadays, video downloading is becoming more and more popular, but during this process, problems users are facing are not a few. If you expect more clear pictures, more speedy download, more convenient subscriptions, more videos download at a time and others, the free YouTube music Converter is always waiting for you.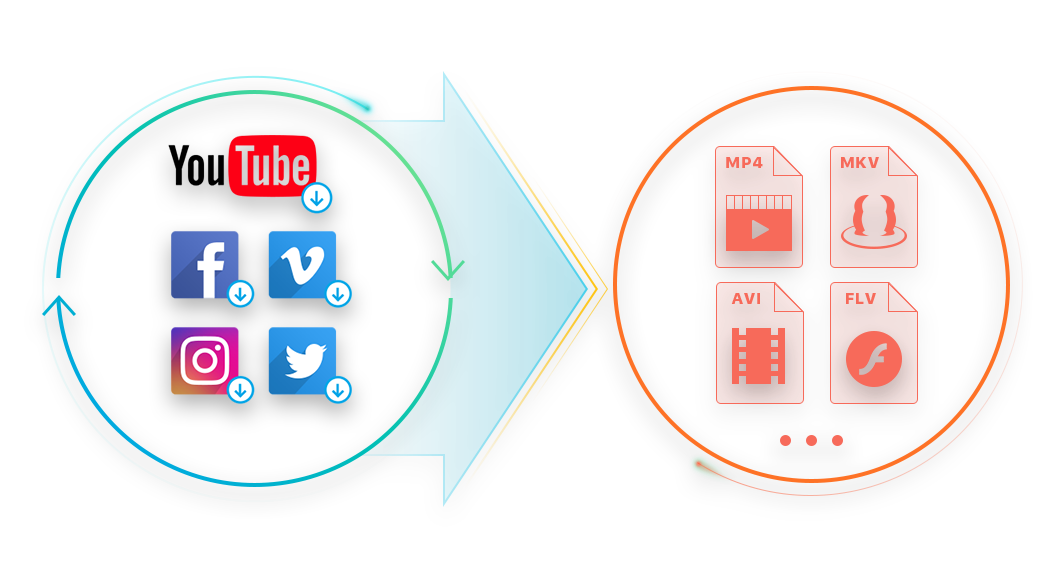 Download HD Videos

Presently, 4K videos are widely delivered on people's smart phones and tablets. But, when it comes to video downloading, scenes are usually unsatisfactory for blurry pictures or words. To meet human expectations of clear visual enjoyment, this free YouTube music Converter can provide the best video resolution, even to 8K.

Multi-task Download

To meet the need of users in multi-task download, this free YouTube music Converter breaks the limit of uploading one video at a time and increases the number of video download to 5. So, you can download 5 videos at a time, which is much easier, compared to online video download where you need to download another video after the last video download is finished.Want to download 8k videos on 1000+ websites? Ask for DVDFab Video Downloader for help. Want to download 8k videos at Turbo-Speed? Ask for DVDFab Video Downloader for help. Want to keep subscribed YouTube channels auto-updated? Ask this Firefox YouTube video Downloader for help.

Download a Playlist

Thanks to the playlist, it keeps countless videos from all kinds of websites in order based on different categories. Then, if you are interested in a specific category, using this YouTube music Converter app for playlist download will give you an opportunity to enjoy all the videos in that playlist.

Save a Playlist

Now, the YouTube music Converter app creates a new function, helping users to save their playlist. Each time you find or download a playlist, you can add it to the place of "saved playlist" in this program and easily find that playlist when you want to watch it.A MP4 video download is crucial when speaking of video downloading. Give DVDFab Video Downloader a chance and it will surprise you.

Turbo-Speed Download

The faster the download speed is, the more videos you can download in limited time. With the help of DVDFab Video Downloader, Trubo-Speed download enables you to convert YouTube video to music file in the same time. No matter how many videos you want to download, DVDFab Video Downloader will finish it fast.

Download Metadata

Metadata, the most basic and specific information, is often used in various fields. So, metadata download is the first choice for a great number of users. To meet the need of most users, DVDFab Videos Downloader helps users convert YouTube video to music file with metadata easily and conveniently.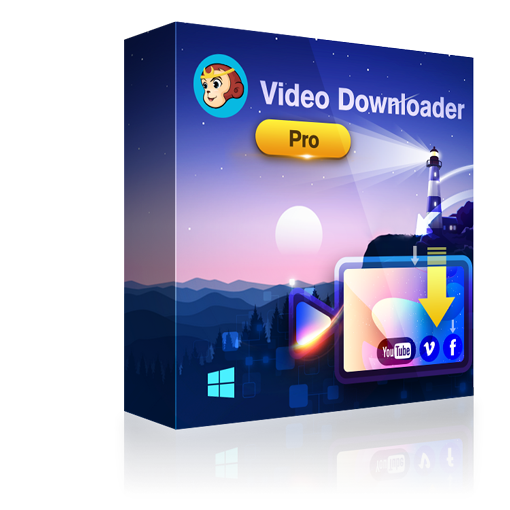 DVDFab Video Downloader
DVDFab Video Downloader The most powerful YouTube music Converter for you to download your favorite online videos from 200+ sites
Free Download
Free Download
3. How to Use the YouTube Music Converter?
Now follow us to learn how to download videos you need with this YouTube music Converter. Here is the detailed step-by-step guide.
Step 1: Install DVDFab Video Downloader
The INSTALLER file can be obtained by clicking Free Download on the left side of the web page of DVDFab Video Downloader. Double click the downloaded INSTALLER file to install this program. Double click the icon of DVDFab Downloader to launch this program to settle how do I convert music from YouTube to my computer.
DVDFab Video Downloader is a product module of DVDFab Downloader. That's why the software you installed is DVDFab Downloader.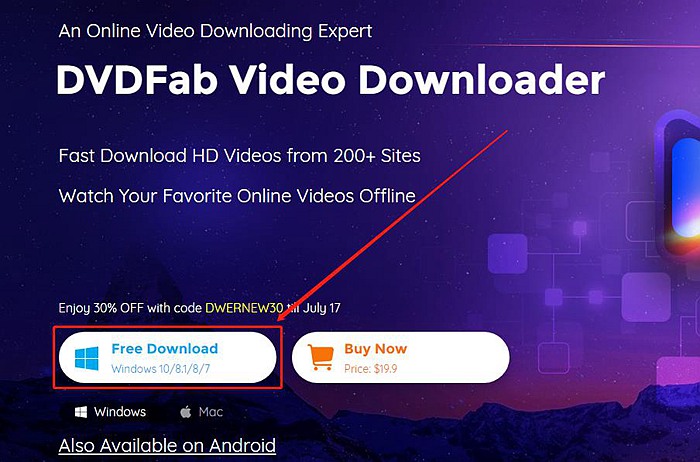 Note: Some settings need your attention BEFORE you start downloading videos.
Open this program, click the inverted-triangle icon on the top-right corner of the main interface followed by clicking Settings, the first option. There are two items to be stressed in the new popping-up interface.
* Video Directory: click the Folder icon to select a new directory to replace the default one to save your downloaded videos if needed.
* Download Video: Click the inverted triangle icon to unfold all options. You will see a resolution list this program supports, ranging from 144p to 8K UHD - 4320p. Here you are recommended to choose "Ask me each time" since, for this setting, you will be asked to choose the resolution freely each time of downloading your favorite video.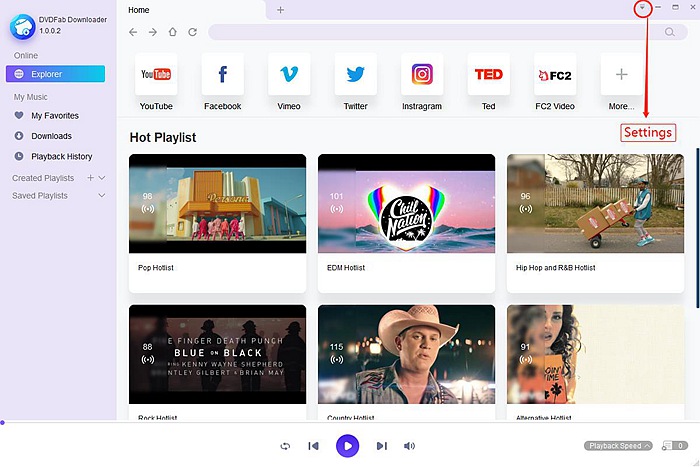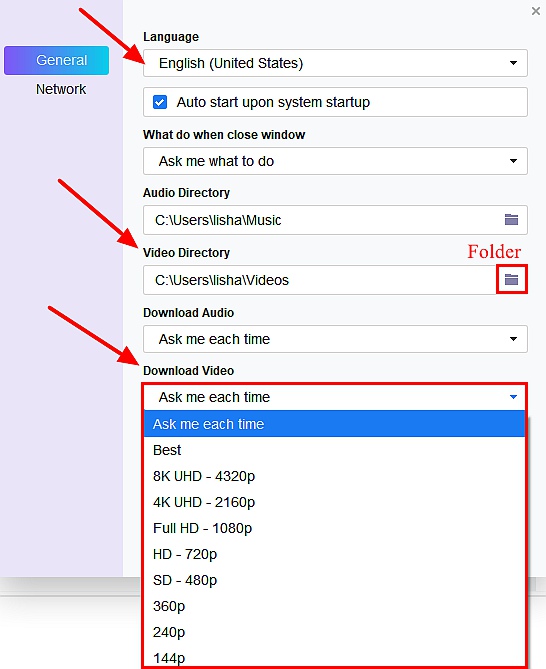 Step 2: Define the video you are to download
There are two ways to tell DVDFab Video Downloader which video you are to download. Firstly, outside the program, copy the URL of your favorite video; back to the program, paste the URL into the address bar on the top of the main interface, and search it. Secondly, inside the program, click the Explorer and you will find the websites this app to convert music from YouTube supports, including YouTube, Facebook, Twitter and more. Click any website and you are allowed to browse videos as usual to find the one you favor. For above two ways, this app to convert music from YouTube will automatically analyze the video as it is playing.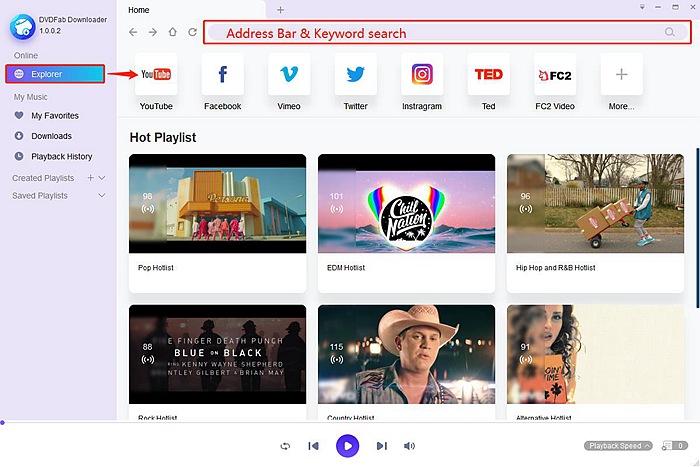 Add videos to My Favorites or Created Playlists
This YouTube music Converter can be a good assistant for playlist management. When you play YouTube videos in the main interface of this program, a suspending bar including three options will appear on the screen. Move your mouse over the first option "Add to", a unit including three elements will come up below it. Click the first option "Add to Favorite", and this video will be included in the section "My Favorites" in the left menu. Click this section, and you will find more options in it. On the top of its interface are "Play all", "Download All" and "Delete all", you can use them to process the videos in this section in a centralized way. Below these options are collected videos with a couple of titles including "Name", "Artist", "Runtime" and "Operate". In particular, you will discover more functions in the "Operate" part.
You can also add videos to the playlists you created. Hover your mouse over the "Add to" option of the suspending bar, a small unit including "Add to Playlist" option will show up. Click this option, and this video becomes yours. To create a playlist, click the plus-shape button in the "Created Playlists" section and make a name for it.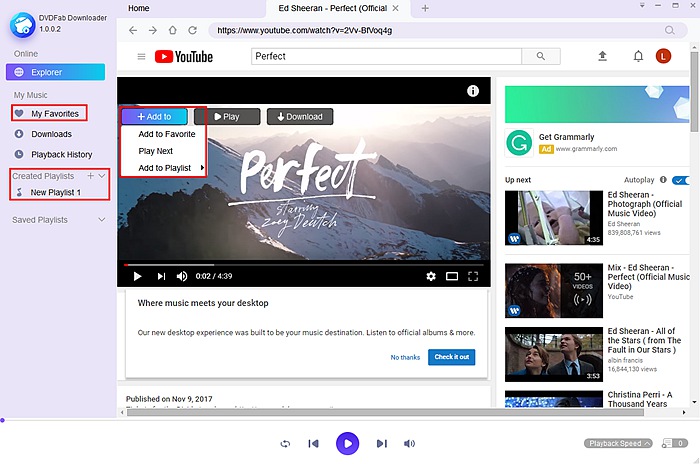 DVDFab Video Downloader is available on Windows, Mac and different brands of smart phones. You can install this software on your widely-used devices to music video download for Android for offline enjoyment.
Download and Save a playlist
Since many users ask how to convert music from YouTube, one of the most relevant topic "how to download playlist" may very possibly get their attention. Open a playlist with this program, then this program will recognize it being a program automatically. The suspending bar will come up. Hover your mouse over "Download" part of this bar, then it will give you three options including "Playlist". Click this option, and a download interface will come up. Choose appropriate settings and click "Download" button on the lower right corner.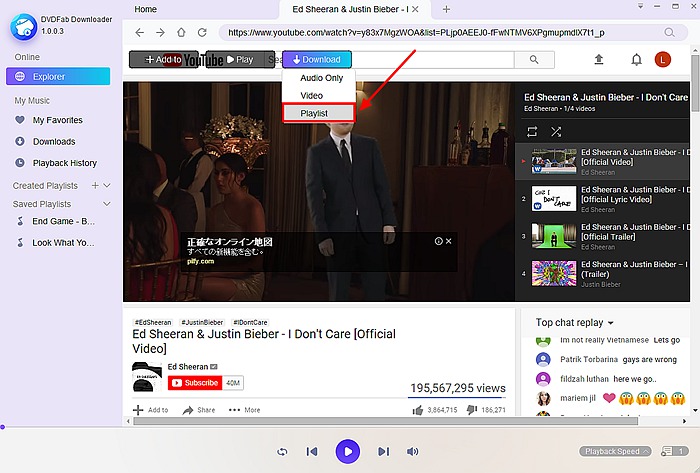 To save a playlist, just click "Save Playlist" option given by the "Add to" part when you mouse over this part. Then, the playlist will be included in the section named "Saved Playlists" in the left menu, you can check all the playlists you saved here.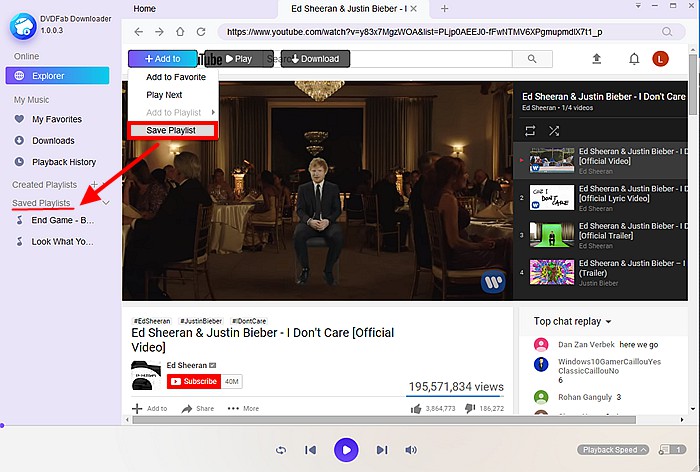 Play Button
The second element of the suspending bar in this free music Converter from YouTube is a play feature. You can use it to play videos online or offline. Hover your mouse over it, click the "video" option it gives you. then, the play interface will show up. 
The play interface is structured to provide easy access and user-friendly functions. At the bottom of it are the main function area, where, from left to right, three sections are located. The left section has three elements, the album cover for switch between the play interface and the original main interface, a little heart-shape button for "add to my favorites" and a little arrow-shape button for "download this video". The central section contains five elements, which, from left to right refer to "play mode", "play last", "play or pause", "play next" and "volume control". The right section includes three elements, which stand for progress/duration, "play speed" and "current playlist" separately.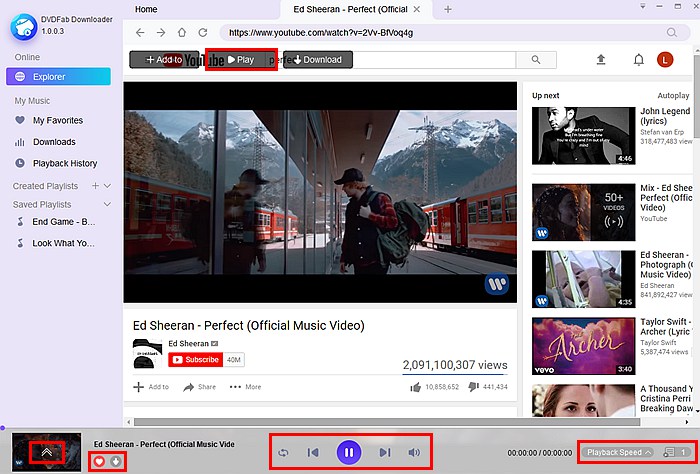 Downloading online videos from hot websites, like YouTube, Instagram, has been a dream of every video addict. DVDFab Video Downloader can achieve this for you. If you want to learn more things about video downloading, you can read this: https://www.dvdfab.cn/video-downloader/download-tumblr-video-iphone.htm
Step 3: Download Videos
The third option of the suspending bar in this easy YouTube music Converter is for video download. Hover your mouse over it, and click the "Video" option it gives you. Then, the download interface will come out. Make sure all settings are right and click the "download" button on the lower right corner. Then the download process will start immediately. You can check the progress in the "Downloads" section in the left menu. Click this section, and a new interface where three elements are included will come up. The first two stand for videos that have been downloaded, while the last represent for those which are being downloaded.
One more thing, you can turn on the "Turbo-speed" button when the download process is going on. Click the third element of the "Downloads" section, you will find It on the upper right corner.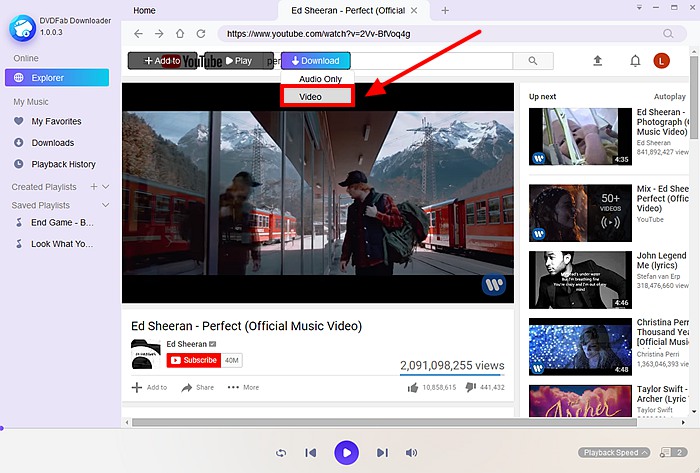 Still wonder how to convert music from YouTube? Try this program, and you will find your true answer.
4. Video Websites Supported by the Video Downloader
DVDFab Video Downloader is not only a great best YouTube Converter for music but also an all-round Video Downloader to download videos from other 200+ video websites. Here are some popular websites that it supports.
Short Video-sharing Website
Metacafe
is a video-sharing website that specializes in short-form video entertainment in the categories of movies, video games, sports, music and TV.
Dailymotion
is a short video-sharing website, which is noted for the high resolution of videos up to 4K.
Learning Website
AcademicEarth
an online video resource for college academic lectures.
Frontend Master
advances your skills with in-depth, modern front-end engineering courses.
Learning Website
Howcast
spreads unfamiliar knowledge by relaxed and funny texts and films.
HowStuffWorks
teaches the way many things work by explaining complex concepts, terminology, and mechanisms.
5. An Introduction to DVDFab
DVDFab is an all-in-one video/DVD/Blu-ray/4K Ultra HD Blu-ray solution package that comes with a bundle of tools, mainly including DVD/Blu-ray/UHD Copy/Ripper/Creator, Video Converter, free music Converter from YouTube, DRM /Cinavia Removal, etc. Therefore, you can not only use DVDFab to download videos but also do a lot of other things. When the source is DVD/Blu-ray/UHD Blu-ray, you can copy them to discs/ISOs/folders and rip them to various digital formats. When talking about videos, it can download videos from a tons of video sites, convert videos to MKV, AVI, FLV, MP4, MP3, etc., and burn videos to DVDs/Blu-rays/UHD Blu-rays. DVDFab can also be used to remove DRM from iTunes files and bypass Cinavia on discs. As a famous brand in video/DVD/Blu-ray/UHD Blu-ray solution providers, DVDFab always provides outstanding outputs and fast conversion speed.
6. Conclusion
Our vision is to provide easy access to video download for global people, allowing them to fully enjoy the fun of life with minimal cost. Since the initiation of the first version of this program, we have been devoted to improving our technology and integrating more functions into one unity. Now This YouTube music Converter has developed into an independent product line and has more service to offer. We believe it will become a one-stop solution for our customers and bring more and more happiness to them in the future.
DVDFab Video Downloader is available on Windows, Mac and different brands of smart phones. You can install this HD Video Downloader YouTube on your widely-used devices to download your favorite videos for offline enjoyment.
More Products You May Like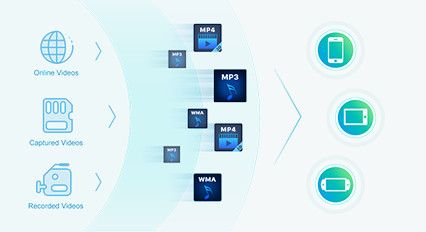 DVDFab Video Converter
The professional video converter application to assist videophiles in making complex video conversions and eiditing videos for further purposes
Free Download
Free Download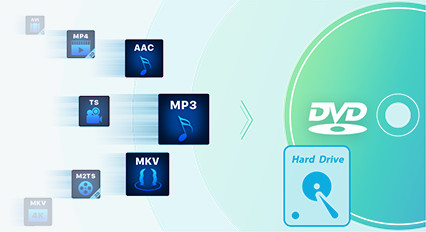 DVDFab DVD Creator
The one-stop DVD creator software to create universally compatible DVDs for playback on home DVD players, PCs, Laptops, and even PS3 game consoles as well
Free Download
Free Download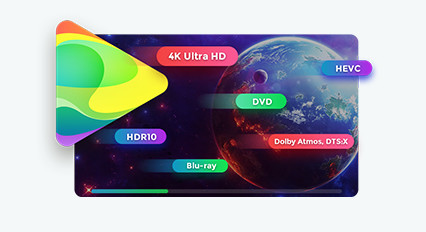 DVDFab Player 5
An extremely easy-to-use media player tool equipped with a cutting-edge playback engine that literally plays back anything thrown at it, seamlessly and smoothly
Free Download
Free Download