1. The Beginning Story about the YouTube Playlist Converter
Considering the questions of video watching, video downloading as well as video saving, we might as well start from these three aspects to see whether a new online YouTube playlist Converter is qualified. To begin with, a good video downloader is able to download your preferred videos for your repeated review. You no longer need to enter the website to load your favorite videos again and again. Second, what matters a lot in video downloading is speed and quality. Everyone is keen on fast download speed and high video resolution, so a good video downloader is supposed to offer such services. Next, a place one desires to store videos varies from one to another, such as a disc, a PC, or other devices. To satisfy the diverse needs of users, a good video downloader should be competent in storing downloaded videos to any device in any format. If you don't know which video downloader is better for use, please allow me to make some recommendations to you.
2. Marvelous Assistant Always on - DVDFab Video Downloader
DVDFab Video Downloader is one-click YouTube to MP4 playlist Converter. This program is designed to download videos off 200+ websites for offline enjoyment. With it, you are free to download videos with high quality, download a playlist within a song time, and save a playlist to listen online. The followings will show you the detailed functions this YouTube to MP4 playlist Converter supports.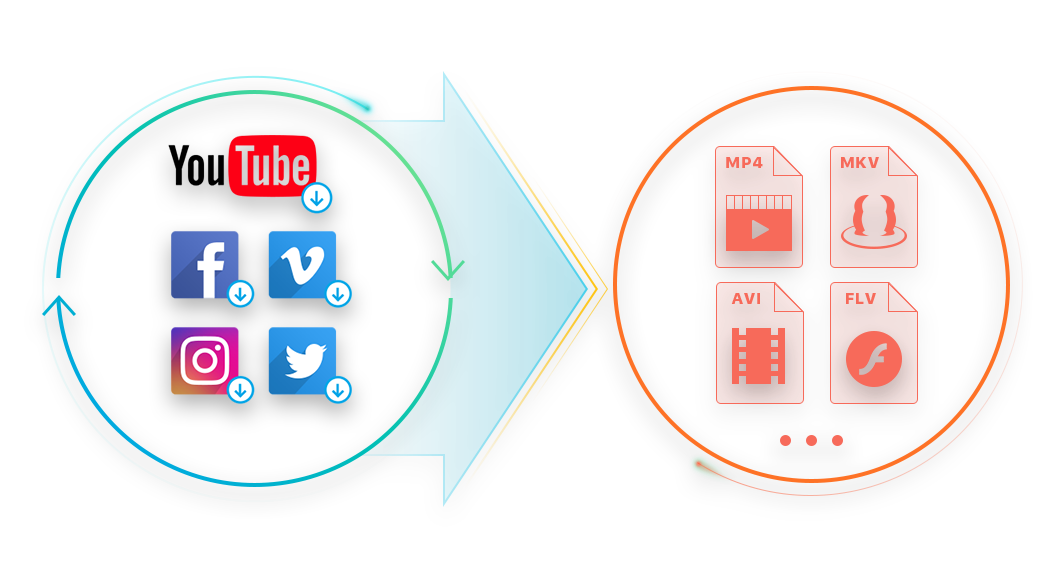 Download HD Videos

8K videos is downloadable. DVDFab Video Downloader provides varied resolutions, ranging from 144p to 4K-2160p and even 8K-4320p. High resolution is your cake if you prefer cinema-like watching experience. You will get specialized support from this YouTube to MP4 playlist Converter.

Multi-task Download

Enjoy streaming videos inside this YouTube to MP4 playlist Converter. Click Download button appearing on the playing video. Keep surfing in the video website and just click Download when you intend to. Five downloading videos will be processed simultaneously if you open the feature of Multi-task Download.

Download a Playlist

This feature is designed to avoid any moment when the Wi-Fi is poor, or the internet connection is slow. With this program, you are free to download your favored playlist to your target directory for offline enjoyment anytime and anywhere. This YouTube playlist Converter offers specialized support for each of you.

Save a Playlist

This feature allows you to save your preferred playlist to the section of Saved Playlists within this YouTube playlist Converter. Next time go directly to this section to find playlists you have picked. Here you can choose to download them or delete them.

Turbo-Speed Download

Your time will be saved. It only takes a song's time to download several YouTube videos with different resolutions you may choose to output. DVDFab Video Downloader, the expert YouTube playlist Converter to MP4, delivers a rocket speed for your downloading.

Metadata Download

Metadata is downloadable for any video with DVDFab Video Downloader. With metadata, you will know better about your downloaded file. It's easy for you to locate the video you just want to watch from your saved directory. This program is one of the best tools in terms of YouTube playlist Converter to MP4.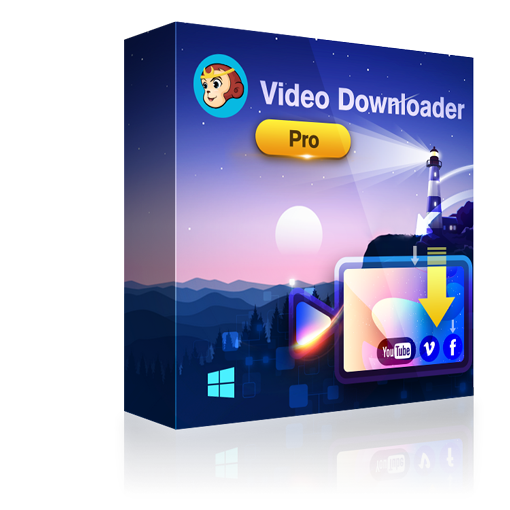 DVDFab Video Downloader
DVDFab Video Downloader Excellent YouTube playlist Converter, specially assisting you to auto-download updated subscriptions, freely and effectively
Free Download
Free Download
3. The Instruction to Use The YouTube Playlist Converter
Recommend you to download videos with this YouTube playlist Converter - DVDFab Video Downloader.
Step 1: Install DVDFab Video Downloader
If you want to download a video by using this online YouTube playlist Converter, you may need to open the website of DVDFab Video Downloader, click Free Download to get DVDFab Video Downloader installed on your device as instructed.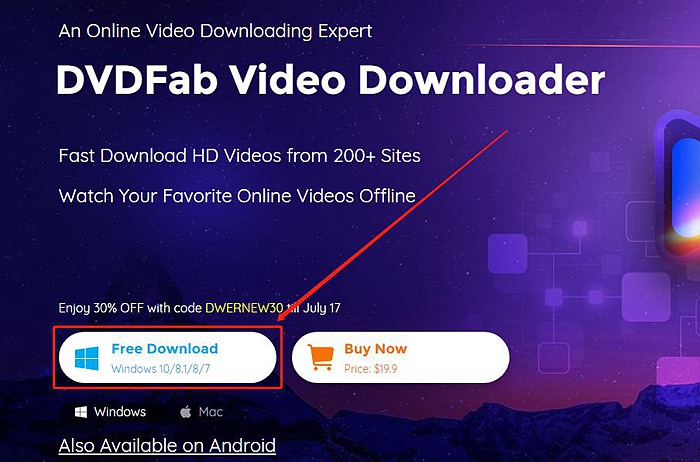 Note: Open DVDFab Video Downloader software, move your mouse cursor to the right top corner of the software interface, find an inverted arrow, then click it. An option list will unfold in front of you. Choose Settings option to go for a new panel where Video Directory and Download Video options exist. As for Video Directory, you can click the Folder icon to change your output address as you need. As for Download Video, you can see all resolutions are listed by clicking this button. These resolutions are Ask me each time, Best, 8K UHD-4320p, 4K UHD-2160p, Full HD-1080p, HD-720P, SD-480p, 360p, 240p and 144p. If you choose Full HD-1080p, for example, the software system will set it as a default, in other words, the output quality will always be Full HD-1080p since then. Therefore, for your using experience, we advise you to choose Ask me each time.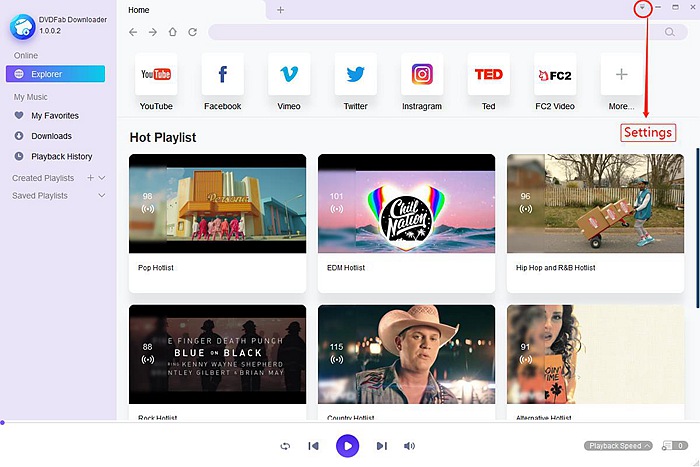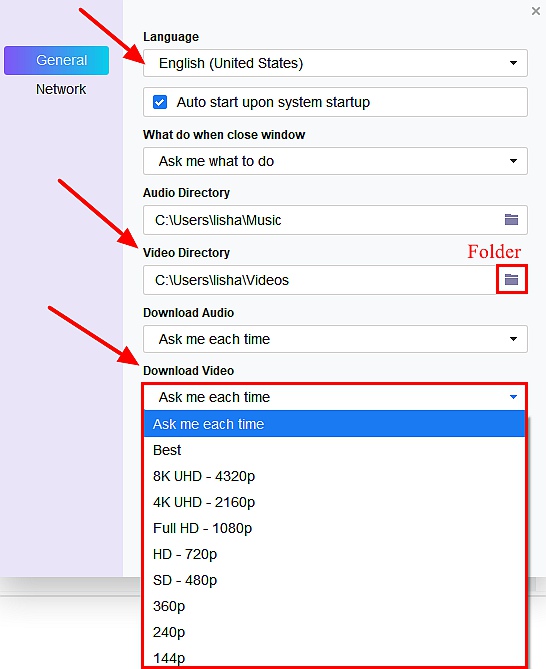 Step 2: Find the video you want to download
As a condition to operate this YouTube to MP4 playlist Converter, it is necessary for you to find a video to download first, which can be realized by pasting a URL on the search bar or by clicking a built-in explorer existing on the upper part of the interface, YouTube, for example, or click More. Both methods will work.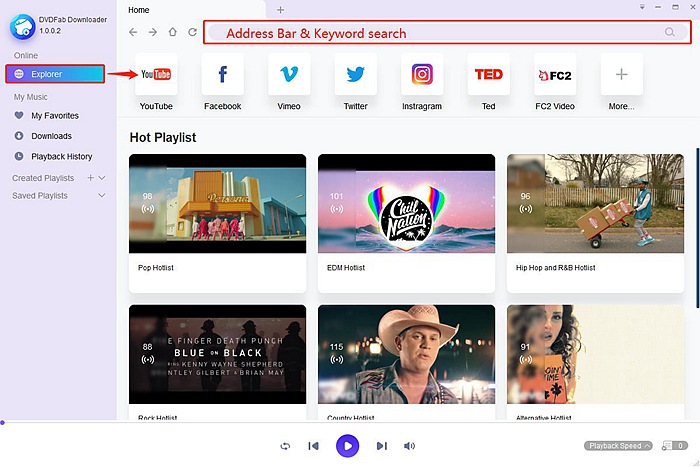 Add to My Favorites or Created Playlists
After finding a video, what's the next you need to know about this YouTube playlist Converter. For playing YouTube Video, three options, Add to, Play and Download, will appear after a playing video information has been analyzed automatically. Move your mouse pointer to Add to, you can see Add to Favorite and Add to Playlist options. Add to Favorite stands for adding the video to My Favorites in the left column, while Add to Playlist function will be available as soon as you have created a playlist under Created Playlists. So you may need to click + of Created Playlists, then after refreshing the video page, Add to Playlist will work.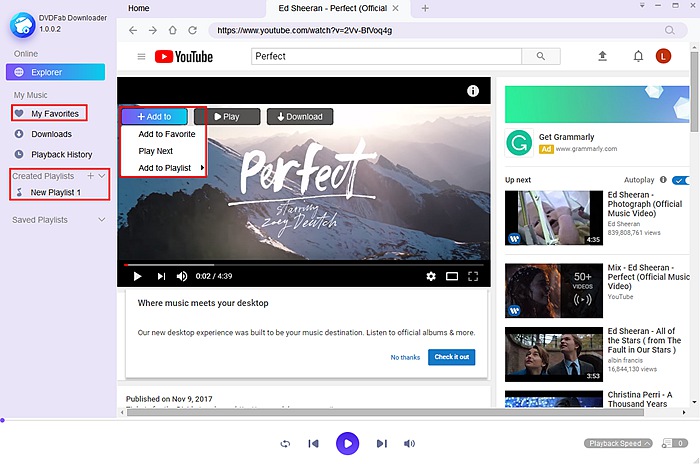 Download and Save a Playlist
This YouTube playlist Converter to MP4 is powerful. With DVDFab Video Downloader, a playlist can be recognized automatically. Similar to play a single video, three buttons will appear once a playing playlist information is analyzed. But differently, a Save Playlist button is added under Add to list, if this button is clicked, then the playing playlist will be saved under Saved Playlists on the left column. Besides, a Playlist button is added under the Download button, if the Playlist button is clicked, then a new panel pops up, offering all videos under this playlist. You can choose preferred videos to download.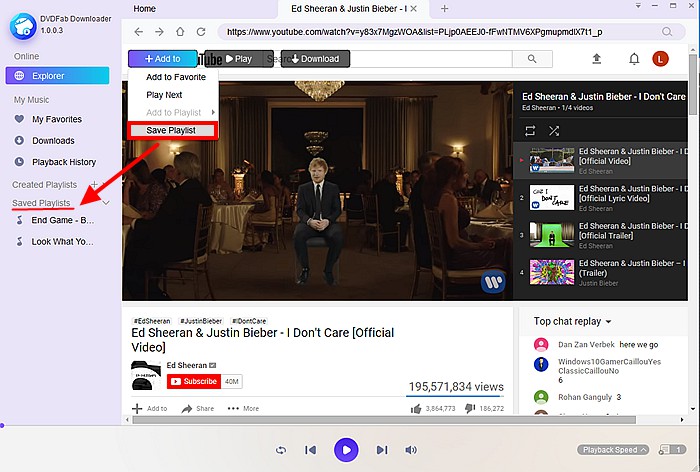 Play Button
You may desire to know about Play Button when you use this online YouTube playlist Converter. As mentioned before, as soon as the URL information has been analyzed, three options will appear on a suspending bar, well, Play Button is one of them. Click this button to play a video, then a new playing interface will come into sight. Some icons you may want to know on the bottom of the interface are listed below.
Small heart icon. Click this icon, then this playing video will be put in Add to Favorites.
Inverted arrow. Click this icon, then the playing video will start to be downloaded.
Circling icon. This icon is used to choose playing mode, including Repeat All, Repeat Single, Sequential and Shuffle.
Playback Speed icon. It represents that the playing speed can be adjusted.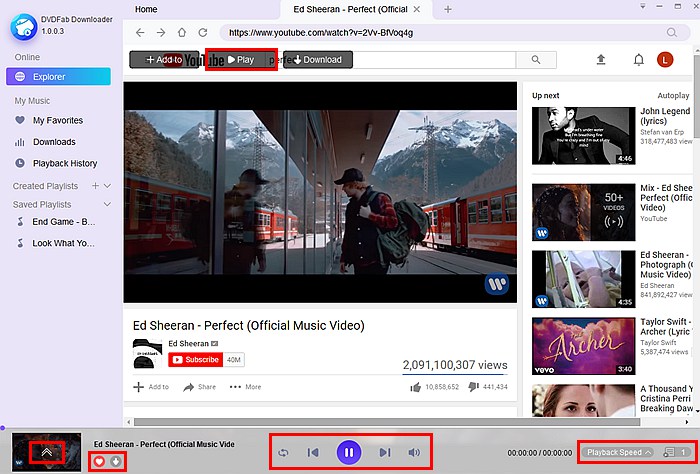 Step 3: Download Videos
Only one step is left to download a video by using this YouTube playlist Converter, download a video. How? When a video is playing, you can click the Download option on the suspending bar and choose the Video option to download. Then the video will be download immediately. What to know the downloading process? Focus your eyesight on the left side column and click Downloads. A new interface will be switched in, from which you can see Music, Video, Downloading options. Exactly as you understand, downloaded music or videos can be found at Music and Video options respectively while downloading videos can be checked at Downloading option.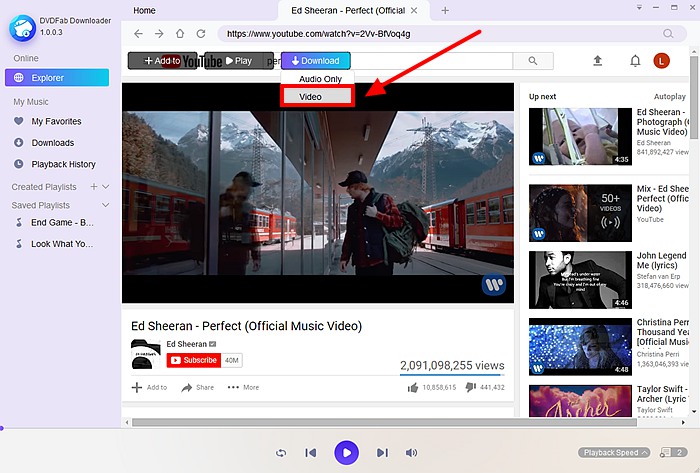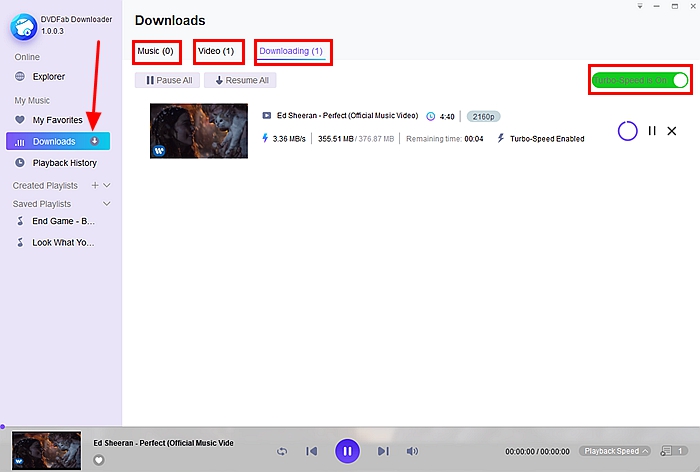 Note: Turbo-Speed function can be turned on for a faster downloading speed.
Is there a desire arising from the bottom of your heart after knowing how to operate this YouTube playlist Converter to MP4? If you need to download a video, then DVDFab Video Downloader is second to none. Move your fingers, click to download and prepare to have a wonderful experience.
4. Which Websites Provides Downloadable Videos?
This YouTube playlist Converter to MP4 is powerful as it not only has versatile functions but also for its wide applicability. There are more than 200 other websites whose videos can be downloaded by it. To give you a better understanding of what these websites are, we made a list of them. You can check the details from it.
Social Networking Platform
Instagram
A photo and video-sharing social networking service owned by Facebook. Users can upload their photos and videos on the app and share them with their friends, family and other followers.
Twitter
An online news and social networking service, allowing users to post, forward contents on it and can be placed with various tags for topic segmentation.
Video-sharing Website
Vimeo
A video viewing service provider based in the US, providing a variety of tools and technologies for content creators to let them create, distribute, and monetize videos. Besides, it's ad-free.
TED
TED Talks is a pool of speeches from famous people in their fields. Its topics are very extensive, including technology, environment, space...etc. "Ideas worth spreading" is its most famous slogan.
News
CNN
A news website where users can read news from different industries, including politics, economics, health and so on.
BBC
One of the most famous news website that provides readers with different news, including BBC news, culture, sport and so on.
5. Learn More about DVDFab
DVDFab Video Downloader is a professional online YouTube playlist Converter. DVDFab Software also offers the world most complete 4K UHD solutions that 4K videophiles can find on the market so far, from decrypting genuine 4K Ultra HD Blu-rays to copying the entire contents on a 4K Ultra HD Blu-ray off the original disc, then to converting those 4K discs to portable & mobile device compatible videos, further to authoring studio-level 4K UHD Blu-rays at home with all kinds of personal videos, and even to downgrading the firmware of a 4K UHD Drive so that the latter becomes capable of allowing 4K UHD backup tools to access the content from the 4K disc being inserted.
6. Conclusion
Our vision is to provide easy access to video download for global people, allowing them to fully enjoy the fun of life with minimal cost. Since the initiation of the first version of this program, we have been devoted to improving our technology and integrating more functions into one unity. Now This YouTube playlist Converter has developed into an independent product line and has more service to offer. We believe it will become a one-stop solution for our customers and bring more and more happiness to them in the future.
More Products You May Like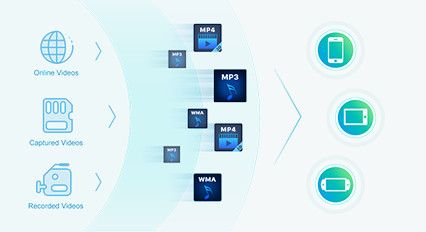 DVDFab Video Converter
Video editor's best assistant to convert and edit videos to meet all levels of special needs, such as splitting videos to several parts, or merging multiple videos, etc.
Free Download
Free Download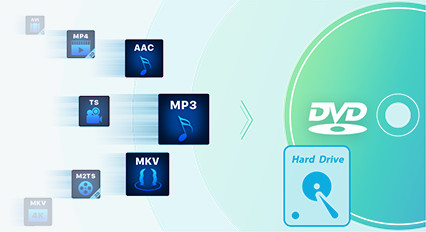 DVDFab DVD Creator
A blazing-fast DVD maker software that capable of producing home DVDs with multi-threading, multi-core CPUs and the newest hardware acceleration technology
Free Download
Free Download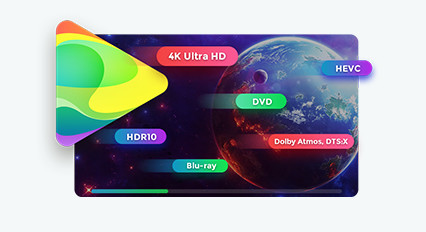 DVDFab Player 5
Play any video and DVD/Blu-ray movie
Free Download
Free Download