1. Main Factors to Shape Your Choice for YouTube Playlist Downloader
There are certain rules users are recommended to obey when it comes to the choice of YouTube playlist download. And the most important one is it should give users friendly experience. Whether from a tech professional's view or a user's view, a friendly user experience is extremely necessary. You must hope the product is easy to use and can be understood instantly. After all, we have very limited energy compared to the seemingly endless choices out there. It is easy to recognize whether a product is user-friendly. Check its interface, see if the layout of buttons is appropriate and fits your daily habits; the function should be kept simple and takes as less steps as possible to finish. Also, the visual design being appealing to your eyes is a big bonus.
2. DVDFab Video Downloader Recommended
DVDFab Video Downloader is a video download solution with a series of targeted functions. It has absorbed many positive elements as well as removed negative ones from the old version and made some innovations. When you download entire playlist YouTube, it can serve as a good assistant both in your work and life. You can experience the best service from it, and it will never let you down.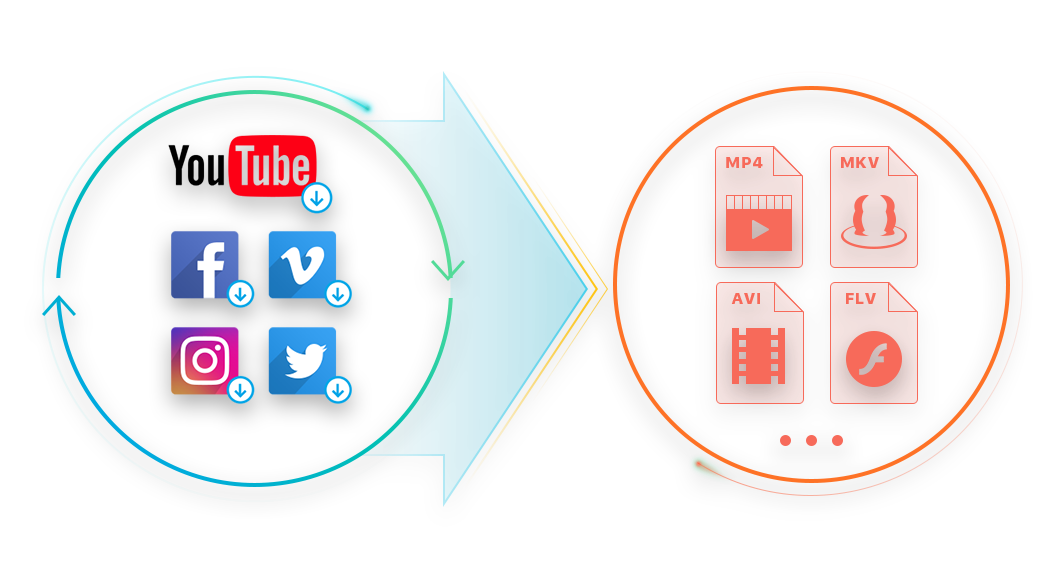 Download HD Videos

Most people are fond of HD videos when they download entire playlist YouTube. This program can provide a series of formats including 144P and 4K. With all these options you can get, almost all your demands of video format will be covered.

Multi-task Download

Multi-task download can help you do the batch download task when you download entire playlist YouTube, and save your trouble of doing them one by one. The download efficiency will improve significantly, and so will your usage experience.

Download a Playlist

You may want to do more than download entire YouTube playlist. For example, download a playlist and save it in your drive, as this will save you a lot of data and the trouble of browsing websites again and again. This program totally supports it and makes it even better.

Save a Playlist

This program can help you do more than just download entire YouTube playlist. This function enables you to save any playlist you find appealing when you surf the internet. You can check it, play it and delete it whenever you want.

Turbo-speed Download

This is an acceleration feature which functions when you download all songs from YouTube playlist. When turned on, it will increase your download speed tenfold. In the context of incoming 5G era, this represents a great advancement in terms of efficiency and experience.

Download Metadata

When you download all songs from YouTube playlist, metadata may also be wanted by you. Metadata download can tell you the author's name, title, duration and many more. It can help you quickly locate the specific information you want and save you much trouble.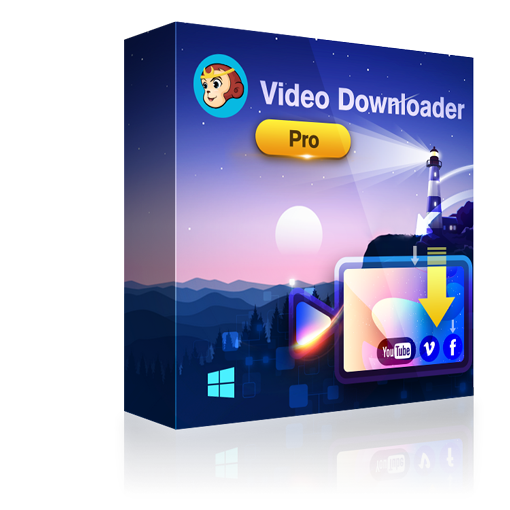 DVDFab Video Downloader
DVDFab Video Downloader You can download videos from 200+ websites with this YouTube playlist Downloader
Free Download
Free Download
3. How to Use This YouTube Playlist Downloader?
The following section will introduce in details the steps to use this powerful YouTube playlist Downloader - DVDFab Video Downloader.
Step 1: Install DVDFab Video Downloader
A pleasant video download experience starts with the installation of DVDFab Video Downloader or DVDFab Downloader. Both of them is capable to download playlist YouTube. DVDFab Video Downloader is only part of DVDFab Downloader, and its partner is YouTube to MP3, another sub-product of DVDFab Downloader.
Come to the website of DVDFab Video Downloader, go along "Free Download-Quick Install-Immediate Experience", and the software is available. The same is true of the installation of DVDFab Downloader.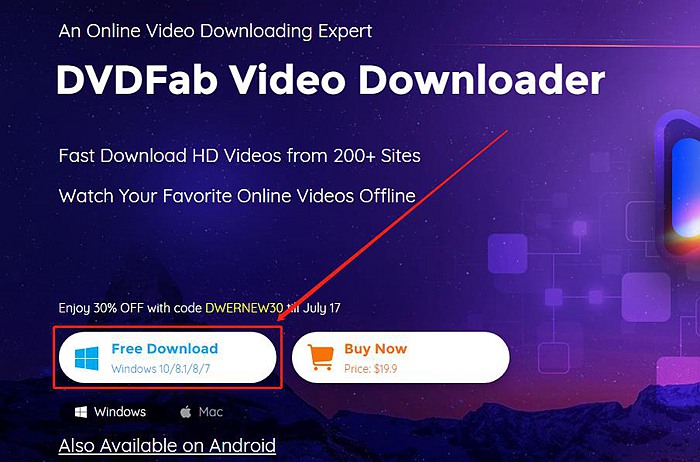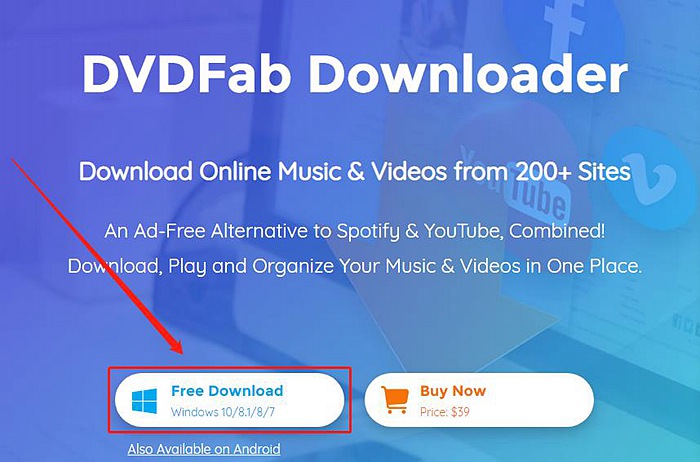 Notes: On the main interface of this software, a place you need to focus: Settings hiding in the inverted triangle on the right top corner. There, you can set both the language of this software, and the storage location and resolution of your files. There are 12 kinds of languages available, such as English, French, Russian and etc. Under the button of Video Directory, clicking the folder and decide any place as your storage location. Under the button of Download Video, choose any resolution you want, including Best, 8K UHD-4320p, 4K UHD-2160p, Full HD-1080p, HD-720P, SD-480p, 360p, 240p and 144p. Here, I recommend you to choose "Ask me each time".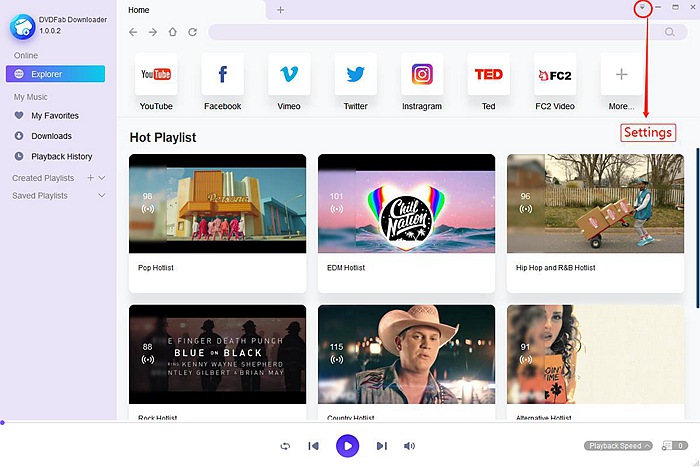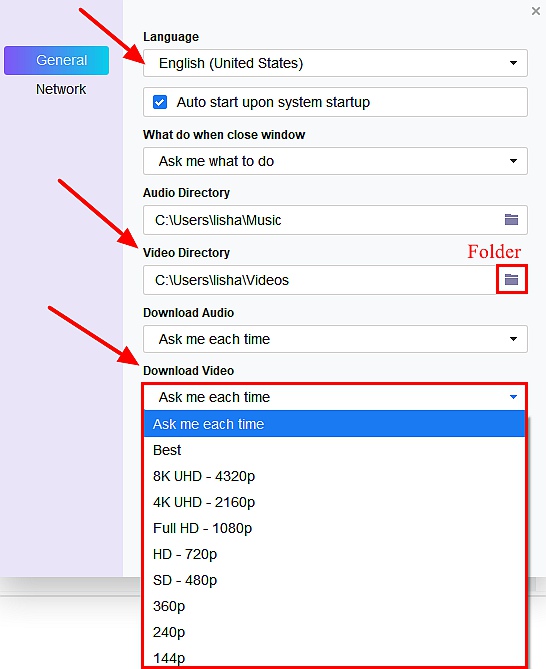 Step 2: Find your video
It is easy to download full YouTube playlist with this software, and this journey begins with finding your video first. It is viable to paste the URL of your video to the address bar and search it in this software. Also, you are allowed to search your video by using the built-in browsers DVDFab Video Downloader supports, namely, YouTube, Twitter, Facebook and more.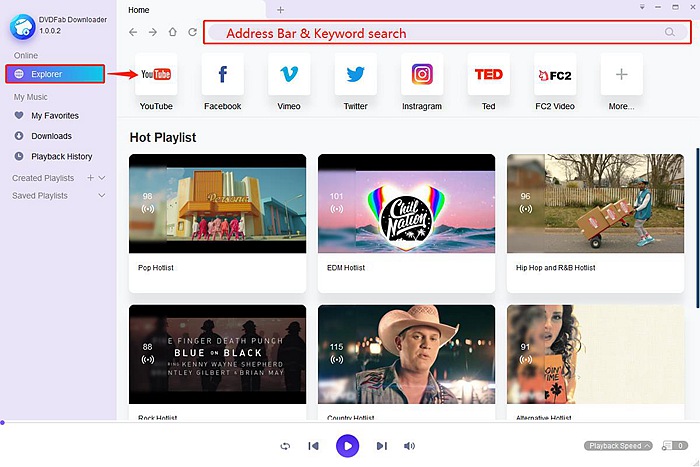 Add videos to My Favorites or Created Playlists
This YouTube playlist Downloader has set an exclusive place to save your preferred videos or playlists. Before you save a video to My Favorites, keep it playing and wait for DVDFab Video Downloader to analyze it. When the analysis finishes, three buttons of Add to, Play and Download pops out. Move your mouse cursor onto the Add to button, and click Add to Favorite and your video comes to My Favorite on the left navigational column.
The icon of Add to Playlist under Add to button is gray. To make it available, create a playlist under Created Playlists on the left side by clicking +, and give a name to your playlist if you don't want to use the given name. Then, refresh this interface, and you can save your playing video to this new playlist by clicking Add to Playlist under Add to button.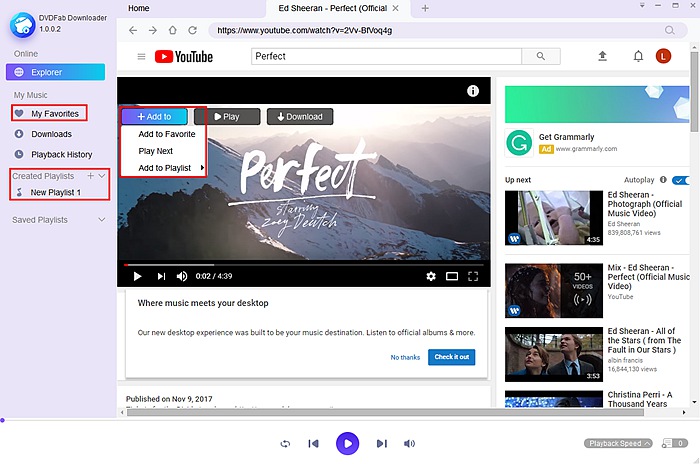 Download and Save a playlist
Welcome to ask this software to solve your problem of how to download YouTube playlist. DVDFab Video Downloader is sensitive to playlist. Each time you play a playlist in this software, it will recognize the playlist automatically. Keep your playlist playing. Click Playlist under Download button, when DVDFab Video Downloader finishes analyzing this playlist. Then you come to a new interface where you can uncheck the video you don't want before clicking Download.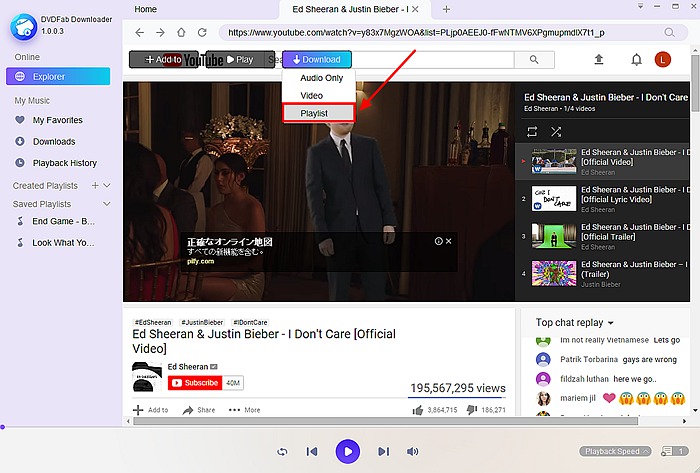 You can also save the playlist instead of downloading it. Keep the playlist playing. Click Save Playlist under Add to button, when DVDFab Video Downloader finishes analyzing this playlist. Then your playlist will be successfully saved to the Saved Playlists on the left side.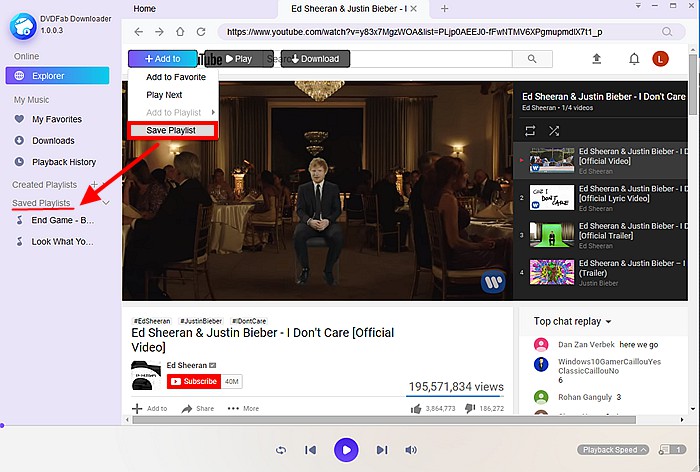 Play Button
This YouTube playlist download empowers you to download videos from any website. If you want to play your video in full screen, keep your video playing first, and then click Play Video under Play button when DVDFab Video Downloader finishes analyzing your video. On this full-screen video interface, pay attention to several icons. There are two icons on the video cover: upward arrow and download arrow. Upward arrow can be used to the full-screen video interface, while the downward arrow can be used to the main interface of this software. From left to right, click the heart icon, and your playing video will be stored to My Favorites. Click Download Video under the download arrow, and your playing video will be downloaded. Click the cyclic arrow, three options are available, namely, Repeat All, Repeat Single, Sequential and Shuffle. Click Playback Speed, three choices wait for you: 0.5, 1 and 1.5.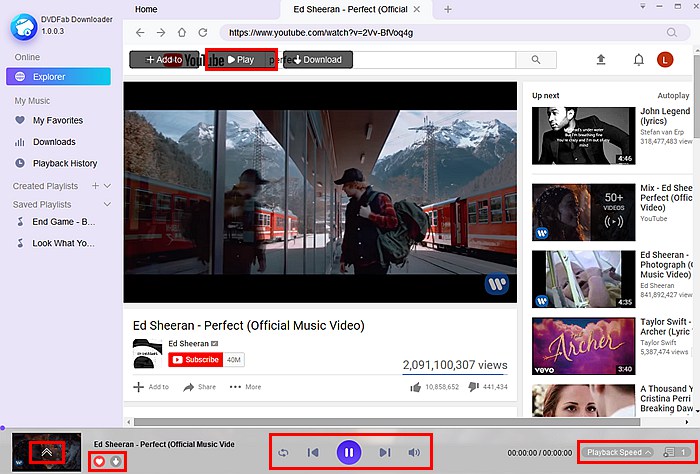 Step 3: Download a video
Now, this YouTube playlist Downloader Chrome brings you to the last step - download videos. Keep your video play, and click Video under Download button. Then you downloading buttons can be found on the left side – Downloads. There the Turbo-Speed download function can be used to accelerate the video download process.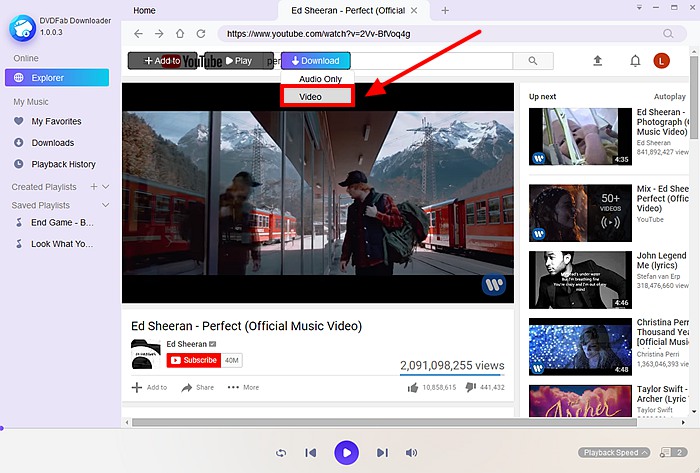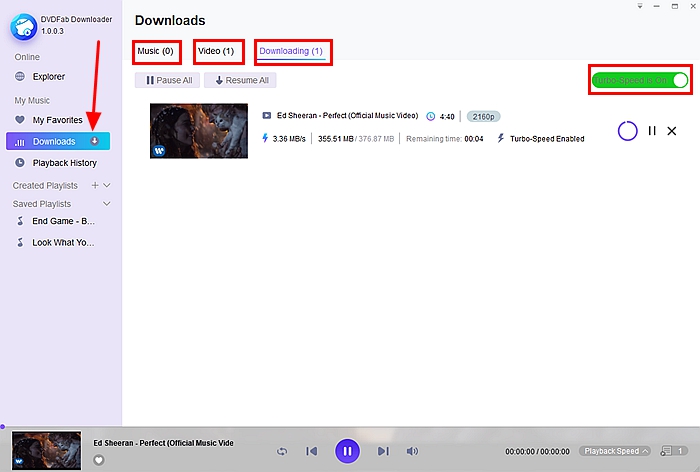 Have I given you a clear instruction on how to download YouTube playlist? I hope you will be good at downloading videos soon.
4. What Kind of 200+ Video Websites It Supports?
It's a wonderful thing to use DVDFab Video Downloader to solve how to download whole YouTube playlist. The followings will express a few websites it supports.
HD Video-sharing Platform
Vimeo
supports videos in the form of 1280X70 and in the quantity of 500MB monthly, and automatically transforms them into HD videos.
Dailymotion
supports videos in the format of ogg and is famous for HD videos.
Idea-spreading Platform
Twitter
allows users to share their latest ideas and spread them in the form of texts.
TED
allows users to share their new ideas and spread them in the form of speech.
Field-targeted Platform
Twitch
spreads real-time stream media videos related to games.
CNBC
spreads Television news reports related to finance and economics.
5. What Can DVDFab Do?
DVDFab Software, the owner of the world-famous multimedia solution shareware series, including DVDFab 11, Passkey 9, DVDFab Player 5 and DVDFab Downloader especially performing as YouTube playlist download, aims to provide audio and video lovers all over the planet with top-notch DVD, Blu-ray & 4K Ultra HD Blu-ray decryption, backup, conversion, authoring and playback solutions, video conversion and editing solutions, as well as online music & video download, playback and management solutions.
6. The Final Thought
Remember that DVDFab Video Downloader is always waiting for you, when you feel it impossible to download videos from a website, or find it troubled to try online downloading, or expect to realize multi-task downloading in high speed. Each feature of the DVDFab Video Downloader is exclusively user-tailored. No matter what kind of problem you may encounter, this YouTube playlist Downloader will be your loyal assistant.
More Products You May Like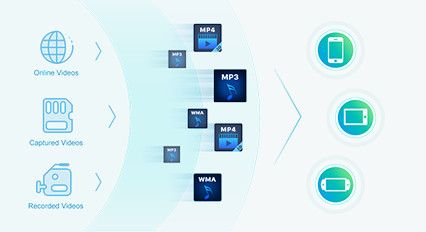 DVDFab Video Converter
An exceptionally amazing video conversion software further enhanced with professional editing features, such as cropping, trimming, watermarking, and more
Free Download
Free Download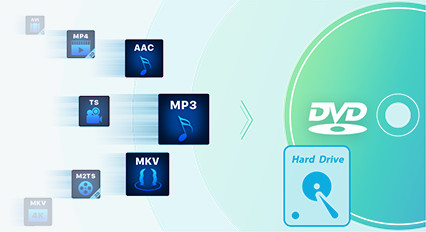 DVDFab DVD Creator
A handy, neat and must-have tool for DVD enthusiasts to turn everything that can be videoed into standard DVDs to enrich their DVD collections at home
Free Download
Free Download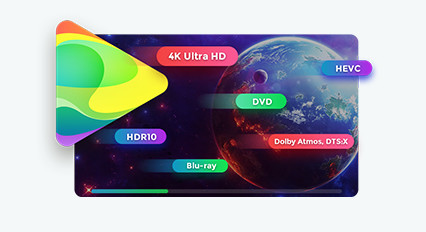 DVDFab Player 5
A highly capable companion to DVDFab Movie Server that allows users to directly play back the media files stored on the HDD inside the movie server under Wi-Fi environment
Free Download
Free Download