1. When You Are Searching a Handy YouTube Song Converter
A popular video downloader can always be favorable among the public, not just because its advanced technology, but also because its easy operational process. As for those who are going to select a video downloader to guide them how to convert YouTube songs to iTunes, my advice is put on such aspects as the setup and output option, since they depends on individual interest and habit to a large extent. If downloaded videos can be customized and outputted according to personal needs, there is a belief that your video download experience will be more colorful.
2. Original Tool Available - DVDFab Video Downloader
DVDFab Video Downloader is the answer to the question how to convert songs from YouTube. It has made a lot of improvements compared to old versions and integrated more practical functions that users require frequently. You can find almost everything you need as long as it is about video download.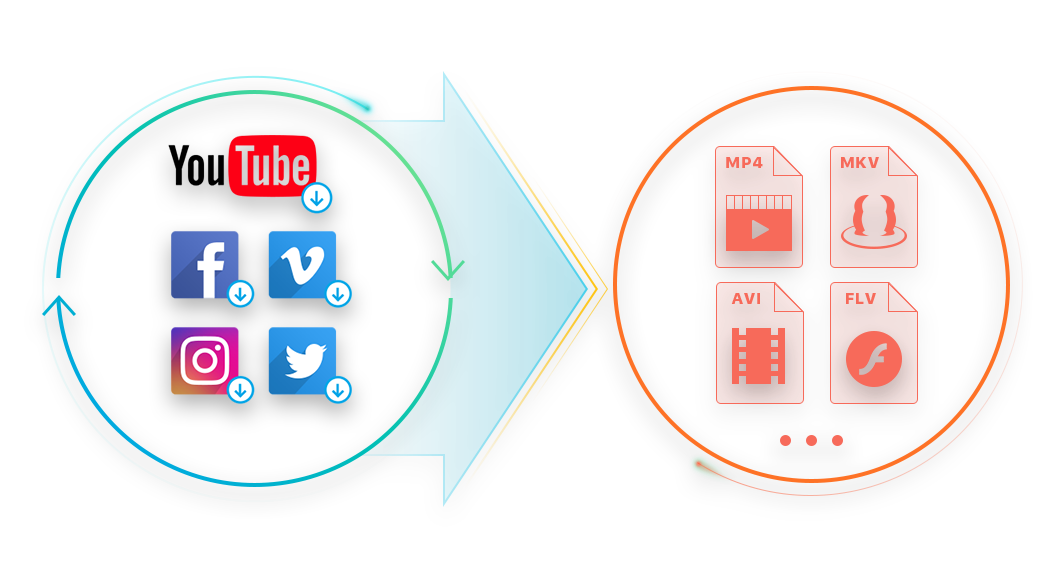 Download HD Videos

When it comes to how to convert songs from YouTube, the video quality matters a lot. Top-quality videos are gone after by many people as it can provide clearer images and offer users a better experience. However, it can't be attained easily, as downloading them involves complex technology, which few can provide. This downloader has broken this barrier and can provide a wide range of choices, including 144p and 8K.

Multi-task Download

Aside from the frequently asked questions such as how to convert songs from YouTube, many people also explore other topics like multi-task download. This downloader supports Multi-Task Download, with a top capacity of 5 tasks simultaneously. This function can shorten the download and wait time when multiple tasks are involved, facilitating the efficiency significantly.

Download a Playlist

This program is to convert YouTube songs to iPhone. Imagine you come across a playlist you have been dreaming to get hands to, your first reaction may be downloading it in case it disappears someday. This program lets you have total control of the playlists you'd like to download and support multi-task download.

Save a Playlist

In the case of playlist, this requires more rights should be given to users to do things they like, and saving playlists is definitely one of them. This downloader allows users to do more than convert YouTube songs to iPhone, such as manage their playlists by creating and deleting them. They can also create their own playlists and add songs or videos to them.

Turbo-speed Download

When it comes to how to convert songs to iTunes from YouTube, download speed is always an interesting topic. A high-speed download is an integrated part of a premium service package, a common sense shared by most users. This program offers super-fast download speed, and the top speed can be 10 times faster than normal speed. To enjoy this entitlement, you need to sign up for membership.

Download Metadata

Metadata can tell us a lot of information on original works. Compared to the common question of how to convert songs to iTunes from YouTube, metadata download is a frequently-asked topic. However, professionals may find it come in handy and thus we introduce this metadata download service. All the metadata, including artists' name, duration, and many detailed specs will be copied completely.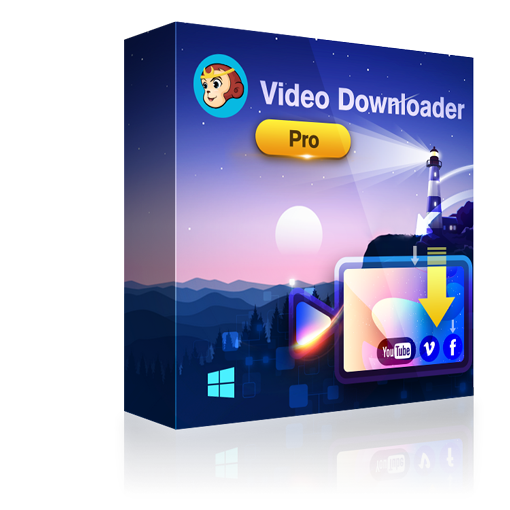 DVDFab Video Downloader
DVDFab Video Downloader This YouTube song Converter can provide you with a complete set of tools for video download
Free Download
Free Download
3. A Detailed Tip to Use The YouTube Song Converter
It's obvious that DVDFab Video Downloader can be defined as a versatile program. While it's quite simple in operation process. The following part will show you how this YouTube song Converter assists you to download videos with only three steps.
Step 1: Install DVDFab Video Downloader
Open the page of DVDFab Video Downloader and click Free Download to install this program on your device before you convert YouTube songs to phone.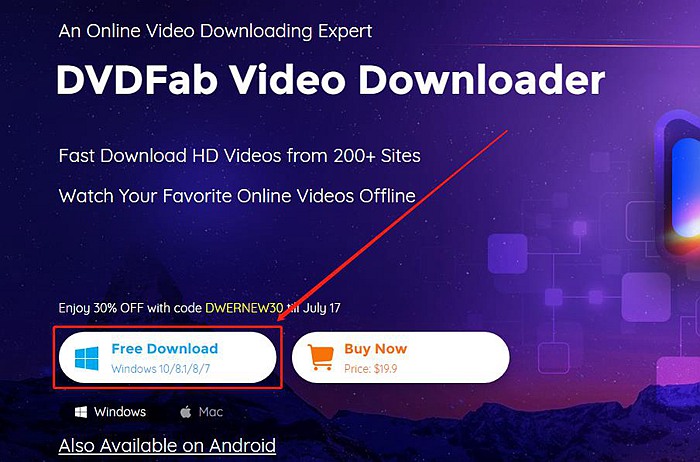 Note: Launch up this program and do some preset. To do that, an inverted triangle on the right top corner of the interface can be clicked. Then an option list reveals in front of you. Choose and Click Settings, the first option, then a panel shows up where Video Directory and Video Download exist and need your extra attention.
Click the Folder icon below Video Directory to decide the output address as your need instead of the default one. Click the small inverted triangle of Video Download and you can pick one resolution from Ask me each time, Best, 8K UHD-4320p, 4K UHD-2160p, Full HD-1080p, HD-720P, SD-480p, 360p, 240p and 144p. Ask me each time is recommended for you here. That's because, with this choice, you will be asked to choose one quality level from all quality choices as your convenience.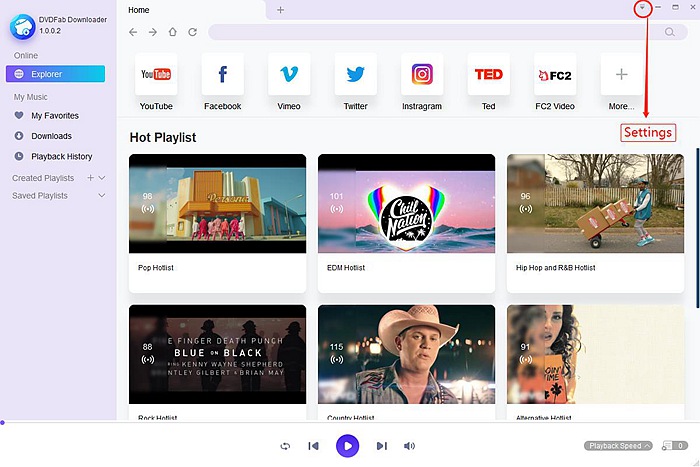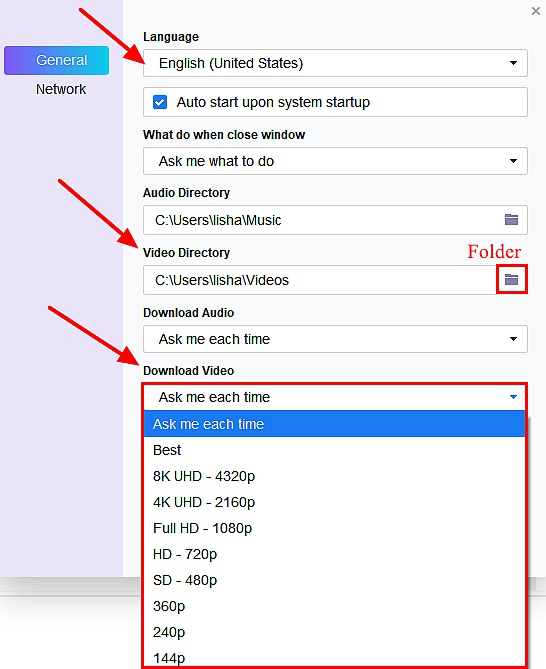 Step 2: Find a video to be downloaded
A video needs to be selected first before you convert YouTube video to iTunes song. You can paste a URL into the search bar. The other choice is to click any built-in explorer designed on the upper part of the interface, like YouTube, Facebook, or click More, to search a video you like.
When the selected video is played, operational buttons, covering Add to, Play and Download, can be seen on the left upper part of playing interface as soon as its information is analyzed.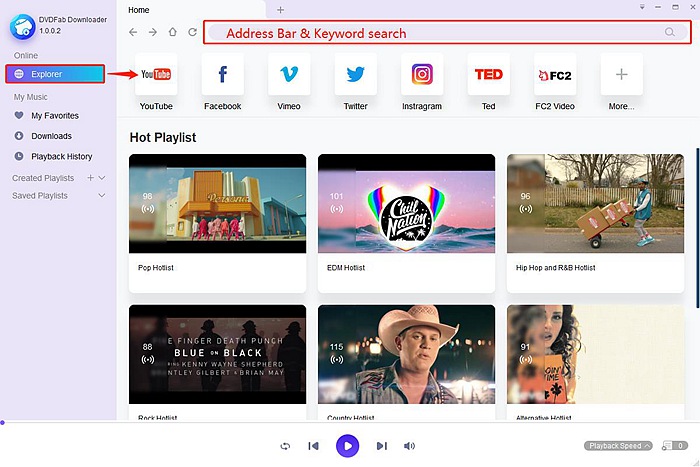 Add Videos to My Favorites or Created Playlists
When using this YouTube song Converter, you may need to save your preferred videos. For the playing of YouTube video, you can point your mouse cursor to the mentioned Add to button. Then Add to Favorite and Add to Playlist options come into view.
Click Add to Favorite to save the playing video under My Favorites on the left side. Add to Playlist will not work until you establish a new list by clicking + of Created Playlists on the left side and refresh the video page. Then click Add to Playlist button, the playing video can be saved under your newly created list.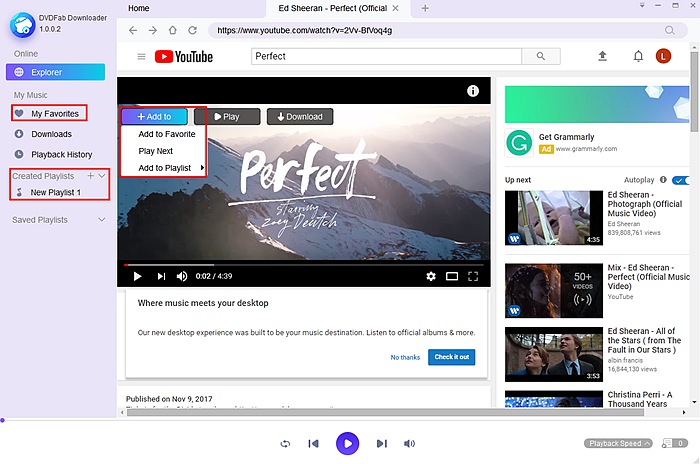 Download and Save a Playlist
DVDFab Video Downloader is still able to convert YouTube songs to iTunes. A playing playlist can be recognized automatically and a Download button can be viewed as the video information is analyzed. Then click Playlist under Download button and a new panel will be switched in, where you can choose videos preferred to download.
DVDFab Video Downloader is still available for online watching when you convert YouTube songs to iTunes. Pointing to Add to button while the playing playlist information is analyzed, you will find the Save Playlist option. Click it. Then the online playing playlist will be saved to Saved Playlist on the left side.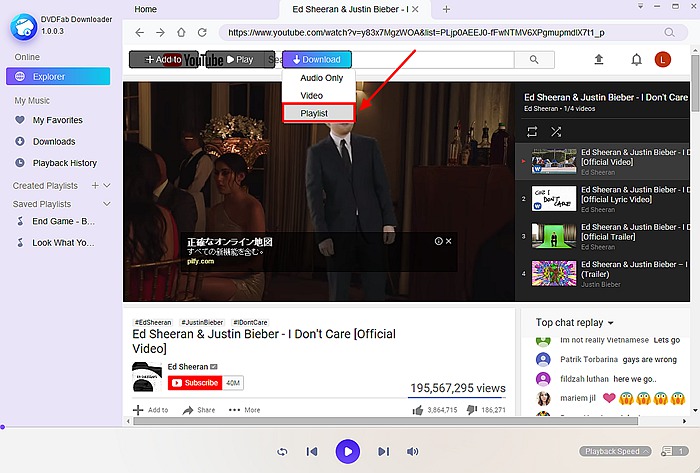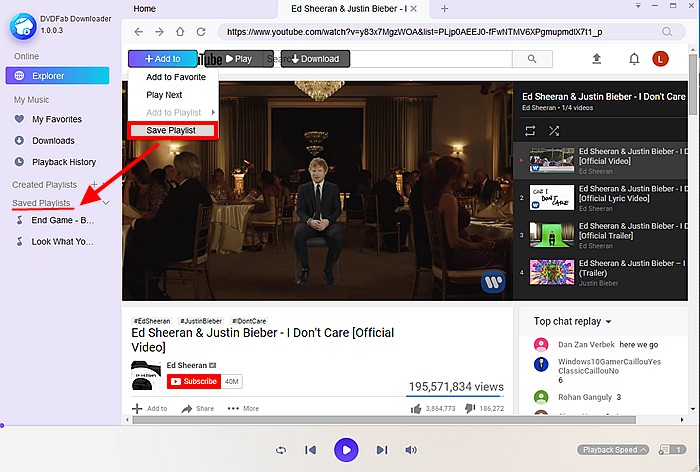 Play button
How the Play button works to deal with how to convert YouTube songs to iTunes. As mentioned above, a Play button will appear when the playing video information analysis ends. Click this button to have the video played. A new playing interface will display for you. Here are some icons you may be curious about when you explore how to convert YouTube songs to iTunes.
On the leftmost is an album cover. By clicking it, you can unfold the playing interface. Next to the album cover is a small heart whose function is to save the playing video under My Favorites. On the right side of the small heart is an upside-down arrow which can be used to download the playing video. Focus your eyesight on the middle of the bottom bar, you can see a cycling button, which is provided to choose playing mode, such as Repeat All, Repeat Single, Sequential and Shuffle. Then move your eyesight to the right part of the bottom bar, you will notice a Playback Speed button that can be clicked to choose your playing speed.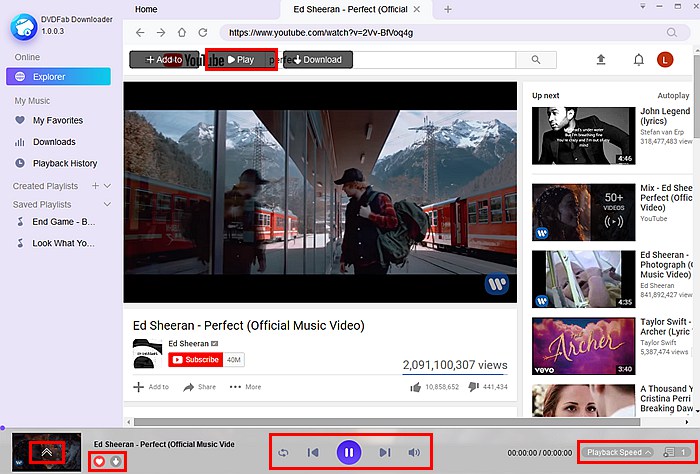 Step 3: Download Videos
In the process of using this YouTube Converter to iTunes free songs, download is the final step. Click the Download button on the upper side of playing interface when video information analysis ends. Once you click, then the video starts to be downloaded in a Turbo-Speed. On the left side locates Downloads button. Click it. A new interface will be switched in, where Music, Video and Downloading options can be noticed. For downloaded music and videos, you can check under Music and Video respectively. For downloading process, you can check under Downloading.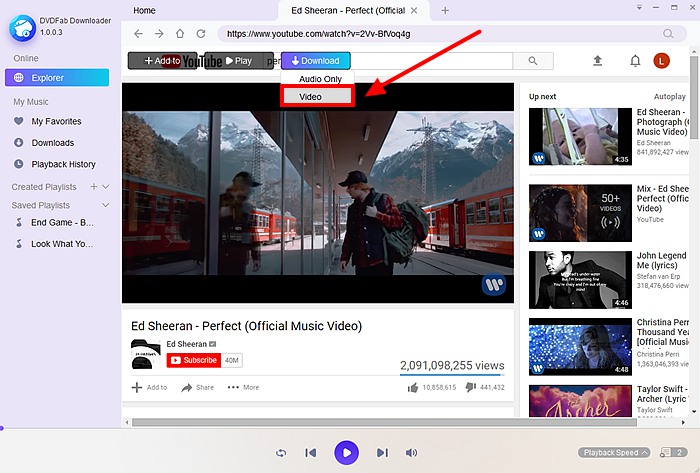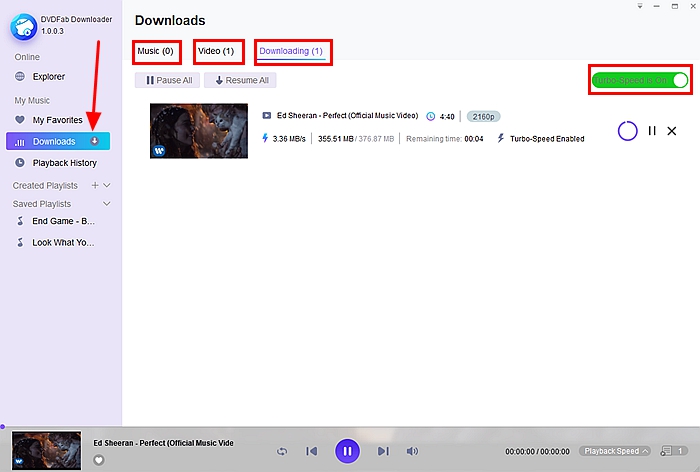 All the instructions mentioned above are helpful for you to convert YouTube songs to iTunes with DVDFab Video Downloader.
4. What Kind of Videos Can DVDFab Video Downloader Download?
How multi-functional DVDFab Video Downloader performs to download videos to your target device. Next are several examples of 200+ websites supported by this free YouTube song Converter.
Social Networking Platform
Facebook
It is the largest social media site in the world with a whopping 2.23 billion MAUs. Users can use it to build and share contents and sometime it can spark a wide dueling debate on the internet if the topic is much controversial or eye-catching.
Instagram
It's a photo and video sharing website, allowing users to upload a wide range of files, such as photos, videos, Stories and live videos. No matter you are on behalf of yourself or a company, you can build your profile by sharing creative photos or videos through this tool to get more people to know you or your company.
Video-sharing Website
TED
One of the most popular tools for sharing and listening to speech videos. Many intellectuals will choose this tool to learn updated knowledge and communicate ideas.
Vimeo
It is one of the fastest-growing video-sharing platform in the world. Users can use it to edit and upload videos and monetize them. What makes it different from others is that it seemingly fits professionals more instead of common users.
Live Streaming Platform
YouTube
You can use the creator studio tools YouTube provides to do live streaming, as long as you didn't break any restrictions in the last 90 days.
Twitch
A world-leading live streaming platform that merely focused on gaming videos at the beginning. Now it has extended its boundary and included many other items such as music broadcasts, creative content, and more.
5. How Does DVDFab Service Users?
DVDFab Video Downloader is an excellent software to answer how to convert YouTube songs to iTunes. DVDFab Software, the actual owner of the famous DVDFab brand, offers the most comprehensive solutions for users to copy, rip and burn DVDs, Blu-rays and 4K Ultra HD Blu-rays, convert those discs to watch on smartphones, tablets and any other video players, playback those discs on desktops, laptops and HTPCs with native navigation menu support that rivals cinema experience, and get rid of the notorious Cinavia protections from those discs for uninterrupted playback on any devices.
6. Conclusion
It is never too late to choose DVDFab Video Downloader to download your preferred videos. With an extensive video hosting sites, you can watch and download a wide range of videos from 200+ websites. All the videos downloaded through DVDFab Video Downloader is in the original format. With clear video quality and extraordinary downloading speed, this YouTube song Converter will meet all your needs.
More Products You May Like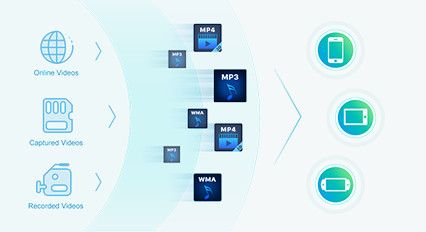 DVDFab Video Converter
An exceptionally amazing video conversion software further enhanced with professional editing features, such as cropping, trimming, watermarking, and more
Free Download
Free Download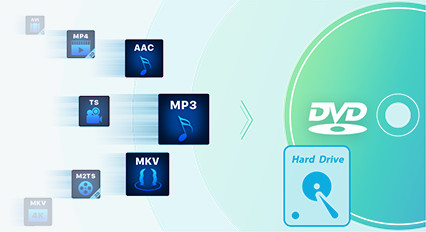 DVDFab DVD Creator
A handy, neat and must-have tool for DVD enthusiasts to turn everything that can be videoed into standard DVDs to enrich their DVD collections at home
Free Download
Free Download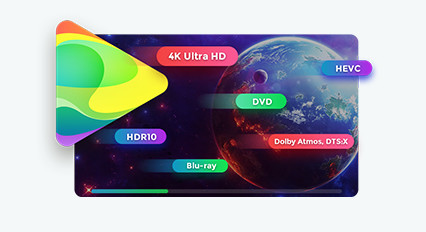 DVDFab Player 5
A highly capable companion to DVDFab Movie Server that allows users to directly playback the media files stored on the HDD inside the movie server under Wi-Fi environment
Free Download
Free Download