1. The Beginning Story about the YouTube to iTunes Music Converter
Before you make any decisions in terms of the choice of a wonderful YouTube to iPhone music Converter, there are a couple of standards you should keep in mind. The following part lists two of the most common elements valued by many users, and you can take them for reference. * Friendly Interface: A friendly interface will capture your heart immediately, as they save a lot of problems for you and make your operation easier and more efficient. Normally, a friendly interface is composed of three parts, simple structure, well-organized buttons and a wide range of user groups. The first element means the software is not complicate and can provide quick access to common features in a few clicks. The second requires a software's buttons are organized in the way users are comfortable with, which means you can locate the very specific button instantly, instead of spending a lot of time searching, or even reading the manual every time. The last one can be interpreted into making sense to common users. Whether male or female, young or old, you can understand it in a few minutes. * Easy to install and update: As the first point of contact, install process determine to a large extent the first impression you will have on the program. Imagine you spend a couple of hours downloading a program or you are given very complex instructions to finish the install process, will you give positive comments to this program? Of course not. The most probable situation is you will never use it again and recommend your friends other alternatives. Easy to update is also important. People need to update programs from time to time for many reasons, including patching security holes or memory leaks. If the process is very complicate, users will likely skip it, leaving a lot of hidden risks unresolved. Is there a qualified YouTube to iPhone music Converter that meets both of the requirements mentioned above? Here is our recommendation - DVDFab Video Downloader.
2. Marvelous Assistant Always on - DVDFab Video Downloader
DVDFab Video Downloader is an excellent video download tool that focuses on how to convert music from YouTube to iTunes. It is highly recommended for such a variety reasons as support for video download from 200+websites, multiple functions that meet almost all the needs users have, Playlist download and etc. for further detailed information, please continue to read.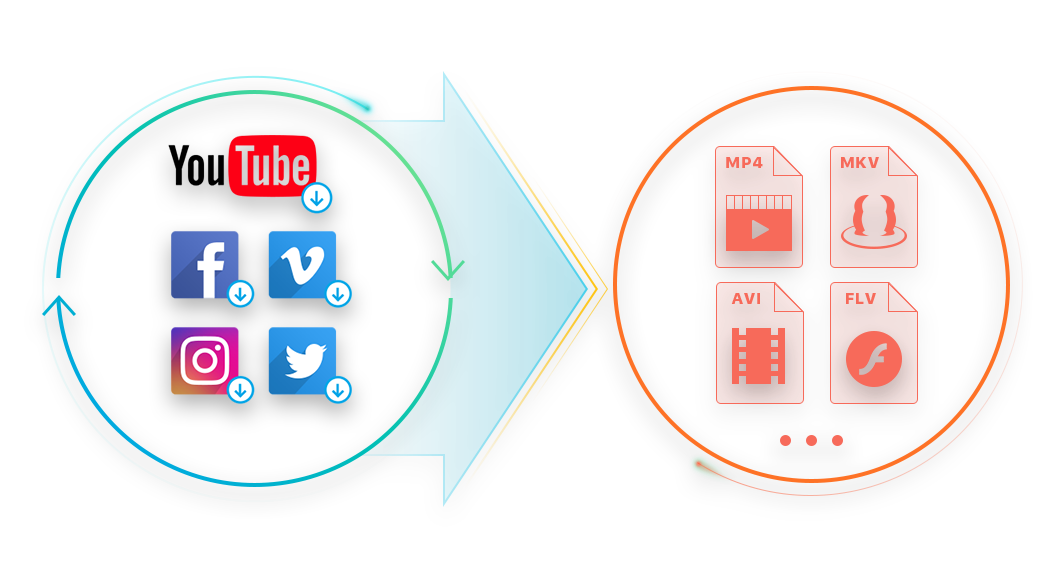 Download HD Videos

how to convert music from YouTube to iTunes, especially those with different formats is a common problem. This program is fully competent for this task, as it supports multiple resolution formats, including 1080P or 4K. You can choose the suitable one according to your purposes or needs.

Multi-task Download

When the question of how to convert music from YouTube to iTunes gets solved, you may have another question: How to do multiple tasks when downloading videos? DVDFab Video Downloader solves this problem perfectly by supporting multi-task Download. it just takes a click or two before a multi-task job is finished. Very convenient, isn't it?

Download a Playlist

A playlist is a collection of works of similarities, such as style, hobby, language, artist and etc. This YouTube to apple music Converter supports playlist download, which means a lot of your demands, such as watching on travel or saving space for PC can be met with this program. This tool can provide easy access to playlist download. The Free version supports five playlist downloads. If you are aiming for higher goals, a membership is what you need.

Save a Playlist

Saved Playlist constitutes an important part of the greater user management initiative this YouTube to apple music Converter is implementing, whose goal is to give users more freedom in terms of collecting and editing content on this platform in an organized and customized way. Users can save any playlist they like and do a lot of operations according to their needs, such as play, download and delete. It's just a beginning of a greater ecosystem, and will grow better and better in the future.

Turbo-speed Download

An improved download speed means a more fascinating entertainment experience along with higher productivity and more efficient work when you convert YouTube music to iTunes free. So, it is fair to say download speed plays an important role and is appreciated by most users. You can choose to be a member to enjoy Turbo-speed download speed, and the top speed can be 10X faster than common users.

Download Metadata

Metadata is data about data. For those who are interested in metadata when they convert YouTube music to iTunes free, DVDFab Video Downloader can be their best choice. It supports metadata download, a thoughtful service that can be great help for you who are in search of relevant solutions.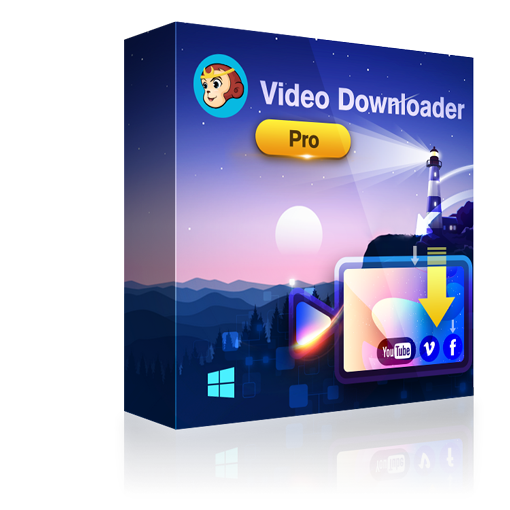 DVDFab Video Downloader
DVDFab Video Downloader Excellent YouTube to iTunes music Converter, specially assisting you to auto-download updated subscriptions, freely and effectively
Free Download
Free Download
3. The Instruction to Use The YouTube to iTunes Music Converter
In this section, we will take the recommended DVDFab Video Downloader as an example to express how to use this YouTube to iTunes music Converter in detail.
Step 1: Install DVDFab Video Downloader
The question of how to convert YouTube to iPhone music can be easily solved by installing a DVDFab Video Downloader. You can download the installer of Video Downloader from the product page of DVDFab Video Downloader. Click the "Free Download" button, and complete the installment.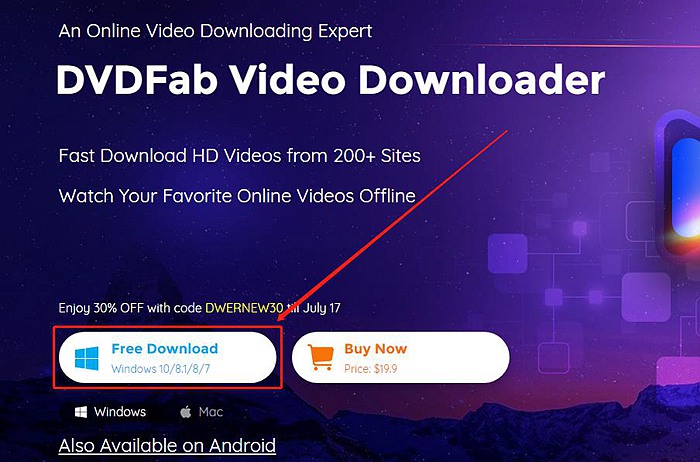 Note: Once it is done, open the program to change the settings first. Click the little triangle-shape icon on the top right corner. Below it will appear a bar frame with a couple of buttons. Click "Settings", and the relevant interface will come up. You can change settings of the language, directory and resolution. In particular, resolution settings are highly recommended to be adjusted as "Ask me each time", or all the videos will be downloaded with default resolutions.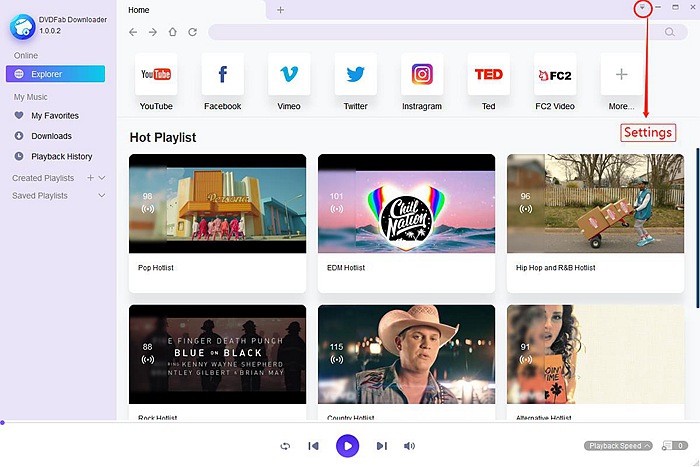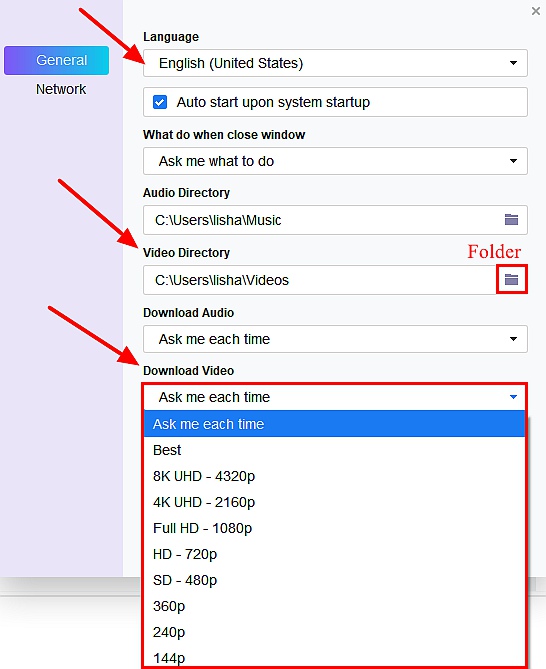 Step 2: Find your video
To download a video, you need to inform this YouTube music to iPhone Converter online what video you want to download. Pasting its URL on the search bar (central top of the main interface) and clicking "Enter" button is an option. Besides, we also suggest you open the video with the wide variety of websites listed below the search bar. Once it is done, you will see a suspending bar on the main interface, which has three parts, "Add to", "Play" and "Download". You will find them very helpful in your daily operations.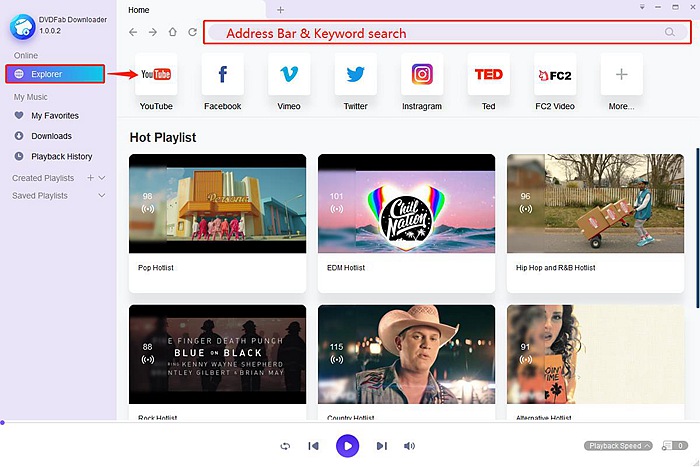 Add videos to My Favorites or Created Playlists
Playlist management function integrated in this YouTube to iTunes music Converter allows you to do more operations beyond merely video download. Move your mouse over the "Add to" part of the suspending bar mentioned above, it will give you three options, "Add to Favorite", "Play Next" and "Add to Playlist", the first representing adding a video to your favorite list, the second playing next and the third adding video to playlist you created. To create playlists, click the plus-shape button on the "Created Playlist", and rename it.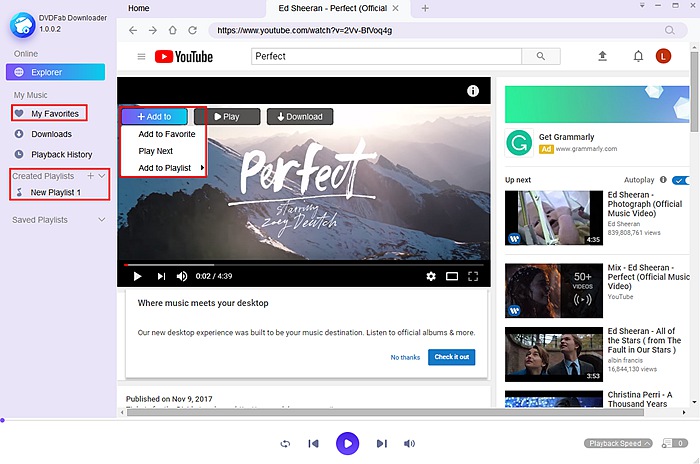 Download and Save a playlist
With this program, you can do more than just convert YouTube music to iTunes. If you open or play a playlist with this program, it will recognize it being a playlist automatically. The suspending bar will appear. Move your mouse over the third part of this bar or "Download", choose "Playlist" option below it. Then, a download interface will show up, you can change relevant settings according to your needs. Afterwards, click the "Download" button on the right bottom corner to download the playlist.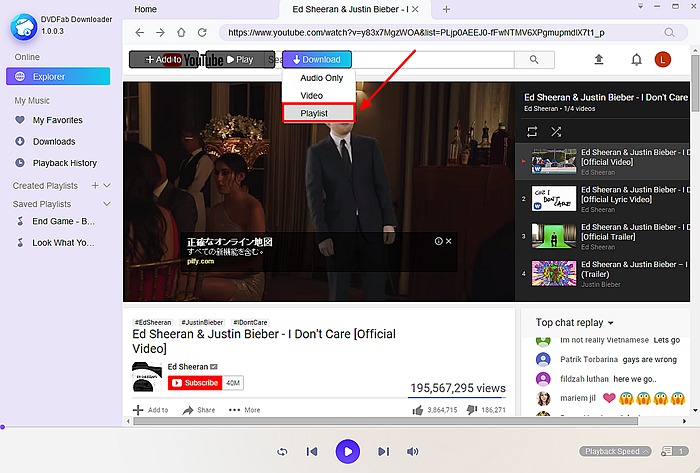 To save a playlist, hover your mouse over the "Add to" part of the suspending bar, choose "Save Playlist", and the playlist will be "yours". You can check it out on the "Saved Playlists" section in the left column. This function is only available for playlist. So, if you are playing or opening a single video which doesn't belong to any playlist, there won't be the playlist download option on the suspending bar.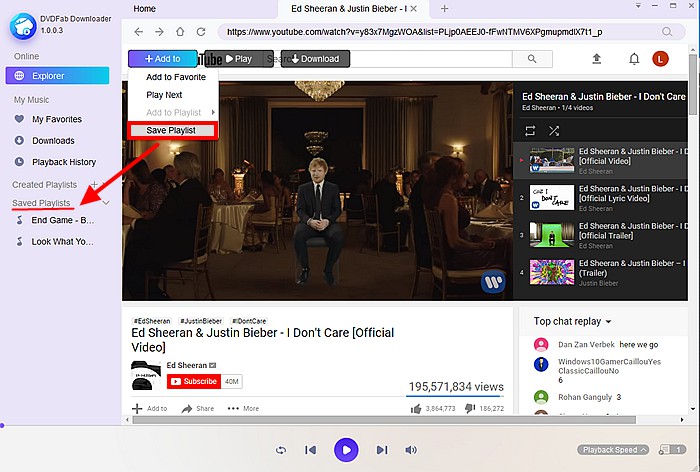 Play Button
This YouTube to iPhone music Converter is also a player. The second part of the suspending bar is for play function. Mouse over it, and it will give you "Play Video" option. Click it, then a play interface will appear.
The new interface is composed of three parts. From left to right, they represent different meanings. The left part has four elements, whose respective meaning is "album cover", "add to favorite", "download this works", "delete this works". Particularly, you can click the album cover to switch between the play interface and the main interface.
The central part has five elements, representing from left to right, "play mode", "play last", "play or pause", "play next", "volume control". The right part has three elements, the first referring to progress/duration, the second play speed and the third current playlist.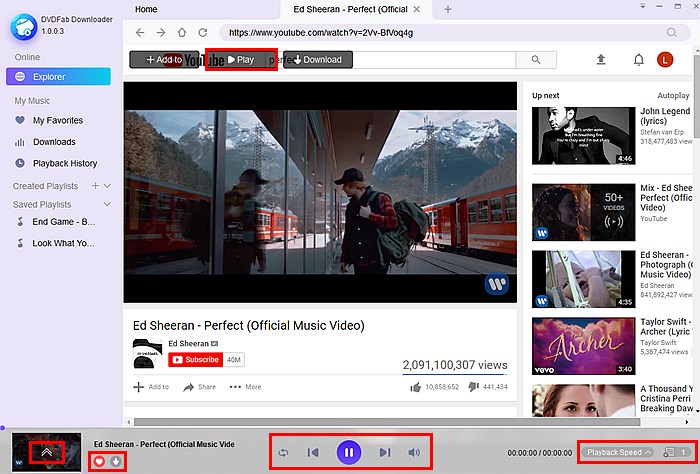 Step 3: Download a video
Hover your mouse over "Download" on the suspending bar of this YouTube to apple music Converter online, choose the "Video" option. Then, a download interface will appear. Choose relevant settings, including resolution, directory and click the "Download" button to get started. You can check the download progress by clicking the "Downloads" section in the left column, where three elements are included. The first two of them are downloaded videos while the last one is downloading videos.
By the way, click the "Downloading" label in the "Downloads" section, you will see a "turbo-speed" button on the top right corner. You can turn it on to enjoy high-speed experience.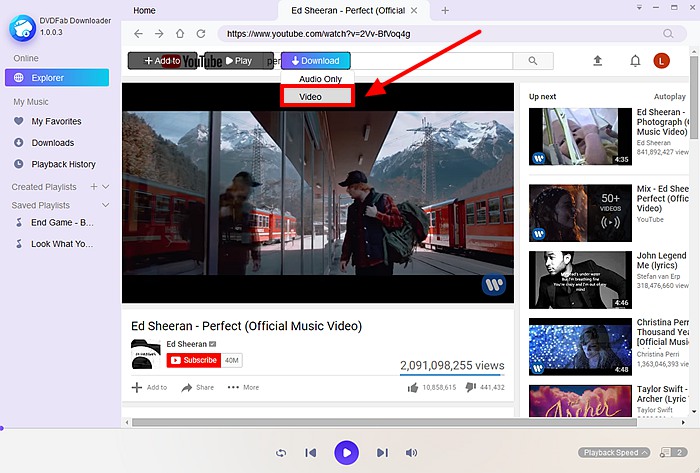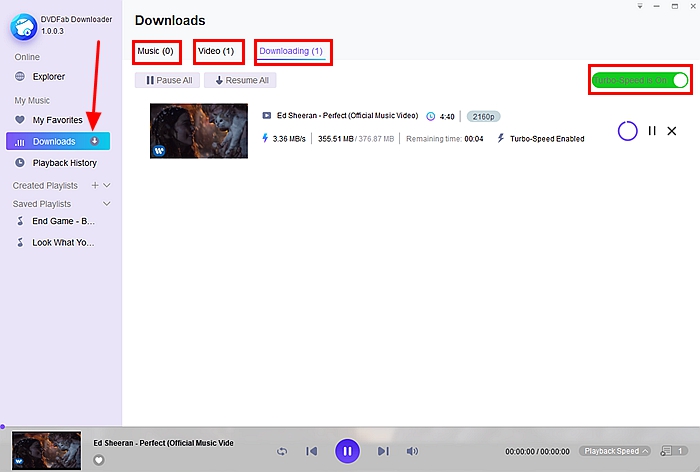 To convert YouTube music to iTunes, this program can be of great help. Download now and enjoy excellent experience you rarely see before.
4. Which Websites Provides Downloadable Videos?
how to convert music to iTunes from YouTube is perfectly solved, but here comes another question: what kinds of websites this downloader can support? DVDFab Video Downloader now supports more than 200 websites. To define what these websites are in a clear way, we made a list that assigns them into three groups, social networking platform, video-sharing website and News websites. Each one of them lists a couple of top competitors on the basis of their popularity.
Social Networking Website
Twitter
is an American online news and social networking service on which users post and interact with messages in limited characters.
Facebook
is an American social networking website where users can communicate with each other by sending texts, pictures, films and etc.
Funny Video Website
Cracked
is America's Only Humor Site, filled with funny videos, pics, articles, and a whole bunch of other funny stuff.
Comedy Central
is home to comedies, full of diverse amusing shows and programs.
Academic Communicative Platform
AcademicEarth
an online video resource for college academic lectures.
Camdemy
is a broad platform for people passionate about teaching to share their learning experience and skills.
5. Learn More about DVDFab
If you are a video collector, DVDFab Video Downloader is your tailored YouTube to iPhone music Converter. What's more, the DVDFab 11 software offered by DVDFab Software is an all-powerful solution package for music, video and movie collectors to copy their seas of disc collections at home for non-commerical purposes; convert those discs for enjoying on iPhones, iPads, and any other Android smartphones or tablets; totally and permanently remove the Cinavia watermarks planted in the audio tracks of these discs; and create premium DVDs, Blu-rays and 4K Ultra HD Blu-rays using their daily captured videos of all formats.
6. Conclusion
DVDFab Video Downloader is an advanced YouTube to iTunes music Converter. Equipped with a lot of practical features and considerable services, it lifts the burden a user may have during video downloading and gives a friendly and comfortable experience to its users. It makes the full use of technology and make the world a better place.
More Products You May Like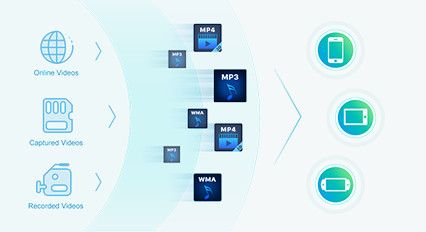 DVDFab Video Converter
The all-inclusive video conversion software to convert videos to different formats, with powerful editing features to further polish the converted videos
Free Download
Free Download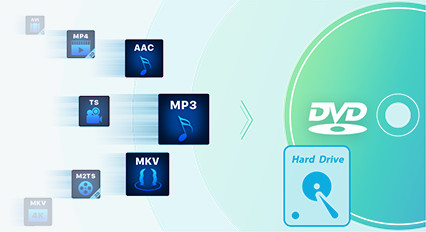 DVDFab DVD Creator
An advanced DVD authoring software that allows home users to produce professional DVDs compatible on all the standalone home DVD players
Free Download
Free Download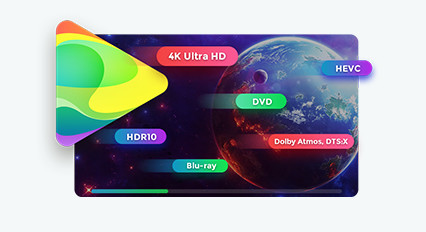 DVDFab Player 5
A premium H.265 video player that is capable of playing back H.265 encoded videos, with stunning video quality, and regardless of what the file containers are
Free Download
Free Download