1. Something Matters When You Download Online Videos
Before we finally make the decision in terms of the choice of YouTube video Converter for Android app, we should keep in mind there are some standards we should follow in terms of choice of downloader. Mastering them can lead us to satisfactory results as well as avoid unnecessary troubles. *Friendly UI: Generally, many people are fond of friendly designs as it can be translated into fewer steps to objective, saving lots of trouble that would have come up easily in a complicated design. Further, conciseness also represents an ideology of beauty, a popular design concept that has a lot of followers. A combination of functionality and artistic beauty will likely capture your heart. *Easy to install and update: Installation is crucial to your experience, as it is the first point of contact, deciding the first impression left upon you. So if you want to cut the trouble of choosing among a labyrinth of options, exclude those which have long installation processes and/or require frequent manual operations. This will ward off most irrelevant downloaders and help you focus on better choice. Besides, easy to update is also important. Users are required to update regularly for some purposes, such as adding new features or patching bugs. If the update is too long or complicate, users may just ignore it, bring in potential risks for themselves.
2. The Best Program Recommended - DVDFab Video Downloader
Nowadays, video downloading is becoming more and more popular, but during this process, problems users are facing are not a few. If you expect more clear pictures, more speedy download, more convenient subscriptions, more videos download at a time and others, the iPhone YouTube Converter app is always waiting for you.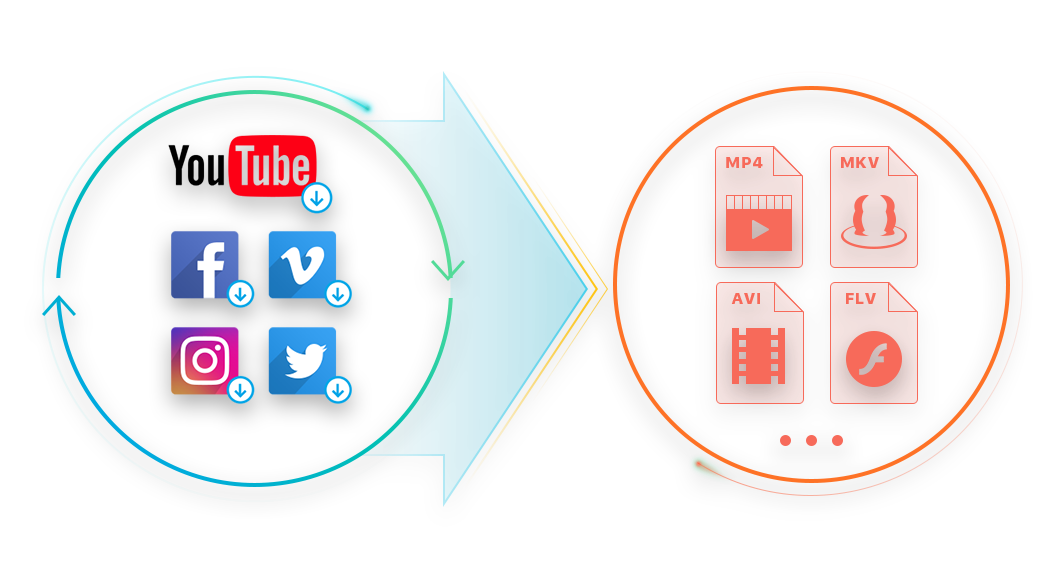 Download HD Videos

Presently, 4K videos are widely delivered on people's smartphones and tablets. But, when it comes to video downloading, scenes are usually unsatisfactory for blurry pictures or words. To meet human expectations of clear visual enjoyment, this iPhone YouTube Converter app can provide the best video resolution, even to 8K.

Multi-task Download

To meet the need of users in multi-task download, this iPhone YouTube Converter app breaks the limit of uploading one video at a time and increases the number of video download to 5. So, you can download 5 videos at a time, which is much easier, compared to online video download where you need to download another video after the last video download is finished.

Download a Playlist

Thanks to the playlist, it keeps countless videos from all kinds of websites in order based on different categories. Then, if you are interested in a specific category, using this YouTube video Converter app Android for playlist download will give you an opportunity to enjoy all the videos in that playlist.

Save a Playlist

Now, the YouTube video Converter app Android creates a new function, helping users to save their playlist. Each time you find or download a playlist, you can add it to the place of "saved playlist" in this program and easily find that playlist when you want to watch it.

Turbo-Speed Download

The faster the download speed is, the more videos you can download in limited time. With the help of this YouTube video Converter app for iPhone, Turbo-Speed download enables you to download videos faster at the same time. No matter how many videos you want to download, DVDFab Video Downloader will finish it fast.

Download Metadata

Metadata, the most basic and specific information, is often used in various fields. So, metadata download is the first choice for a great number of users. To meet the need of most users, the YouTube video Converter app for iPhone makes metadata download easy and convenient.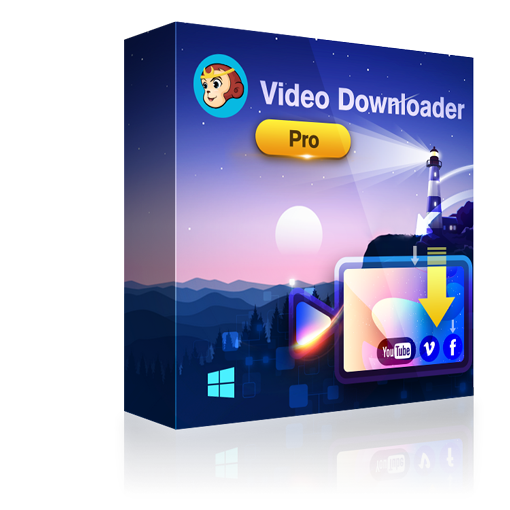 DVDFab Video Downloader
DVDFab Video Downloader This YouTube video Converter app Android can provide you with a complete set of tools for video download
Free Download
Free Download
3. How Does This YouTube Video Converter App Android Work?
Do you have a clear sense of what DVDFab Video Downloader can do? The next section will show you how this YouTube video Converter app Android works through only three steps.
Step 1: Download and install DVDFab Video Downloader
This YouTube video Converter for Android app is now available. You can download it from the DVDFab Video Downloader page and install it according to the direction.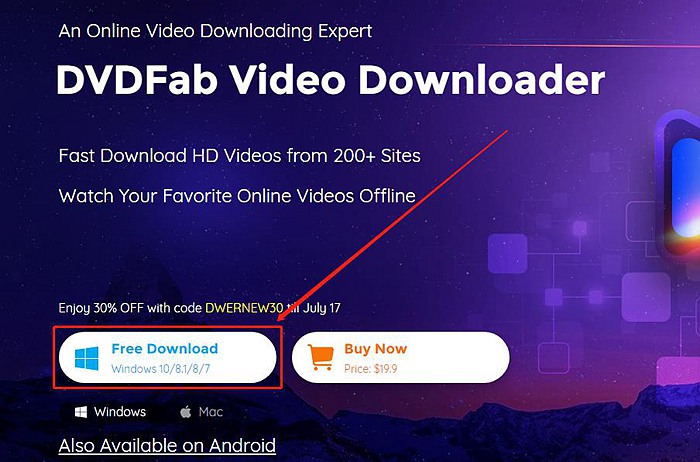 Note: Because of the existence of default settings, or preset controls, the system will operate in the way it is designed to. However, you can customize it by changing settings manually. Open the app, click the triangle-shaped button on the top right corner. Click "Settings" button, and alter specific controls as you like. You can change the language in the Language option. For the option of Video Directory, click the Folder icon to select a new directory to save the output video. For the Download Video, we recommend to choose "Ask me each time". That's because an interface will pop up indicating the resolutions you can choose after you click Video under Download button.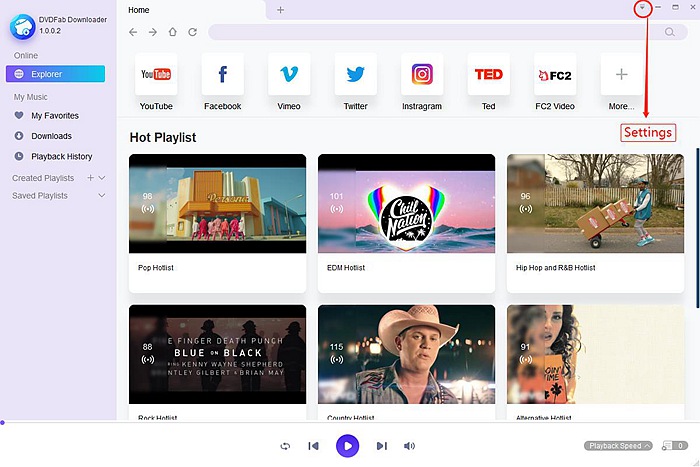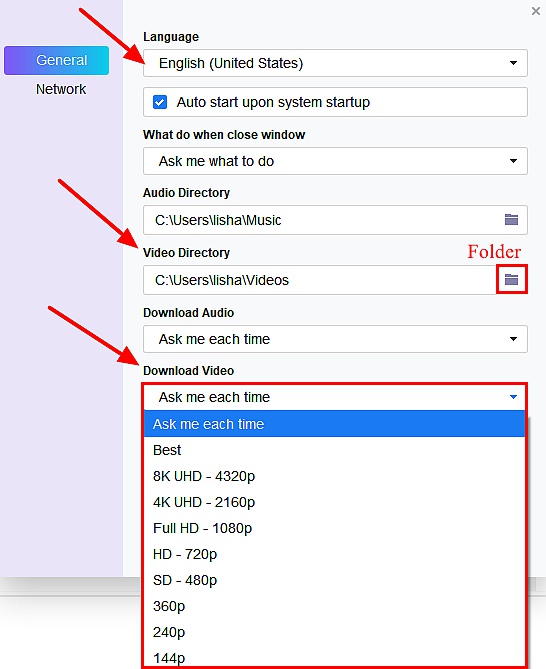 Step 2: Find the video you are to download
To download videos with this iPhone YouTube Converter app, you should let the app know what videos you want to download first. There are two options for you. First, paste the URL of the video on the search bar which is right on the top center of the interface. Second, search videos in the websites listed below the search bar.
Once it is done, a suspending bar where three elements, "Add to", "Play" and "Download", are included will show up. To help you better understand their functions, we will make a breakdown of them before the download part is introduced to you.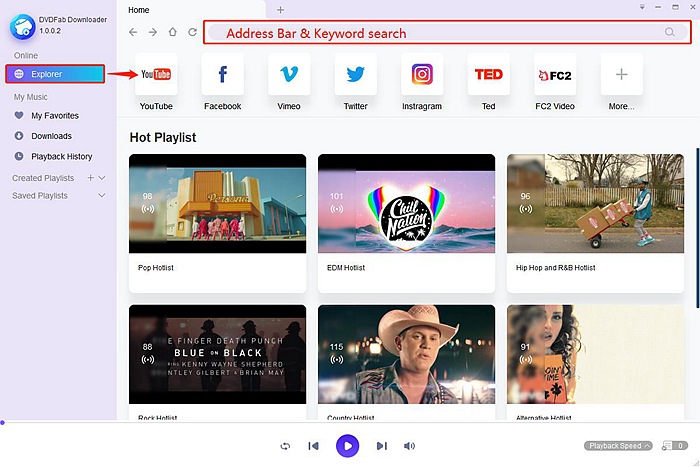 Add to favorite or Created Playlist
When it comes to this YouTube video Converter app Android, playlist management is a topic you may care about. We provide abundant options for users to manage their playlists, including adding works to playlist or creating playlists. The first button on the suspending bar is an add feature, which can help you add videos to "My Favorites" or "Created Playlists". In case you ask how to create playlists, it can be done by clicking the "plus" button on the "Created Playlist" section in the left column, and you can also rename it.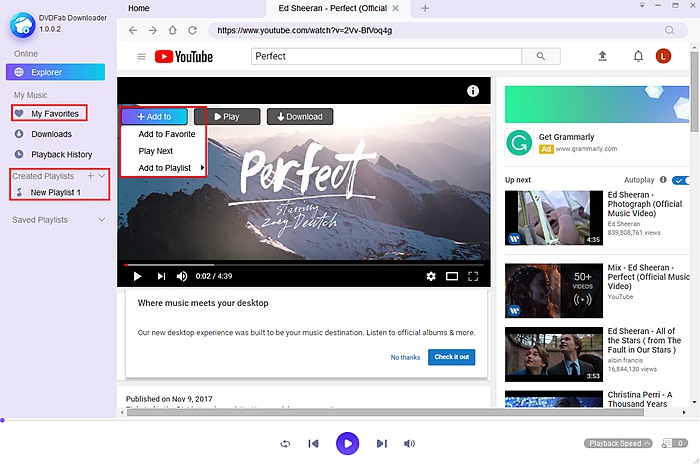 Download a playlist or save a playlist
This YouTube video Converter app for iPhone can not only download single videos, but also support playlist download. You can identify playlists to be downloaded in the same way as you identify a single video mentioned above. Once it is done, hover your mouse on the "Download" button, and click the "Playlist" button that appears next. A new interface will come up, choose the settings on each item, such as video quality before clicking the "Download" button.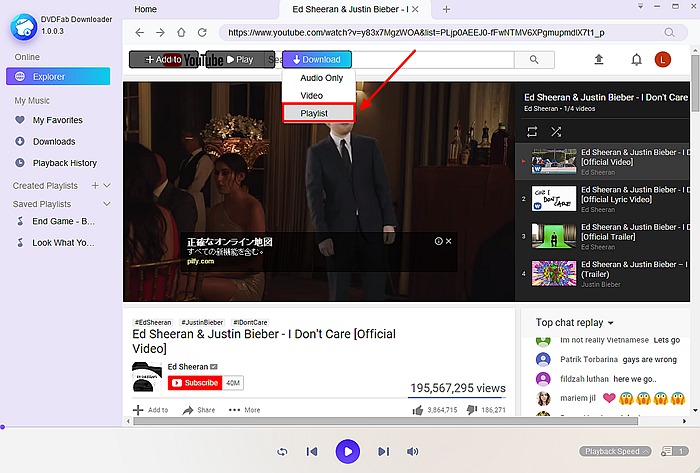 To save a playlist is even more simple. Just hover your mouse on the "Add to" button on the suspending bar, and click the "Save Playlist" button that pops up next, and the playlist will be saved in your account. You can check it out on the "Saved Playlist" section in the left column.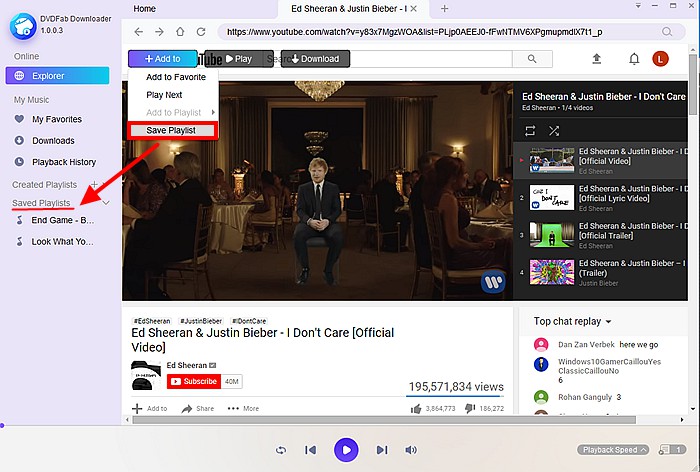 How the Play button works?
One of the most important functions in this YouTube video Converter for Android app is a built-in player, which you can use to play songs or videos online or offline. You can find the "Play" button on the middle of the suspending bar, click it and a whole new interface will appear.
The interface is very simple to understand. As you can see, it can be divided into three parts: the left part includes three elements, representing "add to favorite", "download this video" and "delete this video" respectively; the central part has no difference with other players, including five buttons, which, from left to right, stand for "play mode", "play last video", "play or pause", "play next video", and "volume control" separately; The right part has three elements, of which the first refers to progress/duration, the second "play speed" and the third "current playlist".
Particularly, you can switch the play interface to the main interface or vice versa by clicking the album cover on the far-left of the play interface.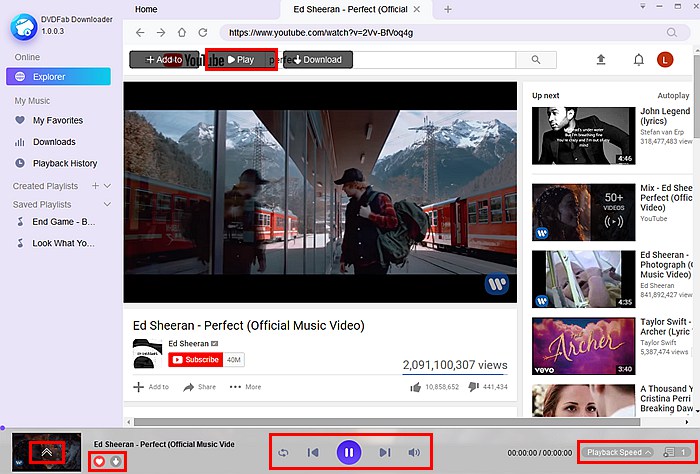 Step 3: Download Videos
The last step is to download videos with this YouTube video Converter app Android. It's very simple. Hover your mouse over the "Download" button on the suspending bar, and click the "Video" button. Then the download interface will come up. Get the settings right and click the "Download" button, the download process will begin immediately. You can check the progress on the "Downloads" section in the left column where three subsections are included, namely "Music", "Video" and "Downloading". The first two of them represent downloaded work, and the third downloading works. By the way, on the top right corner is a Turbo-Speed button, you can let it on when you download videos to accelerate your download process.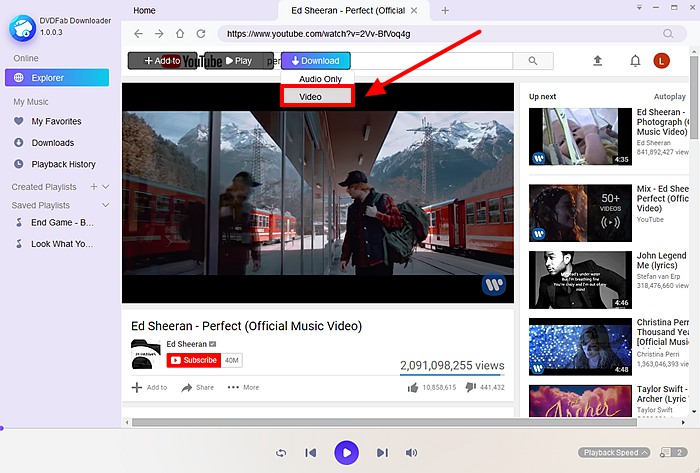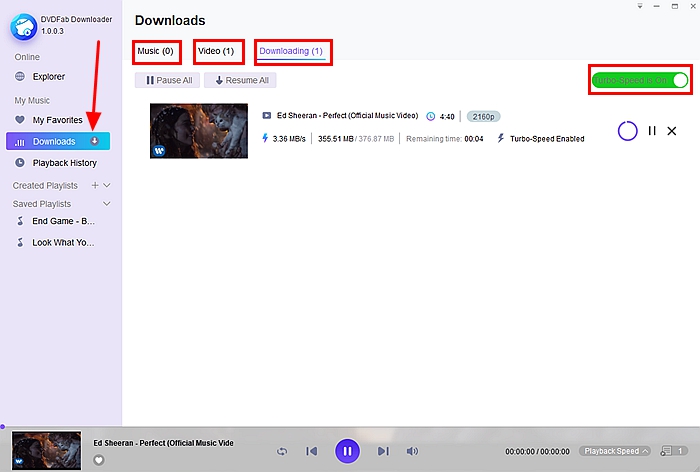 Now we have shown you all the steps and details, so we believe you must have learned how to download videos with this YouTube video Converter app for iPhone. Do not hesitate to download the program and have a free try!
4. Examples of 200+ Supported Websites
DVDFab Video Downloader is not only an excellent YouTube video Converter app for iPhone. The following table shows you some examples from which you can download videos with the help of this program.
Social Networking Platform
Instagram
is owned by Facebook, Inc. This app allows users to upload, edit, organized and share photos, videos & messages with friends & families.
Twitter
is an online news and social networking service where users post messages and interact with the world about news, entertainment, sports, politics, and more.
Video-sharing Website
Vimeo
is an open video sharing site that provides creators with tools to host, share, and stream videos in high-definition quality with no ads.
TED
TED Talks are speeches from expert speakers on their personal experience, knowledge and attitude to the world they are living in. Its slogan is "idea worth spreading".
News Website
CNN
is a website on which users can view the latest news and breaking news for the US, world, business, entertainment, sport, travel, health and videos.
BBC
the world's oldest national broadcasting organization, including, BBC news, sport, culture, TV, radio , video and more.
5. What Does DVDFab Do?
DVDFab Video Downloader is an excellent YouTube video Converter for Android app. DVDFab Software, the actual owner of the famous DVDFab brand, offers the most comprehensive solutions for users to copy, rip and burn DVDs, Blu-rays and 4K Ultra HD Blu-rays, convert those discs to watch on smartphones, tablets and any other video players, playback those discs on desktops, laptops and HTPCs with native navigation menu support that rivals cinema experience, and get rid of the notorious Cinavia protections from those discs for uninterrupted playback on any devices.
6. The Final Thought
Considering the multiple roles of a video in life, a video tends to bring people pleasure, knowledge and good ideas. From this perspective, the more videos you hold, the more happiness you gain. So, why not ask DVDFab Video Downloader for help to download your favorite videos faster than online downloading and make you more delighted, informative and innovative? It is my great pleasure to introduce this YouTube video Converter app Android, and I hope DVDFab Video Downloader can be your best companion when downloading videos.
More Products You May Like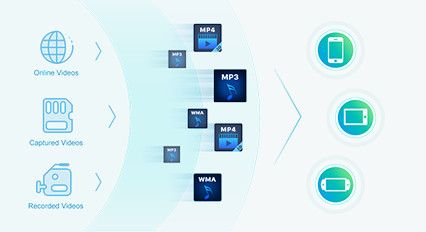 DVDFab Video Converter
The ultimate video converter software that not only converts your videos to tons of different formats, but also helps edit the converted videos in a professional way
Free Download
Free Download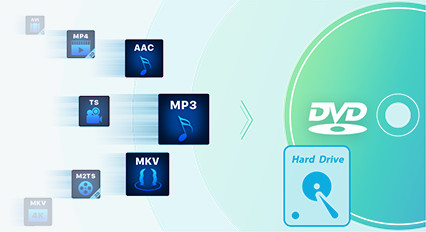 DVDFab DVD Creator
The extremely popular DVD burning software that can help turn the videos recording happy life moments into DVDs that make it easy to share among friends and family members
Free Download
Free Download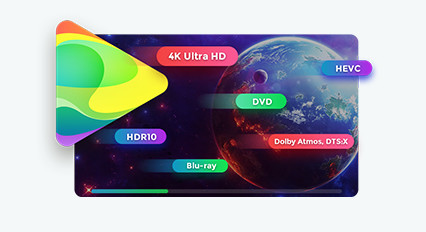 DVDFab Player 5
The only HDR media player software by far that allows to playback HDR contents in SDR mode, if users don't have an HDR enabled display or 4K UHD TV at home
Free Download
Free Download