1. Preliminary Things You May Need to Know about YouTube Video Converter
Selecting a video downloader on a website is similar to buying a kind of stuff in a supermarket. The impetus to pay is the function of this product. Nothing is more important than the fact that the software you buy can help you to convert YouTube video to video based on your requirements. Now, not matter your desire is to playback your favorite videos offline, or to download videos from popular websites, or whatever, there is always a product to satisfy your demands. Have you found it? The following part will offer you some suggestions.
2. Excellent Program Recommended - DVDFab Video Downloader
This Converter video YouTube is capable to download videos from any website. Simply speaking, it can satisfy all your needs in video download. 8K videos, 10X download speed, 5 tasks to be downloaded simultaneously, and more attracting features wait for you.
It is time-consuming to download videos at normal speed. How about ten times faster than the normal speed? This desire can be fulfilled by this
download Udemy videos
, the expert to download videos from 1000+ websites.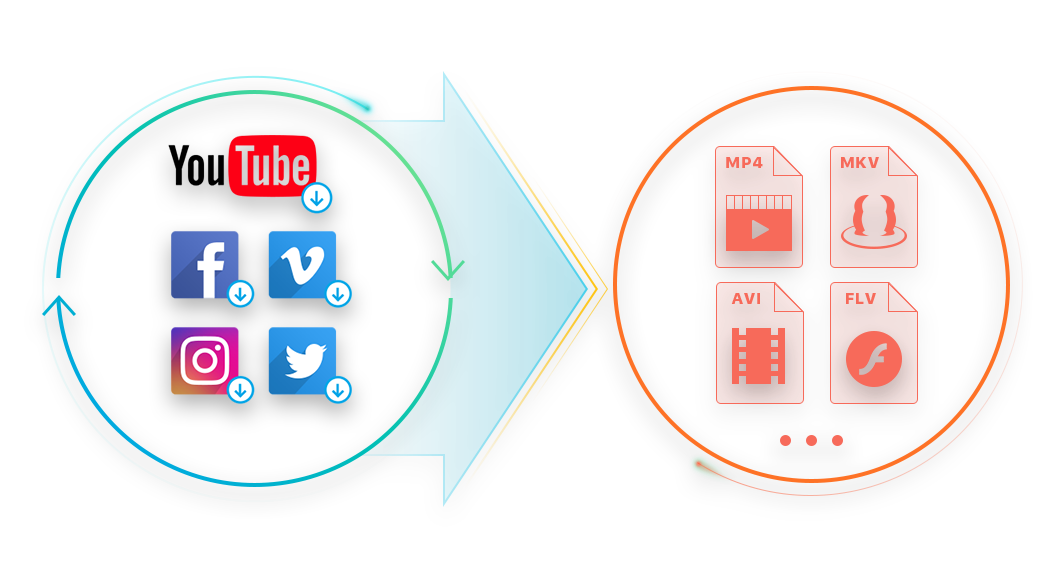 Download HD Videos

Thanks to the progress of technology, we come to the world of 8K video. Can 8K videos be downloaded with the same video resolution? Of course. This Converter video YouTube has the ability to download HD videos and even 8K videos. You can let her be your lifelong friend in video download.

Multi-task Download

Time is precious and we all aspire to finish numerous things at one time, such as downloading multiple videos simultaneously. Now, your dream will come true with the help of this Converter video YouTube. It brings you a surprise to download 5 videos at a time?

Download a Playlist

Generally speaking, various kinds of video playlists have been arranged based on special subjects and categories. This best YouTube video Converter allows users to download the whole list by pasting the URL of the playlist, making more video easily accessible.

Save a Playlist

If you aspire to save a playlist, ask this best YouTube video Converter for help. The operation of saving a playlist is very simple and easy. In the first place, keep the playlist playing. Second, click Save Playlist under Add to button, and your playlist will be saved.

Turbo-Speed Download

High-speed downloading is the pursuit of all users. Considering this need of clients, this YouTube Converter video offers 10X faster download speed, making single-task, playlist-task, multi-task download more rapid and fluid.

Download Metadata

Metadata is of great importance for users to know the basic information of videos in detail. For those who want to download videos with metadata, this is a good chance to use DVDFab Video Downloader. With the help of this YouTube Converter video, you will know all the basic information of your downloaded videos.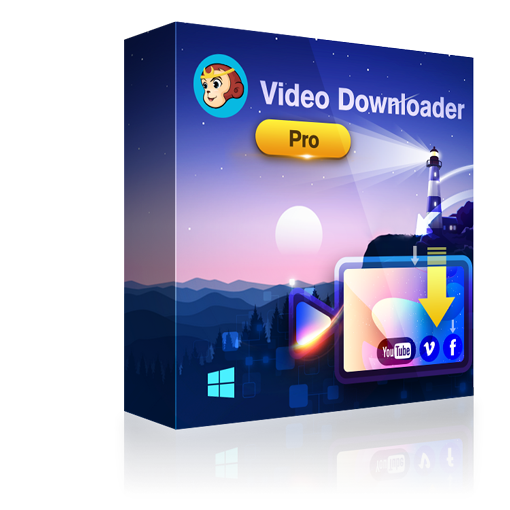 DVDFab Video Downloader
DVDFab Video Downloader Excellent YouTube video Converter, specially assisting you to auto-download updated subscriptions, freely and effectively
Free Download
Free Download
3. The General Workflow to Use the YouTube Video Converter
The features described above make DVDFab Video Downloader outstanding in functions. You may then ask how this YouTube video Converter works to perform those features. The following sections will express it.
Step 1: Install DVDFab Video Downloader
DVDFab Video Downloader is a powerful program. To use this video Converter YouTube, you need to download this program from the page of DVDFab Downloader first. That's because this program is a product module of DVDFab Downloader. Then click Free Download button and install this program.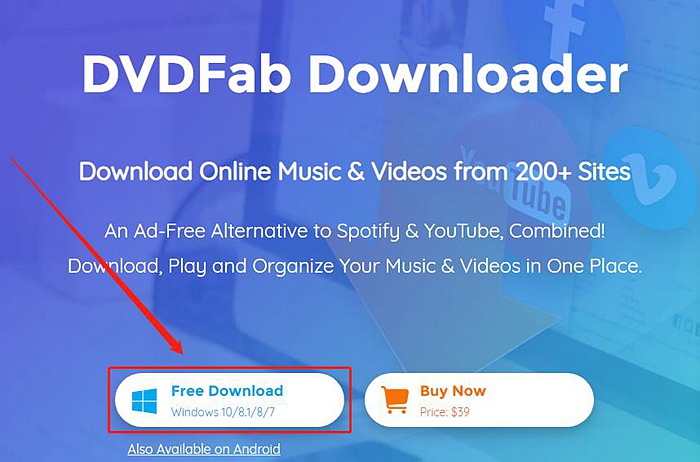 Note: Start this video Converter YouTube. Before using it, you may need to do some preset. Click an upside-down triangle on the right top corner, then a list will appear where you may click Settings. A new panel will show up where Video Directory and Download Video need a little more attention. For Video Directory, click the Folder icon to select a new directory instead of the default one to save your output video if needed. For Download Video, unfold all options and you will see Ask me each time, Best, 8K UHD-4320p, 4K UHD-2160p, Full HD-1080p, HD-720p, SD-480p, 360p, 240p and 144p.
If you choose "Best" option, this software will recognize automatically the best quality of video to be download. If you choose "8K-4320p" option while the original video quality doesn't reach this standard, then the program will download the videos with the best quality automatically. Here we recommend you to choose "Ask me each time". That's because, for this setting, you will be presented a panel where you can choose one from different resolutions after you click Download button to download your preferred video.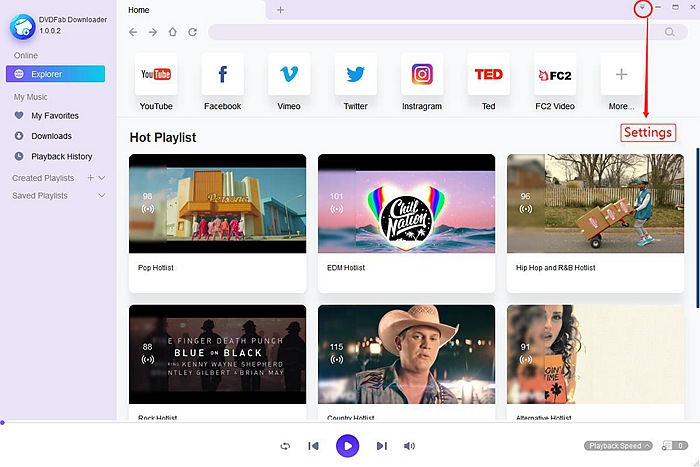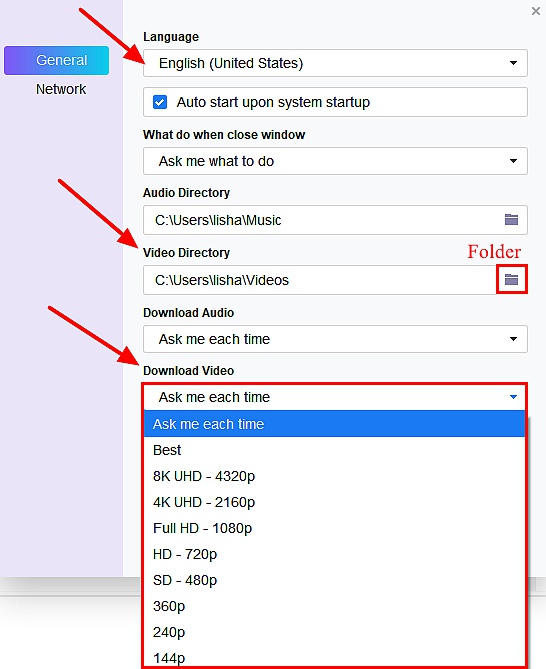 DVDFab Video Downloader devotes itself to exploring new functions to catch up with users' needs in video downloading. If you want to learn more things about video downloading, you can read this: https://www.dvdfab.cn/video-downloader/internet-video-downloader-free.htm
Step 2: Find a video you preferred
How to find a video before you convert YouTube to video file? Two methods are provided here. First, paste the URL of your preferred video into the search bar for searching. Second, click any app in the upper part of interface, such as YouTube, Facebook, Twitter, etc. or click More to explore a video that attracts you. Play this video. And Download button will appear, as soon as the playing video information is completely analyzed.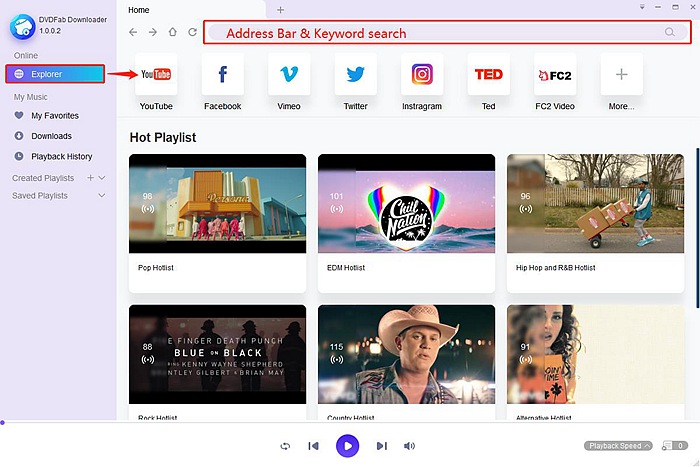 Add Videos to My Favorites or Created Playlists
This YouTube video Converter can do a lot. For playing YouTube video, we will show you how this program works. When you are playing a YouTube video, three buttons, Add to, Play, Download, will show up on the screen. Move your mouse cursor to the Add to button, two options will be noticed, Add to Favorite and Add to Playlist.
Add to Favorite means to save the playing online YouTube video to My Favorites lying on the left side of the interface. Add to Playlist will not work unless you have created a playlist under Created Playlists. Therefore, you may need to click + to create a new playlist. After refreshing the video page, Add to Playlist will be active.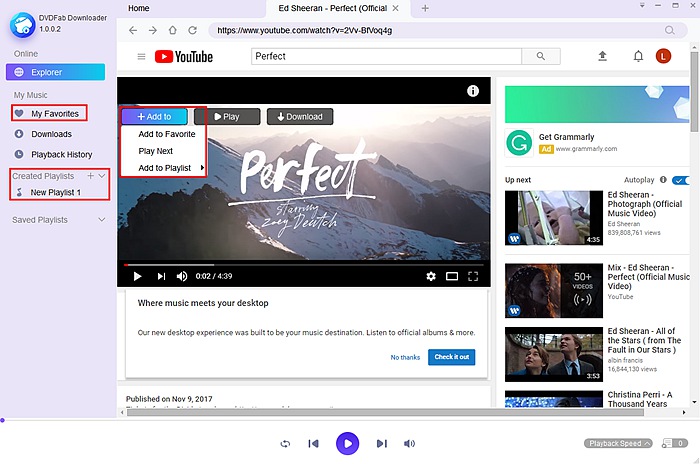 Download and Save a Playlist
As an expert to solve problems on how to convert YouTube videos, DVDFab Video Downloader can offer more. When an online playlist is played, this program will recognize it automatically. Click Download button on the suspending bar, you can notice that a new option, Playlist, is added in. If you click this Playlist, a new panel pops up for you to choose to download a video, several videos or all of them. Click Add to on the suspending bar, you can notice that a new option, Save Playlist, shows up. If you click this Save Playlist, the online playing playlist will be saved under Saved Playlists on the left column.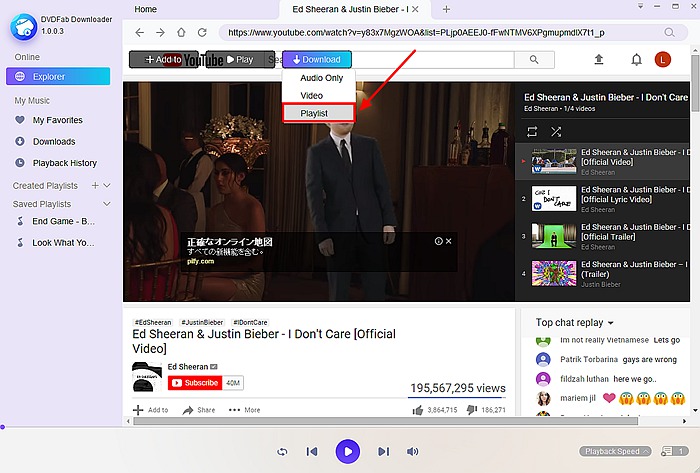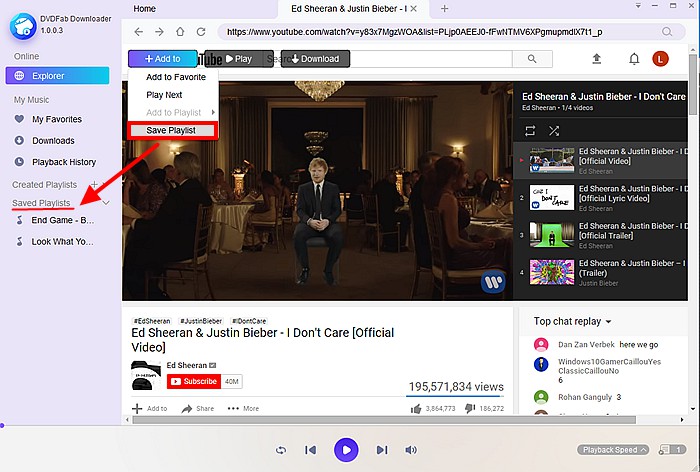 DVDFab Video Downloader, compatible to Windows or Mac, can also be used on mobile phones to YouTube to iPod Converter online. Follow this expert and wander in the world of videos.
Play button
You may want to play a video when you convert YouTube video to video. A Play button will appear when a video URL is analyzed by this program. Click Play button to play the video. A new playing interface will pop up. On the left side part of the bottom bar, a small heart, an upside-down arrow and an "x" icon can be seen obviously; on the middle part of the bottom bar, a cycling icon, "play last video", "play or pause", "play next video", and "volume control" can be noticed; on the right part of the bottom bar, a playback speed icon needs your attention.
fabnote
Note: Click the album conver, you can unfold the playing page.
         Click the small heart icon, you will add this video to My Favorites list.
         Click the upside-down arrow, you can decide whether to download its audio or its video when a video is playing.
         Click "x" icon, you will close the playing interface.
         Click the cycling icon, not far from the right side of "x", you can select playing mode, such as repeat all, repeat single, sequential and shuffle mode.
         Click the playback speed icon on the right side corner, you can adjust the playing speed as you like.
Step 3: Download videos
This YouTube video Converter can help you realize what you what. You are able to download a video as long as its information has been analyzed by this program automatically. Click Download button showing on the upper side of playing interface. Then the video starts to be downloaded. Click Downloads button located on the left side column, then a new interface will come into sight where Music, Video and Downloading buttons exist. Music and Video buttons represent downloaded works.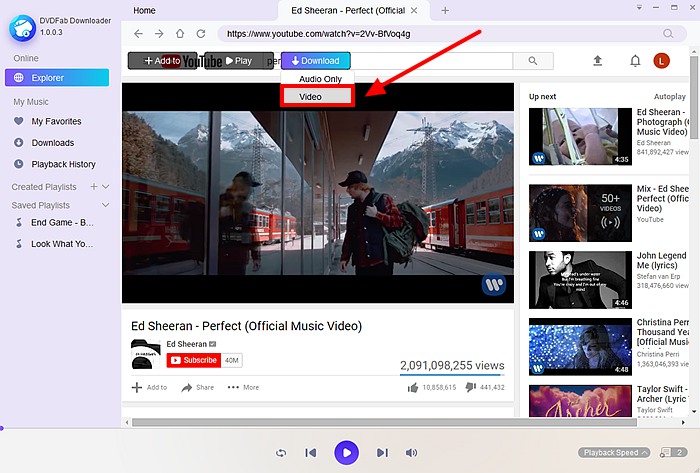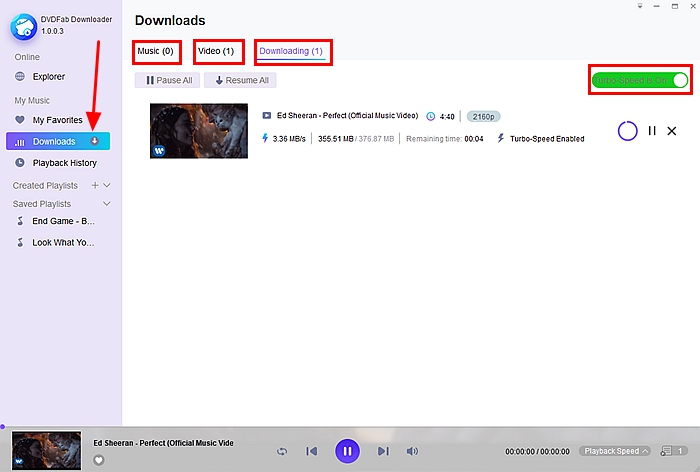 Note: In the process to use this YouTube video Converter, Turbo-Speed download, standing for a faster speed, is available.
With so much detailed information, you must have already know how to convert YouTube videos. Isn't it wonderful? So stop hesitating! Just go and have a try. This program will never let you down.
4. 200+ Video Websites Supported by DVDFab Video Downloader
This Video Downloader is designed to solve how to convert YouTube videos and supports to download videos from 200+ video websites. The following section will list some examples for your reference.
Multilingual Social Networking Platform
Facebook
is a famous American social networking platform, where nearly 140 languages have been used for information sharing.
Twitter
is a popular social networking platform where more than 40 kinds of languages have been used for communication.
Sports Information Platform
Bleacher Report
is American sports media, delivering all kinds of sporting news and entertainment for sports fans.
FoxSports
broadcasts sporting events like World Cup soccer, US Open Golf and etc.
Game-featured Website
eBaumsWorld
collects Flash movies and games worldwide.
GameSpot
offers professional game information and experience.
5. What Connects DVDFab with Users?
DVDFab Video Downloader is an excellent software to convert YouTube video to video. DVDFab Software, the actual owner of the famous DVDFab brand, offers the most comprehensive solutions for users to copy, rip and burn DVDs, Blu-rays and 4K Ultra HD Blu-rays, convert those discs to watch on smart phones, tablets and any other video players, play back those discs on desktops, laptops and HTPCs with native navigation menu support that rivals cinema experience, and get rid of the notorious Cinavia protections from those discs for uninterrupted playback on any devices.
6. Conclusion
DVDFab Video Downloader is an advanced YouTube video Converter. Equipped with a lot of practical features and considerable services, it lifts the burden a user may have during video downloading and gives friendly and comfortable experience to its users. It makes the full use of technology and make the world a better place.
DVDFab Video Downloader, compatible to Windows or Mac, can also be used on mobile phones to download all kinds of videos on websites featuring YouTube. Follow this FB Video Downloader and wander in the world of videos.
More Products You May Like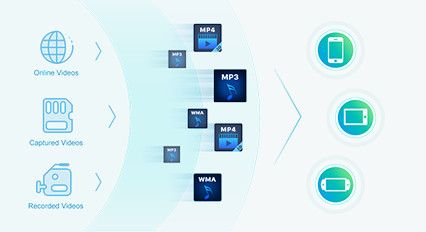 DVDFab Video Converter
A second-to-none video editing and converter tool for users to edit personal videos with different effects and then convert them for popular playback devices
Free Download
Free Download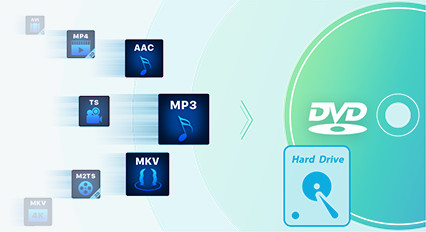 DVDFab DVD Creator
An incredibly easy-to-use DVD burner software that can easily burn home videos of all formats to blank DVD medium for playback on any home DVD players
Free Download
Free Download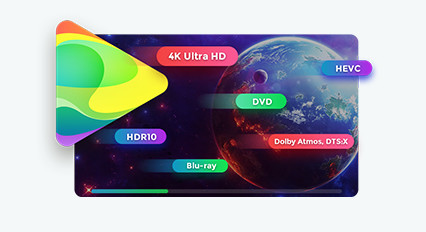 DVDFab Player 5
The world's only complete 4K UHD playback solution that not only plays 4K UHD video files of all formats, but also plays genuine 4K Ultra HD Blu-ray discs, ISO files and folders, with native navigation menu support
Free Download
Free Download