How to Convert Blu-ray Movie to a DVD 5 Disc?
You have a Blu-ray movie and a blank DVD 5 disc, is it possible to convert Blu-ray to DVD 5 for backup or playback with the least damage? Yes, you can do it. Next, I will tell you how to?
Required tool: DVDFab Blu-ray to DVD Converter
Blu-ray to DVD 5 > Step 1: Start up Blu-ray to DVD Converter, open the Blu-ray as source
The download and installation of Blu-ray to DVD Converter is very easy, one can finish instinctively. Run it by clicking "Blu-ray to DVD" option on the left panel, then you need to insert BD or click folder or image file icon beside "Source" to import Blu-ray content in as source. Then specify the region code for the Blu-ray on the following pop up window.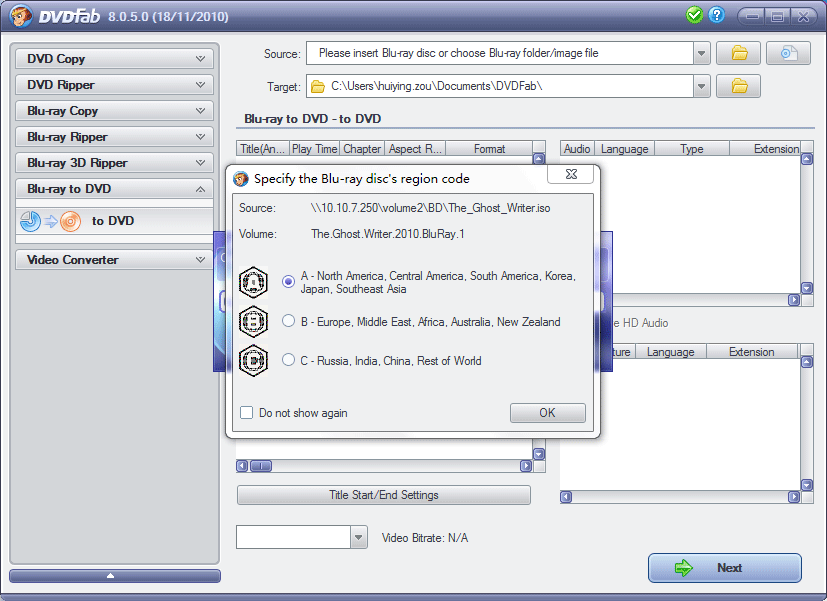 Wait a while for it to be totally opened.
Blu-ray to DVD 5 > Step 2: Set up for conversion
After the source movie is imported in, we should do some settings. Since we'd like to convert Blu-ray to a DVD 5 disc, the target should be write drive, and the output media should be DVD 5. On the right part of the interface, are many subtitles and audio tracks for you to freely select. And the real time preview window in the lower left corner will help to set.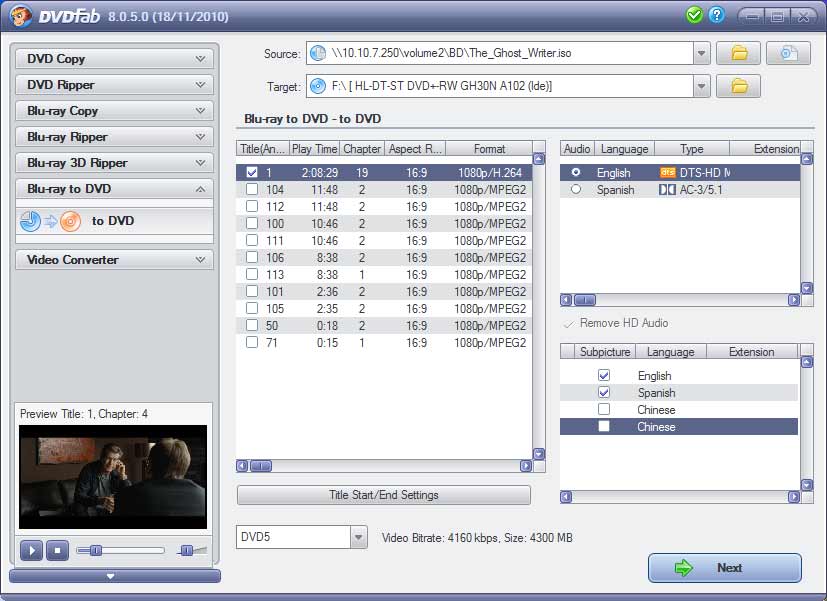 You can use Title Start/End Settings button to range start and end chapters for a title if you just need to convert a segment of it. Or you can click Next button to fulfill this function there.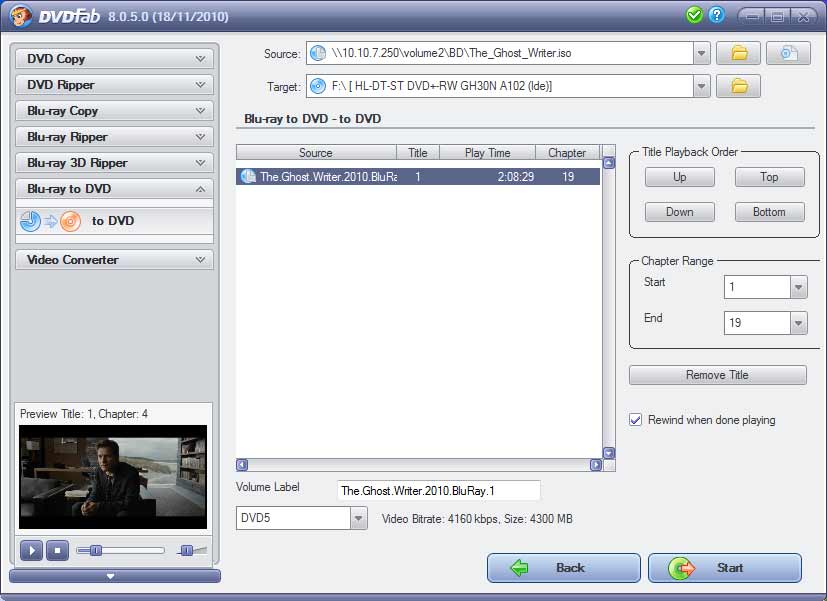 On this interface, besides the Chapter Range function, you can remove a title or decide title playback order if there are more than one title waiting for converting. You can rename the volume label. What's more, you can check "Rewind when done playing" to set "loop" play mode for the output movie.
Blu-ray to DVD 5 > Step 3: Converting process
Hit Start on the main interface to start converting process. You need to insert the DVD 5 disc at your hand to begin write process.

The detailed info with accurate data can be followed about the progress.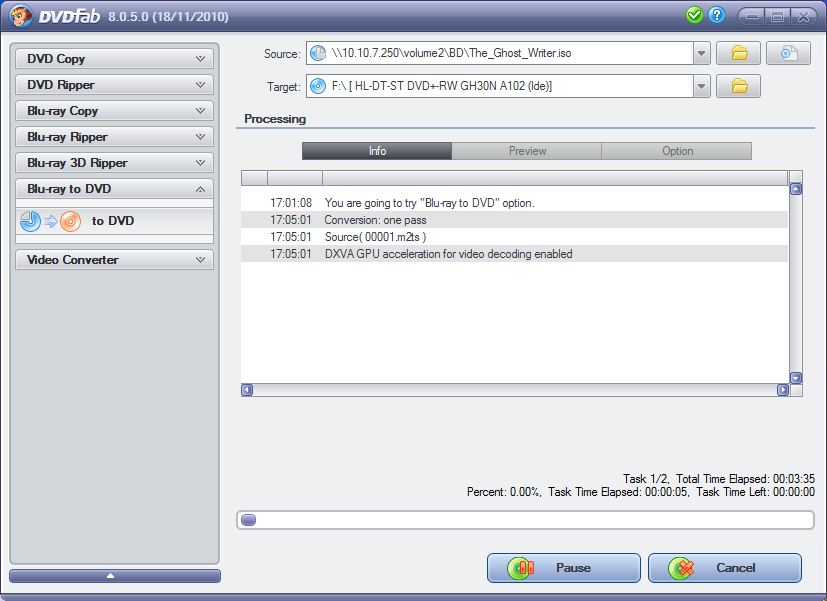 The movie pictures can be previewed while changing with different converting stages.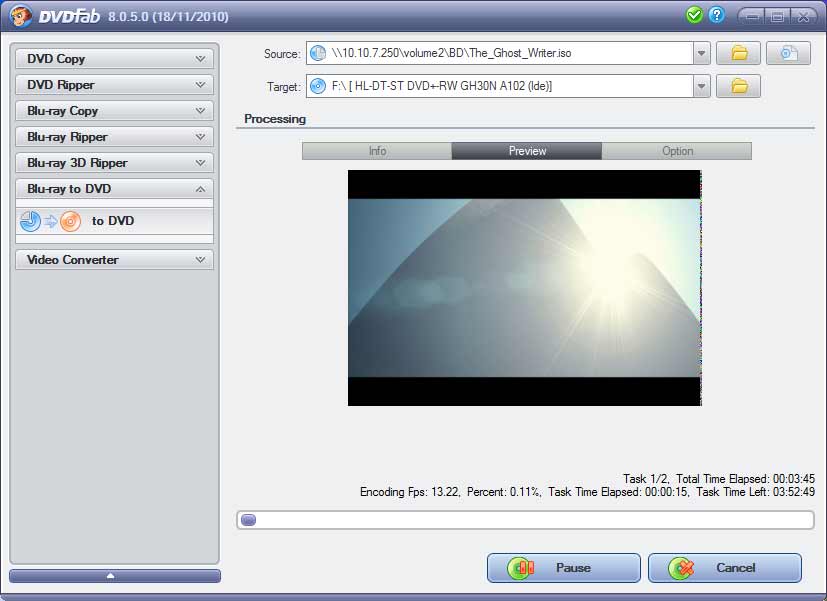 And the auto shutdown function can be enabled to let the PC automatically shut down when finished.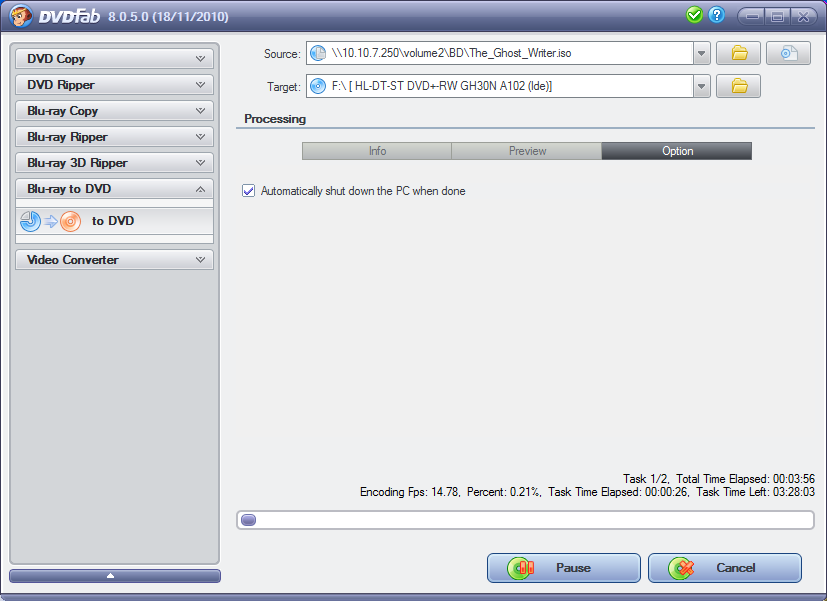 After the converting completes, you will have a DVD 5 disc with Blu-ray movie content. Convenient for backup or display when without any Blu-ray disc or player. Just tell you the trick, you can experience Blu-ray to DVD Converter yourself and decide what to use it for.