How to Rip and Convert DVD to DPG for NDS with DVD to DPG Ripper?
DPG (nDs-mPeG) is a MPEG-1 video format specifically for playback on NDS (Nintendo Dual Screen). Want to watch your DVD movies on NDS? You need to convert DVD to DPG first. DVDFab DVD Ripper is a very useful tool for NDS fans to convert DVD to DPG with multiple editing functions and parameters settings for you to personalize your NDS videos within just a few simple steps.
Rip DVD to DPG for NDS>Step 1: Load DVD
Start DVDFab, go to "DVD Ripper", click "NDS" to open the DVD to NDS mode. Then load DVD movie by inserting your DVD disc.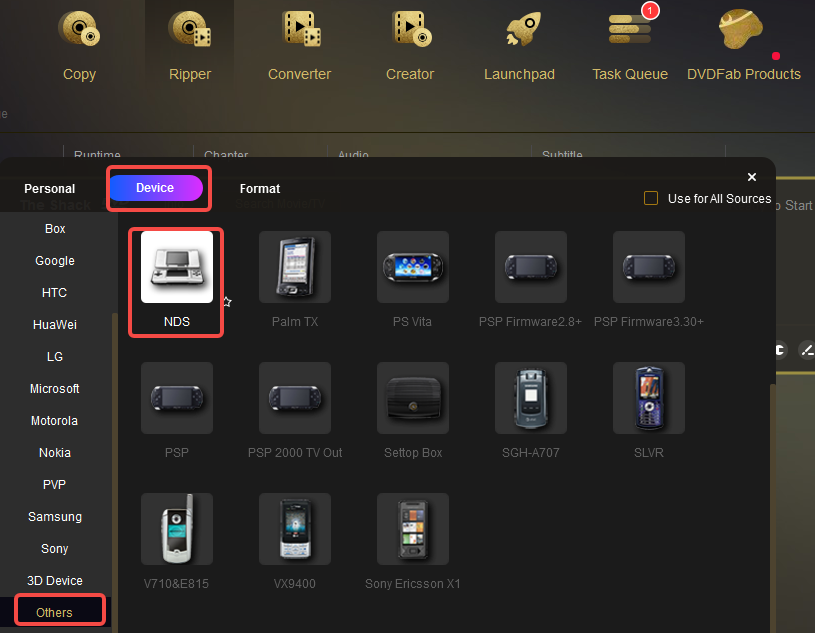 Rip DVD to DPG for NDS>Step 2: Select titles
All the titles will show in the file list after your DVD movie is loaded in. Choose the titles you want to convert to DPG format and further range their start chapters and end chapters to convert parts of them by clicking "Title Start/End Settings" if needed. Set profiles for highlighted titles and select the target audio track and subtitle as your preferred. Don't forget to specify a destination file folder for "Target" to save converted DPG files. By the way, you can also preview the highlighted titles on the left bottom of the main interface.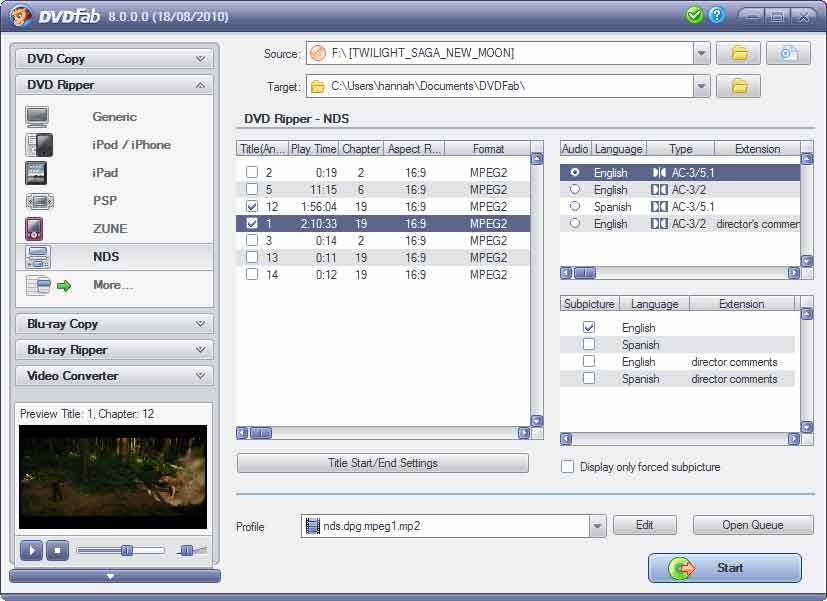 Rip DVD to DPG for NDS>Step 3: Set
Click "Edit" button on the main interface then open Conversion Settings window. Here, you can set the file name and title name if you want. You can also set the video format and audio format. Refer to the video format, specify an encoding method, choose bit rate, file size and frame rate, and decide whether or not to split this title by chapter.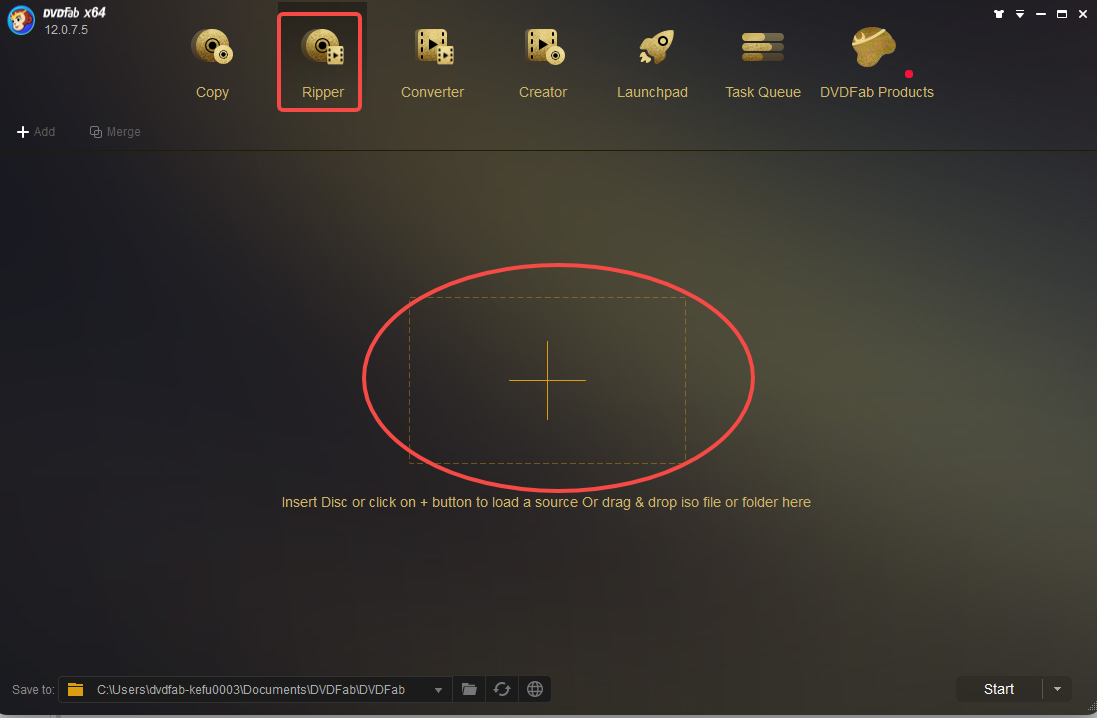 Video Effect Settings:
"Video Effect Settings" button on the Conversion Settings window will enable you to resize and crop the output video to get your favorite effect. "Resize" allows you to resize frame resolution and aspect ratio.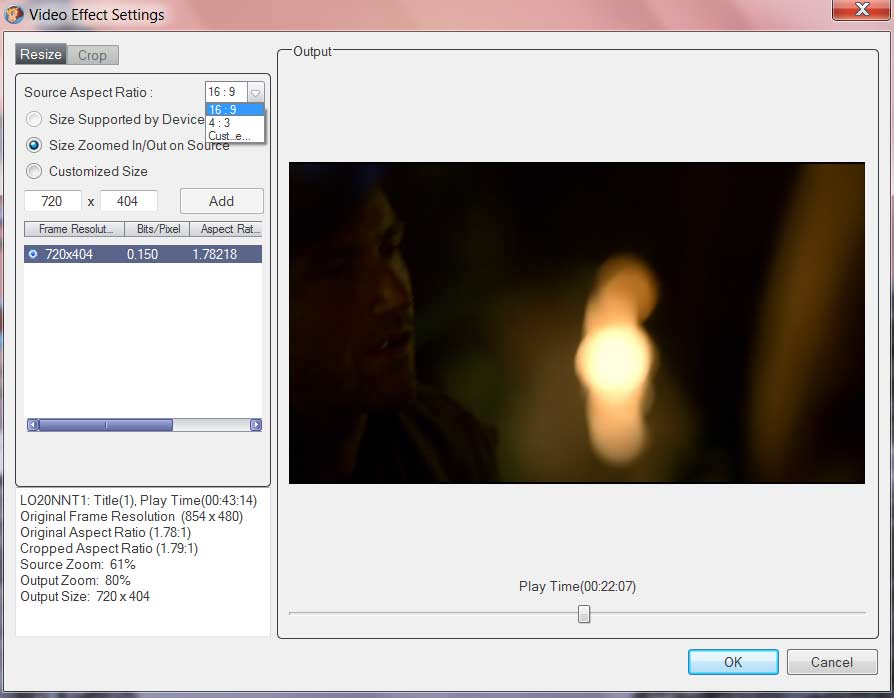 "Crop" let you freely crop the video screen by either moving the frame mark or typing exact crop values into the corresponding four boxes (Top, Bottom, Left, Right), or you can click "Automatic" to cut off the source video's black bars automatically. "Keep Aspect Ratio" won't change your output aspect ratio during the cropping process. And you can decide how to deal with the black bars from Letterbox to Pan&Scan.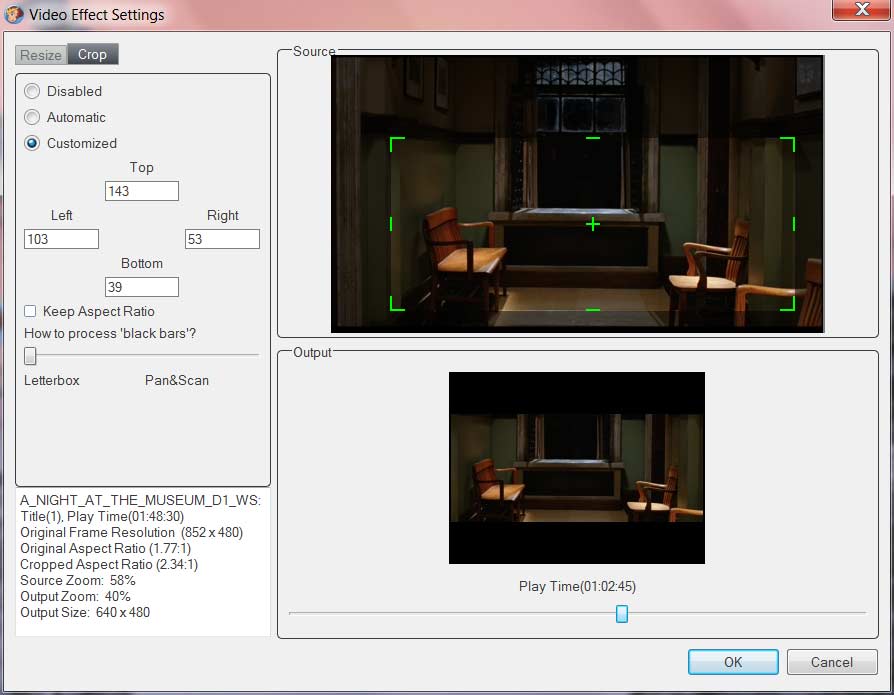 Rip DVD to DPG for NDS>Step 4: Convert
Click "Start" button on the main interface to convert DVD to DPG for NDS.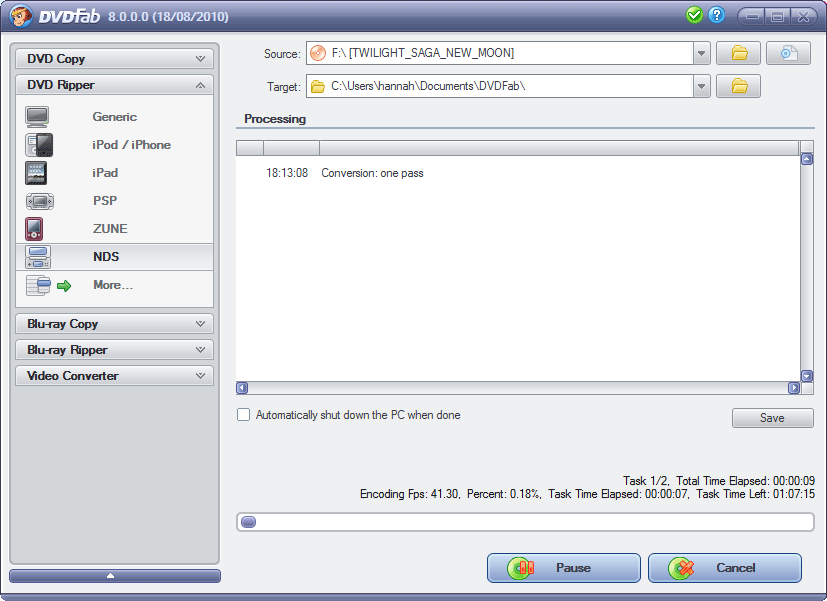 Note: You can view the progress from the progress bar on the bottom of the screen, and if you choose "Automatically shut down the PC when done", the computer will shut down automatically when completed.
See? This is just the whole process of DVD to DPG for NDS conversion. I bet you won't find a better way than this.