How to Rip and Convert DVD to PDA with DVD to PDA Ripper?
PDA (personal digital assistant), also known as a palmtop computer, is widely used to store information that can be accessed anytime and anywhere. But don't neglect its another role—portable media player. You can also use your PDA to enjoy your favorite DVD movies. How? DVDFab DVD Ripper is here, which is a flexible tool to convert DVD to various multimedia devices, including PDA of course.
Rip DVD to PDA>Step 1: Install and run DVDFab DVD Ripper
You can download DVDFab freely and install it easily. Then start up DVDFab, select "DVD Ripper" option, click "PDA" on the left navigation bar.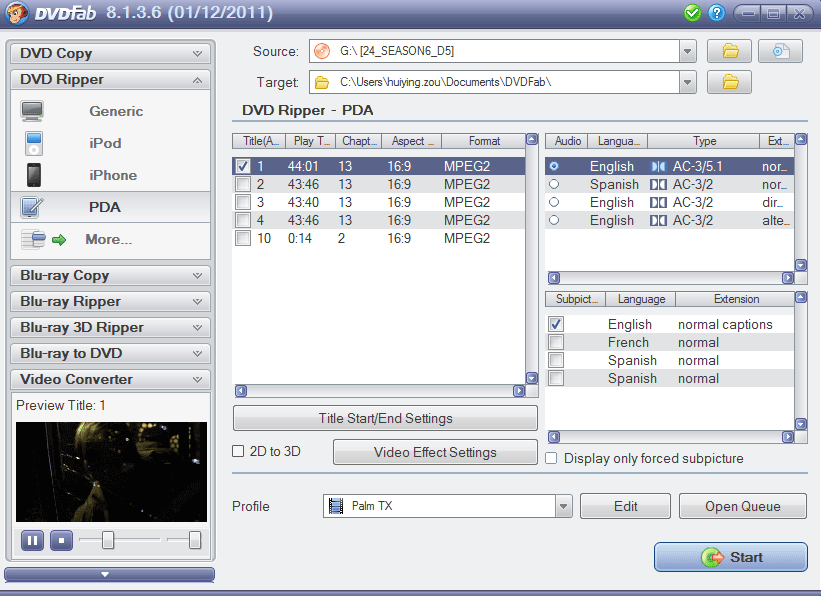 Rip DVD to PDA>Step2: Load DVD
Insert your DVD disc or click DVD folder or image file for the program to load it and open it as the source. It will take only seconds.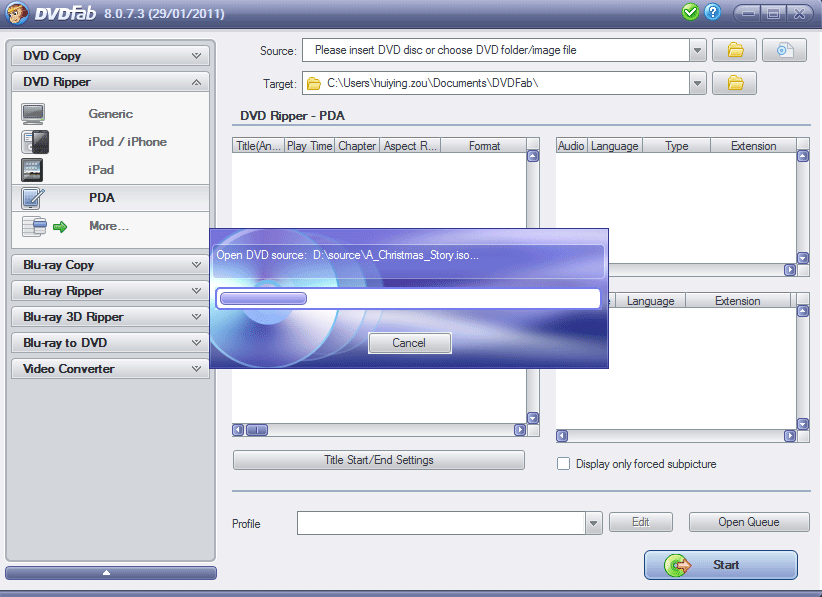 Rip DVD to PDA>Step3: Select
After DVD is loaded in, you can see all the titles of the movie. Just select those you want to convert to your PDA. DVDFab supports batch conversion, so you can select more than one title. On the right of the titles list, you are free to select audio track and subtitle for output. By the way, if you don't want to convert a whole title, you can highlight it and hit "Title Start/End Settings" to select the start chapter and the end chapter to get the exact segment you want. You can also preview titles in the left bottom corner of the main interface.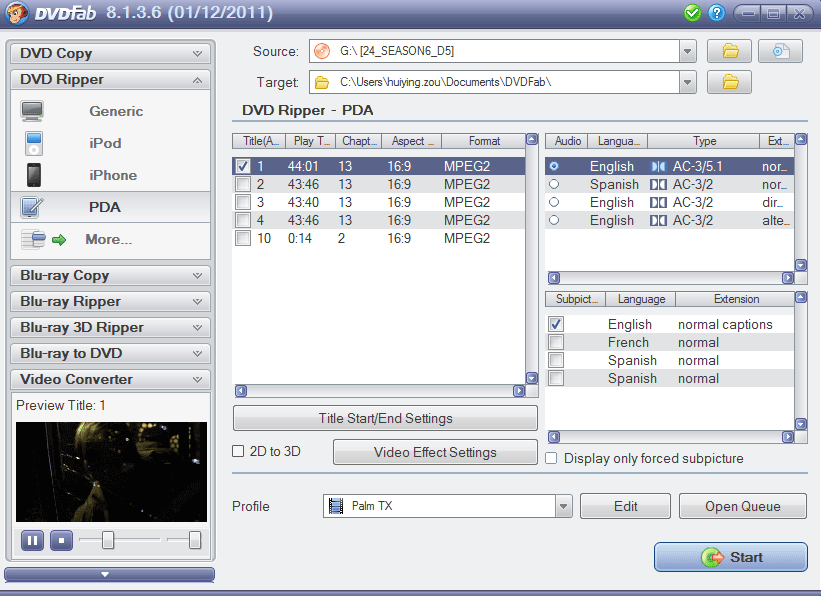 Rip DVD to PDA>Step4: Set
1) Click "Edit" button to bring forth Common Settings window, you can set the video format and audio format here, such as bit rate, frame resolution, aspect ratio, file size, frame rate, channel, volume, etc.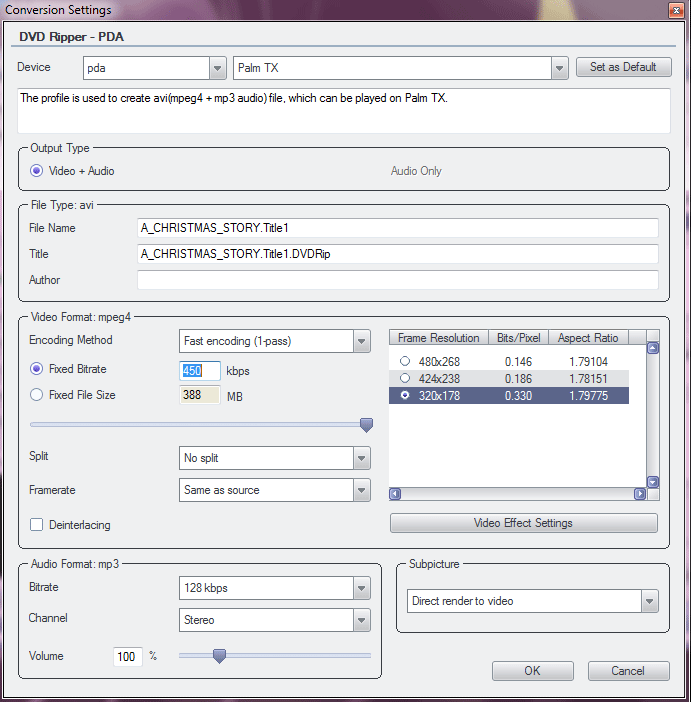 2) Click "Video Effect Settings" of this window to set the output video.
"Resize" lets you reset frame resolution and aspect ratio of the video. In the left bottom corner is the detail information about the video.
While "Crop" enables you to crop your output video automatically, or by adjusting either the crop frame on the source video or the crop value boxes.
Note: If you don't want to change the aspect ratio, just check "Keep Aspect Ratio". You can also set the output size by changing between Letterbox and Pan&Scan mode.
Rip DVD to PDA>Step5: Convert
Once all is set up, hit "Start" button to start converting. The detail converting progress can be viewed as below.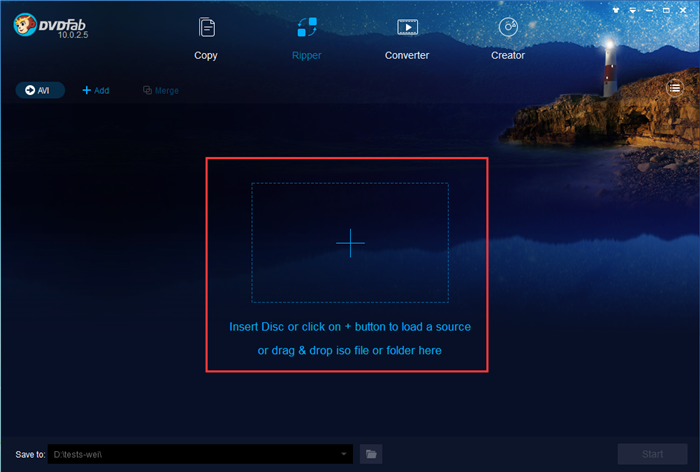 Note: If you check "Automatically shut down the PC when done", the computer will shut down automatically when converting process is finished, and you can release yourself on to other things, just leave DVDFab to do the rest.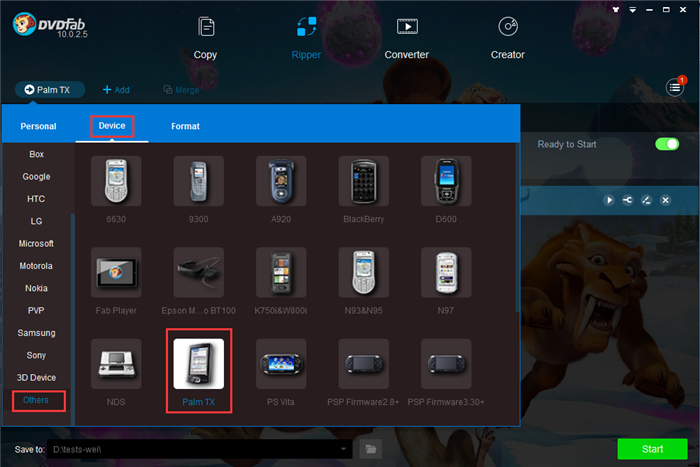 Now, you have known how to convert DVD to PDA with DVDFab, you can turn your PDA into a movie theater if you like. If you want to convert your DVD to any other formats, you can still try out DVDFab DVD Ripper to find a satisfactory answer.