How to Rip and Convert DVD to PVP with DVD to PVP Ripper?
Enjoy DVD movies on a portable video player (PVP) is cool for you to kill time when in journey. DVDFab DVD Ripper is a dear buddy which can rip and convert DVD to PVP such as ARCHOS series, Epson p-2000/p-4000, iAudio x5, iRiver x20, ZEN Vision, etc. in minutes.
Go forward closely.
Rip DVD to PVP>Step 1: Open DVD source
Install and launch DVDFab, choose "PVP" under "DVD Ripper" mode. Insert DVD disc to open it as source.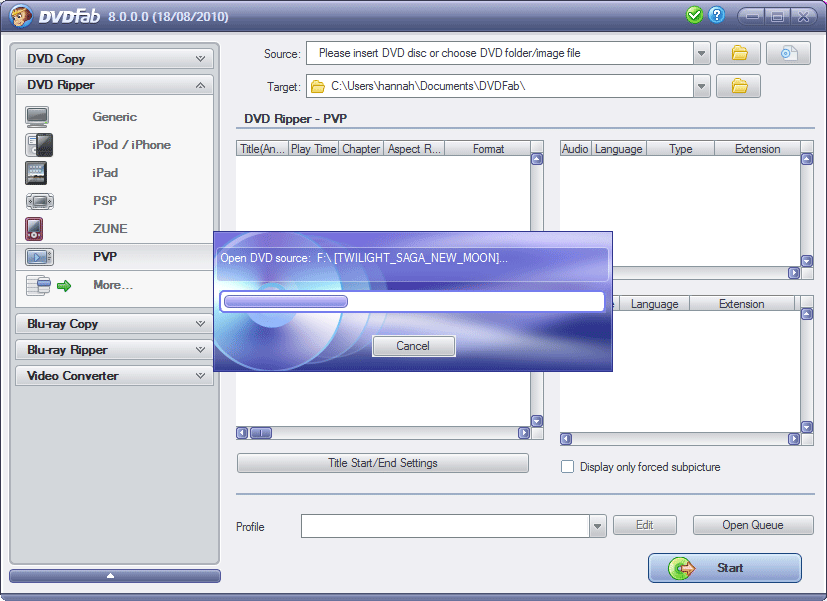 Rip DVD to PVP>Step 2: Choose titles, audio track and subtitle
Once DVD movie is loaded in as source, you should choose from the listed titles for conversion. Please be note that DVDFab supports batch conversion to save your time. Then specify profiles best compatible with your PVPs. There is a built-in video player in the main UI for you to preview titles. What's more, you can pre-set your preferred language of audio and subtitle on the right.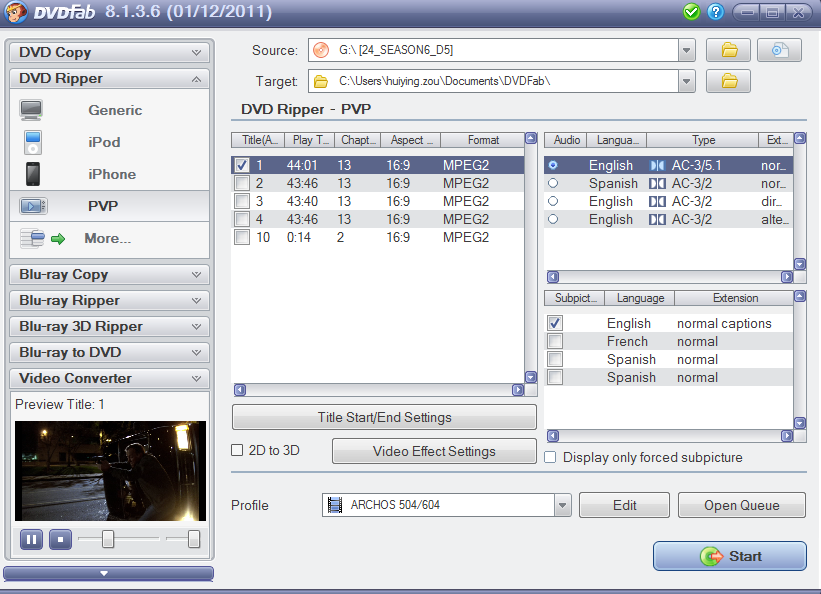 Rip DVD to PVP>Step 3: Edit and set
1) DVDFab DVD Ripper also supports batch conversion for a title with different profiles. To fulfill this, you need to hit "Open Queue" button to open Mobile Task Queue window. You can see a task list, highlight the title you want to convert with other profiles, then click "Copy" button to produce a same task, at this time, click the profile and activate a Profile dropdown, just select a different profile from it. Thereof, one title can be converted with different profiles simultaneously. If you want to remove a task, just highlight it, and hit "Remove".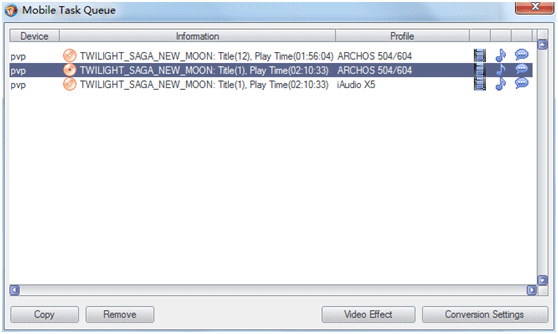 2) Click "Edit" to open Conversion Settings window. Here, you can set for the output video format and audio format and something else. I'll show you in detail. For video format, what you can set including encoding method, bit rate, file size, split or not, frame rate, frame resolution and aspect ratio and so on. For Audio Format, you can set bit rate, channel, and volume. In addition, "Video Effect Settings" will let you set your output video effect according to your needs.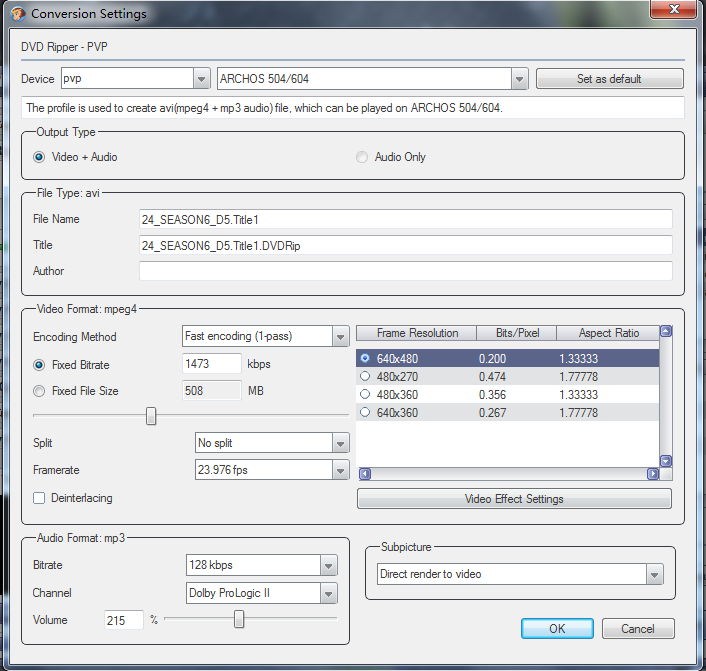 3) Open "Video Effect Settings" window, there are two setting modes here: Resize and Crop.
"Resize" enables you to reset the frame resolution and source aspect ratio.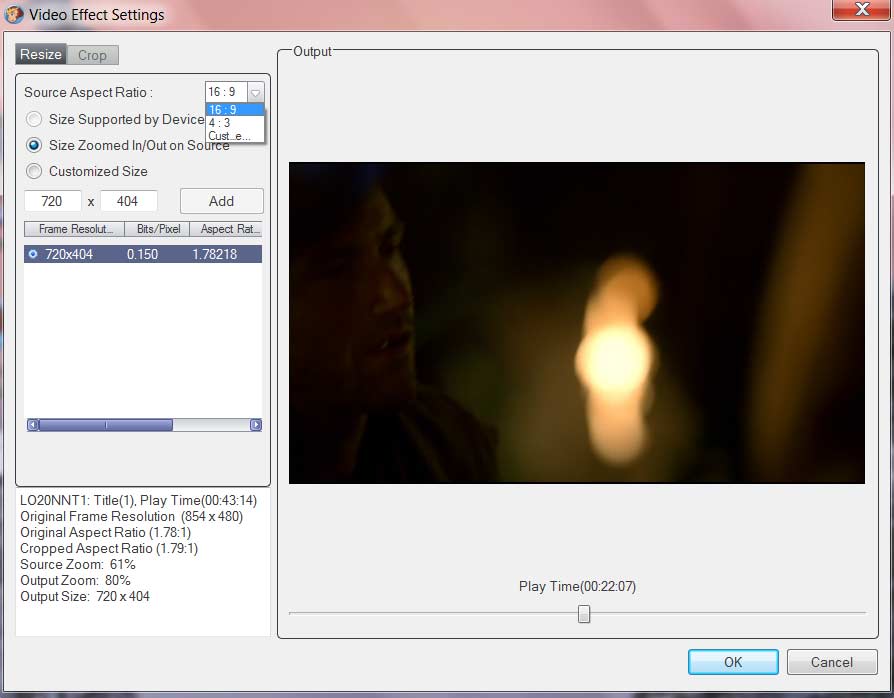 While "Crop" will let you freely crop the video by yourself or automatically. The "Automatic" cropping method lets DVDFab crop automatically to remove source video's black bars; the "Customized" option allows you to adjust the output play region by moving the crop frame on source video or respectively setting the crop value in the Top, Bottom, Left, and Right box. If you don't want to change the aspect ratio, it's better to always check "Keep Aspect Ratio", and you are free to slide between "Letterbox" and "Pan&Scan" to process black bars just as you like.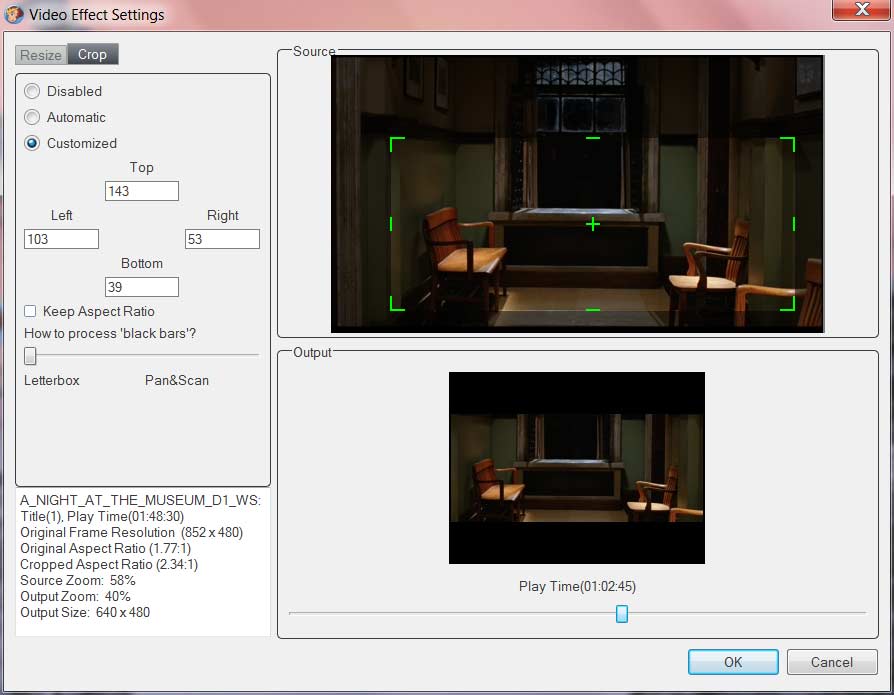 Note: In the left bottom corner of the UI, is the video's information.
Rip DVD to PVP>Step 4: Convert
When all is set up, click "Start" button to convert. The progress is visible to you when it is converting.
OK, done. After the DVD to PVP conversion, you will get some converted files, just transfer them to your PVP, then, you will never feel any journey is long.