Settings
After installation, you can set the to-be-emulated drives by just right-clicking DVDFab Virtual Drive icon minimized into the system tray, and clicking "Number of Drives" to specify the number you want.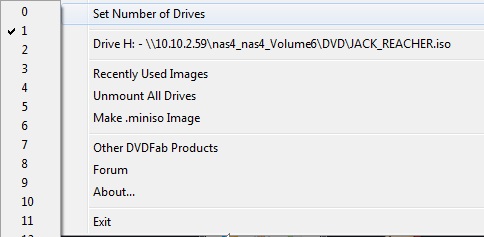 Mount the ISO image file to one of your virtual drive
Method 1: right click on the ISO file itself, you will be presented with a "Mount" option that will list the available virtual drives.

Method 2: right click on the DVDFab Virtual Drive icon which will provide mount options for each drive.
Method 3: For remounting the ISO files you once opened, you can right click the DVDFab Virtual Drive icon, and click "Recently Used Images" to select the ISO you want to remount.

Play the mounted ISO
Open PowerDVD with no disc in any optical drives. Click on the input source selector and choose the virtual drive with mounted image from the list. Click the Play button to watch the movie.

You many change the virtual sources or mount new images during playback.