Convert DVD for PS Vita on Mac
People know that in the tech world, Sony is a giant. This Tokyo based and worldwide sub-branched corporation has very huge product portfolios, setting foot on Electronics (including video games, network services and medical business), Motion pictures, Music and Financial Services and have made enviable reputations in each field. Taking games as an example, its PSP game console has won a wild popularity among global populations. Manufactured and marketed by Sony Computer Entertainment, its 8th generation of game console, PS Vita, officially known as PlayStation Vita, came into market by the end of 2011.
Although carrying just a 5-inch capacitive touch screen, and a bumble 960*544 resolution, PS Vita still successfully reached a vast sea of game fans. And among the similar products on the market, seems that this 960*544 resolution is not that bad as rumored. Gamers still can watch their beloved DVD movies on it whenever they are in the right mood. Wait…watch DVD movies on PS Vita, how come…? Yeah, there is one good piece of Mac OS based DVD Ripper software, which helps you rip your DVDs for PS Vita on your Mac computer. Its name is called DVDFab DVD Ripper for Mac.
Eager to know how? See the three-step tip as following:
DVD to PS Vita on Mac: Step 1-> Download and install to your Mac computer the latest version of DVDFab for Mac.
DVD to PS Vita on Mac: Step 2 -> Start DVDFab for Mac, navigate to DVD Ripper option and PS Vita mode, and then load the DVD you'd like to convert. Next, choose the audio track and subtitle stream you need to keep.
DVD to PS Vita on Mac: Step 3 -> Click the "Edit" and "Video Effect Settings" buttons and do the Conversion Settings and Video Effect Settings respectively, then hit "Start" button to go converting. Next, wait for the task to be completed.
Note: the key point is to select PS Vita mode from the navigation panel, pay enough attention.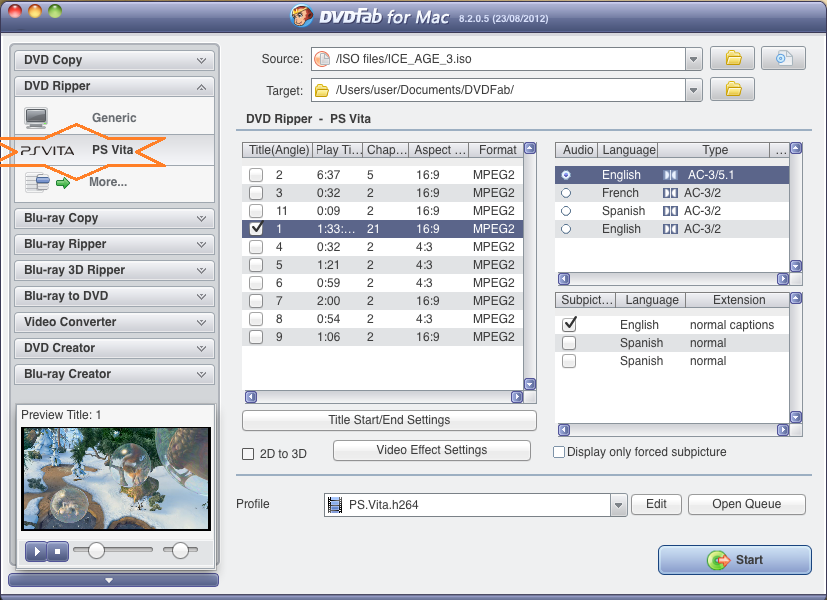 For more information, you can go to DVDFab DVD Ripper for Mac page.