How to convert PS Vita compatible videos on Mac?
Over the past few years, in a world where mobile gaming has evolved magnificently, the pressure for those traditional mobile gaming hardware suppliers to attract, or to retain gamers, is pretty intense. Why? Because, as seen every day in the subway, both smartphones and tablets are invading into game vendors' territories. It is true that these smartphones and tablets have an advantage that you don't have to take another device on the go if you just want to play some fancy touch games for only sake of killing time, like the Angry Birds, or something like that.
But if, you are dedicated gamers, a real game console is necessary. Sony, the traditional tycoon in game industry, has its new PS Vita released, which a powerful mobile gaming and multimedia device. It does not only play games, but also houses a host of other features, like Cross-play, Web browsing, Google Maps, Cameras (both a front one and a rear one), as well as movies and music. In terms of video quality, taking full advantage of the 5-inch OLED display, the videos look great.
You can try this well-known Mac video converter software to convert personal owned videos to PS Vita compatible videos to check out the image quality yourself.
The tip below tells how:
Convert videos for PS Vita on Mac: Step 1 -> Download the latest version of DVDFab for Mac and install it on your Mac computer.
Convert videos for PS Vita on Mac: Step 2 -> Launch DVDFab for Mac, navigate to Video Converter option and PS Vita mode, then simply drag and drop the video file you are about to convert into the main interface. Next, choose the audio and subtitle you need to keep.
Convert videos for PS Vita on Mac: Step 3 -> Click the "Edit" and "Video Effect Settings" buttons and do the Conversion Settings and Video Effect Settings respectively, then hit "Start" button to go converting. Next, wait for the task to be completed.
Note: the key point of this conversion is the PS Vita mode, pay enough attention.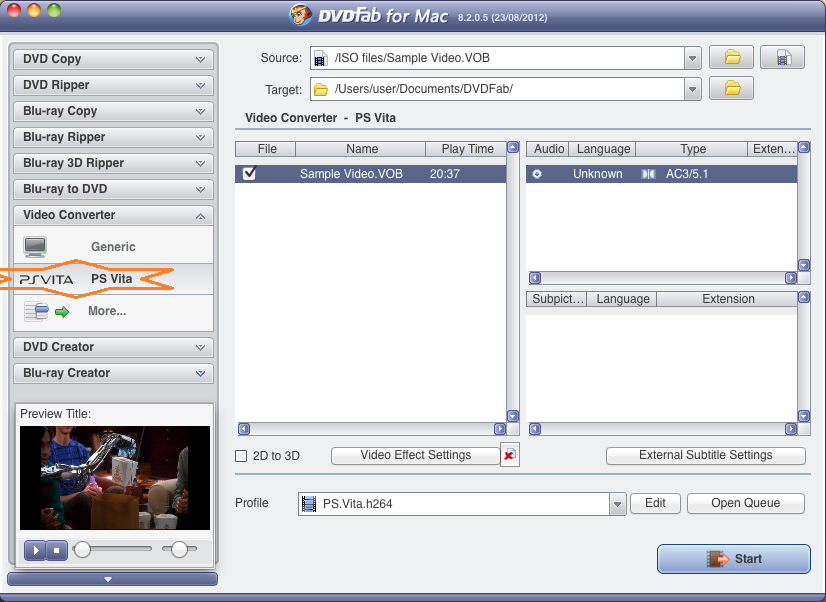 For more information, please go to DVDFab Video Converter for Mac page.