How to convert videos for Google Nexus 7 on Mac?
For a $200 tablet, Nexus 7 the entrant, a Google branded and Asus-made tablet, is impressively built and styled. Inside, the Nexus 7 harbors a quad-core Tegra 3 CPU, 1GB of RAM, and 8GB or 16GB of onboard storage, with no slot for any expandable Micro SD card. To this point, Google does not break the unspoken industry norm. The 7-inch device also packs in Bluetooth 4.0, Wi-Fi, GPS chip, NFC, gyroscope, compass, and accelerometer. Outside, it features a 1.2-mega front-facing camera, boasts a 1280*800 LCD display that's covered with Gorilla Glass. The screen is 216 in ppi, text and images look crisp and clear enough.
Believe it or not, Google initially wants to put some hurt on Amazon's Kindle Fire. This can be easily seen from the above listed specs and pricing position, which is another way of saying that Google, instead of going after iPad, choose to seek a niche in the middle/lower-end market. Well, that's not a bad thing, although it cannot wrestle with iPad, at least everyone gets its meals. To those who already get this goodie on hand, you can try this all-inclusive Mac video converter software to convert some compatible videos for this 1200*800 screen.
This tip talks about that.
Convert videos for Google Nexus 7 on Mac: Step 1 -> Download the latest version of DVDFab for Mac and install it on your Mac computer.
Convert videos for Google Nexus 7 on Mac: Step 2 -> Launch DVDFab for Mac, navigate to Video Converter option and Google mode, then simply drag and drop the video file you are about to convert into the main interface. Next, choose the audio and subtitle you need to keep.
Convert videos for Google Nexus 7 on Mac: Step 3 -> Click the "Edit" and "Video Effect Settings" buttons and do the Conversion Settings and Video Effect Settings respectively, then hit "Start" button to go converting. Next, wait for the task to be completed.
Note: the key point of this conversion is the Google mode, pay enough attention.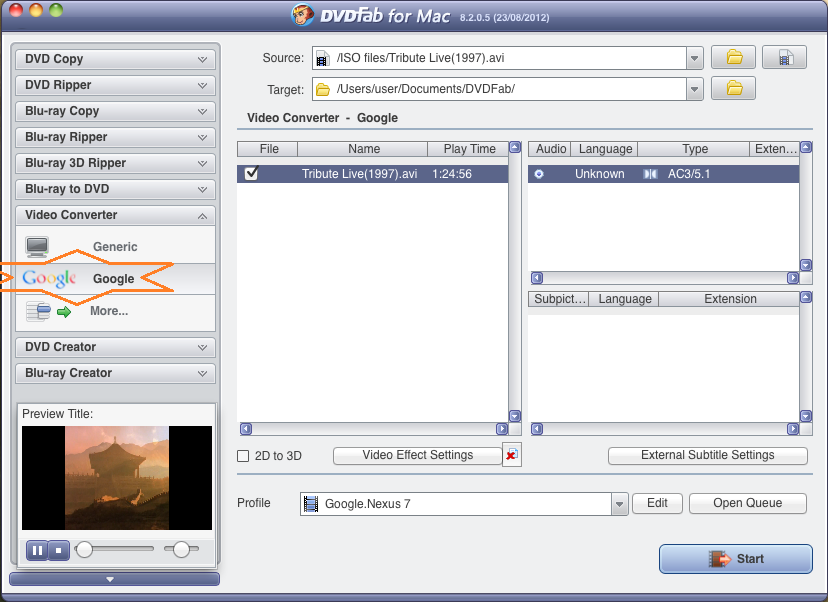 For more information, please go to DVDFab Video Converter for Mac page.