Convert DVD for Google Nexus 7
Whether it is a smart move, Google has given birth to Nexus 7, a newbie in the tablet family mothered by Google and fathered by Asus. This new tablet is 7-inch in size, not as big as iPad, even a little bit diminutive to some extent. It carries Google's latest Android build, Jelly Bean, powered by a quad-core Tegra 3 processor with 1GB RAM and either 8GB or 16GB of onboard storage.
To those who already have Nexus on hands, what do you usually do with it, surfing internet, reading E-books, playing video games, or watching movies? Perhaps it would be better to watch a movie on-the-go with its IPS display, but, how to transfer your DVD collections onto Nexus 7? As a universal DVD Ripper software, DVDFab DVD Ripper can help you do that.
This tip below talks about that, in detail.
Convert DVD for Google Nexus 7: Step 1 -> Download the latest version of DVDFab DVD Ripper and install it on your computer.
Convert DVD for Google Nexus 7: Step 2 -> Run DVDFab, navigate to DVD Ripper option and Google mode, and then load the DVD you are about to convert. Next, choose the audio and subtitle you'd like to keep.
Convert DVD for Google Nexus 7: Step 3 -> Click the "Edit" and "Video Effect Settings" buttons and do the Conversion Settings and Video Effect Settings respectively, then hit "Start" button to go converting. Next, wait for the task to be completed.
Note: the key point of this conversion is the Google mode, pay enough attention.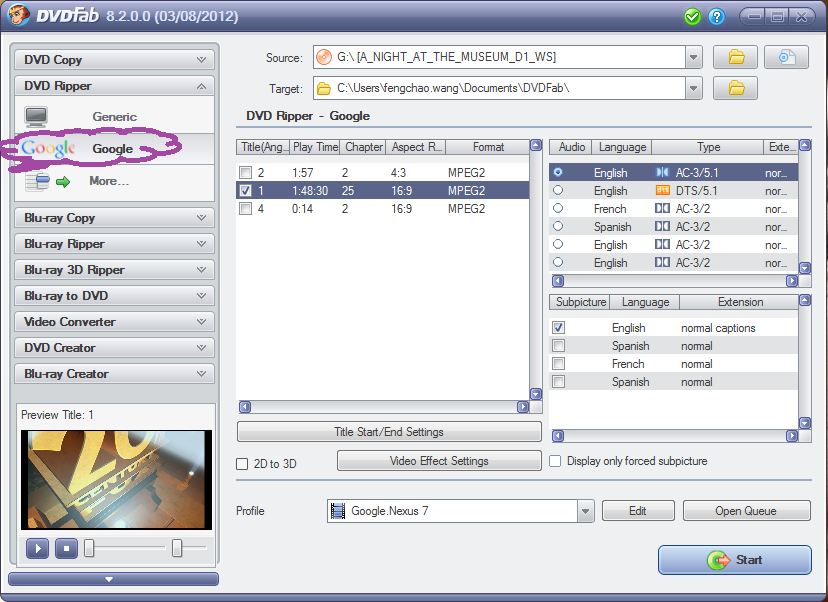 For more information, you can go to DVDFab DVD Ripper page.