How to Convert 2D DVD to SBS 3D Video?
Have you even imagined that one day you would convert any 2D DVD to side-by-side 3D video and enjoy great 3D effect on your 3D TV? This can be easily achieved with DVDFab 2D to 3D Converter for Mac and DVD Ripper for Mac. Once the two pieces of software work together, any 2D DVD can be transformed to various 3D types according to your needs. Next, let's take a look at a tutorial about how to convert 2D DVD to SBS 3D video to see how easy the operation can be.
2D DVD to SBS 3D Video > Step 1: Enable 2D to 3D Converter for Mac in DVD Ripper for Mac
Start DVDFab for Mac, and run DVD Ripper for Mac at first. And on the left navigation pane, choose "3D Format", which is used to convert DVD to various 3D video formats with the help from 2D to 3D Converter. Now import the source DVD, and choose any titles, audio tracks, and subtitles for conversion. And you can see that the "2D to 3D" option is automatically enabled, triggering 2D to 3D Converter for Mac. Note in the Profile drop-down menu, there're many optimized and preset profiles covering different output formats and encoding methods. Just choose a proper one accordingly.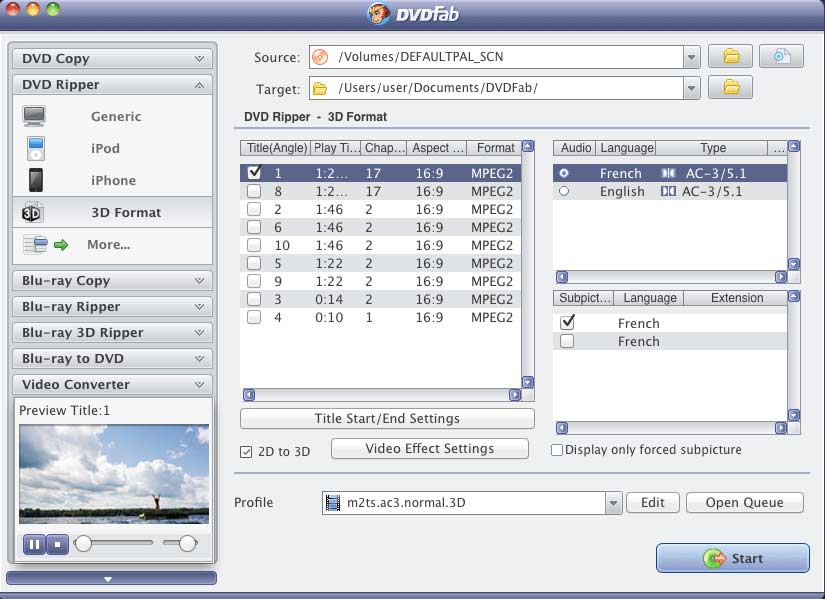 2D DVD to SBS 3D Video > Step 2: Customize SBS 3D output
Click Edit button to open conversion settings window. In this window, you'll find all video/audio parameters and you can easily change them from default settings, such as bit rate, frame rate, frame resolution, aspect ratio, channel, volume, etc.
If you want to customize the SBS 3D type, and video effect, please go to Video Effect Settings window by clicking Video Effect Settings button. In the 3D tab of the window, please make sure the "Left/right (side-by-side)" option is selected. You can also freely decide the Gain value and Visual Depth to customize 3D effect at your whim.
Now go to Crop tab, and you can freely choose an accurate display region of the image.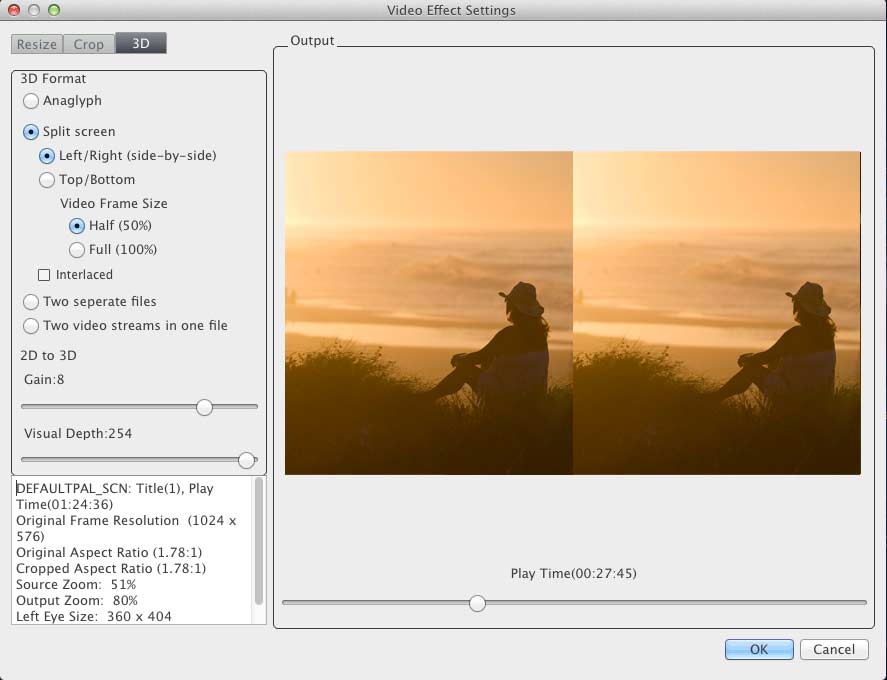 2D DVD to SBS 3D Video > Step 3: Start conversion
OK. When you're ready, click Start button to start conversion. During the process, you can view detailed progress info, preview source movie, and set auto shutdown to your computer.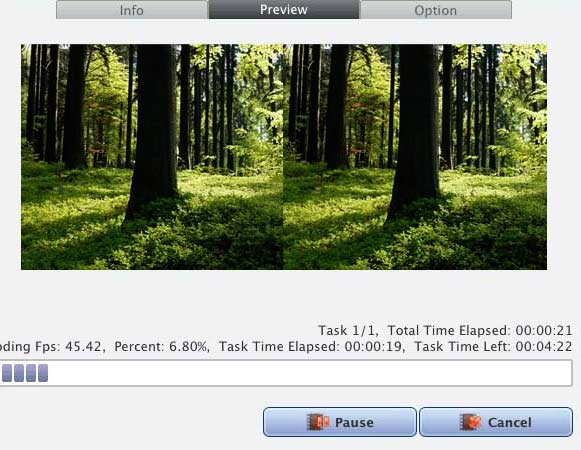 OK. 2D DVD to SBS 3D video conversion is just so easy. For more info about DVDFab 2D to 3D Converter for Mac, please go to: www.dvdfab.cn/2d-to-3d-converter-for-mac.htm