How to Convert 2D Video to 3D Video?
You can turn normal 2D videos on your Mac into 3D videos for enjoying on different 3D display devices, like different 3D TVs, glasses-free 3D smartphones, etc. Really? How to do this? Well, with DVDFab 2D to 3D Converter for Mac, and DVDFab Video Converter, you can get adequate 3D video resources and give your 2D videos a new life. All these can be done easily as follows:
2D Video to 3D Video > Step 1: Enable DVDFab 2D to 3D Converter for Mac in "Video Converter" interface
Start DVDFab for Mac, and choose "Video Converter" option which is used to convert video between different video/audio formats. Then on the left pane, select "3D Device" or "3D Format" which respectively functions to convert video to 3D video according to display device, and according to the 3D video format you desired. We're choosing "3D Device" for example. Now import in the video you want to convert, and you can see the "2D to 3D" option is auto selected after the source video is in. In the Profile drop-down in the lower part of the interface, you can choose the very profile you prefer easily since all profiles are optimized and preset.
2D Video to 3D Video > Step 2: Set 3D video effect freely
Click Video Effect Settings button on the UI, and you can freely set the output 3D video effect in the pop-up Conversion Settings window. In the 3D tab of the window, you can see that most of the 3D parameters are defined by default according to the device profile you chose beforehand. This is convenience. However, the Gain and Visual Depth are left for you so that you can customize 3D effect on your own.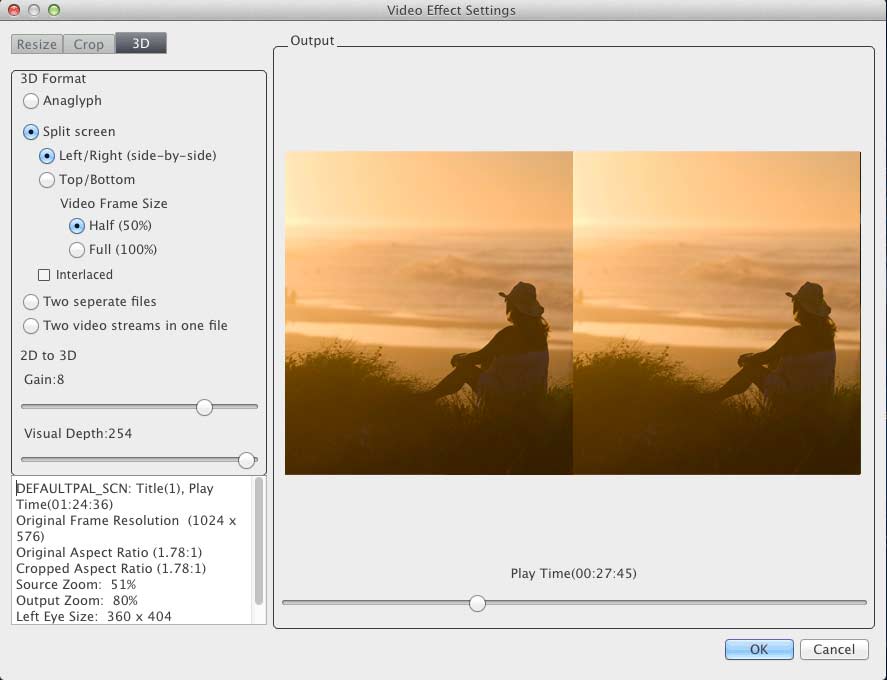 In the Crop tab, you can flexibly choose the active region of the image for playback.
2D Video to 3D Video > Step 3: Start conversion
Alright, now let's click Start button to start conversion. During the process, you can view all detailed info about the progress. And you can also set auto shutdown to your Mac if you want.
OK. That's mainly what you need to do for 2D video to 3D video conversion. If you want to get more 2D to 3D conversion info about DVDFab 2D to 3D Converter, please visit: www.dvdfab.cn/2d-to-3d-converter-for-mac.htm