How to Rip and Convert DVD to 3GP with DVD to 3GP Ripper?
3GP is a multimedia container format defined by the Third Generation Partnership Project (3GPP) for 3G UMTS multimedia services. It is used on 3G mobile phones but can also be played on some 2G and 4G phones. How about converting your DVD movies to 3GP and playing them on your cell phones? DVDFab DVD Ripper will cater for your needs including this one, and also others—DVD to other various formats conversion. I will show you the DVD to 3GP conversion process step by step.
Rip DVD to 3GP>Step 1: Import DVD
Install and run DVDFab DVD Ripper, choose "to 3GP" in the left navigation bar. Then insert your DVD disc to import it in the program. Wait a while for its opening as the source.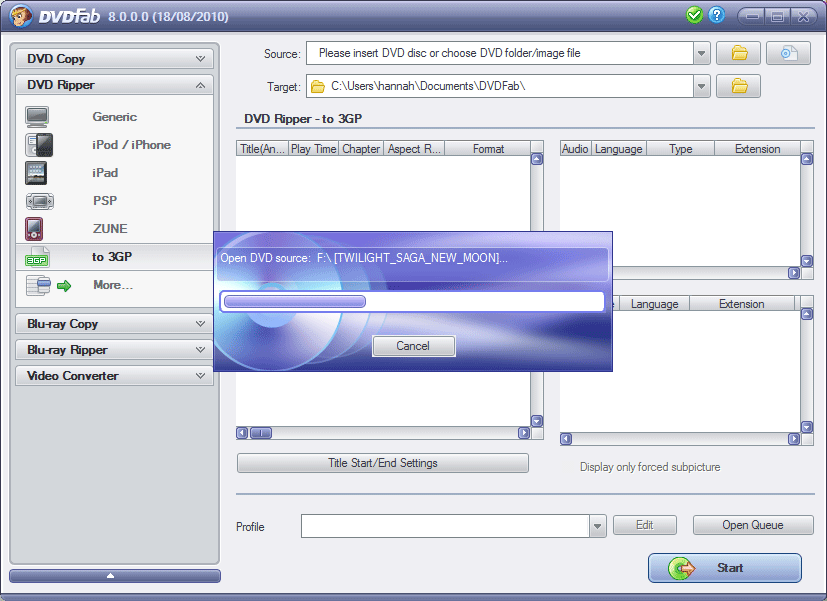 Rip DVD to 3GP>Step 2: Select
Now DVD movie was loaded in, you will get a main interface as below. Select one or more titles for conversion (DVDFab supports batch conversion). Select one profile for each title (all the profiles in the Profile drop down list is pre-set and optimized). Select audio track and subtitles for the output video on the right of the interface. Select start chapter and end chapter of a title to get the exact segment for conversion by clicking "Title Start/End Settings" if you don't want to convert a whole title. By the way, DVDFab enables you to preview title like in a real DVD Player.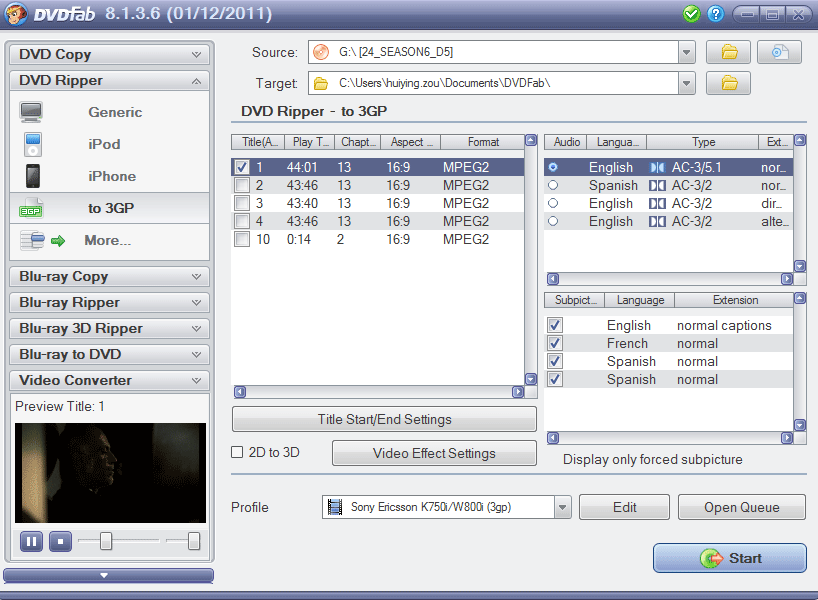 Rip DVD to 3GP>Step 3: Set
1) Hit "Open Queue" to open Mobile Task Queue window including all the conversion tasks. If you want to convert a title with different profiles, you can fulfill this here. Just highlight a title, click "Copy" button to produce a same task as the highlighted one. Then turn it into a whole new task by clicking its profile to open a profile drop-down, and select a different one. Highlight a task and click "Remove", then you will move the task out of the queue.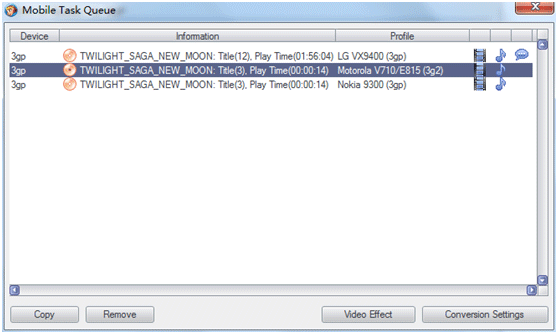 2) Click "Conversion Settings" to open Conversion Settings window. Here, you can set the video format such as bit rate, frame resolution, aspect ratio, frame rate, etc. For audio format, you can set bit rate, channel, and volume. The file name is changeable if you like.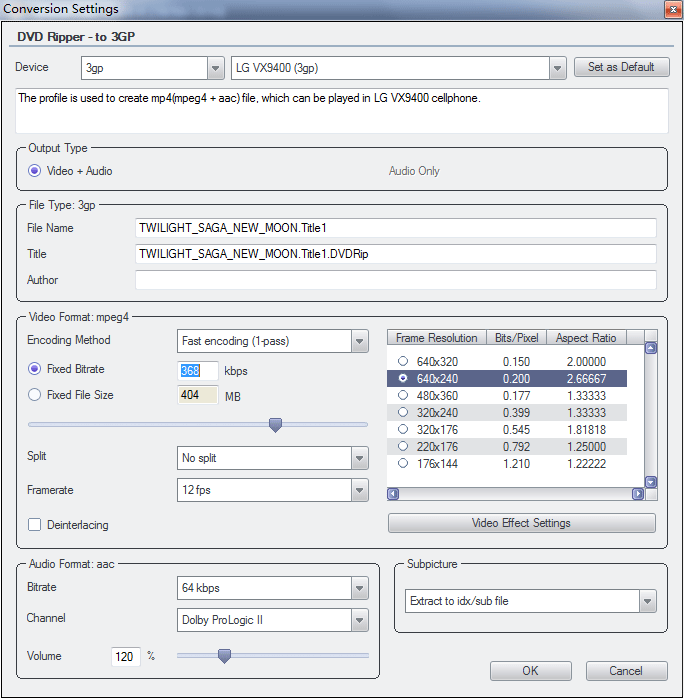 3) Click "Video Effect Settings" to set output video effect.
The "Resize" button will lead you to re-set the frame resolution. You can change the source aspect ratio if needed.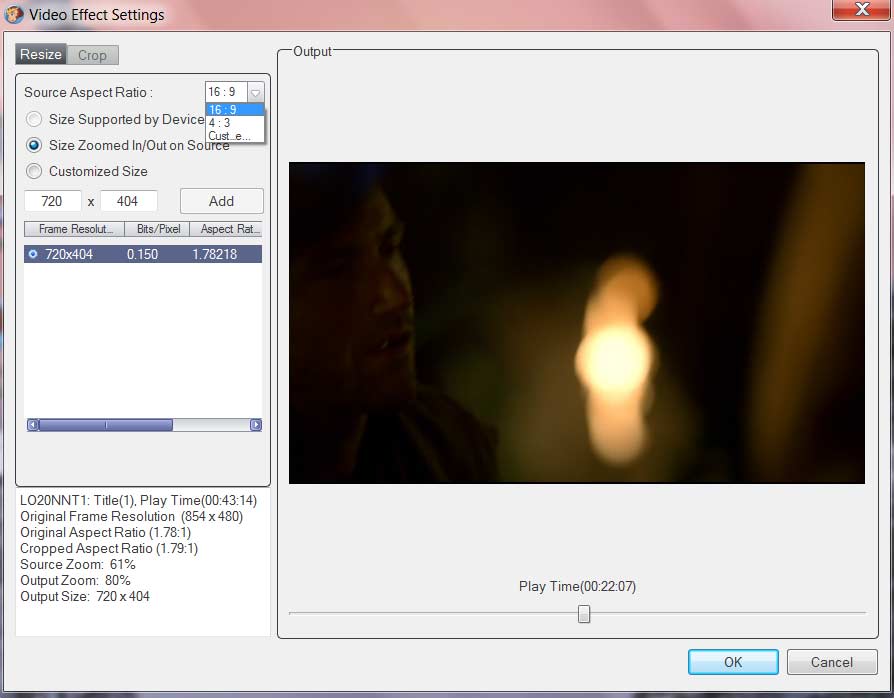 The "Crop" enables you to set the play region on your cell phone. If you choose "Automatic" option, it will remove the black bars on the source video automatically; if you choose "Customized" option, you can either crop by adjusting the crop frame on the source video, or setting crop values on the 4 boxes (Top, Bottom, Left, Right). We recommend you to check "Keep Aspect Ratio" if you don't want to change it. You can deal with black bars on the output video by changing from Letterbox mode to Pan&Scan mode.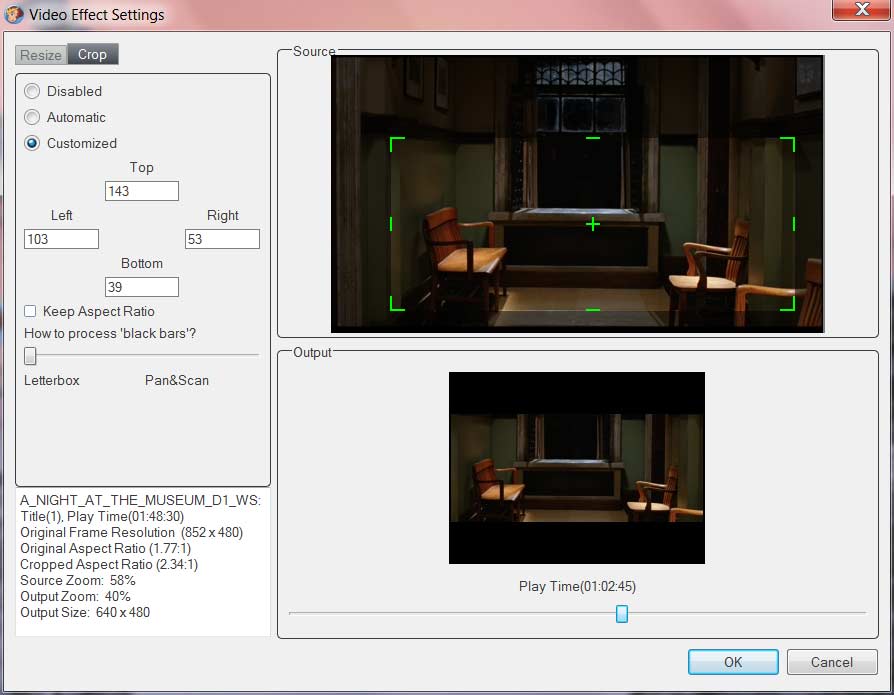 Note: In the left bottom corner is the detail information about the video.
Rip DVD to 3GP>Step 4: Convert
Now that everything is OK, just hit "Start" button on the main interface to start converting. The converting progress shows in detail as below.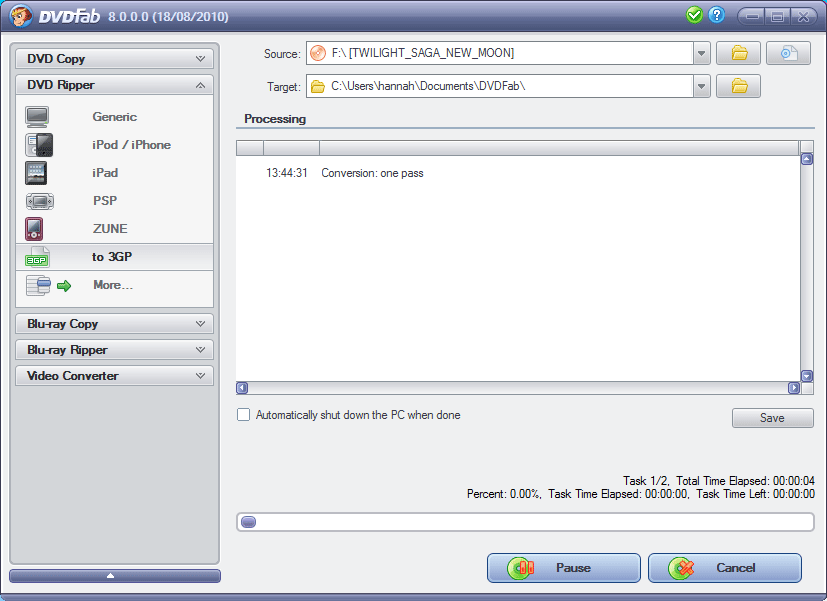 Yes, it's true. Just 4 steps to complete DVD to 3GP conversion. And still only 4 steps for DVDFab DVD Ripper to convert DVD to other various formats as well.