Professional Mac Video Converter for Samsung Galaxy Note
As soon as Samsung Galaxy Note was introduced in October 2011, people heard songs about this Smartphone. They are greatly impressed by its 5.3-inch screen size, which is perfect for enjoying videos on the way home, on a business trip. Some even state that there is no need to bring a Notebook on the trip, even a tablet is not necessary any longer, as this smart phone plays all the roles, which means it is a hybrid: a notebook, a tablet and a phone at the same time. All in one word, with one stone, you get three birds.
Can't wait to learn how to convert video files for Samsung Galaxy Note on your Mac computer? With the best Mac video converter software DVDFab offers, you can get the job done in just three steps.
Check out the details below now:
Step 1-> Download and install the latest version of DVDFab Video Converter for Mac on your Mac computer.
Step 2-> Launch DVDFab for Mac, navigate to Video Converter option and Android mode, then simply drag and drop the video file you are about to convert into the main interface. After doing the audio and subtitle settings, go to the bottom of the main window where you can find the profile selection area, then choose "Samsung Galaxy Note i9220".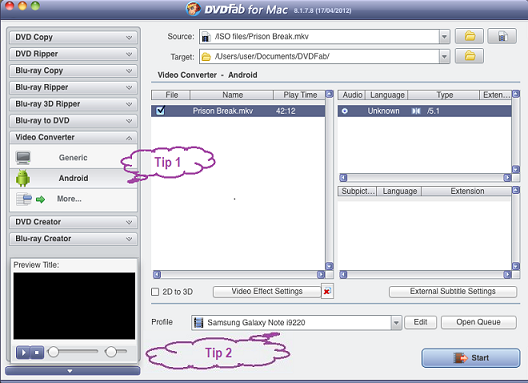 Step 3-> Click the "Edit" and "Video Effect Settings" buttons and do the Conversion Settings and Video Effect Settings respectively, then hit "Start" button to go converting. Next, wait for the task to be completed.
Note: the key point of this conversion is the Android mode and profile, pay enough attention.
For more information, please go to DVDFab Video Converter for Mac page.