Rip DVDs with DVDFab DVD Ripper software
Everybody watches movies every week, if not every day. Whether it is in the cinema, whether it is at home on your DVD player, or whether it is on your mobile and portable media players. Movies are here, there and everywhere in people's lives. Not surprisingly, many people have their own movie collections, me self included, and to those who have a large collection of hard copies of DVDs and have the need of ripping their DVD movies for their mobile or portable devices, all you need is a DVD rip software on your computer, with a presumption that there is an optical drive built in your computer.
As the best DVD ripper software ever found on the market, DVDFab DVD Ripper helps people convert their DVD movies to nearly all kinds of video files such as, MP4, AVI, MKV, WMV, FLV, 3GP, M2TS, TS etc which can be played on many mobile or portable devices, to name a few, tablet PCs leading by the New iPad and Amazon Kindlefire, all kinds of MP4 video players such as iPod-Touch, some game players like PSP, Xbox 360, DNS, and many smart phones such as iPhone, Samsung, NOKIA, HTC series, and etc etc.
DVDFab DVD Ripper is such a powerful DVD converting tool that it can do the job in just a few steps and clicks. Following this tip below to check out how this amazing DVD Ripper converts DVDs to other video files.
Rip DVD with DVDFab DVD Ripper Software: Step One —> Download and install the newest version of DVDFab DVD Ripper on your computer.
Rip DVD with DVDFab DVD Ripper Software: Step Two —> Start DVDFab, and then navigate to DVD Ripper option at the left navigation panel.
2.1 On choosing ripping mode: According to your special need, you can select the ripping mode which suits you best from the navigation panel. For example, to MP4 mode, or to iPhone mode.
2.2 Pre-converting stage: Before the real converting task triggers, you need make sure everything is set properly. Insert your DVD disc into the optical drive to let DVDFab DVD ripper to access it or click the disc/folder icon at the source area to choose an existing DVD ISO file or DVD movie folder from local HDD.
2.3 Basic settings: After DVD Ripper access the source, the next thing to do is to choose an output path on your local HDD to store the final converted video files. You can click the yellow folder icon right at the target area to do this. Next, choose the audio stream and subtitle stream you need in the final output, then select one profile at the bottom of the main interface.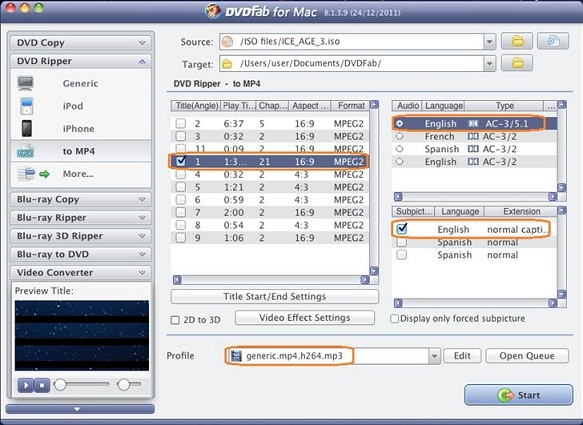 Rip DVD with DVDFab DVD Ripper Software: Step Three —> Some conversion settings: Click "Edit" to direct you to Conversion Settings window, where you have your own options to edit all the parameters, say, Frame Resolution, size, frame rate of the output video, and also the bite rate of the output audio etc. If you do not want to change them, just leave them to DVDFab, the default setting will meet your common needs.
Rip DVD with DVDFab DVD Ripper Software: Step Four —> Some Video Effect Settings: Click "Video Effect Settings" button to open this window, where you can define the Source Aspect Ratio or customize your output size at the "Resize" page, and editthe displaying part of the output vide at your will available at the "Crop" page.
Rip DVD with DVDFab DVD Ripper Software: Step Five —> Start the converting process: When all the necessary setting are done, you can then return to the main interface to trigger the real converting task, and then just wait for the system the finish the job.
For more information, you can go to DVDFab DVD Ripper page.