The New iPad (iPad 3) Video Converter
Tim Cook meets Chinese vice Premier in Beijing? Well, that's not the business we care about. The thing we do care about is how DVDFab can serve The New iPad (iPad 3) users well. Truly, the new iPad, been on sale for a while, has increasingly driven people to line outside each Apple Store cornered each city around the world.
To make the most of your New iPad, this tip aims at teaching you how to convert your own video files in all formats to your iPad (iPad 3) compatible videos, so that you do not need to purchase a same digital copy of one movie you already have a hard copy on your shelf.
To do the right conversion, we have three basic steps to go:
Convert video for The New iPad (iPad 3): Step One-> Download the latest version of DVDFab Video Converter 8.1.6.8 to replace the older version on your PC.
Convert video for The New iPad (iPad 3): Step Two->Start DVDFab and direct to Video Converter option and iPad mode, then drag and drop the video you are about to covert to the main interface, select the audio track you need, and subtitle streams, if presented; when it comes to output profile at the bottom of the main window, there are three options for The New iPad (iPad 3): "iPad3.1080p.mp4", "iPad3.h264.1080p" and,"iPad3.h264.multichannel", choose whichever one.
Convert video for The New iPad (iPad 3): Step Three-> Click the "Edit" tag to reset conversion settings if necessary, and click "Video Effect Settings" button and do Video Effect Settings, after you done that, trigger the "Start" button to go converting.
Shortly, you will be presented the information of a successful job done.
Note: the key point is the profile setting, as the three new profiles for The New iPad are located exactly under the same route as iPad 2, so make sure you choose the correct ones.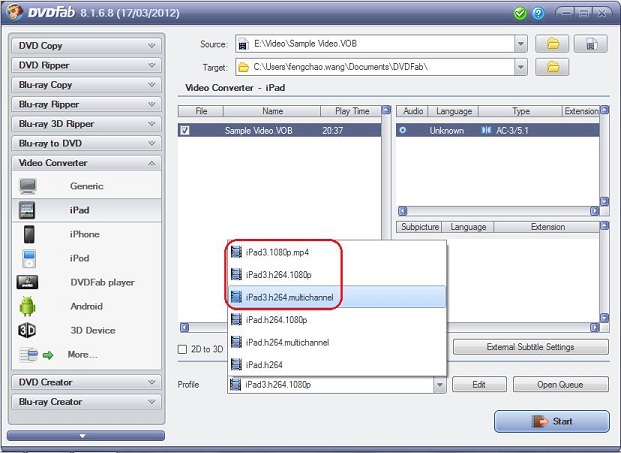 For more information, you can go to DVDFab Video Converter page