3D Blu-ray Video Converter
3D Blu-ray video converter is the tool to help you convert 3D Blu-ray to 3D video for playback without 3D BD players. DVDFab Blu-ray 3D Ripper is a powerful 3D Blu-ray video converter which can output various 3D video formats including MP4, AVI, MKV, WMV, TS, and M2TS playable on glasses-free 3D phones, iPhone 4, 3D TV, and other display devices. And the output 3D type can be anaglyph, side-by-side, top-bottom, interlaced, two separate files, etc. of your choice. Next let's have a look at how to use this 3D Blu-ray video converter. It's easy.
Run 3D Blu-ray video converter
Start up DVDFab, run Blu-ray 3D Ripper. Choose a conversion mode to define the output as you need. The modes you can select are: "3D device", "to MP4", "to AVI", "to MKV", "to WMV", "M2TS", and "TS". Then import in the source 3D Blu-ray, and specify a profile for the title(s) you want to convert. And you can easily select your favorite audio tracks and subtitles.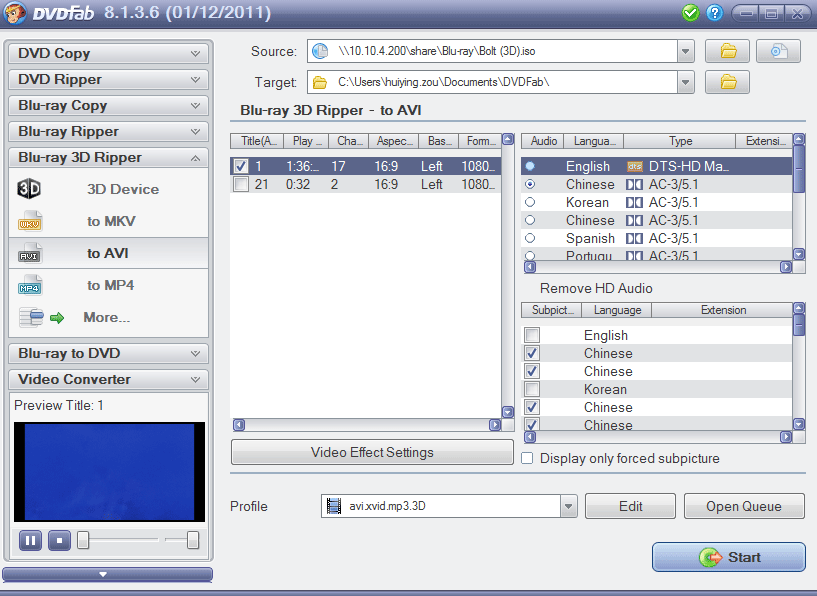 Edit video/audio parameters
Click Edit button on the main interface of Blu-ray 3D Ripper, you'll open Conversion Settings window. In this window, you can freely edit all video/audio parameters like bit rate, frame rate, frame resolution, aspect ratio, channel, volume, etc.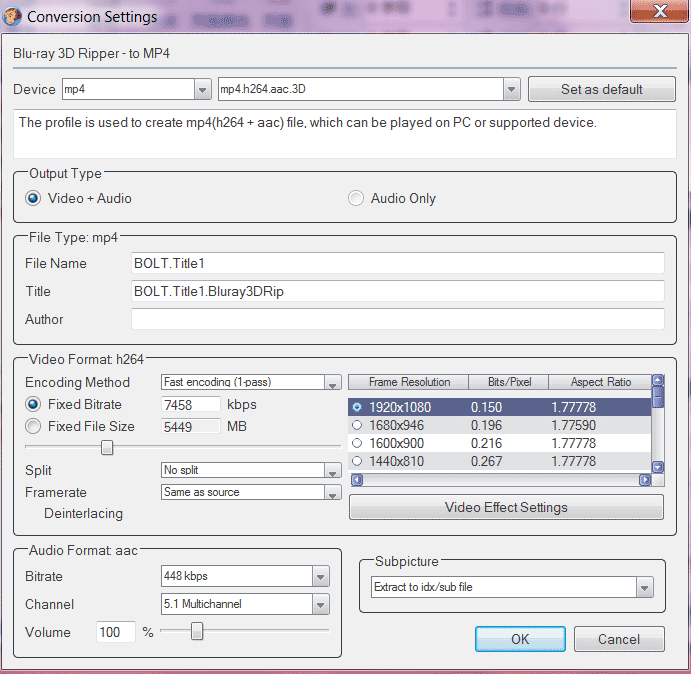 Customize 3D video
Click Video Effect Settings button to open Video Effect Settings window. In 3D tab, you can choose the output 3D type as anaglyph 3D, side-by-side 3D, interlaced 3D, 2 separate files, etc.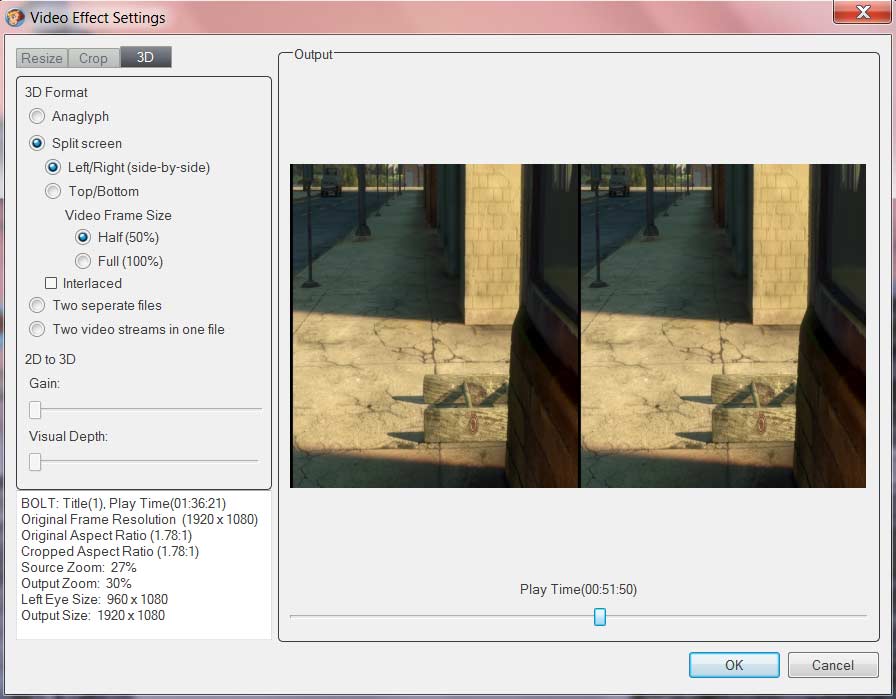 In Crop tab, you can crop the image to remove unwanted parts.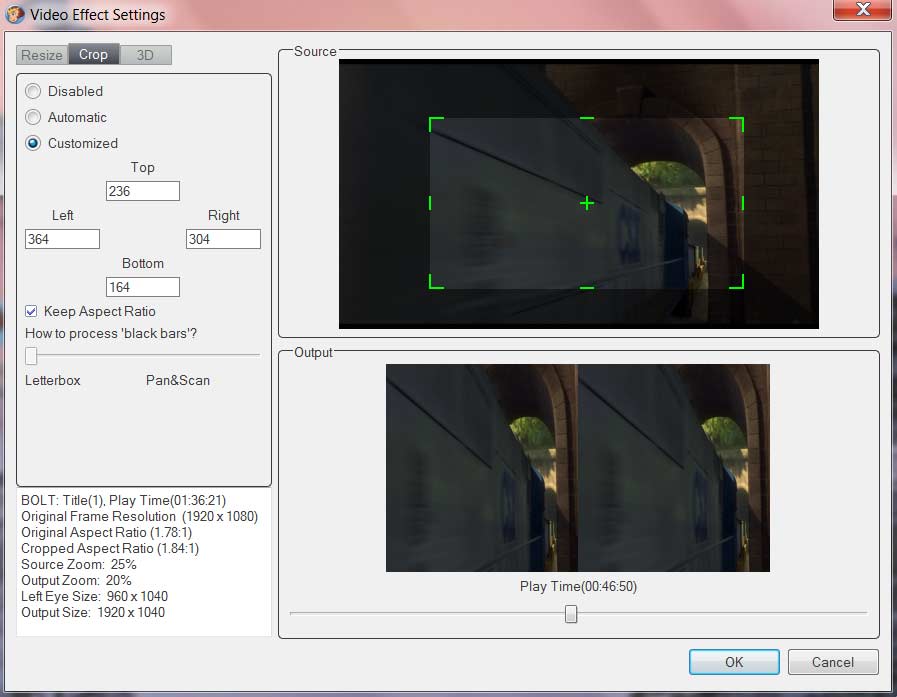 Start conversion
When you're ready, click Start button to start conversion. During the process, you can monitor detailed progress info, preview source movie, and set auto shutdown to your computer.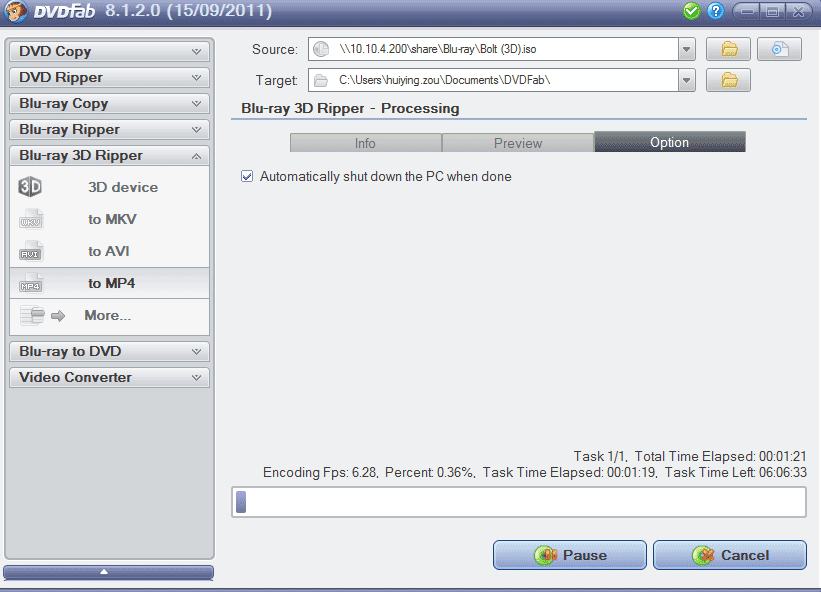 OK. That's all you need to do to use this 3D Blu-ray video converter. For more info about DVDFab Blu-ray 3D Ripper, please go to: http://www.dvdfab.cn/blu-ray-3d-ripper.htm