Free Blu-ray Backup – 30-Day Trial Blu-ray Copy
DVDFab Blu-ray Copy, when used during the 30-day trial period, is a free Blu-ray backup software. Don't worry about the functionality since the trial version is packed with full features. It's easy to use with many backup mode choices. This article is about how to use it.
Step 1: Run DVDFab -> Copy, load the source
Download and install DVDFab on your PC. Run it. Click Copy option. Now load the source by inserting the BD into the Blu-ray drive attached to your PC or clicking Add button. A couple of seconds later, the source content will be in. You can see from the following screenshot that the default copy mode is Full Disc.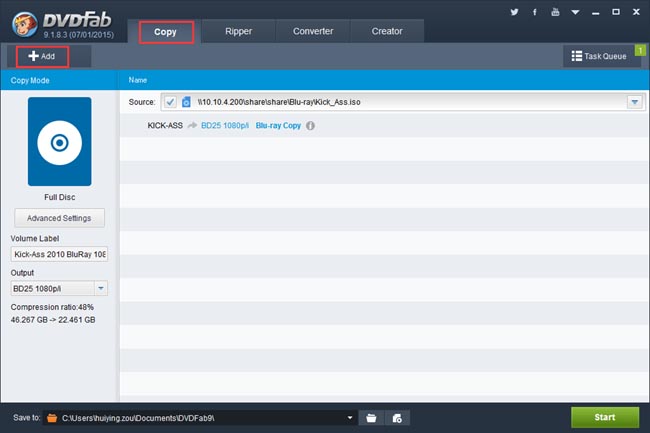 Step 2: Choose a backup mode
If you're not satisfied with the default backup mode, you can click the mode icon to select the one you prefer. Full Disc mode will process all the disc content; Main Movie mode will back up the longest title; Customize mode allows you to freely choose any titles to copy; Clone/Burn mode will clone/burn your Blu-ray in 1:1 ratio. Let's use Main Movie mode for example in this article.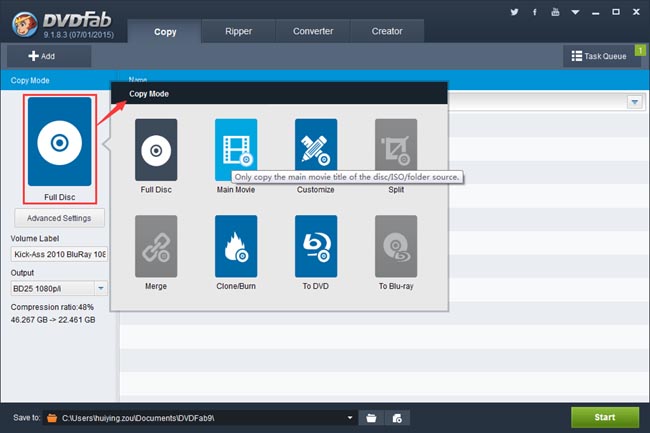 Step 3: Some optional settings
Hover your mouse over the title, then you can freely change its first/last chapter, audio and subtitles. On the left panel, you can specify the Output as BD50 or BD25. Then set a storage path. If you don't want to use the default path in the "Save to" box, you can click the folder icon or the image file icon to the right of it to select a directory for your output movie folder or image file, which is also the way you set for the output type.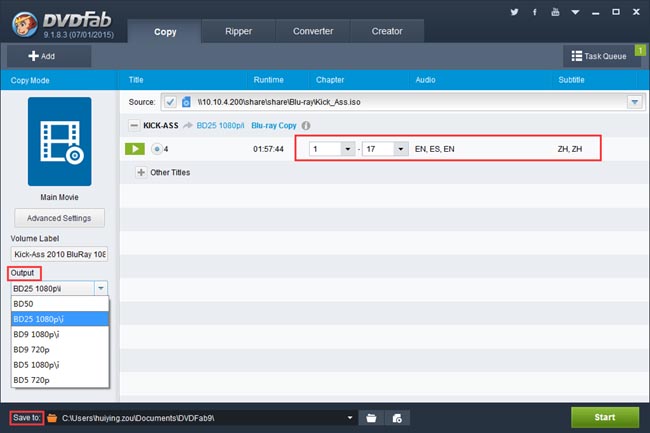 Step 4: Start backup process
Now go to press Start button to start the Blu-ray backup process. During the process you can monitor the progress with detailed info and set your PC to shut down or hibernate for the ending of all tasks.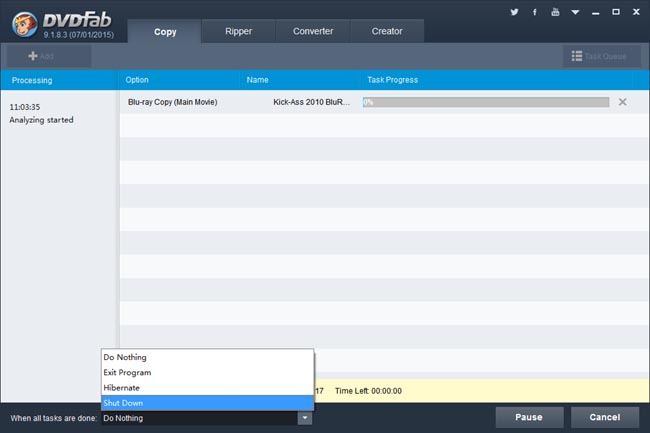 OK. That's all. More info about DVDFab Blu-ray Copy can be found at: www.dvdfab.cn/blu-ray-copy.htm