Free Video Converter
A free video converter is what everyone likes and wants to own, since it helps one convert video between different video/audio formats to meet different viewing needs, while free of cost. There're tons of free video converters you can find, but most of them don't function well, after all, there's no free lunch. Are you scratching your head to looking for a real powerful free video converter? Then you may want to take a look at the free-trial version of DVDFab Video Converter. Although the trial period lasts only 30 days, you can use it to fulfill all your accumulated video conversion tasks easily and professionally since all the robust function and neat features are available during the free trial.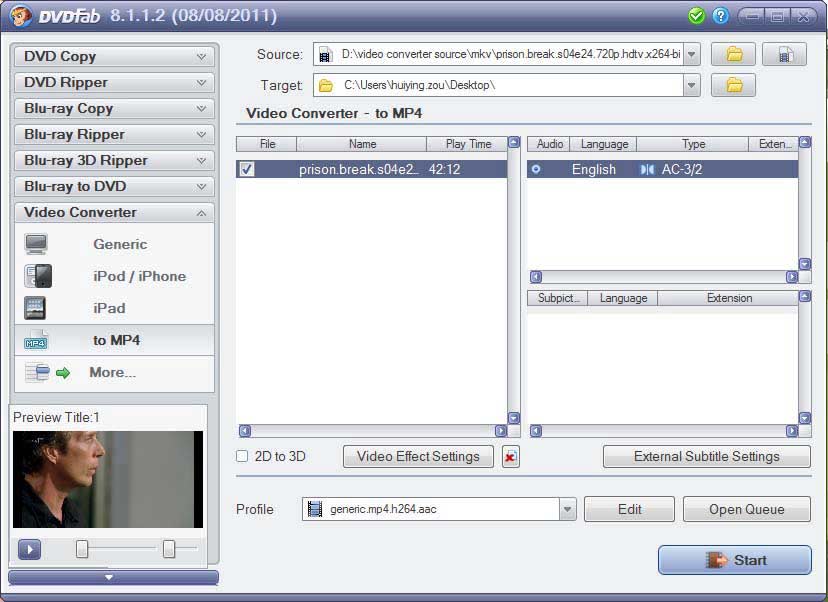 Free Video Converter > Feature 1: Convert Any Video:
DVDFab Video Converter supports videos from Internet, digital camcorders, capture cards, etc. without any help from any codecs to cover every corner of our digital life. This video converter is free to convert videos in the following formats: 3GP File ( *.3gp; *3g2 ), ASF File ( *.asf ), AVI File ( *.avi; *.divx ), FLV File ( *.flv ), M2TS File ( *.m2ts ), MOV File ( *.mov ), MP4 File ( *.mp4; *.m4v ), MPEG File ( *.mpeg; *.mpg; *.dat ), MKV File ( *.mkv ), RMVB File ( *.rmvb; *.rm ), TS File ( *.ts ), VOB File ( *.vob ), WMV File ( *.wmv ).
Free Video Converter > Feature 2: Convert Video to Any Other Format:
DVDFab Video Converter, although in 30-day free trial period, can convert video to almost all popular video formats such as MPEG-4, DivX, Xvid, H.264, AVI, MKV, FLV, WMV, DPG, 3GP, etc. compatible with iPod / iPhone / iPad (iPad 2) / PSP / ZUNE / NDS / Xbox 360 / PS3, and other specific format supported by Cell Phone, Apple TV, PVP and PDA.
DVDFab Video Converter also can convert video to all audio formats such as MP3, MP4, M4A, WMA, WAV, AC3 and DTS, or extract audio out of video.
Free Video Converter > Feature 3: Support All Popular Display Devices
DVDFab Video Converter supports almost all popular video display devices such as iPod, iPhone, iPad (iPad 2), PSP, Zune, cell phone, PVP, PDA, NDS, Apple TV, Xbox 360, PS3, and so on.
Free Video Converter > Feature 4: Free and Professional Customization
DVDFab Video Converter lets users freely customize the conversion as they like. For example, users can crop display region of the current image, can set video/audio parameters such as bit rate, frame rate, file size, frame resolution, aspect ratio, audio channel, and much more, and can also set something according to their using habit, etc.
So, what's your thinking? Is DVDFab Video Converter the very free video converter in your mind? If you want to learn more about DVDFab Video Converter, or download the free trial version and try it out, just hit up the link: http://www.dvdfab.cn/video-converter.htm