How to Backup Blu-ray onto Mac?
DVDFab Blu-ray Copy for Mac is the best Blu-ray backup software for you to use on your Mac to backup Blu-ray onto your Mac, so that you can view Blu-ray movies directly on your Mac without causing damage to the discs. Or, if the Blu-rays at your hand are borrowed from your friends, and you want to keep the movie content but have no blank disc for burning, then you can also backup Blu-ray onto your Mac firstly, and do other manipulations in the later.
DVDFab Blu-ray Copy for Mac is very easy to use for Blu-ray backup, just in a couple of steps as follows:
Backup Blu-ray onto Mac > Step 1: Run Blu-ray Copy for Mac and load in the source movie
Start DVDFab for Mac, choose "Blu-ray Copy" option. If you want to backup all content of a BD, you should navigate to "Full Disc" on the left pane; if you want to backup only the movie, just choose "Main Movie". Then insert the BD into Blu-ray drive and DVDFab for Mac will import it in seconds later.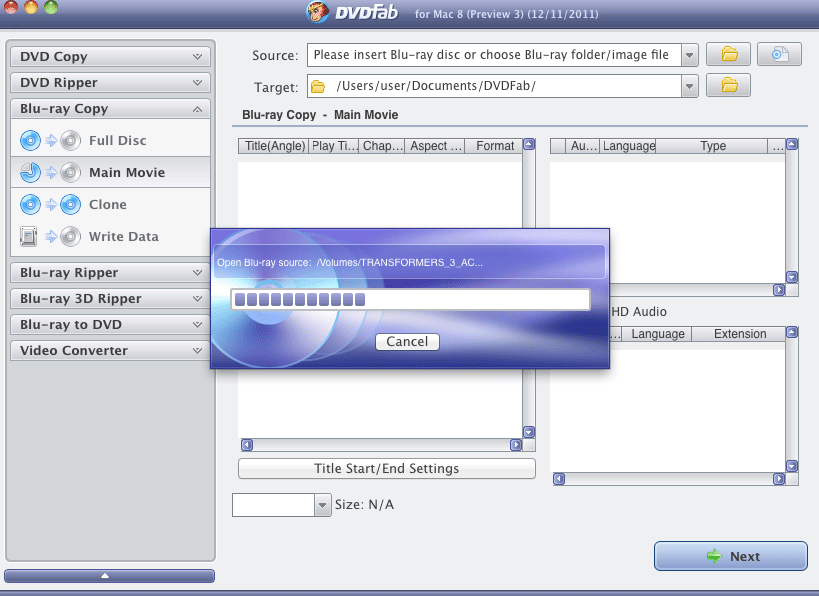 Backup Blu-ray onto Mac > Step 2: Do some easy settings
After the Blu-ray content is loaded in, you can easily choose your favorite audio tracks andsubtitles for the backup. And for the output type, you can choose from BD 50, to BD 25, and even to BD 9 and BD 5 according to your needs. One thing needs your attention is that please make sure you set the Target as a local path so that the output will be backup on your Mac.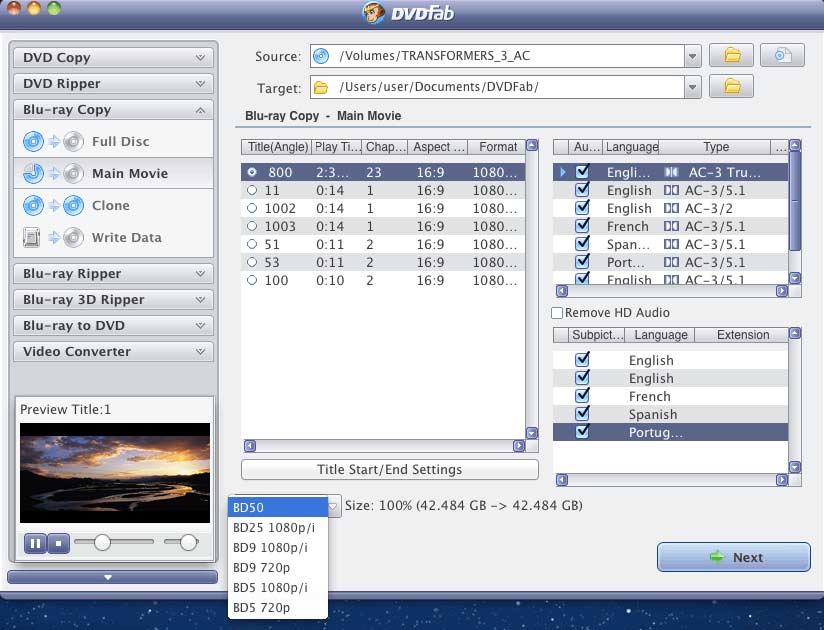 Backup Blu-ray onto Mac > Step 3: Start processing
Click Next button on the above screenshot to go to next interface. If everything is OK, hit Start button to start copy process. During the whole process, every detailed info about the progress can be monitored. And you can also set auto shutdown to your Mac if you want in Option page.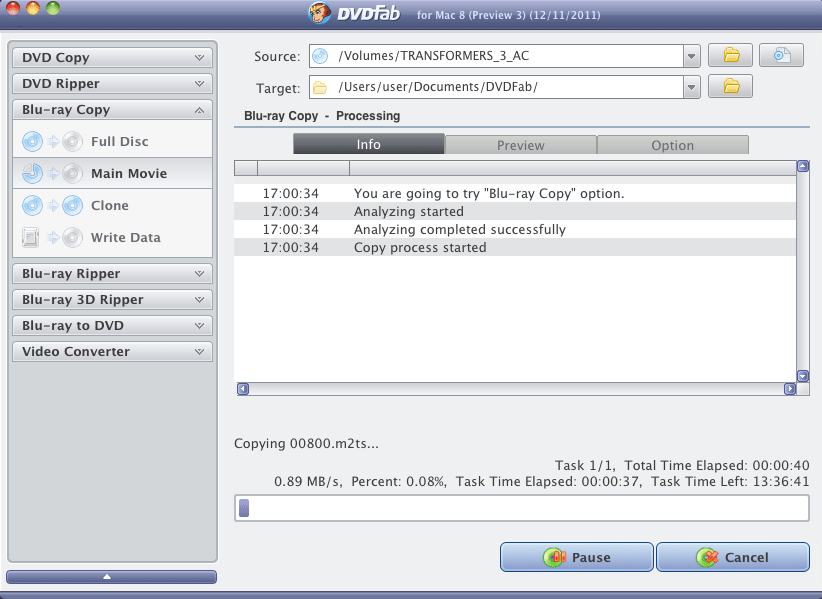 OK. DVDFab for Mac has super fast processing speed from the adoption of many acceleration high-techs. Very soon you can get a perfect backup of your own on your Mac.
For more info about DVDFab Blu-ray Copy for Mac, please go to: http://www.dvdfab.cn/blu-ray-copy-for-mac.htm