How to Convert 2D DVD to Anaglyph 3D?
DVDFab has powerful 3D apps for 3D video creation. Normal 2D DVD, Blu-ray, video and 3D Blu-ray can be converted to 3D video in various formats and types. DVDFab 2D to 3D Converter, when works with DVD Ripper, can convert 2D DVD to all sorts of 3D. Let's take the anaglyph 3D output for example to see how it works.
2D DVD to Anaglyph 3D > Step 1: Run DVD Ripper, choose "2D to 3D" option
Run DVDFab DVD Ripper at first, next thing is choose a mode for this 2D to 3D conversion, like "to MP4". Then you need to import in the source DVD movie, and you need to specify a region code for the movie before it is opened. When open, the movie is placed in the program with all movie titles. OK. Now, the "2D to 3D" option is eventually enabled for checking. Just check it to active DVDFab 2D to 3D Converter for the next conversion task.
2D DVD to Anaglyph 3D > Step 2: Flexible settings and customization
Now that the movie is imported in, it's the time to set something for conversion. Choose the title(s) you want to convert, if you don't want to convert all content of a title, just click "Title Start/End Settings" button to arrange the title's start and end chapter. Then choose audio tracks and subtitles for the title on your right hand side. And you can specify a profile among the optimized profiles preset in Profile drop-down with ease. Then go to preview the title in real time in the bottom left corner to see if what you chose is what you want.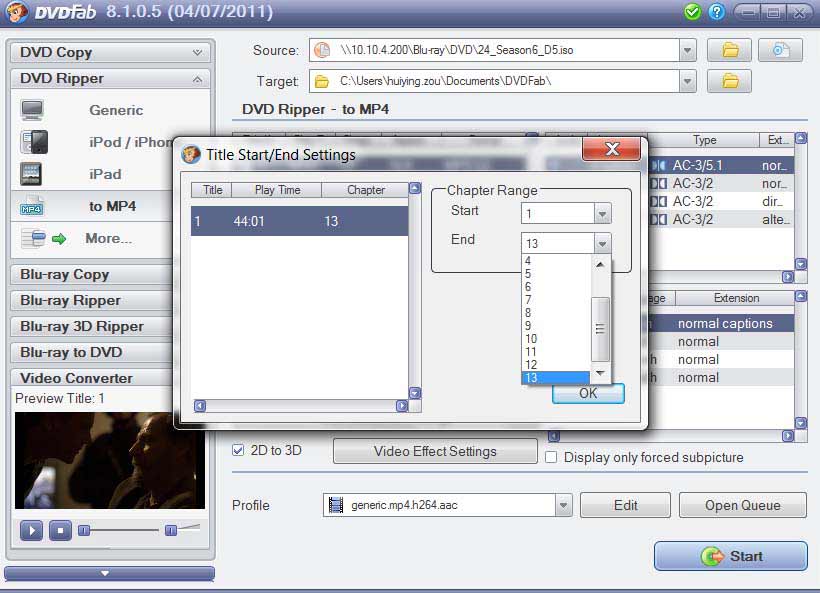 "Video Effect Settings" on the main interface is a cool button, which can lead you to freely set the 3D type, format, etc. in the 3D page. As showed in the below screen, you can choose any mode in the "Anaglyph output" according to your need.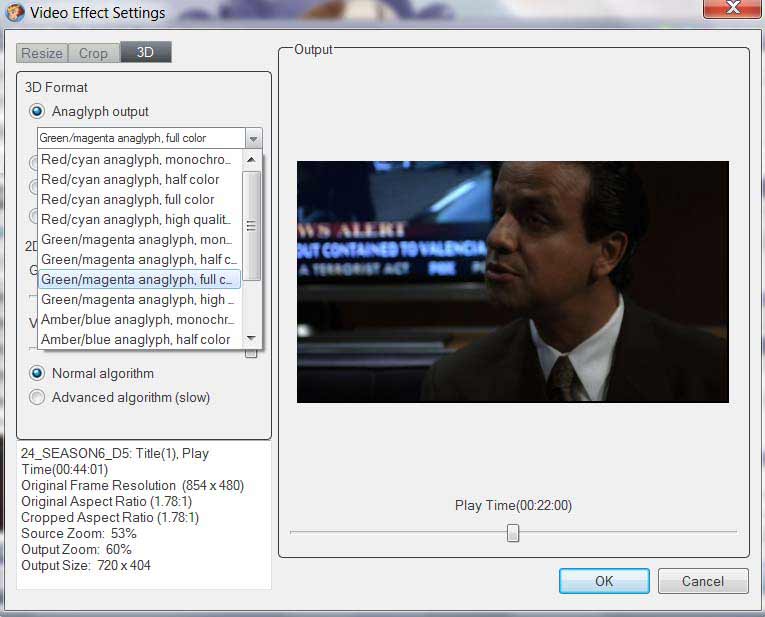 If you want, you can do some further editing for the video and audio. Click "Edit" button to come to the Conversion Settings window, where nearly all video/audio parameters appear and can be changed, like bit rate, frame rate, aspect ratio, and much more.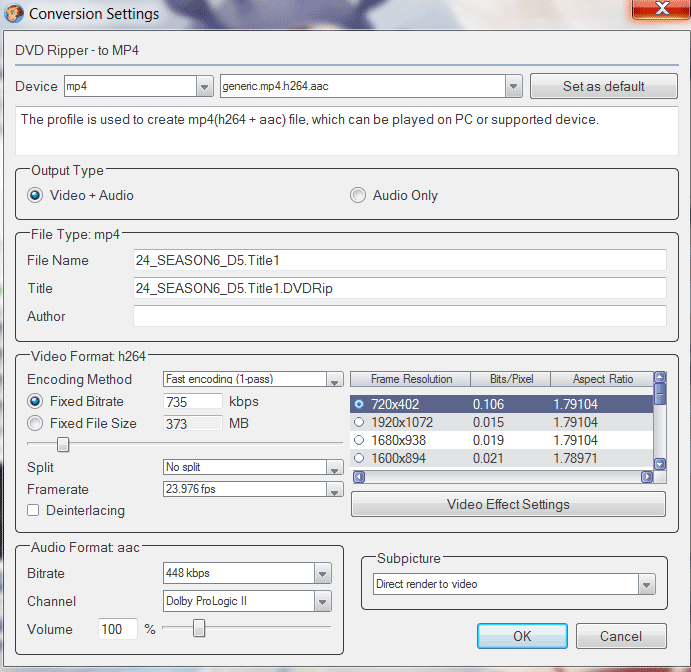 2D DVD to Anaglyph 3D > Step 3: In the converting process
If everything is OK, just hit "Start" button on the main interface, then the converting process begins. You can view detailed progress information and preview source movie.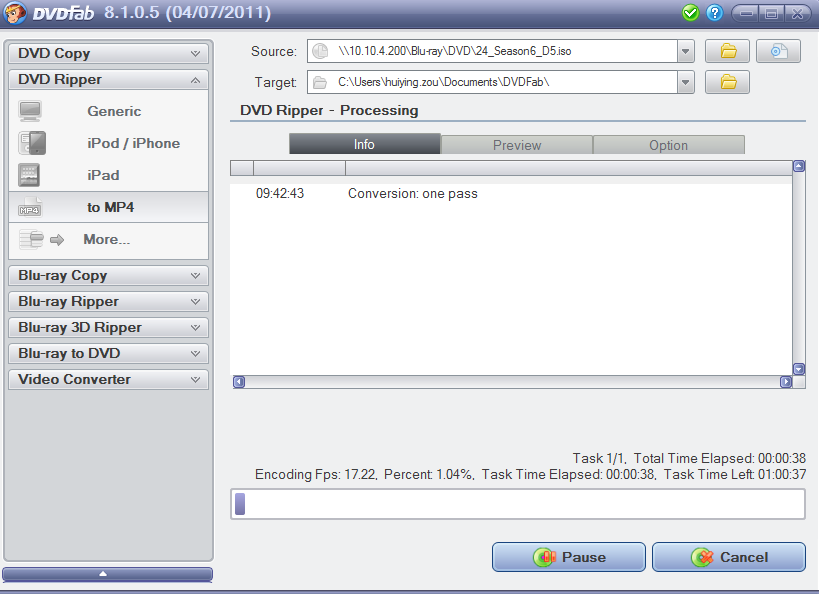 And you can set auto shutdown for the PC when process completed.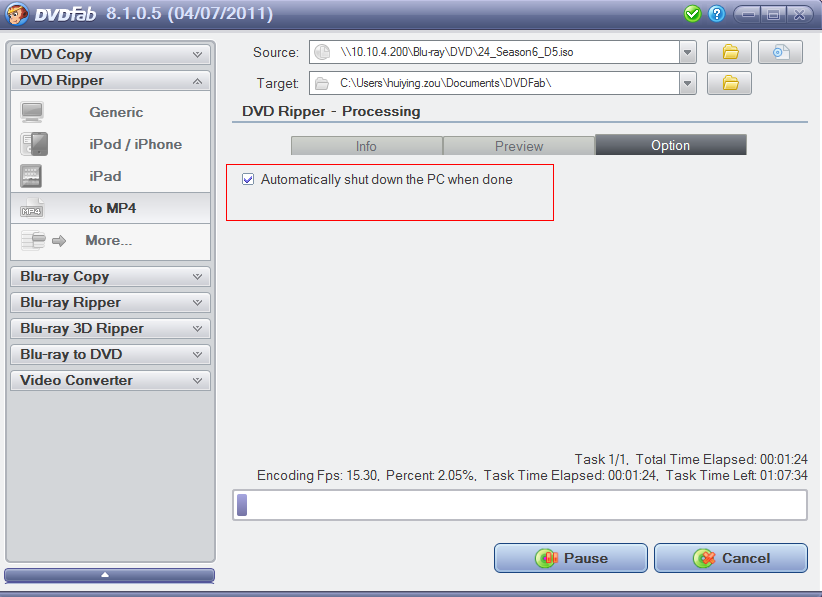 Alright. That's all about 2D DVD to anaglyph 3D video conversion. For more information, please visit: http://www.dvdfab.cn/2d-to-3d-converter.htm