How to Copy Blu-ray Movies in an Easy and Professional Way?
Make a copy of your favorite Blu-ray movie means a lot: you can still keep the movie content after viewing a borrowed Blu-ray; you can backup your valued Blu-ray for not making the original one got damaged; you can scatter copies of your favorite Blu-ray movies among friends to share, etc. Next, let's look through how to copy Blu-ray movies in an easy and professional way.
Required tool: DVDFab Blu-ray Copy
Copy Blu-ray movies > Step 1: Run DVDFab Blu-ray Copy, and open source
Download DVDFab Blu-ray Copy for free, then install it at ease. Start it up, make sure that you are in the option of Blu-ray Copy. Four modes under this option: Full Disc, Main Movie, Clone, and Write Data. We select Main Movie for instance to copy only the longest title of the movie. Then, insert your Blu-ray disc to Blu-ray drive for Blu-ray Copy to open it as source.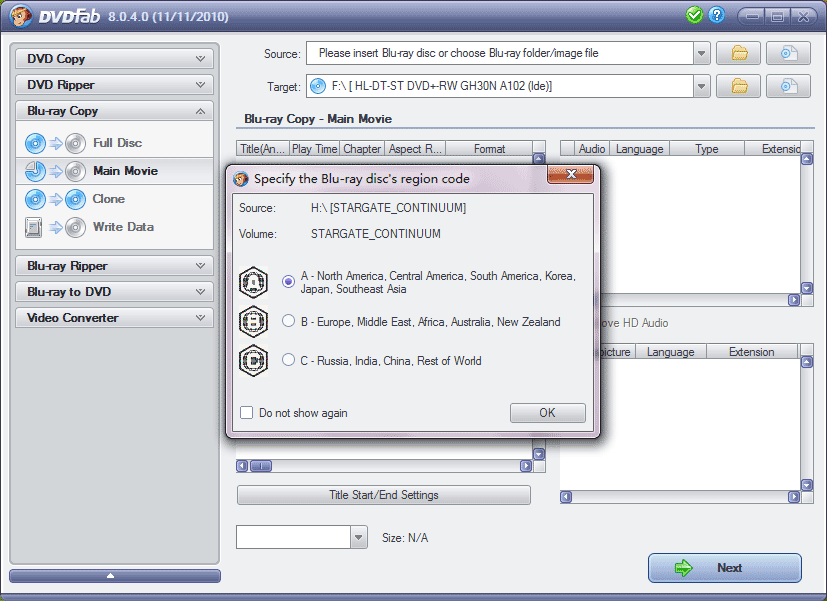 Copy Blu-ray movies > Step 2: Choose target and output media
Blu-ray Copy supports different targets: disc, file folder, ISO image file. Here, we want to copy Blu-ray movie to a blank Blu-ray disc, so we should choose Blu-ray drive as the target. It also supports many output types, from BD 50, BD 25, to BD 9, BD 5. And BD 9 and BD 5 are actually DVD disc, yes, you can backup Blu-ray movie in a DVD disc with Blu-ray Copy. Now, we choose BD 25 as example.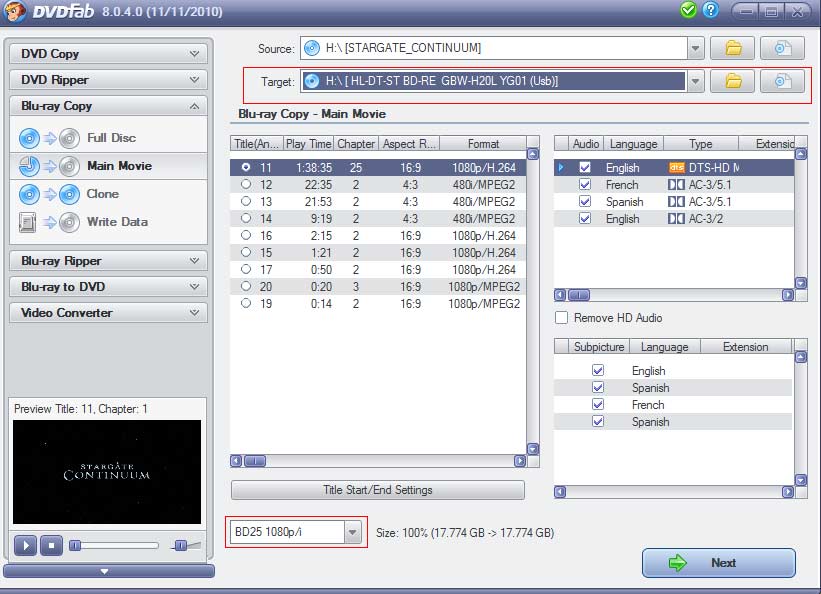 Copy Blu-ray movies > Step 3: Freely set something before copy
You can use "Title Start/End Settings" to arrange the titles start and end chapters to just convert part of a title instead of the whole one. And about the audio and subpicture streams, you can freely select your favorite ones, with a real time title preview window on the lower left corner of the interface helping you set.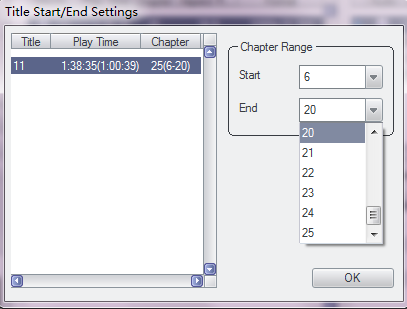 Then click Next button, you can rename the volume label if you like, or just hit Start button to start copy process.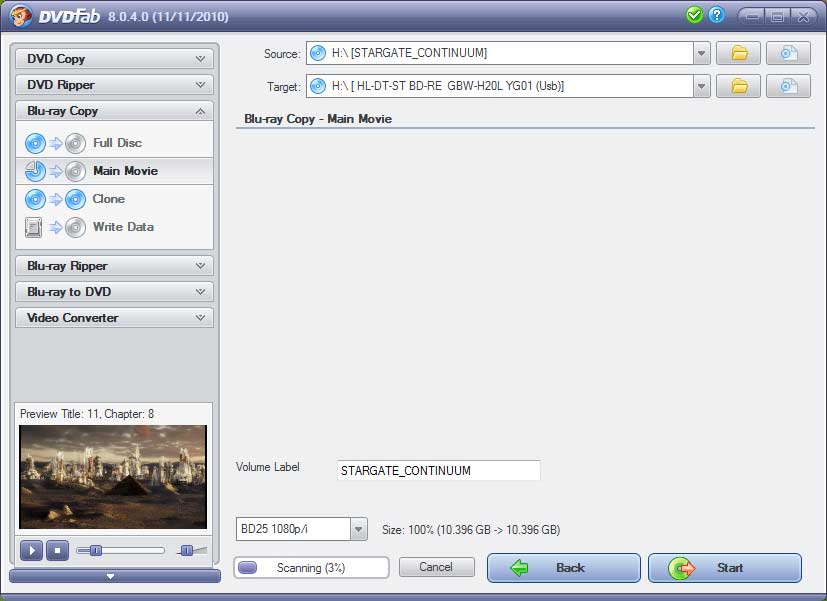 Copy Blu-ray movies > Step 4: Copy process
During the copy process, you can check the detailed progress information with accurate data. And if you copy with compression, you can also view every copy stage with corresponding pictures just from the movie.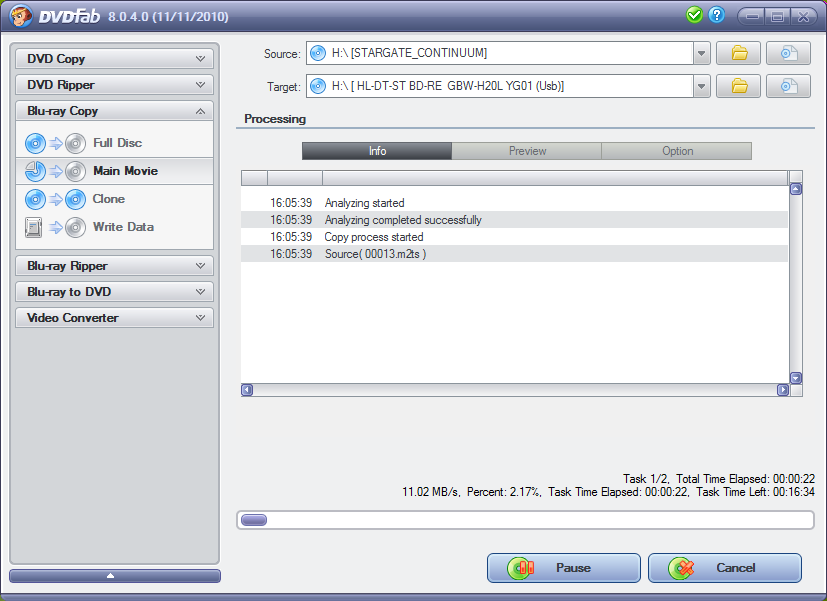 Copy Blu-ray movies > Step 5: Write process
After the copy process completed, you will be asked to insert a compatible media to start writing. Then insert a blank disc to begin write process.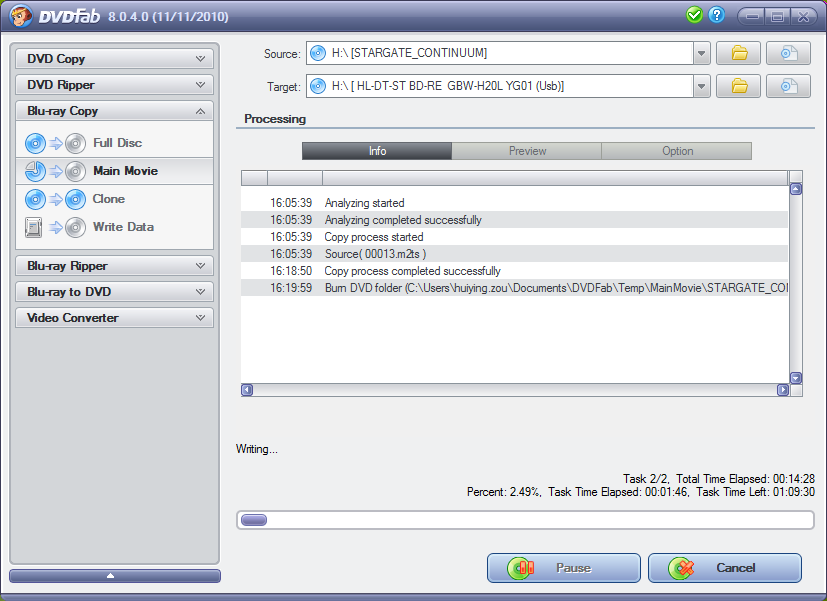 Note: you can check "Automatically shut down the PC when done" to leave away during the writing process.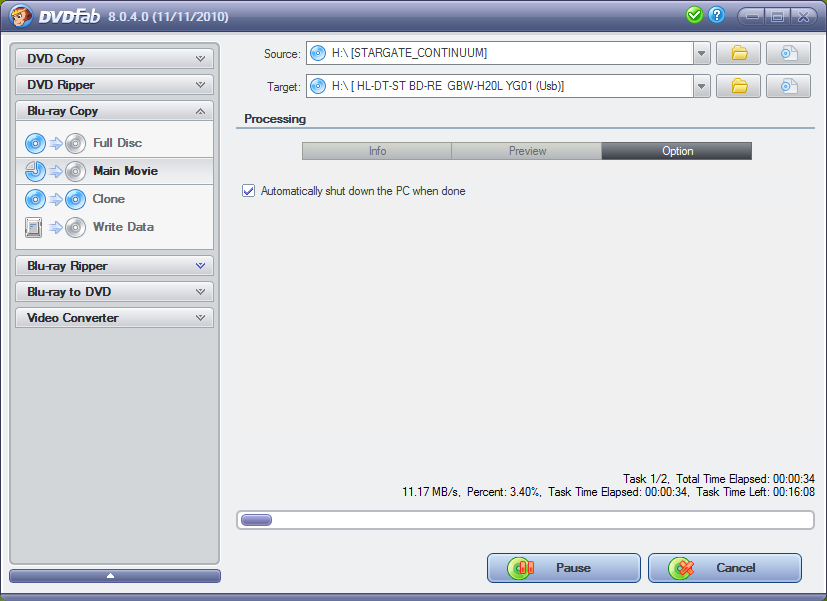 OK. The whole process for coping Blu-ray movie to blank Blu-ray disc. Absolutely easy, yet professional. Thanks to DVDFab Blu-ray Copy.