How to Copy Blu-ray to DVD?
Want to backup your Blu-rays onto regular DVDs to keep your budget down in this gloomy economic situation? That is a very good way to go. DVDFab Blu-ray Copy, the fabulous Blu-ray copy software, is able to burn Blu-rays onto blank DVDs without too much quality compromise by still keeping the Blu-ray format.
How? Take a look at this tip:
Burn Blu-rays onto DVDs: Step 1 -> Download and install the latest DVDFab 9 onto your computer;
Burn Blu-rays onto DVDs: Step 2 -> Launch DVDFab 9, choose Main Movie mode at the Copy option window, then load the target Blu-ray;
Burn Blu-rays onto DVDs: Step 3 -> Click the "Output" icon to select one output size from the available BD 9 and BD 5 options, click "Save to" to set the target as your Blu-ray writer, and then hit the "Start" button to let go ripping.
Burn Blu-rays onto DVDs: Step 4 -> When you are asked to replace the original Blu-ray disc with a blank disc, then insert a blank DVD9 or DVD5 disc according the output size you have selected in the last step, and then continue the burning stage.
=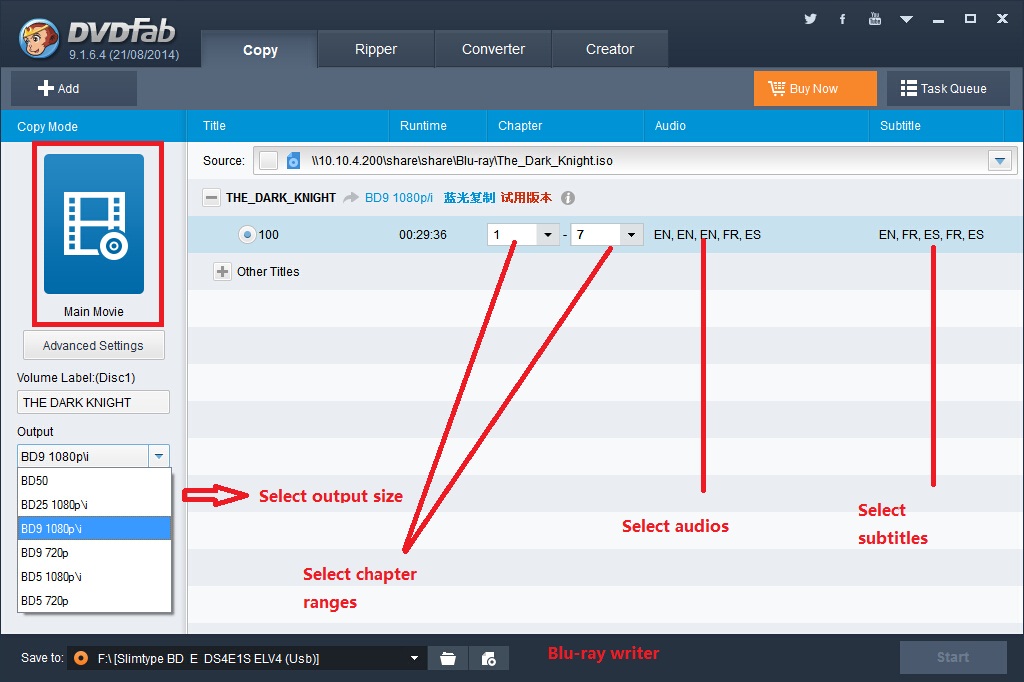 Note: the burnt DVD disc is still in Blu-ray format, which means, it plays only on home Blu-ray Player or on your computer with a BD-ROM drive.
.
Software you need: The latest build of DVDFab 9
Product you need order: Blu-ray Copy
For more information, please refer to DVDFab Blu-ray Copy page.