How to merge DVD Discs onto One Single Disc?
Nowadays, many people have their own movie libraries at home, and occasionally, you might have the need of putting two or more movies from original discs onto one single blank DVD 5 or DVD 9 disc to save the original from being scratched and spare more blanks. DVDFab DVD Copy for Mac is the best DVD copy software for Mac you can find, which can help you to merge DVD movies onto one single blank disc.
Here is a tip illustrating how to do this on Mac (In the demo, we just use two discs as an example).
Merge DVDs Step 1> Copy the two discs to computer
1.1 Open DVDFab for Mac and direct to DVD Copy Full Disc/Clone mode, and then put the disc 1 (e.g. Bolt) into your optical drive, and choose the ISO button at the target area to copy this disc to your computer as Bolt.iso
1.2 Do the same thing to the disc 2 (e.g. Ice Age 3) as 1.1 does to disc 1, name the output as Ice Age 3.iso
Merge DVDs Step 2> Merge the two ISO files onto one single disc
2.1 Navigate to Merge mode, click the ISO button to load Bolt.iso first, and then load the Ice Age 3.iso in the same way.
2.2 Select the titles, audio tracks and subtitle streams you want from each ISO file to be present in the final output disc, using the dropdown selector at the source area to switch between Bolt.iso and Ice Age 3.iso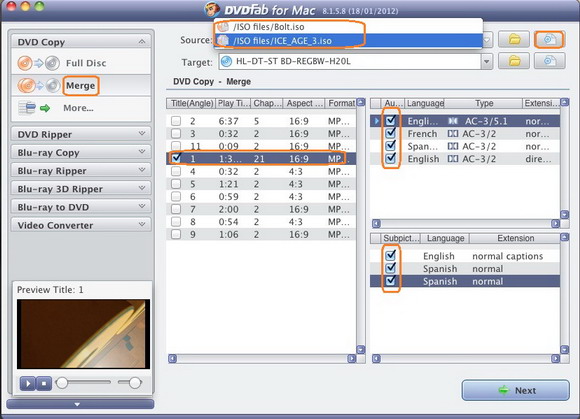 2.3 Insert the blank disc (DVD 5 or DVD 9) to your optical drive and then click the "Next" button, where you can arrange the playing order of the titles, even the chapters you want specifically from each title.
2.4 Choose the output size at the bottom according to the disc size you insert and then push the "Start" button to burn.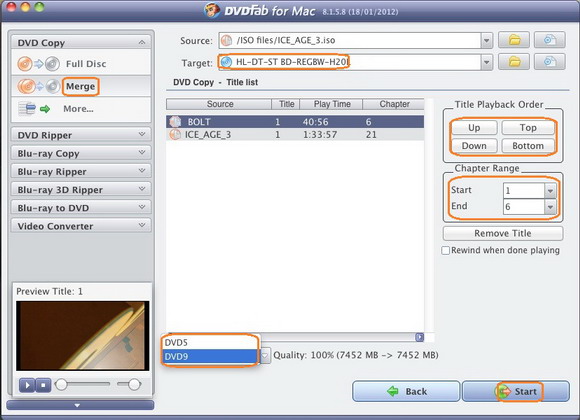 Okay, this is all we should notice, when the burning process is over, just take the burnt disc out and check it on the standalone DVD player.
For more information, please visit: http://www.dvdfab.cn/dvd-copy-for-mac.htm