Best SBS 3D BD Creator
SBS 3D BD is such a Blu-ray disc that contains 3D content in side by side (SBS) format. And DVDFab Blu-ray Copy currently is the best SBS 3D BD creator, for it can create SBS 3D BD from any 3D Blu-ray no matter it is encrypted or not, it can output BD 25, BD 9, and BD 5, and it has fast speed and high quality. Read on for more.
Why create SBS 3D BD?
If you want to copy 3D Blu-ray to blank disc for backup with 3D effect, and you don't have BD 50 at hand and don't want to buy one since it's not cheap, then you can just use Blu-ray Copy to copy it to SBS 3D BD (BD 25, BD 9, and even BD 5). And here's another point, as we all know, a 3D player will cost a big sum, and if you want to play 3D BD but have no 3D player, again, use Blu-ray Copy to convert it to SBS 3D BD which can be played on standalone 3D Blu-ray Player, and you can watch it on 3D TV to get great 3D effect.
Overview of this SBS 3D BD creator
DVDFab Blu-ray Copy has enough reason to be the best SBS 3D BD creator.
First, let's have a look at its decryption power. DVDFab can decrypt any protected Blu-ray to help user copy any 3D Blu-ray. The protections it can remove are: all known AACS copy protections including the newest MKB v25 and bus encryption; all known BD+ copy protections up to newest generation 10; Region Code; BD-Live; and UOPs.
Then let's go to the part we concern most. Only one option, one click, and you can create a SBS 3D BD. This option is "Convert to Blu-ray SBS 3D". After importing source 3D Blu-ray into Blu-ray Copy, choose one mode as "Full Disc" (copy all content) or "Main Movie" (copy the longest movie title), then click to select this option, and freely choose the output as BD 50 / BD 25 / BD 9/ BD 5 according to your needs.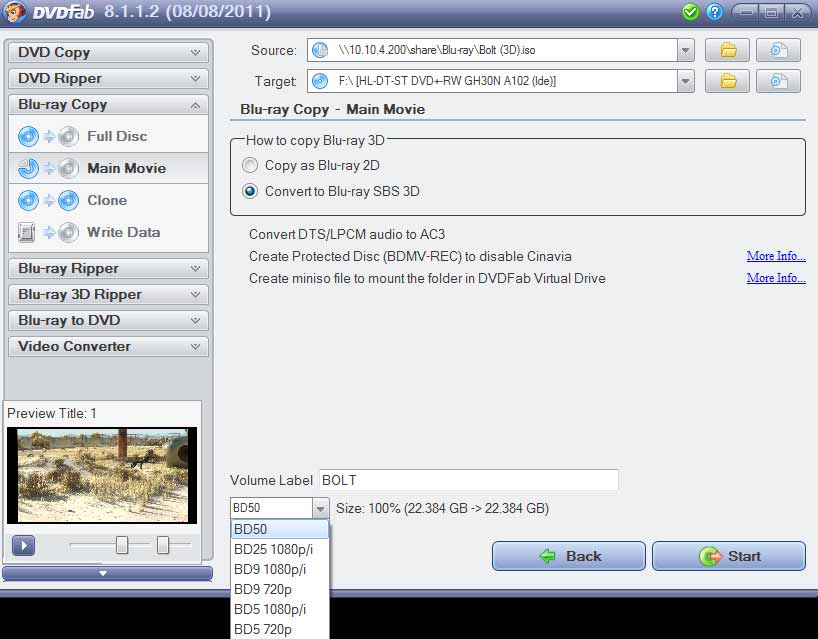 What's more, this SBS 3D BD creator has super fast speed. It supports multi-core CPUs, NVIDIA CUDA, AMD APP, Intel Quick Sync, and DVDFab homebrew high-tech Lightening Recoding to ensure blazing fast speed. For more info about all these technology, please go to: http://www.dvdfab.cn/technology.htm
Blu-ray Copy also has many other neat features, for more info about this powerful SBS 3D BD creator, please visit: http://www.dvdfab.cn/blu-ray-copy.htm